Abstract
The specificity of biological regulatory mechanisms relies on selective interactions between different proteins in different cell types and in response to different extracellular signals. We describe a bimolecular fluorescence complementation (BiFC) approach for the simultaneous visualization of multiple protein interactions in the same cell. This approach is based on complementation between fragments of fluorescent proteins with different spectral characteristics. We have identified 12 bimolecular fluorescent complexes that correspond to 7 different spectral classes. Bimolecular complex formation between fragments of different fluorescent proteins did not differentially affect the dimerization efficiency of the bZIP domains of Fos and Jun or the subcellular sites of interactions between these domains. Multicolor BiFC enables visualization of interactions between different proteins in the same cell and comparison of the efficiencies of complex formation with alternative interaction partners.
Access options
Subscribe to Journal
Get full journal access for 1 year
$250.00
only $20.83 per issue
All prices are NET prices.
VAT will be added later in the checkout.
Rent or Buy article
Get time limited or full article access on ReadCube.
from$8.99
All prices are NET prices.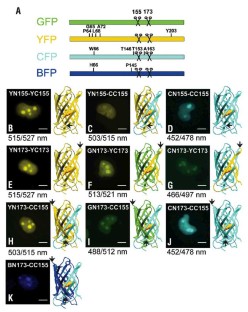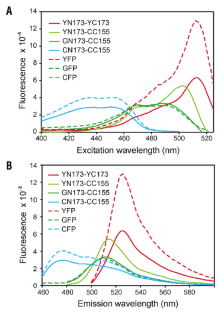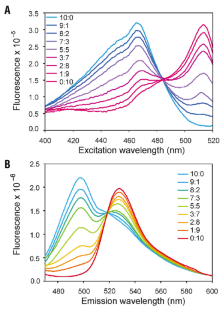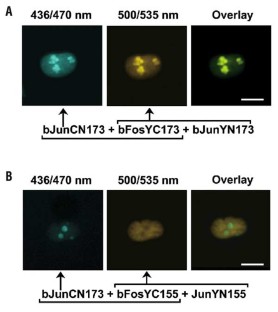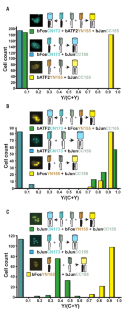 References
1

Hu, C.-D., Chinenov, Y. & Kerppola, T.K. Visualization of interactions among bZIP and Rel proteins in living cells using bimolecular fluorescence complementation. Mol. Cell 9, 789–798 (2002).

2

Tsien, R.Y. The green fluorescent protein. Annu. Rev. Biochem. 67, 509–544 (1998).

3

Miyawaki, A. et al. Fluorescent indicators for Ca2+ based on green fluorescent proteins and calmodulin. Nature 388, 882–887 (1997).

4

Romoser, V.A., Hinkle, P.M. & Persechini, A. Detection in living cells of Ca2+-dependent changes in the fluorescence emission of an indicator composed of two green fluorescent protein variants linked by a calmodulin-binding sequence. A new class of fluorescent indicators. J. Biol. Chem. 272, 13270–13274 (1997).

5

Johnsson, N. & Varshavsky, A. Split ubiquitin as a sensor of protein interactions in vivo. Proc. Natl. Acad. Sci. USA 91, 10340–10344 (1994).

6

Rossi, F., Charlton, C.A. & Blau, H.M. Monitoring protein-protein interactions in intact eukaryotic cells by β-galactosidase complementation. Proc. Natl. Acad. Sci. USA 94, 8405–8410 (1997).

7

Pelletier, J.N., Campbell-Valois, F.X. & Michnick, S.W. Oligomerization domain-directed reassembly of active dihydrofolate reductase from rationally designed fragments. Proc. Natl. Acad. Sci. USA 95, 12141–12146 (1998).

8

Ghosh, I., Hamilton, A.D. & Regan, L. Antiparallel leucine zipper-directed protein reassembly: application to the green fluorescent protein. J. Am. Chem. Soc. 122, 5658–5659 (2000).

9

Galarneau, A., Primeau, M., Trudeau, L.E. & Michnick, S.W. Beta-Lactamase protein fragment complementation assays as in vivo and in vitro sensors of protein-protein interactions. Nat. Biotechnol. 20, 619–622 (2002).

10

Ormö, M. et al. Crystal structure of the Aequorea victoria green fluorescent protein. Science 273, 1392–1395 (1996).

11

Kerppola, T.K. & Curran, T. Selective DNA bending by a variety of bZIP proteins. Mol. Cell. Biol. 13, 5479–5489 (1993).

12

Tsai, E.Y. et al. A lipopolysaccharide-specific enhancer complex involving Ets, Elk-1, Sp1, and CREB binding protein and p300 is recruited to the tumor necrosis factor alpha promoter in vivo. Mol. Cell. Biol. 20, 6084–6094 (2000).

13

Falvo, J.V., Parekh, B.S., Lin, C.H., Fraenkel, E. & Maniatis, T. Assembly of a functional beta interferon enhanceosome is dependent on ATF-2-c-jun heterodimer orientation. Mol. Cell. Biol. 20, 4814–4825 (2000).

14

Daury, L. et al. Opposing functions of ATF2 and Fos-like transcription factors in c-Jun-mediated myogenin expression and terminal differentiation of avian myoblasts. Oncogene 20, 7998–8008 (2001).

15

O'Shea, E.K., Rutkowski, R., Stafford, W.D., Kim, P.S. & Stafford, W.F. Preferential heterodimer formation by isolated leucine zippers from fos and jun. Science 245, 646–648 (1989).

16

Ullmann, A., Jacob, F. & Monod, J. On the subunit structure of wild-type versus complemented β-galactosidase of Escherichia coli. J. Mol. Biol. 32, 1–13 (1968).

17

Kippen, A.D. & Fersht, A.R. Analysis of the mechanism of assembly of cleaved barnase from two peptide fragments and its relevance to the folding pathway of uncleaved barnase. Biochemistry 34, 1464–1468 (1995).

18

Koebnik, R. In vivo membrane assembly of split variants of the E. coli outer membrane protein OmpA. EMBO J. 15, 3529–3537 (1996).
Acknowledgements
We thank members of the Kerppola laboratory for helpful discussions.
Ethics declarations
Competing interests
The authors have applied for a patent (application no. 60/375,949) on the molecular fluorescence complementation assay described in this paper.
Supplementary information
About this article
Cite this article
Hu, C., Kerppola, T. Simultaneous visualization of multiple protein interactions in living cells using multicolor fluorescence complementation analysis. Nat Biotechnol 21, 539–545 (2003). https://doi.org/10.1038/nbt816
Received:

Accepted:

Published:

Issue Date: