Artificial neural networks have been applied to problems ranging from speech recognition to prediction of protein secondary structure, classification of cancers and gene prediction. How do they work and what might they be good for?
Access options
Subscribe to Journal
Get full journal access for 1 year
$59.00
only $4.92 per issue
All prices are NET prices.
VAT will be added later in the checkout.
Tax calculation will be finalised during checkout.
Rent or Buy article
Get time limited or full article access on ReadCube.
from$8.99
All prices are NET prices.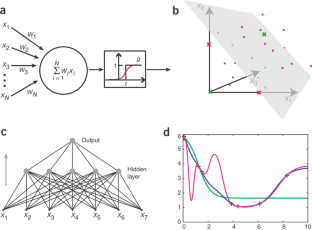 References
1

Minsky, M.L. & Papert, S.A. Perceptrons (MIT Press, Cambridge, 1969).

2

Rumelhart, D.E., Hinton, G.E. & Williams, R.J. Nature 323, 533–536 (1986).

3

Sejnowski, T.J. & Rosenberg, C.R. Complex Systems 1, 145–168 (1987).

4

Qian, N. & Sejnowski, T.J. J. Mol. Biol. 202, 865–884 (1988).

5

Anderson, J.A. & Rosenfeld, E. (eds). Neurocomputing: Foundations of Research (MIT Press, Cambridge, 1988).

6

Bishop, C.M. Neural Networks for Pattern Recognition (Oxford University Press, Oxford, 1995).

7

Noble, W.S. Nat. Biotechnol. 24, 1565–1567 (2006).

8

Bishop, C.M. Pattern Recognition and Machine Learning (Springer, New York, 2006).

9

Hertz, J.A., Krogh, A. & Palmer, R. Introduction to the Theory of Neural Computation (Addison-Wesley, Redwood City, 1991).

10

Duda, R.O., Hart, P.E. & Stork, D.G. Pattern Classification (Wiley Interscience, New York, 2000).
About this article
Cite this article
Krogh, A. What are artificial neural networks?. Nat Biotechnol 26, 195–197 (2008). https://doi.org/10.1038/nbt1386