Pancreatic acinar cells have been reprogrammed in vivo into insulin-expressing cells by adenoviral delivery of three transcription factors.
Access options
Subscribe to Journal
Get full journal access for 1 year
$99.00
only $8.25 per issue
All prices are NET prices.
VAT will be added later in the checkout.
Tax calculation will be finalised during checkout.
Rent or Buy article
Get time limited or full article access on ReadCube.
from$8.99
All prices are NET prices.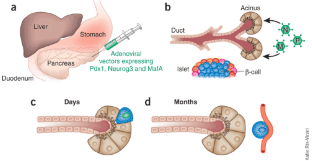 References
1

Zhou, Q., Brown, J., Kanarek, A., Rajagopal, J. & Melton, D.A. Nature advance online publication, doi:10.1038/nature07314 (27 August 2008).

2

Oliver-Krasinski, J.M. & Stoffers, D.A. Genes Dev. 22, 1998–2021 (2008).

3

D'Amour, K.A. et al. Nat. Biotechnol. 24, 1392–1401 (2006).

4

Ferber, S. et al. Nat. Med. 6, 568–572 (2000).

5

Heremans, Y. et al. J. Cell Biol. 159, 303–312 (2002).

6

Slack, J.M. Nat. Rev. Mol. Cell. Biol. 8, 369–378 (2007).

7

Xu, X. et al. Cell 132, 197–207 (2008).

8

Baeyens, L. et al. Diabetologia 48, 49–57 (2005).

9

Minami, K. et al. Proc. Natl. Acad. Sci. USA 102, 15116–15121 (2005).

10

Bouwens, L., Pipeleers, D.G. Diabetologia 41, 629–633 (1998).

11

Goldfine, I.D. et al. Nat. Biotechnol. 15, 1378–1382 (1997).
Ethics declarations
Competing interests
M.S.G. is a Novocell, Inc., Scientific Advisory Board Member and stockholder. He is the inventor on six issued US patents pertaining to the delivery of genes to exocrine glands, one issued US patent for human Neurogenin3, and two issued US patents for the use of Neurogenin3 for the production of insulin-producing cells. All of these patents are held by the University of California.
About this article
Cite this article
German, M. New β-cells from old acini. Nat Biotechnol 26, 1092–1093 (2008). https://doi.org/10.1038/nbt1008-1092
Further reading
Kenneth S. Zaret
Morris F. White

Nature (2010)