Genetically modified (GM) bacteria improve the degradation of toluene in plants.
Access options
Subscribe to Journal
Get full journal access for 1 year
$99.00
only $8.25 per issue
All prices are NET prices.
VAT will be added later in the checkout.
Tax calculation will be finalised during checkout.
Rent or Buy article
Get time limited or full article access on ReadCube.
from$8.99
All prices are NET prices.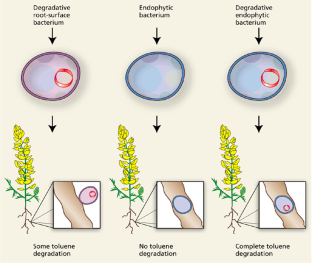 References
1

Barac, T. et al. Nat. Biotechnol. 22, 583–588 (2004).

2

Sturz, A.V., Christie, B.R. & Nowak, J. Crit. Rev. Plant Sci. 19, 1–30 (2000).

3

Chakrabarty, A.M. US Patent 259, 444 (1980).

4

Hyodo, H. in The Plant Hormone Ethylene (eds. Mattoo, A.K. & Suttle, J.C.) 65–80 (CRC Press, Boca Raton, Florida, USA, 1991).

5

Stearns, J. & Glick, B.R. Biotechnol. Adv. 21, 193–210 (2003).

6

Glick, B.R. Adv. Appl. Microbiol. in the press (2004).
About this article
Cite this article
Glick, B. Teamwork in phytoremediation. Nat Biotechnol 22, 526–527 (2004). https://doi.org/10.1038/nbt0504-526