A study of stem cell patent litigation sheds light on the current patent reform debate.
Access options
Subscribe to Journal
Get full journal access for 1 year
$99.00
only $8.25 per issue
All prices are NET prices.
VAT will be added later in the checkout.
Tax calculation will be finalised during checkout.
Buy article
Get time limited or full article access on ReadCube.
$32.00
All prices are NET prices.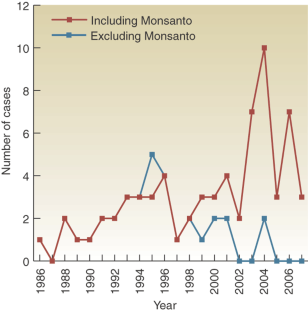 References
Allison, J.R. et al. Geo. L.J. 92, 435–476 (2004).

Parchomovsky, G. & Wagner, R.P. U. Pa. L. Rev. 154, 1–77 (2005).

Heller, M. & Eisenberg R.S. Sci. 280, 698–701 (1998).

Azher, A. I. U. Pa. J. Int'l. Econ. L. 25, 383–421 (2004).

110th Senate Judiciary Committee's Report on the Patent Reform Act of 2007. http://frwebgate.access.gpo.gov/cgi-bin/getdoc.cgi?dbname=110_cong_reports&docid=f:sr259.pdf

Federal Trade Commission. To Promote Innovation: The Proper Balance of Competition and Patent Law and Policy (FTC, 2003).

Merrill, S. et al. (eds.) A Patent System for the 21st Century (National Academies Press, Washington, DC, 2004).

National Research Council. Committee on Intellectual Property Rights in Genomic and Protein Research and Innovation. Reaping the Benefits of Genomic and Protemic Research: Intellectual Property Rights, Innovation, and Public Health (National Academies Press, 2006).

Madey v. Duke University, 307 F.3d 1351 (N.C. 2002).

Whittemore v. Cutter, 29 F. Cas. 1120 1121 (C.C.D. Mass 1813).

Cert. denied 123 S. Ct. 2639 (2003).

Obama, B. Removing barriers to responsible scientific research involving human stem cells (The White House, 9 March, 2009) http://www.whitehouse.gov/the_press_office/Removing-Barriers-to-Responsible-Scientific-Research-Involving-Human-Stem-cells/

Bergman, K. & Graff, G.D. Nat. Biotechnol. 25, 419–424 (2007).

US Patent 5,352,605.

US Patent 4,940,835.

Walsh, J.P., Arora, A. & Cohen, W. in Patents in the Knowledge-Based Economy, (eds. Cohen W. & Merrill, S.) 285–340 (National Academies Press, Washington, DC, 2003).

35 USC 290, Notice of Patent Suits.
Acknowledgements
The authors would like to acknowledge M. Conway who performed the statistical analysis.
Ethics declarations
Competing interests
A.E.M. and P.T. have been consultants for the Biotechnology Industry Organization on the issue that is the subject of this article.
Supplementary information
About this article
Cite this article
Mills, A., Tereskerz, P. Empirical analysis of major stem cell patent cases: the role of universities. Nat Biotechnol 28, 325–328 (2010). https://doi.org/10.1038/nbt0410-325
Issue Date:

DOI: https://doi.org/10.1038/nbt0410-325
This article is cited by
Stem Cell Research & Therapy (2013)

Myriam M Altamirano-Bustamante
Adalberto de Hoyos
León Olivé

Nature Biotechnology (2011)