This is a preview of subscription content
Access options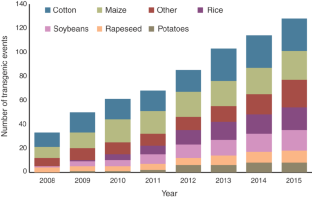 References
Ramessar, K., Capell, T., Twyman, R.M., Quemada, H. & Christou, P. Nat. Biotechnol. 26, 975–978 (2008).

Vermij, P. Nat. Biotechnol. 24, 1301–1302 (2006).

Mitchell, P. Nat. Biotechnol. 25, 1065–1066 (2007).

DG AGRI. Economic Impact of Unapproved GMOs on EU Feed Imports and Livestock Production (European Commission, Brussels, 2007). <http://ec.europa.eu/agriculture/publi/reports/>

Brookes, G. Economic Impacts of Low Level Presence of Not Yet Approved GMOs on the EU Food Sector (Graham Brookes Consulting, Gloucester, 2008). <http://www.agindustries.org.uk/document.aspx?fn=load&media_id=3118&publicationId=396>

Backus, G.B.C. et al. EU Policy on GMOs: a Quick Scan of the Economic Consequences (LEI Report 2008-070, Wageningen University and Research Centre, The Hague, 2008). <http://www.lei.wur.nl/UK/publications+en+products/LEI+publications/default.htm?id=932>

Hornby, C. et al. EU Rejects More US Soy with GM corn traces. Reuters, September 18, 2009 <http://www.reuters.com/article/companyNews/idUKTR58H4GG20090918>

Fischer Boel, M. GMOs: letting the voice of science speak. (European Commissioner for Agriculture, SPEECH/09/474, European Commission, Brussels, 2009). <http://europa.eu/rapid/pressReleasesAction.do?reference=SPEECH/09/474>

Stein, A.J. & Rodríguez-Cerezo, E. The Global Pipeline of New GM Crops: Implications of Asynchronous Approval for International Trade (JRC Technical Report EUR 23486 EN, European Communities, Luxemburg, 2009). <http://ipts.jrc.ec.europa.eu/publications/pub.cfm?id=2420>

Graff, G.D., Zilberman, D. & Bennett, A.B. Nat. Biotechnol. 27, 702–704 (2009).

Batson, A. & Areddy, J.T. Beijing gives nod to modified rice. Wall Street Journal, p.A13 <http://online.wsj.com/article/SB125959909959569901.html> (1 December 2009).

Gruère, G & Sengupta, D. Food Pol. 34, 399–406 (2009).
Supplementary information
Supplementary Notes (PDF 117 kb)
About this article
Cite this article
Stein, A., Rodríguez-Cerezo, E. International trade and the global pipeline of new GM crops. Nat Biotechnol 28, 23–25 (2010). https://doi.org/10.1038/nbt0110-23b
Published:

Issue Date:

DOI: https://doi.org/10.1038/nbt0110-23b