Abstract
The neurovascular unit (NVU) regulates metabolic homeostasis as well as drug pharmacokinetics and pharmacodynamics in the central nervous system. Metabolic fluxes and conversions over the NVU rely on interactions between brain microvascular endothelium, perivascular pericytes, astrocytes and neurons, making it difficult to identify the contributions of each cell type. Here we model the human NVU using microfluidic organ chips, allowing analysis of the roles of individual cell types in NVU functions. Three coupled chips model influx across the blood–brain barrier (BBB), the brain parenchymal compartment and efflux across the BBB. We used this linked system to mimic the effect of intravascular administration of the psychoactive drug methamphetamine and to identify previously unknown metabolic coupling between the BBB and neurons. Thus, the NVU system offers an in vitro approach for probing transport, efficacy, mechanism of action and toxicity of neuroactive drugs.
Relevant articles
Open Access articles citing this article.
Nesrine Bouhrira

,

Brandon J. DeOre

…

Peter A. Galie

Fluids and Barriers of the CNS Open Access 24 November 2022
Access options
Subscribe to Nature+
Get immediate online access to Nature and 55 other Nature journal
Subscribe to Journal
Get full journal access for 1 year
$99.00
only $8.25 per issue
All prices are NET prices.
VAT will be added later in the checkout.
Tax calculation will be finalised during checkout.
Buy article
Get time limited or full article access on ReadCube.
$32.00
All prices are NET prices.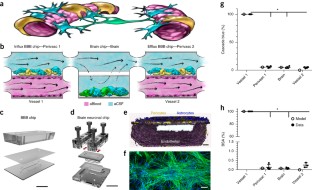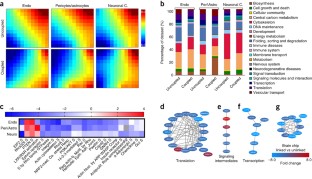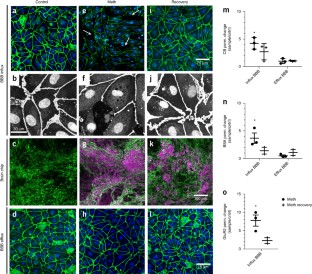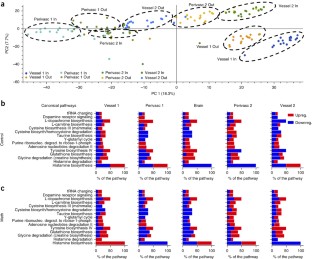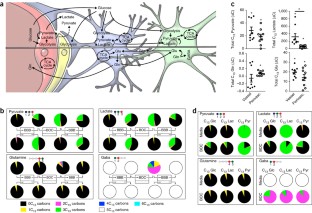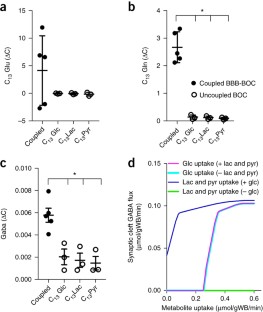 References
Banks, W.A. From blood-brain barrier to blood-brain interface: new opportunities for CNS drug delivery. Nat. Rev. Drug Discov. 15, 275–292 (2016).

Itoh, Y. & Suzuki, N. Control of brain capillary blood flow. J. Cereb. Blood Flow Metab. 32, 1167–1176 (2012).

Magistretti, P.J. & Allaman, I. A cellular perspective on brain energy metabolism and functional imaging. Neuron 86, 883–901 (2015).

Lecrux, C. & Hamel, E. The neurovascular unit in brain function and disease. Acta Physiol. (Oxf.) 203, 47–59 (2011).

Vasilopoulou, C.G., Margarity, M. & Klapa, M.I. Metabolomic analysis in brain research: opportunities and challenges. Front. Physiol. 7, 183 (2016).

Warren, M.S. et al. Comparative gene expression profiles of ABC transporters in brain microvessel endothelial cells and brain in five species including human. Pharmacol. Res. 59, 404–413 (2009).

Naik, P. & Cucullo, L. In vitro blood-brain barrier models: current and perspective technologies. J. Pharm. Sci. 101, 1337–1354 (2012).

Booth, R. & Kim, H. Characterization of a microfluidic in vitro model of the blood-brain barrier (μBBB). Lab Chip 12, 1784–1792 (2012).

Prabhakarpandian, B. et al. SyM-BBB: a microfluidic blood brain barrier model. Lab Chip 13, 1093–1101 (2013).

Griep, L.M. et al. BBB on chip: microfluidic platform to mechanically and biochemically modulate blood-brain barrier function. Biomed. Microdevices 15, 145–150 (2013).

Brown, J.A. et al. Recreating blood-brain barrier physiology and structure on chip: A novel neurovascular microfluidic bioreactor. Biomicrofluidics 9, 054124 (2015).

Brown, J.A. et al. Metabolic consequences of inflammatory disruption of the blood-brain barrier in an organ-on-chip model of the human neurovascular unit. J. Neuroinflammation 13, 306 (2016).

Ballabh, P., Braun, A. & Nedergaard, M. The blood-brain barrier: an overview: structure, regulation, and clinical implications. Neurobiol. Dis. 16, 1–13 (2004).

Banks, W.A. et al. Passage of amyloid beta protein antibody across the blood-brain barrier in a mouse model of Alzheimer's disease. Peptides 23, 2223–2226 (2002).

Easton, A.S. & Fraser, P.A. Variable restriction of albumin diffusion across inflamed cerebral microvessels of the anaesthetized rat. J. Physiol. (Lond.) 475, 147–157 (1994).

Zhao, Z., Nelson, A.R., Betsholtz, C. & Zlokovic, B.V. Establishment and dysfunction of the blood-brain barrier. Cell 163, 1064–1078 (2015).

Uhlén, M. et al. Proteomics. Tissue-based map of the human proteome. Science 347, 1260419 (2015).

Jacques, P.F. et al. Relation between folate status, a common mutation in methylenetetrahydrofolate reductase, and plasma homocysteine concentrations. Circulation 93, 7–9 (1996).

Ridley, A.J. Rho GTPases and cell migration. J. Cell Sci. 114, 2713–2722 (2001).

Bonneh-Barkay, D. & Wiley, C.A. Brain extracellular matrix in neurodegeneration. Brain Pathol. 19, 573–585 (2009).

Zamanian, J.L. et al. Genomic analysis of reactive astrogliosis. J. Neurosci. 32, 6391–6410 (2012).

Frey, D., Laux, T., Xu, L., Schneider, C. & Caroni, P. Shared and unique roles of CAP23 and GAP43 in actin regulation, neurite outgrowth, and anatomical plasticity. J. Cell Biol. 149, 1443–1454 (2000).

Northrop, N.A. & Yamamoto, B.K. Methamphetamine effects on blood-brain barrier structure and function. Front. Neurosci. 9, 69 (2015).

Turowski, P. & Kenny, B.A. The blood-brain barrier and methamphetamine: open sesame? Front. Neurosci. 9, 156 (2015).

Zhang, X., Banerjee, A., Banks, W.A. & Ercal, N. N-acetylcysteine amide protects against methamphetamine-induced oxidative stress and neurotoxicity in immortalized human brain endothelial cells. Brain Res. 1275, 87–95 (2009).

Fujimoto, Y. et al. The pharmacokinetic properties of methamphetamine in rats with previous repeated exposure to methamphetamine: the differences between Long-Evans and Wistar rats. Exp. Anim. 56, 119–129 (2007).

Frankel, P.S., Alburges, M.E., Bush, L., Hanson, G.R. & Kish, S.J. Brain levels of neuropeptides in human chronic methamphetamine users. Neuropharmacology 53, 447–454 (2007).

Bélanger, M., Allaman, I. & Magistretti, P.J. Brain energy metabolism: focus on astrocyte-neuron metabolic cooperation. Cell Metab. 14, 724–738 (2011).

Wishart, D.S. et al. The human cerebrospinal fluid metabolome. J. Chromatogr. B Analyt. Technol. Biomed. Life Sci. 871, 164–173 (2008).

Jaeger, C. et al. The mouse brain metabolome: region-specific signatures and response to excitotoxic neuronal injury. Am. J. Pathol. 185, 1699–1712 (2015).

Berman, S.M. et al. Changes in cerebral glucose metabolism during early abstinence from chronic methamphetamine abuse. Mol. Psychiatry 13, 897–908 (2008).

Zheng, T. et al. The metabolic impact of methamphetamine on the systemic metabolism of rats and potential markers of methamphetamine abuse. Mol. Biosyst. 10, 1968–1977 (2014).

Vargas, M.R., Pehar, M., Cassina, P., Beckman, J.S. & Barbeito, L. Increased glutathione biosynthesis by Nrf2 activation in astrocytes prevents p75NTR-dependent motor neuron apoptosis. J. Neurochem. 97, 687–696 (2006).

Zanelli, S.A., Solenski, N.J., Rosenthal, R.E. & Fiskum, G. Mechanisms of ischemic neuroprotection by acetyl-L-carnitine. Ann. NY Acad. Sci. 1053, 153–161 (2005).

Verleysdonk, S., Martin, H., Willker, W., Leibfritz, D. & Hamprecht, B. Rapid uptake and degradation of glycine by astroglial cells in culture: synthesis and release of serine and lactate. Glia 27, 239–248 (1999).

Fredholm, B.B., Chen, J.F., Cunha, R.A., Svenningsson, P. & Vaugeois, J.M. Adenosine and brain function. Int. Rev. Neurobiol. 63, 191–270 (2005).

Schousboe, A. & Sonnewald, U. The Glutamate/GABA-Glutamine Cycle (Springer, 2016).

Culic, O., Gruwel, M.L. & Schrader, J. Energy turnover of vascular endothelial cells. Am. J. Physiol. 273, C205–C213 (1997).

Turner, D.A. & Adamson, D.C. Neuronal-astrocyte metabolic interactions: understanding the transition into abnormal astrocytoma metabolism. J. Neuropathol. Exp. Neurol. 70, 167–176 (2011).

Bröer, S. & Brookes, N. Transfer of glutamine between astrocytes and neurons. J. Neurochem. 77, 705–719 (2001).

Wu, G., Haynes, T.E., Li, H. & Meininger, C.J. Glutamine metabolism in endothelial cells: ornithine synthesis from glutamine via pyrroline-5-carboxylate synthase. Comp. Biochem. Physiol. A Mol. Integr. Physiol. 126, 115–123 (2000).

Bhatia, S.N. & Ingber, D.E. Microfluidic organs-on-chips. Nat. Biotechnol. 32, 760–772 (2014).

Prantil-Baun, R. et al. Physiologically based pharmacokinetic and pharmacodynamic analysis enabled by microfluidically linked organs-on-chips. Annu. Rev. Pharmacol. Toxicol. 58, 37–64 (2018).

Uchida, Y. et al. Quantitative targeted absolute proteomics of human blood-brain barrier transporters and receptors. J. Neurochem. 117, 333–345 (2011).

Hawrylycz, M.J. et al. An anatomically comprehensive atlas of the adult human brain transcriptome. Nature 489, 391–399 (2012).

Malik, N. et al. Comparison of the gene expression profiles of human fetal cortical astrocytes with pluripotent stem cell derived neural stem cells identifies human astrocyte markers and signaling pathways and transcription factors active in human astrocytes. PLoS One 9, e96139 (2014).

Urich, E., Lazic, S.E., Molnos, J., Wells, I. & Freskgård, P.O. Transcriptional profiling of human brain endothelial cells reveals key properties crucial for predictive in vitro blood-brain barrier models. PLoS One 7, e38149 (2012).

Procaccini, C. et al. Role of metabolism in neurodegenerative disorders. Metabolism 65, 1376–1390 (2016).

Sims, N.R. & Muyderman, H. Mitochondria, oxidative metabolism and cell death in stroke. Biochim. Biophys. Acta 1802, 80–91 (2010).

Giza, C.C. & Hovda, D.A. The neurometabolic cascade of concussion. J. Athl. Train. 36, 228–235 (2001).

Li, S. et al. Predicting network activity from high throughput metabolomics. PLOS Comput. Biol. 9, e1003123 (2013).

Li, S. et al. Constructing a fish metabolic network model. Genome Biol. 11, R115 (2010).

The, M., MacCoss, M.J., Noble, W.S. & Käll, L. Fast and accurate protein false discovery rates on large-scale proteomics data sets with percolator 3.0. J. Am. Soc. Mass Spectrom. 27, 1719–1727 (2016).

Eichler, G.S., Huang, S. & Ingber, D.E. Gene Expression Dynamics Inspector (GEDI): for integrative analysis of expression profiles. Bioinformatics 19, 2321–2322 (2003).

Liebermeister, W. et al. Visual account of protein investment in cellular functions. Proc. Natl. Acad. Sci. USA 111, 8488–8493 (2014).

Kanehisa, M. & Goto, S. KEGG: kyoto encyclopedia of genes and genomes. Nucleic Acids Res. 28, 27–30 (2000).

Szklarczyk, D. et al. STRING v10: protein-protein interaction networks, integrated over the tree of life. Nucleic Acids Res. 43, D447–D452 (2015).

Orth, J.D., Thiele, I. & Palsson, B.O. What is flux balance analysis? Nat. Biotechnol. 28, 245–248 (2010).

Varma, A. & Palsson, B.O. Metabolic capabilities of Escherichia coli: I. synthesis of biosynthetic precursors and cofactors. J. Theor. Biol. 165, 477–502 (1993).

Lewis, N.E. et al. Large-scale in silico modeling of metabolic interactions between cell types in the human brain. Nat. Biotechnol. 28, 1279–1285 (2010).

Duarte, N.C. et al. Global reconstruction of the human metabolic network based on genomic and bibliomic data. Proc. Natl. Acad. Sci. USA 104, 1777–1782 (2007).

Schellenberger, J. et al. Quantitative prediction of cellular metabolism with constraint-based models: the COBRA Toolbox v2.0. Nat. Protoc. 6, 1290–1307 (2011).

Groves, P.M. & Rebec, G.V. Introduction to Biological Psychology (W.C. Brown, 1988).
Acknowledgements
This research was supported by the Wyss Institute for Biologically Inspired Engineering at Harvard University, Defense Advanced Research Projects Agency (DARPA) under Cooperative Agreement Number W911NF-12-2-0036 (D.E.I. & K.K.P.), and Sverige-Amerika Stiftelsen, Carl Trygger Stiftelse, Erik och Edith Fernstrom's stiftelse (A.H.). The views and conclusions contained in this document are those of the authors and should not be interpreted as representing the official policies, either expressed or implied, of DARPA or the US Government. This work also was made possible by access to the microfabrication facilities of the Center for Nanoscale Systems (CNS), a member of the National Nanotechnology Coordinated Infrastructure Network (NNCI), which is supported by the National Science Foundation under NSF award no. 1541959. CNS is part of Harvard University. We also thank T. Ferrante for technical assistance, M. Rosnach and J.P. Ferrier for artwork and technical illustrations, to J.A. Goss for his help with chips design and fabrication, and the Harvard Medical School Neurobiology Imaging Facility (supported in part by NINDS P30 Core Center grant #NS072030) for consultation and instrument availability.
Ethics declarations
Competing interests
D.E.I. holds equity in Emulate, Inc., consults for the company, and chairs its scientific advisory board. K.K.P. is a consultant and a member of the Scientific Advisory Board of Emulate, Inc.
Integrated supplementary information
Supplementary information
About this article
Cite this article
Maoz, B., Herland, A., FitzGerald, E. et al. A linked organ-on-chip model of the human neurovascular unit reveals the metabolic coupling of endothelial and neuronal cells. Nat Biotechnol 36, 865–874 (2018). https://doi.org/10.1038/nbt.4226
Received:

Accepted:

Published:

Issue Date:

DOI: https://doi.org/10.1038/nbt.4226