An examination of the prosecution and maintenance histories of approximately 2.7 million US patent applications indicates that women have less favorable outcomes than men.
Access options
Subscribe to Journal
Get full journal access for 1 year
$59.00
only $4.92 per issue
All prices are NET prices.
VAT will be added later in the checkout.
Tax calculation will be finalised during checkout.
Rent or Buy article
Get time limited or full article access on ReadCube.
from$8.99
All prices are NET prices.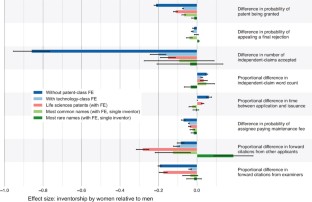 References
1

Ding, W.W., Murray, F. & Stuart, T.E. Science 313, 665–667 (2006).

2

Wittington, K.B. & Smith-Doerr, L. Gend. Soc. 22, 194–218 (2008).

3

Hunt, J. et al. Res. Policy 42, 831–843 (2013).

4

Sugimoto, C.R. et al. PLoS One 10, e0128000 (2015).

5

Marco, A.C. et al. The USPTO Historical Patent Data Files: Two Centuries of Invention. USPTO Economic Working Paper no. 2015-1 www.uspto.gov/sites/default/files/documents/USPTO_economic_WP_2015-01_v2.pdf (2015).

6

Albers, C.J. Proc. Natl. Acad. Sci. USA 112, E6828–E6829 (2015).

7

Marco, A.C. et al. Patent Claims and Patent Scope. USPTO Economic Working Paper no. 2016–04 http://doi.org/10.2139/ssrn.2844964 (2016).

8

Trajtenberg, M. Rand J. Econ. 21, 172–187 (1990).

9

Reitzig, M. Res. Policy 33, 939–957 (2004).

10

Fagerberg, J. J. Econ. Lit. 32, 1147–1175 (1994).

11

Mazzoleni, R. & Nelson, R.R. Res. Policy 27, 273–284 (1998).

12

Goldin, C. & Rouse, C. Am. Econ. Rev. 90, 715–741 (2000).
Acknowledgements
The authors are grateful to IPwe for access to patent data via Zuse Analytics and to T. Botelho and I. Fernandez-Mateo for comments on earlier versions of this paper.
Ethics declarations
Competing interests
The authors declare no competing financial interests.
Supplementary information
About this article
Cite this article
Jensen, K., Kovács, B. & Sorenson, O. Gender differences in obtaining and maintaining patent rights. Nat Biotechnol 36, 307–309 (2018). https://doi.org/10.1038/nbt.4120