Abstract
Mitochondrial dysfunction is associated with many human diseases, including cancer and neurodegeneration, that are often linked to proteins and pathways that are not well-characterized. To begin defining the functions of such poorly characterized proteins, we used mass spectrometry to map the proteomes, lipidomes, and metabolomes of 174 yeast strains, each lacking a single gene related to mitochondrial biology. 144 of these genes have human homologs, 60 of which are associated with disease and 39 of which are uncharacterized. We present a multi-omic data analysis and visualization tool that we use to find covariance networks that can predict molecular functions, correlations between profiles of related gene deletions, gene-specific perturbations that reflect protein functions, and a global respiration deficiency response. Using this multi-omic approach, we link seven proteins including Hfd1p and its human homolog ALDH3A1 to mitochondrial coenzyme Q (CoQ) biosynthesis, an essential pathway disrupted in many human diseases. This Resource should provide molecular insights into mitochondrial protein functions.
Relevant articles
Open Access articles citing this article.
Zachary A. Kemmerer

,

Kyle P. Robinson

…

David J. Pagliarini

Nature Communications Open Access 06 August 2021

Nasir Ali Afsar

,

Henrike Bruckmueller

…

Ingolf Cascorbi

Scientific Reports Open Access 13 May 2019

Elizabeth Calzada

,

Erica Avery

…

Steven M. Claypool

Nature Communications Open Access 29 March 2019
Access options
Subscribe to Journal
Get full journal access for 1 year
$99.00
only $8.25 per issue
All prices are NET prices.
VAT will be added later in the checkout.
Tax calculation will be finalised during checkout.
Buy article
Get time limited or full article access on ReadCube.
$32.00
All prices are NET prices.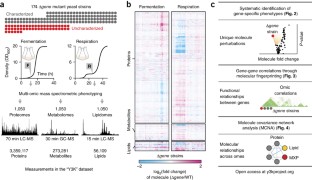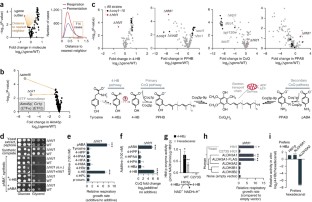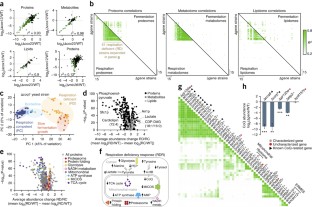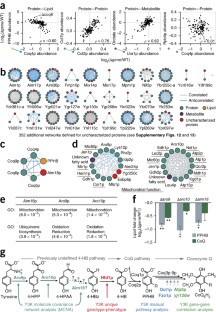 References
Hebert, A.S. et al. The one hour yeast proteome. Mol. Cell. Proteomics 13, 339–347 (2014).

Richards, A.L. et al. One-hour proteome analysis in yeast. Nat. Protoc. 10, 701–714 (2015).

Peterson, A.C. et al. Development of a GC/Quadrupole-Orbitrap mass spectrometer, part I: design and characterization. Anal. Chem. 86, 10036–10043 (2014).

Ishii, N. et al. Multiple high-throughput analyses monitor the response of E. coli to perturbations. Science 316, 593–597 (2007).

Buescher, J.M. et al. Global network reorganization during dynamic adaptations of Bacillus subtilis metabolism. Science 335, 1099–1103 (2012).

Williams, E.G. et al. Systems proteomics of liver mitochondria function. Science 352, aad0189 (2016).

Chick, J.M. et al. Defining the consequences of genetic variation on a proteome-wide scale. Nature 534, 500–505 (2016).

Nunnari, J. & Suomalainen, A. Mitochondria: in sickness and in health. Cell 148, 1145–1159 (2012).

Koopman, W.J., Willems, P.H. & Smeitink, J.A. Monogenic mitochondrial disorders. N. Engl. J. Med. 366, 1132–1141 (2012).

Vafai, S.B. & Mootha, V.K. Mitochondrial disorders as windows into an ancient organelle. Nature 491, 374–383 (2012).

Pagliarini, D.J. et al. A mitochondrial protein compendium elucidates complex I disease biology. Cell 134, 112–123 (2008).

Calvo, S.E., Clauser, K.R. & Mootha, V.K. MitoCarta2.0: an updated inventory of mammalian mitochondrial proteins. Nucleic Acids Res. 44, D1, D1251–D1257 (2016).

Sickmann, A. et al. The proteome of Saccharomyces cerevisiae mitochondria. Proc. Natl. Acad. Sci. USA 100, 13207–13212 (2003).

Green, E.D. & Guyer, M.S. Charting a course for genomic medicine from base pairs to bedside. Nature 470, 204–213 (2011).

Pagliarini, D.J. & Rutter, J. Hallmarks of a new era in mitochondrial biochemistry. Genes Dev. 27, 2615–2627 (2013).

Floyd, B.J. et al. Mitochondrial protein interaction mapping identifies new regulators of respiratory chain function. Mol. Cell 63, 621–632 (2016).

Quinzii, C.M. & Hirano, M. Coenzyme Q and mitochondrial disease. Dev. Disabil. Res. Rev. 16, 183–188 (2010).

Kalén, A., Appelkvist, E.L. & Dallner, G. Age-related changes in the lipid compositions of rat and human tissues. Lipids 24, 579–584 (1989).

Bentley, R.R.V.G., Springer, C.M., Dialameh, G.H. & Olson, R.E. The origin of the benzoquinone ring of coenzyme Q9 in the rat. Biochem. Biophys. Res. Commun. 5, 443–446 (1961).

Booth, A.N.M.M.S., Robbins, D.J., Emerson, O.H., Jones, F.T. & Deeds, F. Urinary Phenolic Acid Metabolites of Tyrosine. J. Biol. Chem. 235, 2649–2652 (1960).

Pierrel, F. et al. Involvement of mitochondrial ferredoxin and para-aminobenzoic acid in yeast coenzyme Q biosynthesis. Chem. Biol. 17, 449–459 (2010).

Marbois, B. et al. para-Aminobenzoic acid is a precursor in coenzyme Q6 biosynthesis in Saccharomyces cerevisiae. J. Biol. Chem. 285, 27827–27838 (2010).

Nakahara, K. et al. The Sjögren-Larsson syndrome gene encodes a hexadecenal dehydrogenase of the sphingosine 1-phosphate degradation pathway. Mol. Cell 46, 461–471 (2012).

Liu, Z.J. et al. The first structure of an aldehyde dehydrogenase reveals novel interactions between NAD and the Rossmann fold. Nat. Struct. Biol. 4, 317–326 (1997).

Jackson, B. et al. Update on the aldehyde dehydrogenase gene (ALDH) superfamily. Hum. Genomics 5, 283–303 (2011).

De Laurenzi, V. et al. Sjögren-Larsson syndrome is caused by mutations in the fatty aldehyde dehydrogenase gene. Nat. Genet. 12, 52–57 (1996).

Kitamura, T. et al. Substrate specificity, plasma membrane localization, and lipid modification of the aldehyde dehydrogenase ALDH3B1. Biochim. Biophys. Acta 1831, 1395–1401 (2013).

Hughes, T.R. et al. Functional discovery via a compendium of expression profiles. Cell 102, 109–126 (2000).

Kemmeren, P. et al. Large-scale genetic perturbations reveal regulatory networks and an abundance of gene-specific repressors. Cell 157, 740–752 (2014).

Giaever, G. et al. Functional profiling of the Saccharomyces cerevisiae genome. Nature 418, 387–391 (2002).

Laredj, L.N., Licitra, F. & Puccio, H.M. The molecular genetics of coenzyme Q biosynthesis in health and disease. Biochimie 100, 78–87 (2014).

Tran, U.C. & Clarke, C.F. Endogenous synthesis of coenzyme Q in eukaryotes. Mitochondrion 7 (Suppl.), S62–S71 (2007).

Züchner, S. et al. Mutations in the mitochondrial GTPase mitofusin 2 cause Charcot-Marie-Tooth neuropathy type 2A. Nat. Genet. 36, 449–451 (2004).

Mourier, A. et al. Mitofusin 2 is required to maintain mitochondrial coenzyme Q levels. J. Cell Biol. 208, 429–442 (2015).

Hebert, A.S. et al. Amine-reactive neutron-encoded labels for highly plexed proteomic quantitation. Mol. Cell. Proteomics 12, 3360–3369 (2013).

Cox, J. & Mann, M. MaxQuant enables high peptide identification rates, individualized p.p.b.-range mass accuracies and proteome-wide protein quantification. Nat. Biotechnol. 26, 1367–1372 (2008).

Elias, J.E. & Gygi, S.P. Target-decoy search strategy for increased confidence in large-scale protein identifications by mass spectrometry. Nat. Methods 4, 207–214 (2007).

Cox, J. et al. Andromeda: a peptide search engine integrated into the MaxQuant environment. J. Proteome Res. 10, 1794–1805 (2011).

Benjamini, Y. & Hochberg, Y. Controlling the false discovery rate: a practical and powerful approach to multiple testing. J. R. Stat. Soc. B 57, 289–300 (1995).

Edgar, R.C. MUSCLE: multiple sequence alignment with high accuracy and high throughput. Nucleic Acids Res. 32, 1792–1797 (2004).

Larkin, M.A. et al. Clustal W and Clustal X version 2.0. Bioinformatics 23, 2947–2948 (2007).

Letunic, I. & Bork, P. Interactive Tree Of Life v2: online annotation and display of phylogenetic trees made easy. Nucleic Acids Res. 39, W475–W478 (2011).
Acknowledgements
We thank members of the Pagliarini and Coon laboratories for helpful discussions. This work was supported by a Searle Scholars Award and NIH grants R01DK098672, R01GM112057, and R01GM115591 (to D.J.P.); NIH grant R35GM118110 (to J.J.C.); NIH Ruth L. Kirschstein NRSA F30AG043282 (to J.A.S.); DOE Great Lakes Bioenergy Research Center (DOE Office of Science BER DE-FC02-07ER64494 to N.W.K. and A.U.); and ACS Analytical Chemistry and Society of Analytical Chemists of Pittsburgh awards (to A.L.R.); NSF Graduate Research Fellowship and NIH T32GM007215 (to M.T.V.); NIH T32DK007665 (to Z.A.K.); and NIH T32HG002760 (to E.A.T.).
Ethics declarations
Competing interests
The authors declare no competing financial interests.
Integrated supplementary information
Supplementary information
About this article
Cite this article
Stefely, J., Kwiecien, N., Freiberger, E. et al. Mitochondrial protein functions elucidated by multi-omic mass spectrometry profiling. Nat Biotechnol 34, 1191–1197 (2016). https://doi.org/10.1038/nbt.3683
Received:

Accepted:

Published:

Issue Date:

DOI: https://doi.org/10.1038/nbt.3683