Abstract
Global yields of potato and tomato crops have fallen owing to potato late blight disease, which is caused by Phytophthora infestans. Although most commercial potato varieties are susceptible to blight, many wild potato relatives show variation for resistance and are therefore a potential source of Resistance to P. infestans (Rpi) genes. Resistance breeding has exploited Rpi genes from closely related tuber-bearing potato relatives, but is laborious and slow1,2,3. Here we report that the wild, diploid non-tuber-bearing Solanum americanum harbors multiple Rpi genes. We combine resistance (R) gene sequence capture (RenSeq)4 with single-molecule real-time (SMRT) sequencing (SMRT RenSeq) to clone Rpi-amr3i. This technology should enable de novo assembly of complete nucleotide-binding, leucine-rich repeat receptor (NLR) genes, their regulatory elements and complex multi-NLR loci from uncharacterized germplasm. SMRT RenSeq can be applied to rapidly clone multiple R genes for engineering pathogen-resistant crops.
Relevant articles
Open Access articles citing this article.
Hongju Jian

,

Haonan Sun

…

Dianqiu Lyu

BMC Plant Biology Open Access 01 August 2022

Zhenpu Huang

,

Fangyuan Qiao

…

Aizhong Cao

BMC Genomics Open Access 10 February 2022

Samuel Martin

,

Darren Heavens

…

Richard M. Leggett

Genome Biology Open Access 24 January 2022
Access options
Subscribe to this journal
Receive 12 print issues and online access
$209.00 per year
only $17.42 per issue
Rent or buy this article
Get just this article for as long as you need it
$39.95
Prices may be subject to local taxes which are calculated during checkout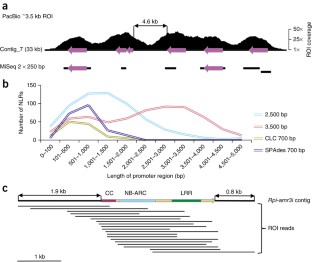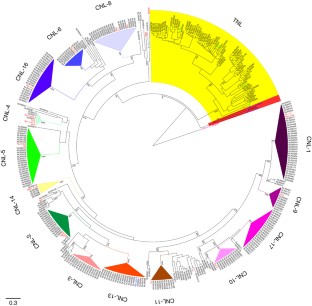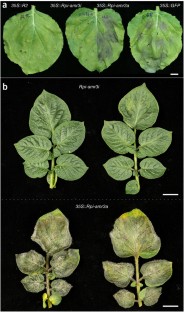 Accession codes
Primary accessions
European Nucleotide Archive
NCBI Reference Sequence
References
Jones, J.D.G. et al. Elevating crop disease resistance with cloned genes. Phil. Trans. R. Soc. Lond. B 369, 20130087 (2014).

Haverkort, A.J. et al. Societal costs of late blight in potato and prospects of durable resistance through cisgenic modification. Potato Res. 51, 47–57 (2008).

Rodewald, J. & Trognitz, B. Solanum resistance genes against Phytophthora infestans and their corresponding avirulence genes. Mol. Plant Pathol. 14, 740–757 (2013).

Jupe, F. et al. Resistance gene enrichment sequencing (RenSeq) enables reannotation of the NB-LRR gene family from sequenced plant genomes and rapid mapping of resistance loci in segregating populations. Plant J. 76, 530–544 (2013).

Dangl, J.L. & Jones, J.D. Plant pathogens and integrated defence responses to infection. Nature 411, 826–833 (2001).

Jones, J.D.G. & Dangl, J.L. The plant immune system. Nature 444, 323–329 (2006).

Dangl, J.L., Horvath, D.M. & Staskawicz, B.J. Pivoting the plant immune system from dissection to deployment. Science 341, 746–751 (2013).

Andolfo, G. et al. Defining the full tomato NB-LRR resistance gene repertoire using genomic and cDNA RenSeq. BMC Plant Biol. 14, 1–12 (2014).

Lebecka, R. Host–pathogen interaction between Phytophthora infestans and Solanum nigrum, S. villosum, and S. scabrum. Eur. J. Plant Pathol. 120, 233–240 (2007).

Jupe, F. et al. Identification and localisation of the NB-LRR gene family within the potato genome. BMC Genomics 13, 75 (2012).

Eid, J. et al. Real-time DNA sequencing from single polymerase molecules. Science 323, 133–138 (2009).

Sharon, D., Tilgner, H., Grubert, F. & Snyder, M. A single-molecule long-read survey of the human transcriptome. Nat. Biotechnol. 31, 1009–1014 (2013).

Wang, M. et al. PacBio-LITS: a large-insert targeted sequencing method for characterization of human disease-associated chromosomal structural variations. BMC Genomics 16, 214 (2015).

Bailey, T.L. et al. MEME SUITE: tools for motif discovery and searching. Nucleic Acids Res. 37, W202–W208 (2009).

Steuernagel, B., Jupe, F., Witek, K., Jones, J.D.G. & Wulff, B.B.H. NLR-parser: rapid annotation of plant NLR complements. Bioinformatics 31, 1665–1667 (2015).

Bankevich, A. et al. SPAdes: a new genome assembly algorithm and its applications to single-cell sequencing. J. Comput. Biol. 19, 455–477 (2012).

Jiao, X. et al. A benchmark study on error assessment and quality control of CCS reads derived from the PacBio RS. J. Data Mining Genomics Proteomics 4, 1–12 (2013).

Cesari, S., Bernoux, M., Moncuquet, P., Kroj, T. & Dodds, P.N. A novel conserved mechanism for plant NLR protein pairs: the "integrated decoy" hypothesis. Front. Plant Sci. 5, 606 (2014).

Narusaka, M. et al. RRS1 and RPS4 provide a dual Resistance-gene system against fungal and bacterial pathogens. Plant J. 60, 218–226 (2009).

Sarris, P.F. et al. A plant immune receptor detects pathogen effectors that target WRKY transcription factors. Cell 161, 1089–1100 (2015).

Rallapalli, G. et al. EXPRSS: an Illumina based high-throughput expression-profiling method to reveal transcriptional dynamics. BMC Genomics 15, 341 (2014).

Steuernagel, B. et al. Rapid cloning of disease-resistance genes in plants using mutagenesis and sequence capture. Nat. Biotechnol. doi:10.1038/nbt.3543 (2016).

Manoko, M.L.K., van den Berg, R.G., Feron, R.M.C., van der Weerden, G.M. & Mariani, C. AFLP markers support separation of Solanum nodiflorum from Solanum americanum sensu stricto (Solanaceae). Plant Syst. Evol. 267, 1–11 (2007).

Baebler, Š. et al. Salicylic acid is an indispensable component of the Ny-1 resistance-gene-mediated response against Potato virus Y infection in potato. J. Exp. Bot. 65, 1095–1109 (2014).

S´liwka, J. et al. The novel, major locus Rpi-phu1 for late blight resistance maps to potato chromosome IX and is not correlated with long vegetation period. Theor. Appl. Genet. 113, 685–695 (2006).

Foster, S.J. et al. Rpi-vnt1.1, a Tm-2(2) homolog from Solanum venturii, confers resistance to potato late blight. Mol. Plant Microbe Interact. 22, 589–600 (2009).

Caten, C.E. & Jinks, J.L. Spontaneous variability of single isolates of Phytophthora infestans. I. Cultural variation. Can. J. Bot. 46, 329–348 (1968).

Lebecka, R. Inheritance of resistance in Solanum nigrum to Phytophthora infestans. Eur. J. Plant Pathol. 124, 345–348 (2009).

Maclean, D. & Kamoun, S. Big data in small places. Nat. Biotechnol. 30, 33–34 (2012).

Xu, X. et al. Genome sequence and analysis of the tuber crop potato. Nature 475, 189–195 (2011).

Li, H. & Durbin, R. Fast and accurate short read alignment with Burrows-Wheeler transform. Bioinformatics 25, 1754–1760 (2009).

Altschul, S.F., Gish, W., Miller, W., Myers, E.W. & Lipman, D.J. Basic local alignment search tool. J. Mol. Biol. 215, 403–410 (1990).

Konieczny, A. & Ausubel, F.M. A procedure for mapping Arabidopsis mutations using co-dominant ecotype-specific PCR-based markers. Plant J. 4, 403–410 (1993).

Geneious 8.0 Manual http://assets.geneious.com/manual/8.0/index.html 1–213 (2014).

Lokossou, A.A. . et al. Exploiting knowledge of R/Avr genes to rapidly clone a new LZ-NBS-LRR family of late blight resistance genes from potato linkage group IV. Mol. Plant 22, 630–641 (2009).

Saunders, D.G.O. et al. Host protein BSL1 associates with Phytophthora infestans RXLR effector AVR2 and the Solanum demissum Immune receptor R2 to mediate disease resistance. Plant Cell 24, 3420–3434 (2012).

Kumar, A., Taylor, M.A., Arif, S.A.M. & Davies, H.V. Potato plants expressing antisense and sense S-adenosylmethionine decarboxylase (SAMDC) transgenes show altered levels of polyamines and ethylene: antisense plants display abnormal phenotypes. Plant J. 9, 147–158 (1996).

Thompson, J.D., Higgins, D.G. & Gibson, T.J. CLUSTAL W: improving the sensitivity of progressive multiple sequence alignment through sequence weighting, position-specific gap penalties and weight matrix choice. Nucleic Acids Res. 22, 4673–4680 (1994).

Tamura, K., Stecher, G., Peterson, D., Filipski, A. & Kumar, S. MEGA6: Molecular Evolutionary Genetics Analysis version 6.0. Mol. Biol. Evol. 30, 2725–2729 (2013).

Stanke, M., Steinkamp, R., Waack, S. & Morgenstern, B. AUGUSTUS: a web server for gene finding in eukaryotes. Nucleic Acids Res. 32, W309–W312 (2004).

Marchler-Bauer, A. et al. CDD: NCBI's conserved domain database. Nucleic Acids Res. 43, D222–D226 (2015).
Acknowledgements
We would like to thank S. Knapp, S. Kamoun, B. Wulff, B. Steuernagel, G. Rallapalli, O. Furzer and N. Champouret for useful discussions, The Genome Analysis Centre (TGAC) for excellent PacBio service, L. Tomlinson and W. Barrett for technical assistance, P. Lindhout for Solynta potato lines, S. Perkins and J. Campling for maintenance of plants in the greenhouse, M. Smoker and J. Pike for plant transformation, V. Vleeshouwers for the R2 construct, TSL Bioinformatics Support Team and specifically C. Schudoma for bioinformatics assistance, and A. Davis for photography. This work was financed from BBSRC grants nos BB/H019820/1, BB/G02197X/1, BB/L011794/1, BB/L009757/1, BB/J010375/1 and the Gatsby Charitable Foundation. This research was supported in part by the NBI Computing infrastructure for Science (CiS) group through the provision of a High Performance Computing Cluster. P. infestans isolate MP324 (ref. 25) was provided by J. Śliwka from the Plant Breeding and Acclimatization Institute – National Research Institute, Młochów Centre (Poland).
Ethics declarations
Competing interests
Kamil Witek and Jonathan D.G. Jones have filed a US patent application 62/159,240 based on this work. Matthew D. Clark owns shares in Pacific Biosciences of California.
Integrated supplementary information
Supplementary information
About this article
Cite this article
Witek, K., Jupe, F., Witek, A. et al. Accelerated cloning of a potato late blight–resistance gene using RenSeq and SMRT sequencing. Nat Biotechnol 34, 656–660 (2016). https://doi.org/10.1038/nbt.3540
Received:

Accepted:

Published:

Issue Date:

DOI: https://doi.org/10.1038/nbt.3540