As parts of the developing world embrace biotech, the focus is shifting from food production to fuels, industrial chemicals and even drugs. Daniel Grushkin investigates.
Access options
Subscribe to Journal
Get full journal access for 1 year
$59.00
only $4.92 per issue
All prices are NET prices.
VAT will be added later in the checkout.
Tax calculation will be finalised during checkout.
Rent or Buy article
Get time limited or full article access on ReadCube.
from$8.99
All prices are NET prices.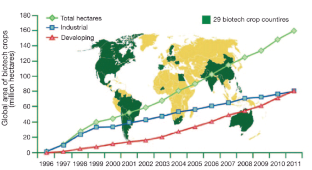 References
1

FAO. How to Feed the World in 2050. http://www.fao.org/wsfs/forum2050/wsfs-background-documents/issues-briefs/en/ (Food and Agriculture Organization of the United Nations, 2009).

2

Stein, A.J. & Rodriguez-Cerezo, E. Report no. 23846 EN, Joint Research Centre of the European Commission, Institute for Prospective Technological Studies (2009).

3

Wang, W., Yang, D. & Feldmann, K.A. J. Exp. Bot. 62, 1077–1088 (2011).

4

Lam, H.M. et al. Nat. Genet. 42, 1053–1059 (2010).

5

The International Survey of Herbicide Resistant Weeds www.weedscience.org

6

Huang, G. et al. Proc. Natl. Acad. Sci. USA 103, 14302–14306 (2006).

7

Jiao, Y. et al. Nat. Genet. 42, 541–544 (2010).

8

Castiglioni, P. et al. Plant Physiol. 147, 446–455 (2008).

9

Pollack, A., After Growth, Fortunes Turn for Monsanto, NY TImes pg B9, October 5, 2010.
About this article
Cite this article
Gruskin, D. Agbiotech 2.0. Nat Biotechnol 30, 211–214 (2012). https://doi.org/10.1038/nbt.2144