Abstract
Insulin-expressing cells that have been differentiated from human pluripotent stem cells in vitro lack the glucose responsiveness characteristic of mature beta cells. Beta-cell maturation in mice was studied to find genetic markers that enable screens for factors that induce bona fide beta cells in vitro. We find that functional beta-cell maturation is marked by an increase in the glucose threshold for insulin secretion and by expression of the gene urocortin 3.
Access options
Subscribe to Journal
Get full journal access for 1 year
$259.00
only $21.58 per issue
All prices are NET prices.
VAT will be added later in the checkout.
Rent or Buy article
Get time limited or full article access on ReadCube.
from$8.99
All prices are NET prices.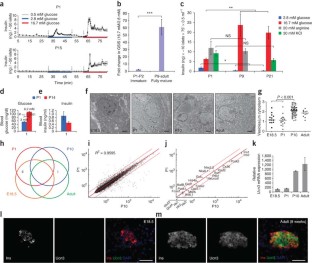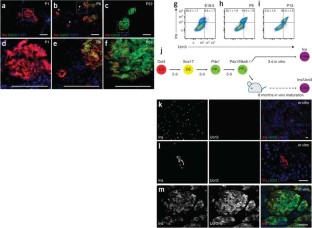 Accession codes
Accessions
Gene Expression Omnibus
References
1

Kroon, E. et al. Nat. Biotechnol. 26, 443–452 (2008).

2

Pan, F.C. & Wright, C. Dev. Dyn. 240, 530–565 (2011).

3

Slack, J.M. Development 121, 1569–1580 (1995).

4

Rozzo, A., Meneghel-Rozzo, T., Delakorda, S.L., Yang, S.B. & Rupnik, M. Ann. NY Acad. Sci. 1152, 53–62 (2009).

5

Rorsman, P. et al. Proc. Natl. Acad. Sci. USA 86, 4505–4509 (1989).

6

Richardson, C.C. et al. Diabetologia 50, 1000–1005 (2007).

7

Taniguchi, S., Tanigawa, K. & Miwa, I. Horm. Metab. Res. 32, 97–102 (2000).

8

Carvalho, C.P. et al. Diabetologia 53, 1428–1437 (2010).

9

Gu, C. et al. Cell Metab. 11, 298–310 (2010).

10

Gao, N. et al. Mol. Endocrinol. 24, 1594–1604 (2010).

11

Artner, I. et al. Diabetes 59, 2530–2539 (2010).

12

Li, C. et al. Endocrinology 144, 3216–3224 (2003).

13

Li, C., Chen, P., Vaughan, J., Lee, K.F. & Vale, W. Proc. Natl. Acad. Sci. USA 104, 4206–4211 (2007).
Acknowledgements
We thank W. Vale (Salk Institute) for providing anti-human Ucn3 antibody, K. Blum for writing the MATLAB BioGUI for analysis of GSIS, A. Kweudjeu for help with transcriptional arrays, C. Honore for help with FACS analyses, A. Roose, A. Cheng and F. Deng for excellent technical assistance, and D. Cohen, Y. Mayshar and F. Pagliuca for critical reading of the manuscript. We are grateful to all members of the Melton laboratory and the Harvard Medical School Critical Discussion Group for helpful discussions and experimental advice. B.B. was supported by European Molecular Biology Organization and Juvenile Diabetes Research Foundation post-doctoral fellowships. D.A.M. is an Investigator of the Howard Hughes Medical Institute.
Ethics declarations
Competing interests
A.Z. is an employee of BetaLogics, a division of Janssen Research & Development, LLC, one of the Johnson & Johnson Family of Companies, Raritan, NJ, USA.
Supplementary information
Supplementary Table 1, Supplementary Methods and Supplementary Figs. 1–5 (PDF 2191 kb)
About this article
Cite this article
Blum, B., Hrvatin, S., Schuetz, C. et al. Functional beta-cell maturation is marked by an increased glucose threshold and by expression of urocortin 3. Nat Biotechnol 30, 261–264 (2012). https://doi.org/10.1038/nbt.2141
Received:

Accepted:

Published:

Issue Date: