Abstract
Following the controversial failure of a recent study1 and the small numbers of animals yet screened for infection2, it remains uncertain whether bovine spongiform encephalopathy (BSE) was transmitted to sheep in the past via feed supplements and whether it is still present. Well grounded mathematical and statistical models are therefore essential to integrate the limited and disparate data, to explore uncertainty, and to define data-collection priorities. We analysed the implications of different scenarios of BSE spread in sheep for relative human exposure levels and variant Creutzfeldt–Jakob disease (vCJD) incidence. Here we show that, if BSE entered the sheep population and a degree of transmission occurred, then ongoing public health risks from ovine BSE are likely to be greater than those from cattle, but that any such risk could be reduced by up to 90% through additional restrictions on sheep products entering the food supply. Extending the analysis to consider absolute risk, we estimate the 95% confidence interval for future vCJD mortality to be 50 to 50,000 human deaths considering exposure to bovine BSE alone, with the upper bound increasing to 150,000 once we include exposure from the worst-case ovine BSE scenario examined.
Access options
Subscribe to Journal
Get full journal access for 1 year
$199.00
only $3.90 per issue
All prices are NET prices.
VAT will be added later in the checkout.
Tax calculation will be finalised during checkout.
Rent or Buy article
Get time limited or full article access on ReadCube.
from$8.99
All prices are NET prices.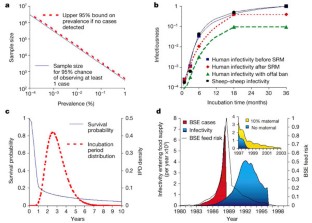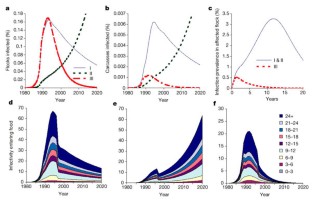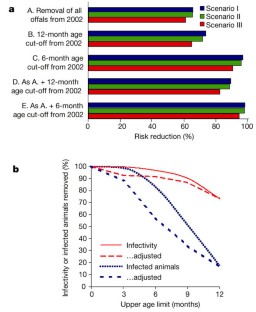 References
1

Frankish, H. Samples blunder renders sheep-BSE study useless. Lancet 358, 1436 (2001)

2

Beckett, M. House of Commons Hansard Debates, 22 October 2001 373 (2001) 〈http://www.parliament.the-stationery-office.co.uk/pa/cm200102/cmhansrd/cm011022/debindx/11022-x.htm〉.

3

Det Norske Veritas Assessment of Exposure to BSE Infectivity in the UK Sheep Flock Report no. C782506 (The Meat and Livestock Commission, London, 1998)

4

Hadlow, W. J., Kennedy, R. C. & Race, R. E. Natural infection of Suffolk sheep with scrapie virus. J. Infect. Dis. 146, 657–664 (1982)

5

van Keulen, L. J. M., Schreuder, B. E. C., Vromans, M. E. W., Langeveld, J. P. M. & Smits, M. A. Scrapie-associated prion protein in the gastrointestinal tract of sheep with natural scrapie. J. Comp. Pathol. 121, 55–63 (1999)

6

van Keulen, L. J. M., Schreuder, B. E. C., Vromans, M. E. W., Langeveld, J. P. M. & Smits, M. A. Pathogenesis of natural scrapie in sheep. Arch. Virol. Suppl. 16, 57–71 (2000)

7

Andreoletti, O. et al. Early accumulation of PrPSc in gut-associated lymphoid and nervous tissues of susceptible sheep from a Romanov flock with natural scrapie. J. Gen. Virol. 81, 3115–3126 (2000)

8

Foster, J. D., Parnham, D. W., Hunter, N. & Bruce, M. Distribution of the prion protein in sheep terminally infected with BSE following experimental oral transmission. J. Gen. Virol. 82, 2319–2326 (2001)

9

Jeffrey, M. et al. Oral inoculation of sheep with the agent of bovine spongiform encephalopathy (BSE). 1. Onset and distribution of disease-specific PrP accumulation in brain and viscera. J. Comp. Pathol. 124, 280–289 (2001)

10

Fraser, H., Bruce, M. E., Chree, A., McConnell, I. & Wells, G. A. H. Transmission of bovine spongiform encephalopathy and scrapie to mice. J. Gen. Virol. 73, 1891–1897 (1992)

11

Wells, G. A. H. et al. Infectivity in the ileum of cattle challenged orally with bovine spongiform encephalopathy. Vet. Rec. 135, 40–41 (1994)

12

Hart, R. J., Church, P. N., Kempster, A. J., Matthews, K. R. Audit of Bovine and Ovine Slaughter and By-products Sector (Ruminant Products Audit) (Leatherhead Food Research Association, London, 1997).

13

Hunter, N. PrP genetics in sheep and the implications for scrapie and BSE. Trends Microbiol. 5, 331–334 (1997)

14

Hunter, N., Goldmann, W., Marshall, E. & O'Neill, G. Sheep and goats: natural and experimental TSEs and factors influencing incidence of disease. Arch. Virol. Suppl. 16, 181–188 (2000)

15

Jeffrey, M. et al. Frequency and tissue distribution of infection-specific PrP in tissues of clinical scrapie and cull sheep obtained from scrapie affected farms in Shetland. J. Comp. Pathol. (submitted).

16

Baylis, M., Houston, F., Goldmann, W., Hunter, N. & McLean, A. R. The signature of scrapie: differences in the PrP genotype profile of scrapie-affected and scrapie-free UK sheep flocks. Proc. R. Soc. Lond. B 267, 2029–2035 (2000)

17

Hunter, N. et al. Is scrapie solely a genetic disease? Nature 386, 137 (1997)

18

Anderson, R. M. et al. Transmission dynamics and epidemiology of BSE in British cattle. Nature 382, 779–788 (1996)

19

Ferguson, N. M., Donnelly, C. A., Woolhouse, M. E. J. & Anderson, R. M. The epidemiology of BSE in cattle herds in Great Britain II: Model construction and analysis of transmission dynamics. Phil. Trans. R. Soc. Lond. B 352, 803–838 (1997)

20

Donnelly, C. A. & Ferguson, N. M. Statistical Aspects of BSE and vCJD—Models for Epidemics (Chapman & Hall and CRC, London, 2000)

21

Woolhouse, M. E. J. et al. Population dynamics of scrapie in a sheep flock. Phil. Trans. R. Soc. Lond. B 354, 751–756 (1999)

22

Gravenor, M. B., Cox, D. R., Hoinville, L. J., Hoek, A. & McLean, A. R. The flock-to-flock force of infection for scrapie in Britain. Proc. R. Soc. Lond. B 268, 587–592 (2001)

23

Hoinville, L. J. A review of the epidemiology of scrapie in sheep. Rev. Sci. Techn. Office Int. Epizooties 15, 827–852 (1996)

24

Hoinville, L. J., Hoek, A., Gravenor, M. B. & McLean, A. R. Descriptive epidemiology of scrapie in Great Britain: results of a postal survey. Vet. Rec. 146, 455–461 (2000)

25

Ghani, A. C., Ferguson, N. M., Donnelly, C. A. & Anderson, R. M. Predicted vCJD mortality in Great Britain. Nature 406, 583–584 (2000)

26

d'Aignaux, J. N. H., Cousens, S. N., Smith, P. G. Predictability of the UK variant Creutzfeldt–Jakob disease epidemic. Science 294, 1729–1731; published online 25 October 2001 (10.1126/science.1064748).

27

Valleron, A.-J., Boelle, P.-Y., Will, R. & Cesbron, J.-Y. Estimation of epidemic size and incubation time based on age characteristics of vCJD in the United Kingdom. Science 294, 1726–1728 (2001)

28

Hill, A. F. et al. Molecular screening of sheep for bovine spongiform encephalopathy. Neurosci. Lett. 255, 159–162 (1998)

29

Maissen, M., Roeckl, F., Glatzel, M., Goldmann, W. & Aguzzi, A. Plasminogen binds to disease-associated prion protein of multiple species. Lancet 357, 2026–2028 (2001)

30

Hagenaars, T. J., Ferguson, N. M., Donnelly, C. A. & Anderson, R. M. Persistence patterns of scrapie in a sheep flock. Epidemiol. Infect. 127, 157–167 (2001)
Acknowledgements
This work was funded by the Food Standards Agency. N.M.F. and A.C.G. acknowledge funding from The Royal Society. C.A.D., T.J.H. and R.M.A. acknowledge funding from the Wellcome Trust. We are very grateful to M. Bruce, S. Bellworthy and M. Jeffrey for access to pre-publication data on infectivity. We also thank L. Hoinville, J. Wilesmith and R. Will for access to data. We thank N. Hunter, L. Green, J. Anderson, A. James, A. Bromley, H. Mason, P. Comer and members of the Spongiform Encephalopathy Advisory Committee for discussions.
Ethics declarations
Competing interests
The authors declare no competing financial interests.
Supplementary information
Supplementary chapters: Sheep demography, Infectivity of infected animals, Epidemiology of TSEs in sheep, Human consumption of ovine material, Epidemiological model of sheep TSEs, Human exposure and impact of risk reduction strategies, Absolute risk estimates: vCJD epidemic projection. Contains 13 supplementary tables, 4 supplementary figures and references. (PDF 432 kb)
About this article
Cite this article
Ferguson, N., Ghani, A., Donnelly, C. et al. Estimating the human health risk from possible BSE infection of the British sheep flock. Nature 415, 420–424 (2002). https://doi.org/10.1038/nature709
Received:

Accepted:

Published:

Issue Date:
Comments
By submitting a comment you agree to abide by our Terms and Community Guidelines. If you find something abusive or that does not comply with our terms or guidelines please flag it as inappropriate.