Abstract
Somatic stem cells constantly adjust their self-renewal and lineage commitment by integrating various environmental cues to maintain tissue homeostasis. Although numerous chemical and biological signals have been identified that regulate stem-cell behaviour, whether stem cells can directly sense mechanical signals in vivo remains unclear1. Here we show that mechanical stress regulates stem-cell differentiation in the adult Drosophila midgut through the stretch-activated ion channel Piezo. We find that Piezo is specifically expressed in previously unidentified enteroendocrine precursor cells, which have reduced proliferation ability and are destined to become enteroendocrine cells. Loss of Piezo activity reduces the generation of enteroendocrine cells in the adult midgut. In addition, ectopic expression of Piezo in all stem cells triggers both cell proliferation and enteroendocrine cell differentiation. Both the Piezo mutant and overexpression phenotypes can be rescued by manipulation of cytosolic Ca2+ levels, and increases in cytosolic Ca2+ resemble the Piezo overexpression phenotype, suggesting that Piezo functions through Ca2+ signalling. Further studies suggest that Ca2+ signalling promotes stem-cell proliferation and differentiation through separate pathways. Finally, Piezo is required for both mechanical activation of stem cells in a gut expansion assay and the increase of cytosolic Ca2+ in response to direct mechanical stimulus in a gut compression assay. Thus, our study demonstrates the existence of a specific group of stem cells in the fly midgut that can directly sense mechanical signals through Piezo.
Access options
Subscribe to Journal
Get full journal access for 1 year
$199.00
only $3.90 per issue
All prices are NET prices.
VAT will be added later in the checkout.
Tax calculation will be finalised during checkout.
Rent or Buy article
Get time limited or full article access on ReadCube.
from$8.99
All prices are NET prices.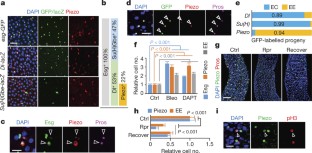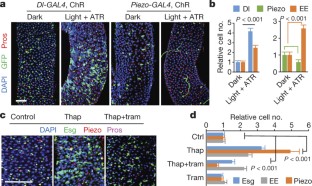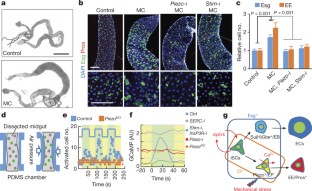 References
1

Vining, K. H. & Mooney, D. J. Mechanical forces direct stem cell behaviour in development and regeneration. Nat. Rev. Mol. Cell Biol. 18, 728–742 (2017)

2

Micchelli, C. A. & Perrimon, N. Evidence that stem cells reside in the adult Drosophila midgut epithelium. Nature 439, 475–479 (2006)

3

Ohlstein, B. & Spradling, A. The adult Drosophila posterior midgut is maintained by pluripotent stem cells. Nature 439, 470–474 (2006)

4

Li, H. & Jasper, H. Gastrointestinal stem cells in health and disease: from flies to humans. Dis. Model. Mech. 9, 487–499 (2016)

5

Lemaitre, B. & Miguel-Aliaga, I. The digestive tract of Drosophila melanogaster. Annu. Rev. Genet. 47, 377–404 (2013)

6

Kim, S. E., Coste, B., Chadha, A., Cook, B. & Patapoutian, A. The role of Drosophila Piezo in mechanical nociception. Nature 483, 209–212 (2012)

7

Coste, B. et al. Piezo proteins are pore-forming subunits of mechanically activated channels. Nature 483, 176–181 (2012)

8

Coste, B. et al. Piezo1 and Piezo2 are essential components of distinct mechanically activated cation channels. Science 330, 55–60 (2010)

9

Volkers, L., Mechioukhi, Y. & Coste, B. Piezo channels: from structure to function. Pflugers Arch. 467, 95–99 (2015)

10

Suslak, T. J. et al. Piezo is essential for amiloride-sensitive stretch-activated mechanotransduction in larval Drosophila dorsal bipolar dendritic sensory neurons. PLoS ONE 10, e0130969 (2015)

11

Buchon, N. et al. Morphological and molecular characterization of adult midgut compartmentalization in Drosophila. Cell Reports 3, 1725–1738 (2013)

12

Evans, C. J. et al. G-TRACE: rapid GAL4-based cell lineage analysis in Drosophila. Nat. Methods 6, 603–605 (2009)

13

Amcheslavsky, A., Jiang, J. & Ip, Y. T. Tissue damage-induced intestinal stem cell division in Drosophila. Cell Stem Cell 4, 49–61 (2009)

14

Ohlstein, B. & Spradling, A. Multipotent Drosophila intestinal stem cells specify daughter cell fates by differential notch signaling. Science 315, 988–992 (2007)

15

Choi, N. H., Kim, J. G., Yang, D. J., Kim, Y. S. & Yoo, M. A. Age-related changes in Drosophila midgut are associated with PVF2, a PDGF/VEGF-like growth factor. Aging Cell 7, 318–334 (2008)

16

Cinar, E. et al. Piezo1 regulates mechanotransductive release of ATP from human RBCs. Proc. Natl Acad. Sci. USA 112, 11783–11788 (2015)

17

Pathak, M. M. et al. Stretch-activated ion channel Piezo1 directs lineage choice in human neural stem cells. Proc. Natl Acad. Sci. USA 111, 16148–16153 (2014)

18

Li, J. et al. Piezo1 integration of vascular architecture with physiological force. Nature 515, 279–282 (2014)

19

Gudipaty, S. A. et al. Mechanical stretch triggers rapid epithelial cell division through Piezo1. Nature 543, 118–121 (2017)

20

Deng, H., Gerencser, A. A. & Jasper, H. Signal integration by Ca2+ regulates intestinal stem-cell activity. Nature 528, 212–217 (2015)

21

Guo, Z. & Ohlstein, B. Stem cell regulation. Bidirectional Notch signaling regulates Drosophila intestinal stem cell multipotency. Science 350, aab0988 (2015)

22

Sallé, J. et al. Intrinsic regulation of enteroendocrine fate by Numb. EMBO J. 36, 1928–1945 (2017)

23

De Ford, C. et al. The clerodane diterpene casearin J induces apoptosis of T-ALL cells through SERCA inhibition, oxidative stress, and interference with Notch1 signaling. Cell Death Dis. 7, e2070 (2016)

24

Roti, G. et al. Complementary genomic screens identify SERCA as a therapeutic target in NOTCH1 mutated cancer. Cancer Cell 23, 390–405 (2013)

25

Amcheslavsky, A. et al. Enteroendocrine cells support intestinal stem-cell-mediated homeostasis in Drosophila. Cell Reports 9, 32–39 (2014)

26

Harrison, E., Lal, S. & McLaughlin, J. T. Enteroendocrine cells in gastrointestinal pathophysiology. Curr. Opin. Pharmacol. 13, 941–945 (2013)

27

Xu, C., Luo, J., He, L., Montell, C. & Perrimon, N. Oxidative stress induces stem cell proliferation via TRPA1/RyR-mediated Ca2+ signaling in the Drosophila midgut. eLife 6, e22441 (2017)

28

Zeng, X., Chauhan, C. & Hou, S. X. Characterization of midgut stem cell- and enteroblast-specific GAL4 lines in Drosophila. Genesis 48, 607–611 (2010)

29

Lee, T. & Luo, L. Mosaic analysis with a repressible cell marker (MARCM) for Drosophila neural development. Trends Neurosci. 24, 251–254 (2001)

30

Karpowicz, P., Perez, J. & Perrimon, N. The Hippo tumor suppressor pathway regulates intestinal stem cell regeneration. Development 137, 4135–4145 (2010)

31

Veenstra, J. A., Agricola, H. J. & Sellami, A. Regulatory peptides in fruit fly midgut. Cell Tissue Res. 334, 499–516 (2008)

32

Housden, B. E. et al. Identification of potential drug targets for tuberous sclerosis complex by synthetic screens combining CRISPR-based knockouts with RNAi. Sci. Signal. 8, rs9 (2015)

33

Housden, B. E., Hu, Y. & Perrimon, N. Design and generation of Drosophila single guide RNA expression constructs. Cold Spring Harb. Protoc. https://doi.org/10.1101/pdb.prot090779 (2016)

34

Housden, B. E., Lin, S. & Perrimon, N. Cas9-based genome editing in Drosophila. Methods Enzymol. 546, 415–439 (2014)

35

Ren, X. et al. Optimized gene editing technology for Drosophila melanogaster using germ line-specific Cas9. Proc. Natl Acad. Sci. USA 110, 19012–19017 (2013)

36

Klapoetke, N. C. et al. Independent optical excitation of distinct neural populations. Nat. Methods 11, 338–346 (2014)

37

Zhao, Y. et al. An expanded palette of genetically encoded Ca2+ indicators. Science 333, 1888–1891 (2011)

38

Dai, W. & Montell, D. J. Live imaging of border cell migration in Drosophila. Methods Mol. Biol. 1407, 153–168 (2016)

39

Wen, Q. et al. Proprioceptive coupling within motor neurons drives C. elegans forward locomotion. Neuron 76, 750–761 (2012)

40

McDonald, J. C. et al. Fabrication of microfluidic systems in poly(dimethylsiloxane). Electrophoresis 21, 27–40 (2000)

41

Chen, T. W. et al. Ultrasensitive fluorescent proteins for imaging neuronal activity. Nature 499, 295–300 (2013)

42

Micchelli, C. A., Sudmeier, L., Perrimon, N., Tang, S. & Beehler-Evans, R. Identification of adult midgut precursors in Drosophila. GEP 11, 12–21 (2011)

43

Wang, C., Guo, X., Dou, K., Chen, H. & Xi, R. Ttk69 acts as a master repressor of enteroendocrine cell specification in Drosophila intestinal stem cell lineages. Development 142, 3321–3331 (2015)
Acknowledgements
We thank R. Binari, W. Song and C. Villalta for technical support; C. Xu, S. Mohr and D. Doupe for comments on the manuscript; and G. Hasan for sharing reagents. This work was supported by the Damon Runyon Cancer Research Foundation (L.H.) and a grant from the National Institutes of Health (R21DA039582). N.P. is an investigator of the Howard Hughes Medical Institute. G.S. and A.D.T.S. are supported by the National Institutes of Health (P01GM103770).
Ethics declarations
Competing interests
The authors declare no competing financial interests.
Additional information
Reviewer Information Nature thanks L. O'Brien, K. Venkatachalam and the other anonymous reviewer(s) for their contribution to the peer review of this work.
Publisher's note: Springer Nature remains neutral with regard to jurisdictional claims in published maps and institutional affiliations.
Extended data figures and tables
Supplementary information
About this article
Cite this article
He, L., Si, G., Huang, J. et al. Mechanical regulation of stem-cell differentiation by the stretch-activated Piezo channel. Nature 555, 103–106 (2018). https://doi.org/10.1038/nature25744
Received:

Accepted:

Published:

Issue Date:
Comments
By submitting a comment you agree to abide by our Terms and Community Guidelines. If you find something abusive or that does not comply with our terms or guidelines please flag it as inappropriate.