Abstract
The mechanosensitive Piezo channels function as key eukaryotic mechanotransducers. However, their structures and mechanogating mechanisms remain unknown. Here we determine the three-bladed, propeller-like electron cryo-microscopy structure of mouse Piezo1 and functionally reveal its mechanotransduction components. Despite the lack of sequence repetition, we identify nine repetitive units consisting of four transmembrane helices each—which we term transmembrane helical units (THUs)—which assemble into a highly curved blade-like structure. The last transmembrane helix encloses a hydrophobic pore, followed by three intracellular fenestration sites and side portals that contain pore-property-determining residues. The central region forms a 90?Å-long intracellular beam-like structure, which undergoes a lever-like motion to connect THUs to the pore via the interfaces of the C-terminal domain, the anchor-resembling domain and the outer helix. Deleting extracellular loops in the distal THUs or mutating single residues in the beam impairs the mechanical activation of Piezo1. Overall, Piezo1 possesses a unique 38-transmembrane-helix topology and designated mechanotransduction components, which enable a lever-like mechanogating mechanism.
Relevant articles
Open Access articles citing this article.
Shilong Yang

,

Xinwen Miao

…

Zheng Shi

Nature Communications Open Access 03 December 2022

Jonathan Mount

,

Grigory Maksaev

…

Peng Yuan

Nature Communications Open Access 12 November 2022

Huaiyu Xiong

,

Jing Yang

…

Yan Kang

Respiratory Research Open Access 29 July 2022
Access options
Subscribe to Nature+
Get immediate online access to Nature and 55 other Nature journal
Subscribe to Journal
Get full journal access for 1 year
$199.00
only $3.90 per issue
All prices are NET prices.
VAT will be added later in the checkout.
Tax calculation will be finalised during checkout.
Buy article
Get time limited or full article access on ReadCube.
$32.00
All prices are NET prices.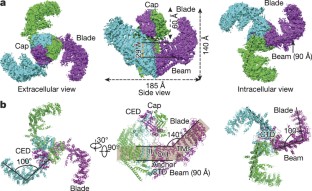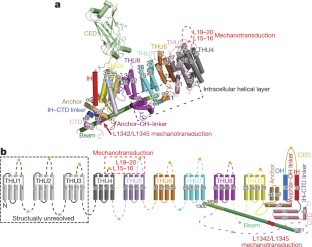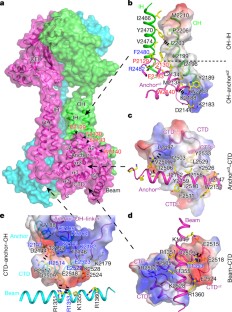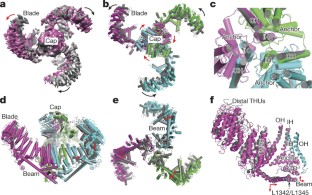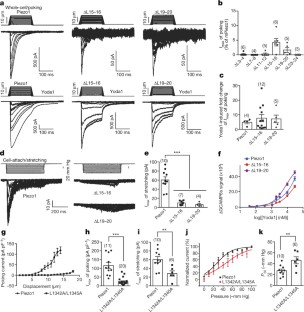 References
Coste, B. et al. Piezo1 and Piezo2 are essential components of distinct mechanically activated cation channels. Science 330, 55–60 (2010)

Coste, B. et al. Piezo proteins are pore-forming subunits of mechanically activated channels. Nature 483, 176–181 (2012)

Ge, J. et al. Architecture of the mammalian mechanosensitive Piezo1 channel. Nature 527, 64–69 (2015)

Zhao, Q. et al. Ion permeation and mechanotransduction mechanisms of mechanosensitive Piezo channels. Neuron 89, 1248–1263 (2016)

Geng, J., Zhao, Q., Zhang, T. & Xiao, B. In touch with the mechanosensitive Piezo channels: structure, ion permeation, and mechanotransduction. Curr. Top. Membr. 79, 159–195 (2017)

Ranade, S. S., Syeda, R. & Patapoutian, A. Mechanically activated ion channels. Neuron 87, 1162–1179 (2015)

Ranade, S. S. et al. Piezo1, a mechanically activated ion channel, is required for vascular development in mice. Proc. Natl Acad. Sci. USA 111, 10347–10352 (2014)

Li, J. et al. Piezo1 integration of vascular architecture with physiological force. Nature 515, 279–282 (2014)

Maksimovic, S. et al. Epidermal Merkel cells are mechanosensory cells that tune mammalian touch receptors. Nature 509, 617–621 (2014)

Woo, S. H. et al. Piezo2 is required for Merkel-cell mechanotransduction. Nature 509, 622–626 (2014)

Ranade, S. S. et al. Piezo2 is the major transducer of mechanical forces for touch sensation in mice. Nature 516, 121–125 (2014)

Ikeda, R. et al. Merkel cells transduce and encode tactile stimuli to drive Ab-afferent impulses. Cell 157, 664–675 (2014)

Woo, S. H. et al. Piezo2 is the principal mechanotransduction channel for proprioception. Nat. Neurosci. 18, 1756–1762 (2015)

Nonomura, K. et al. Piezo2 senses airway stretch and mediates lung inflation-induced apnoea. Nature 541, 176–181 (2017)

Alper, S. L. Genetic diseases of PIEZO1 and PIEZO2 dysfunction. Curr. Top. Membr. 79, 97–134 (2017)

Kamajaya, A., Kaiser, J. T., Lee, J., Reid, M. & Rees, D. C. The structure of a conserved Piezo channel domain reveals a topologically distinct β sandwich fold. Structure 22, 1520–1527 (2014)

Syeda, R. et al. Piezo1 channels are inherently mechanosensitive. Cell Rep. 17, 1739–1746 (2016)

Cox, C. D. et al. Removal of the mechanoprotective influence of the cytoskeleton reveals PIEZO1 is gated by bilayer tension. Nat. Commun. 7, 10366 (2016)

Wang, Y. & Xiao, B. The mechanosensitive Piezo1 channel: structural features and molecular bases underlying its ion permeation and mechanotransduction. J. Physiol. (Lond.) (2017)

Coste, B. et al. Piezo1 ion channel pore properties are dictated by C-terminal region. Nat. Commun. 6, 7223 (2015)

Prole, D. L. & Taylor, C. W. Identification and analysis of putative homologues of mechanosensitive channels in pathogenic protozoa. PLoS One 8, e66068 (2013)

Zhang, T., Chi, S., Jiang, F., Zhao, Q. & Xiao, B. A protein interaction mechanism for suppressing the mechanosensitive Piezo channels. Nat. Commun. 8, 1797 (2017)

Lomize, M. A., Pogozheva, I. D., Joo, H., Mosberg, H. I. & Lomize, A. L. OPM database and PPM web server: resources for positioning of proteins in membranes. Nucleic Acids Res. 40, D370–D376 (2012)

Gnanasambandam, R., Bae, C., Gottlieb, P. A. & Sachs, F. Ionic selectivity and permeation properties of human PIEZO1 channels. PLoS ONE 10, e0125503 (2015)

Lukacs, V. et al. Impaired PIEZO1 function in patients with a novel autosomal recessive congenital lymphatic dysplasia. Nat. Commun. 6, 8329 (2015)

Syeda, R. et al. Chemical activation of the mechanotransduction channel Piezo1. eLife 4, (2015)

Chang, G., Spencer, R. H., Lee, A. T., Barclay, M. T. & Rees, D. C. Structure of the MscL homolog from Mycobacterium tuberculosis: a gated mechanosensitive ion channel. Science 282, 2220–2226 (1998)

Brohawn, S. G., Campbell, E. B. & MacKinnon, R. Physical mechanism for gating and mechanosensitivity of the human TRAAK K+ channel. Nature 516, 126–130 (2014)

Jin, P. et al. Electron cryo-microscopy structure of the mechanotransduction channel NOMPC. Nature 547, 118–122 (2017)

Li, X., Zheng, S., Agard, D. A. & Cheng, Y. Asynchronous data acquisition and on-the-fly analysis of dose fractionated cryoEM images by UCSFImage. J. Struct. Biol. 192, 174–178 (2015)

Li, X. et al. Electron counting and beam-induced motion correction enable near-atomic-resolution single-particle cryo-EM. Nat. Methods 10, 584–590 (2013)

Zheng, S. Q. et al. MotionCor2: anisotropic correction of beam-induced motion for improved cryo-electron microscopy. Nat. Methods 14, 331–332 (2017)

Mindell, J. A. & Grigorieff, N. Accurate determination of local defocus and specimen tilt in electron microscopy. J. Struct. Biol. 142, 334–347 (2003)

Scheres, S. H. RELION: implementation of a Bayesian approach to cryo-EM structure determination. J. Struct. Biol. 180, 519–530 (2012)

Shaikh, T. R. et al. SPIDER image processing for single-particle reconstruction of biological macromolecules from electron micrographs. Nat. Protocols 3, 1941–1974 (2008)

Zhang, K. Gctf: Real-time CTF determination and correction. J. Struct. Biol. 193, 1–12 (2016)

Gong, X. et al. Structural insights into the Niemann-Pick C1 (NPC1)-mediated cholesterol transfer and Ebola infection. Cell 165, 1467–1478 (2016)

Bai, X. C., Rajendra, E., Yang, G., Shi, Y. & Scheres, S. H. Sampling the conformational space of the catalytic subunit of human γ-secretase. eLife 4, e11182 (2015)

Scheres, S. H. & Chen, S. Prevention of overfitting in cryo-EM structure determination. Nat. Methods 9, 853–854 (2012)

Rosenthal, P. B. & Henderson, R. Optimal determination of particle orientation, absolute hand, and contrast loss in single-particle electron cryomicroscopy. J. Mol. Biol. 333, 721–745 (2003)

Cardone, G., Heymann, J. B. & Steven, A. C. One number does not fit all: mapping local variations in resolution in cryo-EM reconstructions. J. Struct. Biol. 184, 226–236 (2013)

Tusnády, G. E. & Simon, I. The HMMTOP transmembrane topology prediction server. Bioinformatics 17, 849–850 (2001)

Pettersen, E. F. et al. UCSF Chimera—a visualization system for exploratory research and analysis. J. Comput. Chem. 25, 1605–1612 (2004)

Emsley, P., Lohkamp, B., Scott, W. G. & Cowtan, K. Features and development of Coot. Acta Crystallogr. D 66, 486–501 (2010)

Trabuco, L. G., Villa, E., Mitra, K., Frank, J. & Schulten, K. Flexible fitting of atomic structures into electron microscopy maps using molecular dynamics. Structure 16, 673–683 (2008)

Adams, P. D . et al. PHENIX: a comprehensive Python-based system for macromolecular structure solution. Acta Crystallogr. D 66, 213–221 (2010)

Yang, B. et al. Identification of cross-linked peptides from complex samples. Nat. Methods 9, 904–906 (2012)
Acknowledgements
We thank N. Yan for critical discussion, and the Beijing Advanced Innovation Center for Structural Biology for facility and financial support. This work was supported by grant numbers 31630090, 2016YFA0500402, 31422027, 31371118 and 2015CB910102 to B.X.; 31570730, 2016YFA0501102 and 2016YFA0501902 to X.L.; and 21375010 to M.-Q.D., from either the National Natural Science Foundation of China or the National Key R&D Program of China. B.X. and X.L. are awardees of the Young Thousand Talent Program of China.
Ethics declarations
Competing interests
The authors declare no competing financial interests.
Additional information
Reviewer Information Nature thanks E. McCleskey and the other anonymous reviewer(s) for their contribution to the peer review of this work.
Publisher's note: Springer Nature remains neutral with regard to jurisdictional claims in published maps and institutional affiliations.
Extended data figures and tables
Supplementary information
This file contains Supplementary Data Figures 1-2 and Supplementary Table 1. (PDF 4978 kb)
About this article
Cite this article
Zhao, Q., Zhou, H., Chi, S. et al. Structure and mechanogating mechanism of the Piezo1 channel. Nature 554, 487–492 (2018). https://doi.org/10.1038/nature25743
Received:

Accepted:

Published:

Issue Date:

DOI: https://doi.org/10.1038/nature25743
Comments
By submitting a comment you agree to abide by our Terms and Community Guidelines. If you find something abusive or that does not comply with our terms or guidelines please flag it as inappropriate.