Abstract
Many models of cognition and of neural computations posit the use and estimation of prior stimulus statistics1,2,3,4: it has long been known that working memory and perception are strongly impacted by previous sensory experience, even when that sensory history is not relevant to the current task at hand. Nevertheless, the neural mechanisms and regions of the brain that are necessary for computing and using such prior experience are unknown. Here we report that the posterior parietal cortex (PPC) is a critical locus for the representation and use of prior stimulus information. We trained rats in an auditory parametric working memory task, and found that they displayed substantial and readily quantifiable behavioural effects of sensory-stimulus history, similar to those observed in humans5,6 and monkeys7. Earlier proposals that the PPC supports working memory8,9 predict that optogenetic silencing of this region would impair behaviour in our working memory task. Contrary to this prediction, we found that silencing the PPC significantly improved performance. Quantitative analyses of behaviour revealed that this improvement was due to the selective reduction of the effects of prior sensory stimuli. Electrophysiological recordings showed that PPC neurons carried far more information about the sensory stimuli of previous trials than about the stimuli of the current trial. Furthermore, for a given rat, the more information about previous trial sensory history in the neural firing rates of the PPC, the greater the behavioural effect of sensory history, suggesting a tight link between behaviour and PPC representations of stimulus history. Our results indicate that the PPC is a central component in the processing of sensory-stimulus history, and could enable further neurobiological investigation of long-standing questions regarding how perception and working memory are affected by prior sensory information.
Relevant articles
Open Access articles citing this article.
Jongmin Moon

&

Oh-Sang Kwon

BMC Biology Open Access 07 November 2022

Anne E. Urai

&

Tobias H. Donner

Nature Communications Open Access 12 October 2022

Felix Jung

,

Yevgenij Yanovsky

…

Andreas Draguhn

Pflügers Archiv - European Journal of Physiology Open Access 19 August 2022
Access options
Access Nature and 54 other Nature Portfolio journals
Get Nature+, our best-value online-access subscription
$29.99 per month
cancel any time
Subscribe to this journal
Receive 51 print issues and online access
$199.00 per year
only $3.90 per issue
Rent or buy this article
Get just this article for as long as you need it
$39.95
Prices may be subject to local taxes which are calculated during checkout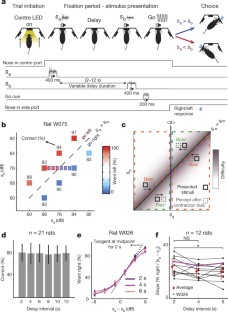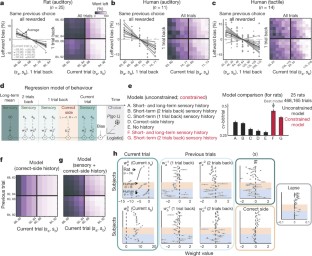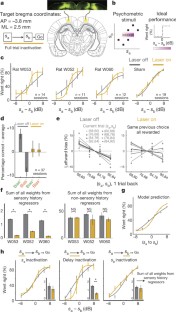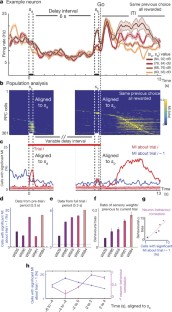 References
Steyvers, M., Griffiths, T. L. & Dennis, S. Probabilistic inference in human semantic memory. Trends Cogn. Sci. 10, 327–334 (2006)

Chater, N., Tenenbaum, J. B. & Yuille, A. Probabilistic models of cognition: conceptual foundations. Trends Cogn. Sci. 10, 287–291 (2006)

Pouget, A., Beck, J. M., Ma, W. J. & Latham, P. E. Probabilistic brains: knowns and unknowns. Nat. Neurosci. 16, 1170–1178 (2013)

Schapiro, A. & Turk-Browne, N. in Brain Mapping: An Encyclopaedic Reference Vol. 3, (ed. Toga, A. W.) 501–506 (Academic, 2015)

Ashourian, P. & Loewenstein, Y. Bayesian inference underlies the contraction bias in delayed comparison tasks. PLoS ONE 6, e19551 (2011)

Fassihi, A., Akrami, A., Esmaeili, V. & Diamond, M. E. Tactile perception and working memory in rats and humans. Proc. Natl Acad. Sci. USA 111, 2331–2336 (2014)

Romo, R. & Salinas, E. Flutter discrimination: neural codes, perception, memory and decision making. Nat. Rev. Neurosci. 4, 203–218 (2003)

Harvey, C. D., Coen, P. & Tank, D. W. Choice-specific sequences in parietal cortex during a virtual-navigation decision task. Nature 484, 62–68 (2012)

Carandini, M. & Churchland, A. K. Probing perceptual decisions in rodents. Nat. Neurosci. 16, 824–831 (2013)

Visscher, K. M., Kahana, M. J. & Sekuler, R. Trial-to-trial carryover in auditory short-term memory. J. Exp. Psychol. Learn. Mem. Cogn. 35, 46–56 (2009)

Lockhead, G. R. & King, M. C. A memory model of sequential effects in scaling tasks. J. Exp. Psychol. Hum. Percept. Perform. 9, 461–473 (1983)

Ernst, M. O. & Banks, M. S. Humans integrate visual and haptic information in a statistically optimal fashion. Nature 415, 429–433 (2002)

Körding, K. P. & Wolpert, D. M. Bayesian integration in sensorimotor learning. Nature 427, 244–247 (2004)

Hollingworth, H. L. The central tendency of judgment. J. Philos. Psychol. Sci. Methods 7, 461–469 (1910)

Karim, M., Harris, J. A., Langdon, A. & Breakspear, M. The influence of prior experience and expected timing on vibrotactile discrimination. Front. Neurosci. 7, 255 (2013)

Hernández, A., Salinas, E., García, R. & Romo, R. Discrimination in the sense of flutter: new psychophysical measurements in monkeys. J. Neurosci. 17, 6391–6400 (1997)

Raviv, O., Ahissar, M. & Loewenstein, Y. How recent history affects perception: the normative approach and its heuristic approximation. PLoS Comput. Biol. 8, e1002731 (2012)

Busse, L. et al. The detection of visual contrast in the behaving mouse. J. Neurosci. 31, 11351–11361 (2011)

Abrahamyan, A., Silva, L. L., Dakin, S. C., Carandini, M. & Gardner, J. L. Adaptable history biases in human perceptual decisions. Proc. Natl Acad. Sci. USA 113, E3548–E3557 (2016)

Hwang, E. J., Dahlen, J. E., Mukundan, M. & Komiyama, T. History-based action selection bias in posterior parietal cortex. Nat. Commun. 8, 1242 (2017)

Olkkonen, M., McCarthy, P. F. & Allred, S. R. The central tendency bias in color perception: effects of internal and external noise. J. Vis. 14, 5 (2014)

Fritsche, M., Mostert, P. & de Lange, F. P. Opposite effects of recent history on perception and decision. Curr. Biol. 27, 590–595 (2017)

Lu, Z. L., Williamson, S. J. & Kaufman, L. Behavioral lifetime of human auditory sensory memory predicted by physiological measures. Science 258, 1668–1670 (1992)

Sinclair, R. J. & Burton, H. Discrimination of vibrotactile frequencies in a delayed pair comparison task. Percept. Psychophys. 58, 680–692 (1996)

Preuschhof, C., Schubert, T., Villringer, A. & Heekeren, H. R. Prior information biases stimulus representations during vibrotactile decision making. J. Cogn. Neurosci. 22, 875–887 (2010)

Papadimitriou, C., Ferdoash, A. & Snyder, L. H. Ghosts in the machine: memory interference from the previous trial. J. Neurophysiol. 113, 567–577 (2015)

Fischer, J. & Whitney, D. Serial dependence in visual perception. Nat. Neurosci. 17, 738–743 (2014)

Pasternak, T. & Greenlee, M. W. Working memory in primate sensory systems. Nat. Rev. Neurosci. 6, 97–107 (2005)

Erlich, J. C., Brunton, B. W., Duan, C. A., Hanks, T. D. & Brody, C. D. Distinct effects of prefrontal and parietal cortex inactivations on an accumulation of evidence task in the rat. eLife 4, e05457 (2015)

Raposo, D., Kaufman, M. T. & Churchland, A. K. A category-free neural population supports evolving demands during decision-making. Nat. Neurosci. 17, 1784–1792 (2014)

Paxinos, G. & Watson, C. The Rat Brain in Stereotaxic Coordinates 5th edn (Elsevier, 2004)

Nogueira, R. et al. Lateral orbitofrontal cortex anticipates choices and integrates prior with current information. Nat. Commun. 8, 14823 (2017)

Paninski, L., Shoham, S., Fellows, M. R., Hatsopoulos, N. G. & Donoghue, J. P. Superlinear population encoding of dynamic hand trajectory in primary motor cortex. J. Neurosci. 24, 8551–8561 (2004)

Hanks, T. D. et al. Distinct relationships of parietal and prefrontal cortices to evidence accumulation. Nature 520, 220–223 (2015)

Shannon, C. E. A mathematical theory of communication. Bell Syst. Tech. J. 27, 379–423 (1948)

Rieke, F., Warland, D. & Bialek, W. Coding efficiency and information rates in sensory neurons. Europhys. Lett. 22, 151–156 (1993)

Treves, A. & Panzeri, S. The upward bias in measures of information derived from limited data samples. Neural Comput. 7, 399–407 (1995)

Nemenman, I., Bialek, W. & de Ruyter van Steveninck, R. Entropy and information in neural spike trains: progress on the sampling problem. Phys. Rev. E 69, 056111 (2004)

Ince, R. A. A., Mazzoni, A., Petersen, R. S. & Panzeri, S. Open source tools for the information theoretic analysis of neural data. Front. Neurosci. 4, 62–70 (2010)
Acknowledgements
We thank C. Duan, R. Low, A. Piet, L. Pinto, B. Scott and I. Witten for their comments on the manuscript. We thank K. Osorio and J. Teran for animal and laboratory support.
Ethics declarations
Competing interests
The authors declare no competing financial interests.
Additional information
Reviewer Information Nature thanks L. Busse and J. de la Rocha for their contribution to the peer review of this work.
Publisher's note: Springer Nature remains neutral with regard to jurisdictional claims in published maps and institutional affiliations.
Extended data figures and tables
Supplementary information
About this article
Cite this article
Akrami, A., Kopec, C., Diamond, M. et al. Posterior parietal cortex represents sensory history and mediates its effects on behaviour. Nature 554, 368–372 (2018). https://doi.org/10.1038/nature25510
Received:

Accepted:

Published:

Issue Date:

DOI: https://doi.org/10.1038/nature25510
Comments
By submitting a comment you agree to abide by our Terms and Community Guidelines. If you find something abusive or that does not comply with our terms or guidelines please flag it as inappropriate.