Abstract
Astrocytes are complex glial cells with numerous fine cellular processes that infiltrate the neuropil and interact with synapses. The mechanisms that control the establishment of astrocyte morphology are unknown, and it is unclear whether impairing astrocytic infiltration of the neuropil alters synaptic connectivity. Here we show that astrocyte morphogenesis in the mouse cortex depends on direct contact with neuronal processes and occurs in parallel with the growth and activity of synaptic circuits. The neuroligin family cell adhesion proteins NL1, NL2, and NL3, which are expressed by cortical astrocytes, control astrocyte morphogenesis through interactions with neuronal neurexins. Furthermore, in the absence of astrocytic NL2, the formation and function of cortical excitatory synapses are diminished, whereas inhibitory synaptic function is enhanced. Our findings highlight a previously undescribed mechanism of action for neuroligins and link astrocyte morphogenesis to synaptogenesis. Because neuroligin mutations have been implicated in various neurological disorders, these findings also point towards an astrocyte-based mechanism of neural pathology.
Relevant articles
Open Access articles citing this article.
Hidenori Tabata

,

Megumi Sasaki

…

Kazunori Nakajima

Nature Communications Open Access 02 November 2022

Xing Liu

,

Fuzhou Hua

…

Xifeng Wang

Journal of Translational Medicine Open Access 10 September 2022

Mian Wang

,

Wanlu Li

…

Yu Shrike Zhang

Nature Communications Open Access 09 June 2022
Access options
Subscribe to Nature+
Get immediate online access to Nature and 55 other Nature journal
Subscribe to Journal
Get full journal access for 1 year
$199.00
only $3.90 per issue
All prices are NET prices.
VAT will be added later in the checkout.
Tax calculation will be finalised during checkout.
Buy article
Get time limited or full article access on ReadCube.
$32.00
All prices are NET prices.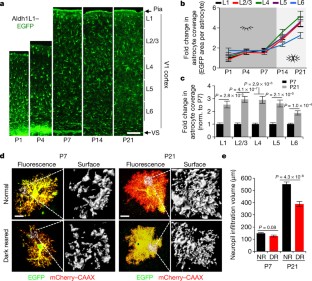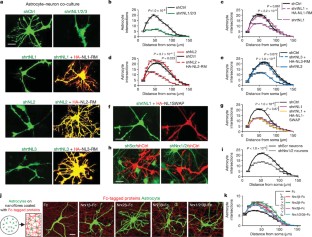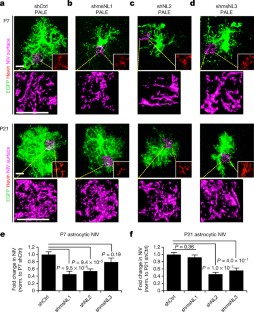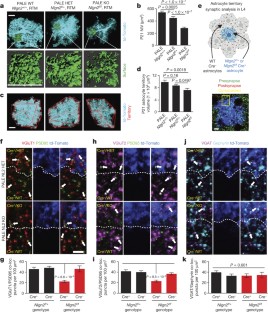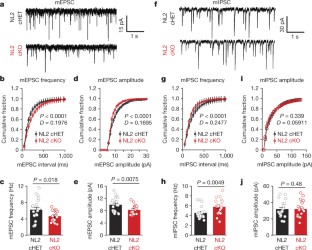 References
Clarke, L. E. & Barres, B. A. Emerging roles of astrocytes in neural circuit development. Nat. Rev. Neurosci. 14, 311–321 (2013)

Khakh, B. S. & Sofroniew, M. V. Diversity of astrocyte functions and phenotypes in neural circuits. Nat. Neurosci. 18, 942–952 (2015)

Ma, Z., Stork, T., Bergles, D. E. & Freeman, M. R. Neuromodulators signal through astrocytes to alter neural circuit activity and behaviour. Nature 539, 428–432 (2016)

Oberheim, N. A. et al. Uniquely hominid features of adult human astrocytes. J. Neurosci. 29, 3276–3287 (2009)

Freeman, M. R. Specification and morphogenesis of astrocytes. Science 330, 774–778 (2010)

Burda, J. E. & Sofroniew, M. V. Reactive gliosis and the multicellular response to CNS damage and disease. Neuron 81, 229–248 (2014)

Stichel, C. C., Müller, C. M. & Zilles, K. Distribution of glial fibrillary acidic protein and vimentin immunoreactivity during rat visual cortex development. J. Neurocytol. 20, 97–108 (1991)

Morel, L., Higashimori, H., Tolman, M. & Yang, Y. VGluT1+ neuronal glutamatergic signaling regulates postnatal developmental maturation of cortical protoplasmic astroglia. J. Neurosci. 34, 10950–10962 (2014)

Cahoy, J. D. et al. A transcriptome database for astrocytes, neurons, and oligodendrocytes: a new resource for understanding brain development and function. J. Neurosci. 28, 264–278 (2008)

Li, M. et al. Synaptogenesis in the developing mouse visual cortex. Brain Res. Bull. 81, 107–113 (2010)

Akerman, C. J., Smyth, D. & Thompson, I. D. Visual experience before eye-opening and the development of the retinogeniculate pathway. Neuron 36, 869–879 (2002)

Srinivasan, R. et al. New transgenic mouse lines for selectively targeting astrocytes and studying calcium signals in astrocyte processes in situ and in vivo. Neuron 92, 1181–1195 (2016)

Zhang, Y. et al. An RNA-sequencing transcriptome and splicing database of glia, neurons, and vascular cells of the cerebral cortex. J. Neurosci. 34, 11929–11947 (2014)

Zhang, Y. et al. Purification and characterization of progenitor and mature human astrocytes reveals transcriptional and functional differences with mouse. Neuron 89, 37–53 (2016)

Bemben, M. A., Shipman, S. L., Nicoll, R. A. & Roche, K. W. The cellular and molecular landscape of neuroligins. Trends Neurosci. 38, 496–505 (2015)

Baudouin, S. & Scheiffele, P. SnapShot: Neuroligin-neurexin complexes. Cell 141, 908 (2010)

Craig, A. M. & Kang, Y. Neurexin-neuroligin signaling in synapse development. Curr. Opin. Neurobiol. 17, 43–52 (2007)

Venkatesh, H. S. et al. Neuronal activity promotes glioma growth through neuroligin-3 secretion. Cell 161, 803–816 (2015)

Samarelli, A. V. et al. Neuroligin 1 induces blood vessel maturation by cooperating with the α6 integrin. J. Biol. Chem. 289, 19466–19476 (2014)

Proctor, D. T. et al. Axo-glial communication through neurexin-neuroligin signaling regulates myelination and oligodendrocyte differentiation. Glia (2015). 10.1002/glia.22875

Graf, E. R., Zhang, X., Jin, S. X., Linhoff, M. W. & Craig, A. M. Neurexins induce differentiation of GABA and glutamate postsynaptic specializations via neuroligins. Cell 119, 1013–1026 (2004)

Murai, K. K., Nguyen, L. N., Irie, F., Yamaguchi, Y. & Pasquale, E. B. Control of hippocampal dendritic spine morphology through ephrin-A3/EphA4 signaling. Nat. Neurosci. 6, 153–160 (2003)

Dean, C. et al. Neurexin mediates the assembly of presynaptic terminals. Nat. Neurosci. 6, 708–716 (2003)

Gokce, O. & Südhof, T. C. Membrane-tethered monomeric neurexin LNS-domain triggers synapse formation. J. Neurosci. 33, 14617–14628 (2013)

Liang, J. et al. Conditional neuroligin-2 knockout in adult medial prefrontal cortex links chronic changes in synaptic inhibition to cognitive impairments. Mol. Psychiatry 20, 850–859 (2015)

Madisen, L. et al. A robust and high-throughput Cre reporting and characterization system for the whole mouse brain. Nat. Neurosci. 13, 133–140 (2010)

Baldwin, K. T. & Eroglu, C. Molecular mechanisms of astrocyte-induced synaptogenesis. Curr. Opin. Neurobiol. 45, 113–120 (2017)

Poulopoulos, A. et al. Neuroligin 2 drives postsynaptic assembly at perisomatic inhibitory synapses through gephyrin and collybistin. Neuron 63, 628–642 (2009)

Varoqueaux, F. et al. Neuroligins determine synapse maturation and function. Neuron 51, 741–754 (2006)

Wang, Y. et al. Norrin/Frizzled4 signaling in retinal vascular development and blood brain barrier plasticity. Cell 151, 1332–1344 (2012)

Liddelow, S. A. et al. Neurotoxic reactive astrocytes are induced by activated microglia. Nature 541, 481–487 (2017)

Harris, K. D. & Shepherd, G. M. The neocortical circuit: themes and variations. Nat. Neurosci. 18, 170–181 (2015)

Allen, N. J. et al. Astrocyte glypicans 4 and 6 promote formation of excitatory synapses via GluA1 AMPA receptors. Nature 486, 410–414 (2012)

Christopherson, K. S. et al. Thrombospondins are astrocyte-secreted proteins that promote CNS synaptogenesis. Cell 120, 421–433 (2005)

Kucukdereli, H. et al. Control of excitatory CNS synaptogenesis by astrocyte-secreted proteins Hevin and SPARC. Proc. Natl Acad. Sci. USA 108, E440–E449 (2011)

Singh, S. K. & Eroglu, C. Neuroligins provide molecular links between syndromic and nonsyndromic autism. Sci. Signal. 6, re4 (2013)

Sun, C. et al. Identification and functional characterization of rare mutations of the neuroligin-2 gene (NLGN2) associated with schizophrenia. Hum. Mol. Genet. 20, 3042–3051 (2011)

Gao, R. & Penzes, P. Common mechanisms of excitatory and inhibitory imbalance in schizophrenia and autism spectrum disorders. Curr. Mol. Med. 15, 146–167 (2015)

Windrem, M. S. et al. Human iPSC glial mouse chimeras reveal glial contributions to schizophrenia. Cell Stem Cell 21, 195–208 (2017)

Chih, B., Gollan, L. & Scheiffele, P. Alternative splicing controls selective trans-synaptic interactions of the neuroligin–neurexin complex. Neuron 51, 171–178 (2006)

Singh, S. K. et al. Astrocytes assemble thalamocortical synapses by bridging NRX1α and NL1 via Hevin. Cell 164, 183–196 (2016)
Acknowledgements
This work was supported by grants from the National Institutes of Health (RO1 DA031833 to C.E., RO1 DE022743 to R.-R.J., F31 NS092419 to J.A.S.) and a Holland Trice Brain Research Award to C.E. K.T.B. was supported by Foerster-Bernstein Family and the Hartwell Foundation. We thank the NHLBI light microscopy core for STED imaging. We thank N. Allen, M. Bagnat, D. Silver and S. Soderling for critical reading of the manuscript.
Ethics declarations
Competing interests
The authors declare no competing financial interests.
Additional information
Publisher's note: Springer Nature remains neutral with regard to jurisdictional claims in published maps and institutional affiliations.
Extended data figures and tables
Supplementary information
This file contains Supplementary Methods, Supplementary References and Supplementary Figure 1, the uncropped scans. (PDF 10967 kb)
About this article
Cite this article
Stogsdill, J., Ramirez, J., Liu, D. et al. Astrocytic neuroligins control astrocyte morphogenesis and synaptogenesis. Nature 551, 192–197 (2017). https://doi.org/10.1038/nature24638
Received:

Accepted:

Published:

Issue Date:

DOI: https://doi.org/10.1038/nature24638
Comments
By submitting a comment you agree to abide by our Terms and Community Guidelines. If you find something abusive or that does not comply with our terms or guidelines please flag it as inappropriate.