Abstract
A Western lifestyle with high salt consumption can lead to hypertension and cardiovascular disease. High salt may additionally drive autoimmunity by inducing T helper 17 (TH17) cells, which can also contribute to hypertension. Induction of TH17 cells depends on gut microbiota; however, the effect of salt on the gut microbiome is unknown. Here we show that high salt intake affects the gut microbiome in mice, particularly by depleting Lactobacillus murinus. Consequently, treatment of mice with L. murinus prevented salt-induced aggravation of actively induced experimental autoimmune encephalomyelitis and salt-sensitive hypertension by modulating TH17 cells. In line with these findings, a moderate high-salt challenge in a pilot study in humans reduced intestinal survival of Lactobacillus spp., increased TH17 cells and increased blood pressure. Our results connect high salt intake to the gut–immune axis and highlight the gut microbiome as a potential therapeutic target to counteract salt-sensitive conditions.
Access options
Subscribe to Journal
Get full journal access for 1 year
$199.00
only $3.90 per issue
All prices are NET prices.
VAT will be added later in the checkout.
Tax calculation will be finalised during checkout.
Rent or Buy article
Get time limited or full article access on ReadCube.
from$8.99
All prices are NET prices.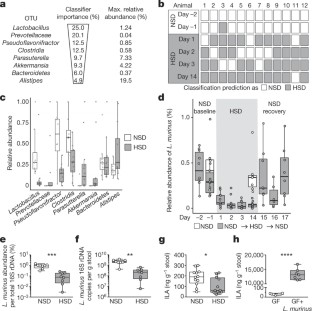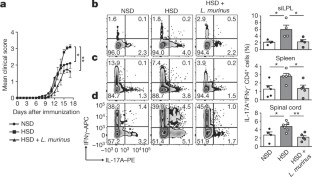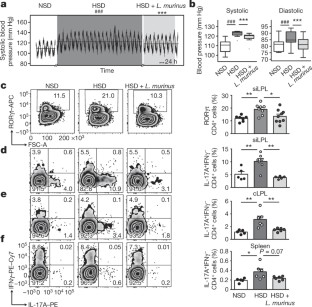 Accession codes
Primary accessions
BioProject
European Nucleotide Archive
References
1

Manzel, A. et al. Role of "Western diet" in inflammatory autoimmune diseases. Curr. Allergy Asthma Rep. 14, 404 (2014)

2

O'Donnell, M. et al. Urinary sodium and potassium excretion, mortality, and cardiovascular events. N. Engl. J. Med. 371, 612–623 (2014)

3

Weber, M. A. et al. Clinical practice guidelines for the management of hypertension in the community: a statement by the American Society of Hypertension and the International Society of Hypertension. J. Hypertens. 32, 3–15 (2014)

4

Taylor, J. 2013. ESH/ESC guidelines for the management of arterial hypertension. Eur. Heart J. 34, 2108–2109 (2013)

5

Mozaffarian, D. et al. Global sodium consumption and death from cardiovascular causes. N. Engl. J. Med. 371, 624–634 (2014)

6

Coffman, T. M. Under pressure: the search for the essential mechanisms of hypertension. Nat. Med. 17, 1402–1409 (2011)

7

Wenzel, U. et al. Immune mechanisms in arterial hypertension. J. Am. Soc. Nephrol. 27, 677–686 (2016)

8

Guzik, T. J. et al. Role of the T cell in the genesis of angiotensin II-induced hypertension and vascular dysfunction. J. Exp. Med. 204, 2449–2460 (2007)

9

Madhur, M. S. et al. Interleukin 17 promotes angiotensin II-induced hypertension and vascular dysfunction. Hypertension 55, 500–507 (2010)

10

Norlander, A. E. et al. Interleukin-17A regulates renal sodium transporters and renal injury in angiotensin II-induced hypertension. Hypertension 68, 167–174 (2016)

11

Kleinewietfeld, M. et al. Sodium chloride drives autoimmune disease by the induction of pathogenic TH17 cells. Nature 496, 518–522 (2013)

12

Wu, C. et al. Induction of pathogenic TH17 cells by inducible salt-sensing kinase SGK1. Nature 496, 513–517 (2013)

13

Miossec, P., Korn, T. & Kuchroo, V. K. Interleukin-17 and type 17 helper T cells. N. Engl. J. Med. 361, 888–898 (2009)

14

Bettelli, E. Building different mouse models for human MS. Ann. NY Acad. Sci. 1103, 11–18 (2007)

15

David, L. A. et al. Diet rapidly and reproducibly alters the human gut microbiome. Nature 505, 559–563 (2014)

16

Turnbaugh, P. J. et al. An obesity-associated gut microbiome with increased capacity for energy harvest. Nature 444, 1027–1031 (2006)

17

Honda, K. & Littman, D. R. The microbiota in adaptive immune homeostasis and disease. Nature 535, 75–84 (2016)

18

Ivanov, I. I. et al. Induction of intestinal Th17 cells by segmented filamentous bacteria. Cell 139, 485–498 (2009)

19

Cole, J. R. et al. Ribosomal Database Project: data and tools for high throughput rRNA analysis. Nucleic Acids Res. 42, D633–D642 (2013)

20

Lozupone, C. & Knight, R. UniFrac: a new phylogenetic method for comparing microbial communities. Appl. Environ. Microbiol. 71, 8228–8235 (2005)

21

Sun, Z. et al. Expanding the biotechnology potential of lactobacilli through comparative genomics of 213 strains and associated genera. Nat. Commun. 6, 8322 (2015)

22

Wannemuehler, M. J., Overstreet, A. M., Ward, D. V. & Phillips, G. J. Draft genome sequences of the altered Schaedler flora, a defined bacterial community from gnotobiotic mice. Genome Announc. 2, e00287–e14 (2014)

23

Li, J. et al. An integrated catalog of reference genes in the human gut microbiome. Nat. Biotechnol. 32, 834–841 (2014)

24

Zelante, T. et al. Tryptophan catabolites from microbiota engage aryl hydrocarbon receptor and balance mucosal reactivity via interleukin-22. Immunity 39, 372–385 (2013)

25

Jangi, S. et al. Alterations of the human gut microbiome in multiple sclerosis. Nat. Commun. 7, 12015 (2016)

26

Berer, K. et al. Commensal microbiota and myelin autoantigen cooperate to trigger autoimmune demyelination. Nature 479, 538–541 (2011)

27

Haghikia, A. et al. Dietary fatty acids directly impact central nervous system autoimmunity via the small intestine. Immunity 43, 817–829 (2015)

28

Rothhammer, V. et al. Type I interferons and microbial metabolites of tryptophan modulate astrocyte activity and central nervous system inflammation via the aryl hydrocarbon receptor. Nat. Med. 22, 586–597 (2016)

29

Khalesi, S., Sun, J., Buys, N. & Jayasinghe, R. Effect of probiotics on blood pressure: a systematic review and meta-analysis of randomized, controlled trials. Hypertension 64, 897–903 (2014)

30

Hansen, T. W. et al. Predictive role of the nighttime blood pressure. Hypertension 57, 3–10 (2011)

31

Forslund, K. et al. Country-specific antibiotic use practices impact the human gut resistome. Genome Res. 23, 1163–1169 (2013)

32

Voigt, A. Y. et al. Temporal and technical variability of human gut metagenomes. Genome Biol. 16, 73 (2015)

33

Mende, D. R., Sunagawa, S., Zeller, G. & Bork, P. Accurate and universal delineation of prokaryotic species. Nat. Methods 10, 881–884 (2013)

34

Farez, M. F., Fiol, M. P., Gaitán, M. I., Quintana, F. J. & Correale, J. Sodium intake is associated with increased disease activity in multiple sclerosis. J. Neurol. Neurosurg. Psychiatry 86, 26–31 (2015)

35

Fitzgerald, K. C. et al. Sodium intake and multiple sclerosis activity and progression in BENEFIT. Ann. Neurol. 82, 20–29 (2017)

36

Lamas, B. et al. CARD9 impacts colitis by altering gut microbiota metabolism of tryptophan into aryl hydrocarbon receptor ligands. Nat. Med. 22, 598–605 (2016)

37

Wang, Y. et al. Kynurenine is an endothelium-derived relaxing factor produced during inflammation. Nat. Med. 16, 279–285 (2010)

38

Binger, K. J. et al. High salt reduces the activation of IL-4- and IL-13-stimulated macrophages. J. Clin. Invest. 125, 4223–4238 (2015)

39

Eil, R. et al. Ionic immune suppression within the tumour microenvironment limits T cell effector function. Nature 537, 539–543 (2016)

40

Hernandez, A. L. et al. Sodium chloride inhibits the suppressive function of FOXP3+ regulatory T cells. J. Clin. Invest. 125, 4212–4222 (2015)

41

Jantsch, J. et al. Cutaneous Na+ storage strengthens the antimicrobial barrier function of the skin and boosts macrophage-driven host defense. Cell Metab. 21, 493–501 (2015)

42

Cox, L. M. et al. Altering the intestinal microbiota during a critical developmental window has lasting metabolic consequences. Cell 158, 705–721 (2014)

43

Tamburini, S., Shen, N., Wu, H. C. & Clemente, J. C. The microbiome in early life: implications for health outcomes. Nat. Med. 22, 713–722 (2016)

44

Martínez, I. et al. The gut microbiota of rural Papua New Guineans: composition, diversity patterns, and ecological processes. Cell Reports 11, 527–538 (2015)

45

Caporaso, J. G. et al. Ultra-high-throughput microbial community analysis on the Illumina HiSeq and MiSeq platforms. ISME J. 6, 1621–1624 (2012)

46

Preheim, S. P., Perrotta, A. R., Martin-Platero, A. M., Gupta, A. & Alm, E. J. Distribution-based clustering: using ecology to refine the operational taxonomic unit. Appl. Environ. Microbiol. 79, 6593–6603 (2013)

47

Edgar, R. C. & Flyvbjerg, H. Error filtering, pair assembly and error correction for next-generation sequencing reads. Bioinformatics 31, 3476–3482 (2015)

48

Wang, Q., Garrity, G. M., Tiedje, J. M. & Cole, J. R. Naive Bayesian classifier for rapid assignment of rRNA sequences into the new bacterial taxonomy. Appl. Environ. Microbiol. 73, 5261–5267 (2007)

49

Edgar, R. C. Search and clustering orders of magnitude faster than BLAST. Bioinformatics 26, 2460–2461 (2010)

50

Oksanen, J . et al. Vegan: Community Ecology Package. R package v.2.3–0 http://CRAN.R-project.org/package=vegan (2015)

51

Caporaso, J. G. et al. PyNAST: a flexible tool for aligning sequences to a template alignment. Bioinformatics 26, 266–267 (2010)

52

Sievers, F. et al. Fast, scalable generation of high-quality protein multiple sequence alignments using Clustal Omega. Mol. Syst. Biol. 7, 539 (2011)

53

Price, M. N., Dehal, P. S. & Arkin, A. P. FastTree 2—approximately maximum-likelihood trees for large alignments. PLoS One 5, e9490 (2010)

54

Paradis, E., Claude, J. & Strimmer, K. APE: analyses of phylogenetics and evolution in R language. Bioinformatics 20, 289–290 (2004)

55

Freund, Y. & Schapire, R. E. A decision-theoretic generalization of on-line learning and an application to boosting. J. Comput. Syst. Sci. 55, 119–139 (1997)

56

Pedregosa, F. et al. Scikit-learn: machine learning in Python. J. Mach. Learn. Res. 12, 2825–2830 (2011)

57

Breiman, L. Random forests. Mach. Learn. 45, 5–32 (2001)

58

Pietzke, M., Zasada, C., Mudrich, S. & Kempa, S. Decoding the dynamics of cellular metabolism and the action of 3-bromopyruvate and 2-deoxyglucose using pulsed stable isotope-resolved metabolomics. Cancer Metab. 2, 9 (2014)

59

Kuich, P. H., Hoffmann, N. & Kempa, S. Maui-VIA: a user-friendly software for visual identification, alignment, correction, and quantification of gas chromatography–mass spectrometry data. Front. Bioeng. Biotechnol. 2, 84 (2015)

60

Hartemink, R., Domenech, V. R. & Rombouts, F. M. LAMVAB—A new selective medium for the isolation of lactobacilli from faeces. J. Microbiol. Methods 29, 77–84 (1997)

61

Gomila, M. et al. Genotypic and phenotypic applications for the differentiation and species-level identification of Achromobacter for clinical diagnoses. PLoS One 9, e114356 (2014)

62

Itani, H. A. et al. CD70 exacerbates blood pressure elevation and renal damage in response to repeated hypertensive stimuli. Circ. Res. 118, 1233–1243 (2016)

63

Atarashi, K. & Honda, K. Analysis of murine lamina propria TH17 cells. Protoc. Exch. http://doi.org/10.1038/nprot.2008.205 (2008)

64

Wiig, H. et al. Immune cells control skin lymphatic electrolyte homeostasis and blood pressure. J. Clin. Invest. 123, 2803–2815 (2013)

65

Mähler, A. et al. Increased catabolic state in spinocerebellar ataxia type 1 patients. Cerebellum 13, 440–446 (2014)

66

Sunagawa, S. et al. Metagenomic species profiling using universal phylogenetic marker genes. Nat. Methods 10, 1196–1199 (2013)

67

Kultima, J. R. et al. MOCAT2: a metagenomic assembly, annotation and profiling framework. Bioinformatics 32, 2520–2523 (2016)

68

Segata, N. et al. Metagenomic microbial community profiling using unique clade-specific marker genes. Nat. Methods 9, 811–814 (2012)

69

Therneau, T. M. A package for survival analysis in S. v.2.38 https://CRAN.R-project.org/package=survival (2015)

70

Therneau, T. M. & Grambsch, P. M. Modeling Survival Data: Extending the Cox Model (Springer, 2000)

71

Yuan, S., Cohen, D. B., Ravel, J., Abdo, Z. & Forney, L. J. Evaluation of methods for the extraction and purification of DNA from the human microbiome. PLoS One 7, e33865 (2012)

72

Caesar, R., Tremaroli, V., Kovatcheva-Datchary, P., Cani, P. D. & Bäckhed, F. Crosstalk between gut microbiota and dietary lipids aggravates WAT inflammation through TLR signaling. Cell Metab. 22, 658–668 (2015)

73

Bergström, A. et al. Introducing GUt low-density array (GULDA): a validated approach for qPCR-based intestinal microbial community analysis. FEMS Microbiol. Lett. 337, 38–47 (2012)

74

Bindels, L. B. et al. Restoring specific lactobacilli levels decreases inflammation and muscle atrophy markers in an acute leukemia mouse model. PLoS One 7, e37971 (2012)

75

Duniere, L. et al. Impact of adding Saccharomyces strains on fermentation, aerobic stability, nutritive value, and select lactobacilli populations in corn silage. J. Anim. Sci. 93, 2322–2335 (2015)

76

Byun, R. et al. Quantitative analysis of diverse Lactobacillus species present in advanced dental caries. J. Clin. Microbiol. 42, 3128–3136 (2004)

77

Cui, Y. et al. Different effects of three selected Lactobacillus strains in dextran sulfate sodium-induced colitis in BALB/c mice. PLoS One 11, e0148241 (2016)

78

Matsuda, K. et al. Establishment of an analytical system for the human fecal microbiota, based on reverse transcription–quantitative PCR targeting of multicopy rRNA molecules. Appl. Environ. Microbiol. 75, 1961–1969 (2009)
Acknowledgements
We thank G. N'diaye, I. Kamer, S. Seubert, P. Voss, J. Anders, C. Schmidt, A. Geuzens, R. Hercog and S. Kandels-Lewis for assistance; and J. J. Mullins and F. C. Luft for their support. This study was funded by grants from the German Centre for Cardiovascular Research (DZHK; BER 1.1 VD), the Center for Microbiome Informatics and Therapeutics, and the MetaCardis consortium. D.N.M., J.J. and M.G. were supported by the German Research Foundation (DFG). R.A.L. holds an endowed professorship supported by Novartis Pharma. M.K. was supported by the European Research Council (ERC) under the European Union's Horizon 2020 research and innovation program (640116), by a SALK-grant from the government of Flanders, Belgium and by an Odysseus-grant of the Research Foundation Flanders (FWO), Belgium. L. reuteri was provided by L. Romani.
Ethics declarations
Competing interests
The authors declare no competing financial interests.
Additional information
Reviewer Information Nature thanks T. Coffman, D. A. Relman, H. Wekerle and the other anonymous reviewer(s) for their contribution to the peer review of this work.
Publisher's note: Springer Nature remains neutral with regard to jurisdictional claims in published maps and institutional affiliations.
Extended data figures and tables
Supplementary information
This file contains Supplementary Results, including Supplementary Table 1 and Supplementary References. (PDF 171 kb)
This file contains metagenome analysis data. (XLS 69 kb)
About this article
Cite this article
Wilck, N., Matus, M., Kearney, S. et al. Salt-responsive gut commensal modulates TH17 axis and disease. Nature 551, 585–589 (2017). https://doi.org/10.1038/nature24628
Received:

Accepted:

Published:

Issue Date:
Comments
By submitting a comment you agree to abide by our Terms and Community Guidelines. If you find something abusive or that does not comply with our terms or guidelines please flag it as inappropriate.