Abstract
Viruses express several classes of non-coding RNAs1; the functions and mechanisms by which most of these act are unknown. Herpesvirus saimiri, a γ-herpesvirus that establishes latency in the T cells of New World primates and has the ability to cause aggressive leukaemias and lymphomas in non-natural hosts2, expresses seven small nuclear uracil-rich non-coding RNAs (called HSURs) in latently infected cells3,4,5. These HSURs associate with Sm proteins, and share biogenesis and structural features with cellular Sm-class small nuclear RNAs4,6. One of these HSURs (HSUR2) base-pairs with two host cellular microRNAs (miR-142-3p and miR-167) but does not affect their abundance or activity, which suggests that its interactions with them perform alternative functions. Here we show that HSUR2 also base-pairs with mRNAs in infected cells. We combined in vivo psoralen-mediated RNA–RNA crosslinking and high-throughput sequencing to identify the mRNAs targeted by HSUR2, which include mRNAs that encode retinoblastoma and factors involved in p53 signalling and apoptosis. We show that HSUR2 represses the expression of target mRNAs and that base-pairing between HSUR2 and miR-142-3p and miR-16 is essential for this repression, suggesting that HSUR2 recruits these two cellular microRNAs to its target mRNAs. Furthermore, we show that HSUR2 uses this mechanism to inhibit apoptosis. Our results uncover a role for this viral Sm-class RNA as a microRNA adaptor in the regulation of gene expression that follows precursor mRNA processing.
Relevant articles
Open Access articles citing this article.
Luca F. R. Gebert

,

Mansun Law

&

Ian J. MacRae

Nature Communications Open Access 25 November 2021

Ana Beatriz DePaula-Silva

,

Carlos Gorbea

…

Robert S. Fujinami

Journal of Neuroinflammation Open Access 20 July 2019
Access options
Subscribe to Nature+
Get immediate online access to the entire Nature family of 50+ journals
Subscribe to Journal
Get full journal access for 1 year
$199.00
only $3.90 per issue
All prices are NET prices.
VAT will be added later in the checkout.
Tax calculation will be finalised during checkout.
Buy article
Get time limited or full article access on ReadCube.
$32.00
All prices are NET prices.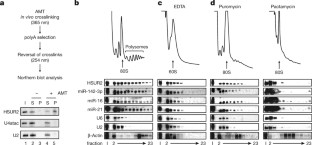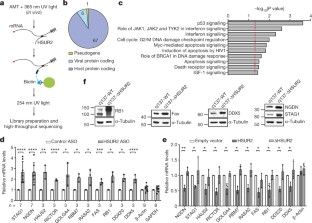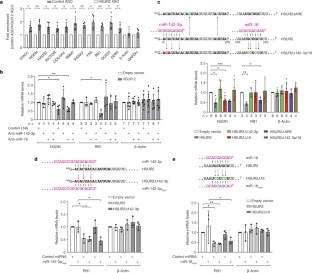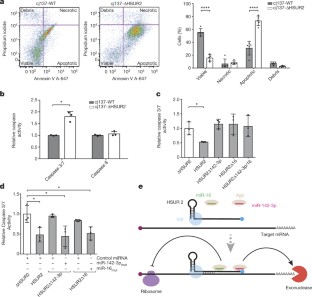 Accession codes
Primary accessions
Gene Expression Omnibus
References
Tycowski, K. T. et al. Viral noncoding RNAs: more surprises. Genes Dev. 29, 567–584 (2015)

Ensser, A. & Fleckenstein, B. T-cell transformation and oncogenesis by gamma2-herpesviruses. Adv. Cancer Res. 93, 91–128 (2005)

Biesinger, B., Trimble, J. J., Desrosiers, R. C. & Fleckenstein, B. The divergence between two oncogenic Herpesvirus saimiri strains in a genomic region related to the transforming phenotype. Virology 176, 505–514 (1990)

Lee, S. I., Murthy, S. C., Trimble, J. J., Desrosiers, R. C. & Steitz, J. A. Four novel U RNAs are encoded by a herpesvirus. Cell 54, 599–607 (1988)

Wassarman, D. A., Lee, S. I. & Steitz, J. A. Nucleotide sequence of HSUR 5 RNA from herpesvirus saimiri. Nucleic Acids Res. 17, 1258 (1989)

Golembe, T. J. et al. Lymphotropic Herpesvirus saimiri uses the SMN complex to assemble Sm cores on its small RNAs. Mol. Cell. Biol. 25, 602–611 (2005)

Cazalla, D., Yario, T. & Steitz, J. A. Down-regulation of a host microRNA by a Herpesvirus saimiri noncoding RNA. Science 328, 1563–1566 (2010)

Murthy, S., Kamine, J. & Desrosiers, R. C. Viral-encoded small RNAs in herpes virus saimiri induced tumors. EMBO J. 5, 1625–1632 (1986)

Albrecht, J. C. Primary structure of the Herpesvirus Ateles genome. J. Virol. 74, 1033–1037 (2000)

Cook, H. L., Mischo, H. E. & Steitz, J. A. The Herpesvirus saimiri small nuclear RNAs recruit AU-rich element-binding proteins but do not alter host AU-rich element-containing mRNA levels in virally transformed T cells. Mol. Cell. Biol. 24, 4522–4533 (2004)

Fan, X. C., Myer, V. E. & Steitz, J. A. AU-rich elements target small nuclear RNAs as well as mRNAs for rapid degradation. Genes Dev. 11, 2557–2568 (1997)

Myer, V. E., Lee, S. I. & Steitz, J. A. Viral small nuclear ribonucleoproteins bind a protein implicated in messenger RNA destabilization. Proc. Natl Acad. Sci. USA 89, 1296–1300 (1992)

Guo, Y. E., Riley, K. J., Iwasaki, A. & Steitz, J. A. Alternative capture of noncoding RNAs or protein-coding genes by herpesviruses to alter host T cell function. Mol. Cell 54, 67–79 (2014)

Calvet, J. P. & Pederson, T. Base-pairing interactions between small nuclear RNAs and nuclear RNA precursors as revealed by psoralen cross-linking in vivo. Cell 26, 363–370 (1981)

Maroney, P. A., Yu, Y., Fisher, J. & Nilsen, T. W. Evidence that microRNAs are associated with translating messenger RNAs in human cells. Nat. Struct. Mol. Biol. 13, 1102–1107 (2006)

Nottrott, S., Simard, M. J. & Richter, J. D. Human let-7a miRNA blocks protein production on actively translating polyribosomes. Nat. Struct. Mol. Biol. 13, 1108–1114 (2006)

Fouqué, A., Debure, L. & Legembre, P. The CD95/CD95L signaling pathway: a role in carcinogenesis. Biochim. Biophys. Acta 1846, 130–141 (2014)

Di Fiore, R., D'Anneo, A., Tesoriere, G. & Vento, R. RB1 in cancer: different mechanisms of RB1 inactivation and alterations of pRb pathway in tumorigenesis. J. Cell. Physiol. 228, 1676–1687 (2013)

Platanias, L. C. Mechanisms of type-I- and type-II-interferon-mediated signalling. Nat. Rev. Immunol. 5, 375–386 (2005)

Eichhorn, S. W. et al. mRNA destabilization is the dominant effect of mammalian microRNAs by the time substantial repression ensues. Mol. Cell 56, 104–115 (2014)

Murthy, S. C., Trimble, J. J. & Desrosiers, R. C. Deletion mutants of herpesvirus saimiri define an open reading frame necessary for transformation. J. Virol. 63, 3307–3314 (1989)

Fabian, M. R., Sonenberg, N. & Filipowicz, W. Regulation of mRNA translation and stability by microRNAs. Annu. Rev. Biochem. 79, 351–379 (2010)

Bosson, A. D., Zamudio, J. R. & Sharp, P. A. Endogenous miRNA and target concentrations determine susceptibility to potential ceRNA competition. Mol. Cell 56, 347–359 (2014)

Kim, H. H. et al. HuR recruits let-7/RISC to repress c-Myc expression. Genes Dev. 23, 1743–1748 (2009)

Storz, G., Vogel, J. & Wassarman, K. M. Regulation by small RNAs in bacteria: expanding frontiers. Mol. Cell 43, 880–891 (2011)

Lu, Z., Guan, X., Schmidt, C. A. & Matera, A. G. RIP-seq analysis of eukaryotic Sm proteins identifies three major categories of Sm-containing ribonucleoproteins. Genome Biol. 15, R7 (2014)

Tischer, B. K., von Einem, J., Kaufer, B. & Osterrieder, N. Two-step red-mediated recombination for versatile high-efficiency markerless DNA manipulation in Escherichia coli. Biotechniques 40, 191–197 (2006)

Tischer, B. K., Smith, G. A. & Osterrieder, N. En passant mutagenesis: a two step markerless red recombination system. Methods Mol. Biol. 634, 421–430 (2010)

Cazalla, D., Xie, M. & Steitz, J. A. A primate herpesvirus uses the integrator complex to generate viral microRNAs. Mol. Cell 43, 982–992 (2011)

White, R. E., Calderwood, M. A. & Whitehouse, A. Generation and precise modification of a herpesvirus saimiri bacterial artificial chromosome demonstrates that the terminal repeats are required for both virus production and episomal persistence. J. Gen. Virol. 84, 3393–3403 (2003)

Desrosiers, R. C., Burghoff, R. L., Bakker, A. & Kamine, J. Construction of replication-competent Herpesvirus saimiri deletion mutants. J. Virol. 49, 343–348 (1984)

Fickenscher, H. & Fleckenstein, B. in Methods in Microbiology Vol. 32 (eds Kaufmann, S. & Kabelitz, D. ) 824 (Elsevier, 2002)

Desrosiers, R. C., Silva, D. P., Waldron, L. M. & Letvin, N. L. Nononcogenic deletion mutants of Herpesvirus Saimiri are defective for in vitro immortalization. J. Virol. 57, 701–705 (1986)

Scammell, J. G., Wright, J. L. & Tuck-Muller, C. M. The origin of four squirrel monkey cell lines established by karyotype analysis. Cytogenet. Cell Genet. 93, 263–264 (2001)

Schmittgen, T. D. & Livak, K. J. Analyzing real-time PCR data by the comparative C(T) method. Nat. Protocols 3, 1101–1108 (2008)

Ideue, T., Hino, K., Kitao, S., Yokoi, T. & Hirose, T. Efficient oligonucleotide-mediated degradation of nuclear noncoding RNAs in mammalian cultured cells. RNA 15, 1578–1587 (2009)

Chapnik, E. et al. miR-142 orchestrates a network of actin cytoskeleton regulators during megakaryopoiesis. eLife 3, e01964 (2014)

Liu, J. et al. MiR-142-3p attenuates the migration of CD4+ T cells through regulating actin cytoskeleton via RAC1 and ROCK2 in arteriosclerosis obliterans. PLoS One 9, e95514 (2014)

Bettencourt, P. et al. Actin-binding protein regulation by microRNAs as a novel microbial strategy to modulate phagocytosis by host cells: the case of N-Wasp and miR-142-3p. Front. Cell. Infect. Microbiol. 3, 19 (2013)
Acknowledgements
We thank A. Whitehouse, G. Smith, F. Wussow and K. Tischer for reagents; T. Toptan, H. Fickenscher, P. Medveczky and A. Bosque for technical advice; J. Marvin and C. Leukel from the Flow Cytometry Core Facility at the University of Utah for help with cell sorting and data analysis; and J. Steitz, J. Cáceres and J. Martínez for critical commentary. This work was supported by a grant from the National Institutes of Health (R01-GM118829).
Ethics declarations
Competing interests
The authors declare no competing financial interests.
Additional information
Reviewer Information Nature thanks B. Cullen and the other anonymous reviewer(s) for their contribution to the peer review of this work.
Publisher's note: Springer Nature remains neutral with regard to jurisdictional claims in published maps and institutional affiliations.
Extended data figures and tables
Supplementary information
About this article
Cite this article
Gorbea, C., Mosbruger, T. & Cazalla, D. A viral Sm-class RNA base-pairs with mRNAs and recruits microRNAs to inhibit apoptosis. Nature 550, 275–279 (2017). https://doi.org/10.1038/nature24034
Received:

Accepted:

Published:

Issue Date:

DOI: https://doi.org/10.1038/nature24034
Comments
By submitting a comment you agree to abide by our Terms and Community Guidelines. If you find something abusive or that does not comply with our terms or guidelines please flag it as inappropriate.