Abstract
N6-methyladenosine (m6A) has been identified as the most abundant modification on eukaryote messenger RNA (mRNA)1. Although the rapid development of high-throughput sequencing technologies has enabled insight into the biological functions of m6A modification2,3,4,5,6,7,8,9,10,11,12,13, the function of m6A during vertebrate embryogenesis remains poorly understood. Here we show that m6A determines cell fate during the endothelial-to-haematopoietic transition (EHT) to specify the earliest haematopoietic stem/progenitor cells (HSPCs) during zebrafish embryogenesis. m6A-specific methylated RNA immunoprecipitation combined with high-throughput sequencing (MeRIP–seq) and m6A individual-nucleotide-resolution cross-linking and immunoprecipitation with sequencing (miCLIP–seq) analyses reveal conserved features on zebrafish m6A methylome and preferential distribution of m6A peaks near the stop codon with a consensus RRACH motif. In mettl3-deficient embryos, levels of m6A are significantly decreased and emergence of HSPCs is blocked. Mechanistically, we identify that the delayed YTHDF2-mediated mRNA decay of the arterial endothelial genes notch1a and rhoca contributes to this deleterious effect. The continuous activation of Notch signalling in arterial endothelial cells of mettl3-deficient embryos blocks EHT, thereby repressing the generation of the earliest HSPCs. Furthermore, knockdown of Mettl3 in mice confers a similar phenotype. Collectively, our findings demonstrate the critical function of m6A modification in the fate determination of HSPCs during vertebrate embryogenesis.
Relevant articles
Open Access articles citing this article.
WeiChao Hao

,

MeiJuan Dian

…

Dong Xiao

Nature Communications Open Access 04 October 2022

Wenjun Yu

,

Congcong Zhang

…

Jinjing Xia

Cancer Gene Therapy Open Access 19 September 2022

Mengyang Zhang

,

Chunqing Yang

…

Yixue Xue

Communications Biology Open Access 05 September 2022
Access options
Subscribe to Nature+
Get immediate online access to the entire Nature family of 50+ journals
Subscribe to Journal
Get full journal access for 1 year
$199.00
only $3.90 per issue
All prices are NET prices.
VAT will be added later in the checkout.
Tax calculation will be finalised during checkout.
Buy article
Get time limited or full article access on ReadCube.
$32.00
All prices are NET prices.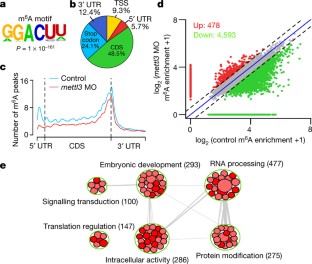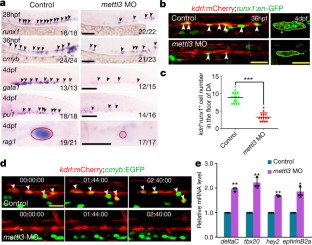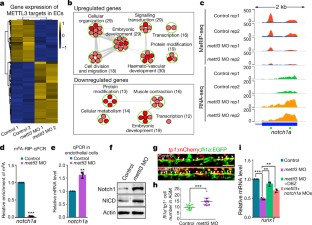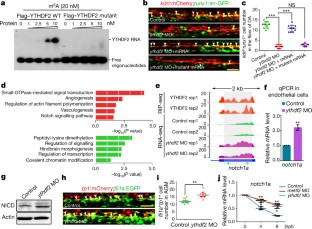 Accession codes
Primary accessions
Gene Expression Omnibus
References
Jia, G., Fu, Y. & He, C. Reversible RNA adenosine methylation in biological regulation. Trends Genet. 29, 108–115 (2013)

Zheng, G. et al. ALKBH5 is a mammalian RNA demethylase that impacts RNA metabolism and mouse fertility. Mol. Cell 49, 18–29 (2013)

Xiao, W. et al. Nuclear m6A reader YTHDC1 regulates mRNA splicing. Mol. Cell 61, 507–519 (2016)

Wang, X. et al. N6-methyladenosine modulates messenger RNA translation efficiency. Cell 161, 1388–1399 (2015)

Wang, X. et al. N6-methyladenosine-dependent regulation of messenger RNA stability. Nature 505, 117–120 (2014)

Zhou, J. et al. Dynamic m6A mRNA methylation directs translational control of heat shock response. Nature 526, 591–594 (2015)

Meyer, K. D. et al. 5′ UTR m6A promotes cap-independent translation. Cell 163, 999–1010 (2015)

Alarcón, C. R., Lee, H., Goodarzi, H., Halberg, N. & Tavazoie, S. F. N6-methyladenosine marks primary microRNAs for processing. Nature 519, 482–485 (2015)

Zhao, B. S. et al. m6A-dependent maternal mRNA clearance facilitates zebrafish maternal-to-zygotic transition. Nature 542, 475–478 (2017)

Xiang, Y. et al. RNA m6A methylation regulates the ultraviolet-induced DNA damage response. Nature 543, 573–576 (2017)

Lence, T. et al. m6A modulates neuronal functions and sex determination in Drosophila. Nature 540, 242–247 (2016)

Haussmann, I. U. et al. m6A potentiates Sxl alternative pre-mRNA splicing for robust Drosophila sex determination. Nature 540, 301–304 (2016)

Fustin, J. M. et al. RNA-methylation-dependent RNA processing controls the speed of the circadian clock. Cell 155, 793–806 (2013)

Kissa, K. & Herbomel, P. Blood stem cells emerge from aortic endothelium by a novel type of cell transition. Nature 464, 112–115 (2010)

Boisset, J. C. et al. In vivo imaging of haematopoietic cells emerging from the mouse aortic endothelium. Nature 464, 116–120 (2010)

Bertrand, J. Y. et al. Haematopoietic stem cells derive directly from aortic endothelium during development. Nature 464, 108–111 (2010)

Zhao, B. S. & He, C. Fate by RNA methylation: m6A steers stem cell pluripotency. Genome Biol. 16, 43 (2015)

Wang, Y. et al. N6-methyladenosine modification destabilizes developmental regulators in embryonic stem cells. Nat. Cell Biol. 16, 191–198 (2014)

Geula, S. et al. Stem cells. m6A mRNA methylation facilitates resolution of naïve pluripotency toward differentiation. Science 347, 1002–1006 (2015)

Ping, X. L. et al. Mammalian WTAP is a regulatory subunit of the RNA N6-methyladenosine methyltransferase. Cell Res. 24, 177–189 (2014)

Meyer, K. D. et al. Comprehensive analysis of mRNA methylation reveals enrichment in 3′ UTRs and near stop codons. Cell 149, 1635–1646 (2012)

Dominissini, D. et al. Topology of the human and mouse m6A RNA methylomes revealed by m6A-seq. Nature 485, 201–206 (2012)

Zhang, P. et al. G protein-coupled receptor 183 facilitates endothelial-to-hematopoietic transition via Notch1 inhibition. Cell Res. 25, 1093–1107 (2015)

Lizama, C. O. et al. Repression of arterial genes in hemogenic endothelium is sufficient for haematopoietic fate acquisition. Nat. Commun. 6, 7739 (2015)

Gama-Norton, L. et al. Notch signal strength controls cell fate in the haemogenic endothelium. Nat. Commun. 6, 8510 (2015)

Zhu, T. et al. Crystal structure of the YTH domain of YTHDF2 reveals mechanism for recognition of N6-methyladenosine. Cell Res. 24, 1493–1496 (2014)

Linder, B. et al. Single-nucleotide-resolution mapping of m6A and m6Am throughout the transcriptome. Nat. Methods 12, 767–772 (2015)

Lawson, N. D. & Weinstein, B. M. In vivo imaging of embryonic vascular development using transgenic zebrafish. Dev. Biol. 248, 307–318 (2002)

He, Q. et al. Inflammatory signaling regulates hematopoietic stem and progenitor cell emergence in vertebrates. Blood 125, 1098–1106 (2015)

Wei, Y. et al. Ncor2 is required for hematopoietic stem cell emergence by inhibiting Fos signaling in zebrafish. Blood 124, 1578–1585 (2014)

Zhang, C. et al. Inhibition of endothelial ERK signalling by Smad1/5 is essential for haematopoietic stem cell emergence. Nat. Commun. 5, 3431 (2014)

Lv, J ., Wang, L ., Gao, Y ., Ding, Y. Q . & Liu, F. 5-hydroxytryptamine synthesized in the aorta-gonad-mesonephros regulates hematopoietic stem and progenitor cell survival. J. Exp. Med. 214, 529–545 (2017)

Chen, T . et al. m6A RNA methylation is regulated by microRNAs and promotes reprogramming to pluripotency. Cell Stem Cell 16, 289–301 (2015)

Tang, F. et al. RNA-Seq analysis to capture the transcriptome landscape of a single cell. Nat. Protocols 5, 516–535 (2010)

Martin, M. Cutadapt removes adapter sequences from high-throughput sequencing reads. EMBnet J 17, 10–12 (2011)

Bolger, A. M., Lohse, M. & Usadel, B. Trimmomatic: a flexible trimmer for Illumina sequence data. Bioinformatics 30, 2114–2120 (2014)

Trapnell, C., Pachter, L. & Salzberg, S. L. TopHat: discovering splice junctions with RNA-seq. Bioinformatics 25, 1105–1111 (2009)

Zhang, Y. et al. Model-based analysis of ChIP-seq (MACS). Genome Biol. 9, R137 (2008)

Quinlan, A. R. & Hall, I. M. BEDTools: a flexible suite of utilities for comparing genomic features. Bioinformatics 26, 841–842 (2010)

Anders, S., Pyl, P. T. & Huber, W. HTSeq—a Python framework to work with high-throughput sequencing data. Bioinformatics 31, 166–169 (2015)

Heinz, S. et al. Simple combinations of lineage-determining transcription factors prime cis-regulatory elements required for macrophage and B cell identities. Mol. Cell 38, 576–589 (2010)

Chen, K. et al. High-resolution N6-methyladenosine (m6A) map using photo-crosslinking-assisted m6A sequencing. Angew. Chem. Int. Ed. Engl. 54, 1587–1590 (2015)

König, J. et al. iCLIP reveals the function of hnRNP particles in splicing at individual nucleotide resolution. Nat. Struct. Mol. Biol. 17, 909–915 (2010)

Patil, D. P. et al. m6A RNA methylation promotes XIST-mediated transcriptional repression. Nature 537, 369–373 (2016)

Moore, M. J. et al. Mapping Argonaute and conventional RNA-binding protein interactions with RNA at single-nucleotide resolution using HITS-CLIP and CIMS analysis. Nat. Protocols 9, 263–293 (2014)

Shah, A., Qian, Y., Weyn-Vanhentenryck, S. M. & Zhang, C. CLIP Tool Kit (CTK): a flexible and robust pipeline to analyze CLIP sequencing data. Bioinformatics 33, 566–567 (2017)

Li, H. & Durbin, R. Fast and accurate short read alignment with Burrows–Wheeler transform. Bioinformatics 25, 1754–1760 (2009)

Weyn-Vanhentenryck, S. M. et al. HITS-CLIP and integrative modeling define the Rbfox splicing-regulatory network linked to brain development and autism. Cell Reports 6, 1139–1152 (2014)

Crooks, G. E., Hon, G., Chandonia, J. M. & Brenner, S. E. WebLogo: a sequence logo generator. Genome Res. 14, 1188–1190 (2004)

Wang, Y. et al. GSA: Genome Sequence Archive(). Genomics Proteomics Bioinformatics 15, 14–18 (2017)

BIG Data Center Members. The BIG Data Center: from deposition to integration to translation. Nucleic Acids Res. 45 D18–D24 (2017)

Parson, M. J. et al. Notch-responsive cells initiate the secondary transition in larval zebrafish pancreas. Mech. Dev. 126 898–912 (2009)
Acknowledgements
We thank F. C. Tang and L. Yang for cell sorting and bioinformatics analysis, D. Liu and J.W. Xiong for reagents, H.L. Wang and W.Y. Lai for the UHPLC-MRM-MS/MS analysis. This work was supported by the National Natural Science Foundation of China (31425016 and 81530004 to F.L., and 31625016 to Y.Y.), the Ministry of Science and Technology of China (2016YFA0100500 to F. L. and 2016YFC0900300 to Y.Y.) and the Strategic Priority Research Program of the Chinese Academy of Sciences, China (XDA01010110 to F.L.; QYZDY-SSW-SMC027 and XDB14030300 to Y.Y.).
Ethics declarations
Competing interests
The authors declare no competing financial interests.
Additional information
Reviewer Information Nature thanks A. Bigas, G. Rechavi and the other anonymous reviewer(s) for their contribution to the peer review of this work.
Publisher's note: Springer Nature remains neutral with regard to jurisdictional claims in published maps and institutional affiliations.
Extended data figures and tables
Supplementary information
About this article
Cite this article
Zhang, C., Chen, Y., Sun, B. et al. m6A modulates haematopoietic stem and progenitor cell specification. Nature 549, 273–276 (2017). https://doi.org/10.1038/nature23883
Received:

Accepted:

Published:

Issue Date:

DOI: https://doi.org/10.1038/nature23883
Comments
By submitting a comment you agree to abide by our Terms and Community Guidelines. If you find something abusive or that does not comply with our terms or guidelines please flag it as inappropriate.