Abstract
Multiple populations of wake-promoting neurons have been characterized in mammals, but few sleep-promoting neurons have been identified1. Wake-promoting cell types include hypocretin and GABA (γ-aminobutyric-acid)-releasing neurons of the lateral hypothalamus, which promote the transition to wakefulness from non-rapid eye movement (NREM) and rapid eye movement (REM) sleep2,3. Here we show that a subset of GABAergic neurons in the mouse ventral zona incerta, which express the LIM homeodomain factor Lhx6 and are activated by sleep pressure, both directly inhibit wake-active hypocretin and GABAergic cells in the lateral hypothalamus and receive inputs from multiple sleep–wake-regulating neurons. Conditional deletion of Lhx6 from the developing diencephalon leads to decreases in both NREM and REM sleep. Furthermore, selective activation and inhibition of Lhx6-positive neurons in the ventral zona incerta bidirectionally regulate sleep time in adult mice, in part through hypocretin-dependent mechanisms. These studies identify a GABAergic subpopulation of neurons in the ventral zona incerta that promote sleep.
Access options
Subscribe to Journal
Get full journal access for 1 year
$199.00
only $3.90 per issue
All prices are NET prices.
VAT will be added later in the checkout.
Rent or Buy article
Get time limited or full article access on ReadCube.
from$8.99
All prices are NET prices.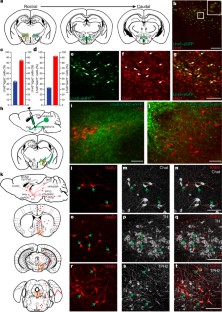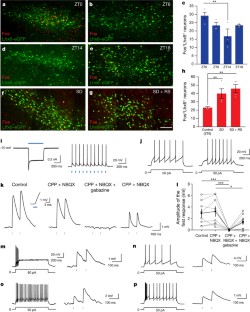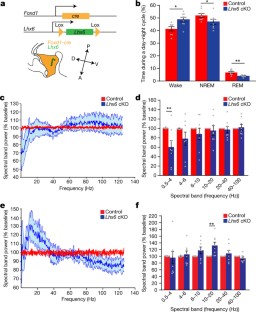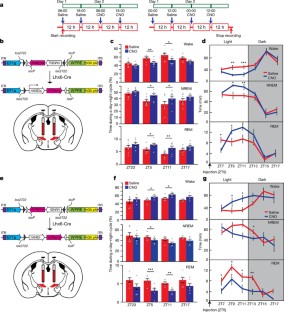 References
1

Weber, F. & Dan, Y. Circuit-based interrogation of sleep control. Nature 538, 51–59 (2016)

2

Chemelli, R. M. et al. Narcolepsy in orexin knockout mice: molecular genetics of sleep regulation. Cell 98, 437–451 (1999)

3

Saper, C. B., Fuller, P. M., Pedersen, N. P., Lu, J. & Scammell, T. E. Sleep state switching. Neuron 68, 1023–1042 (2010)

4

Saito, Y. C. et al. GABAergic neurons in the preoptic area send direct inhibitory projections to orexin neurons. Front. Neural Circuits 7, 192 (2013)

5

Mitrofanis, J. Some certainty for the "zone of uncertainty"? Exploring the function of the zona incerta. Neuroscience 130, 1–15 (2005)

6

Liu, J. et al. Frequency-selective control of cortical and subcortical networks by central thalamus. eLife 4, e09215 (2015)

7

Jurkowlaniec, E., Trojniar, W. & Tokarski, J. The EEG activity after lesions of the diencephalic part of the zona incerta in rats. Acta Physiol. Pol. 41, 85–97 (1990)

8

Shimogori, T. et al. A genomic atlas of mouse hypothalamic development. Nat. Neurosci. 13, 767–775 (2010)

9

Gong, S. et al. A gene expression atlas of the central nervous system based on bacterial artificial chromosomes. Nature 425, 917–925 (2003)

10

Fogarty, M. et al. Spatial genetic patterning of the embryonic neuroepithelium generates GABAergic interneuron diversity in the adult cortex. J. Neurosci. 27, 10935–10946 (2007)

11

Liodis, P. et al. Lhx6 activity is required for the normal migration and specification of cortical interneuron subtypes. J. Neurosci. 27, 3078–3089 (2007)

12

Taniguchi, H. et al. A resource of Cre driver lines for genetic targeting of GABAergic neurons in cerebral cortex. Neuron 71, 995–1013 (2011)

13

Oh, S. W. et al. A mesoscale connectome of the mouse brain. Nature 508, 207–214 (2014)

14

Wickersham, I. R. et al. Monosynaptic restriction of transsynaptic tracing from single, genetically targeted neurons. Neuron 53, 639–647 (2007)

15

Venner, A., Anaclet, C., Broadhurst, R. Y., Saper, C. B. & Fuller, P. M. A novel population of wake-promoting GABAergic neurons in the ventral lateral hypothalamus. Curr. Biol. 26, 2137–2143 (2016)

16

Veasey, S. C., Yeou-Jey, H., Thayer, P. & Fenik, P. Murine multiple sleep latency test: phenotyping sleep propensity in mice. Sleep 27, 388–393 (2004)

17

Li, Y., Gao, X. B., Sakurai, T. & van den Pol, A. N. Hypocretin/orexin excites hypocretin neurons via a local glutamate neuron-A potential mechanism for orchestrating the hypothalamic arousal system. Neuron 36, 1169–1181 (2002)

18

Petreanu, L., Mao, T., Sternson, S. M. & Svoboda, K. The subcellular organization of neocortical excitatory connections. Nature 457, 1142–1145 (2009)

19

Karnani, M. M., Szabó, G., Erdélyi, F. & Burdakov, D. Lateral hypothalamic GAD65 neurons are spontaneously firing and distinct from orexin- and melanin-concentrating hormone neurons. J. Physiol. 591, 933–953 (2013)

20

Hu, H., Ma, Y. & Agmon, A. Submillisecond firing synchrony between different subtypes of cortical interneurons connected chemically but not electrically. J. Neurosci. 31, 3351–3361 (2011)

21

Skeldon, A. C., Dijk, D. J. & Derks, G. Mathematical models for sleep–wake dynamics: comparison of the two-process model and a mutual inhibition neuronal model. PLoS ONE 9, e103877 (2014)

22

Salvatierra, J. et al. The LIM homeodomain factor Lhx2 is required for hypothalamic tanycyte specification and differentiation. J. Neurosci. 34, 16809–16820 (2014)

23

Armbruster, B. N., Li, X., Pausch, M. H., Herlitze, S. & Roth, B. L. Evolving the lock to fit the key to create a family of G protein-coupled receptors potently activated by an inert ligand. Proc. Natl Acad. Sci. USA 104, 5163–5168 (2007)

24

Hoyer, D. et al. Distinct effects of IPSU and suvorexant on mouse sleep architecture. Front. Neurosci. 7, 235 (2013)

25

Chung, S. et al. Identification of preoptic sleep neurons using retrograde labelling and gene profiling. Nature 545, 477–481 (2017)

26

Anaclet, C. et al. The GABAergic parafacial zone is a medullary slow wave sleep-promoting center. Nat. Neurosci. 17, 1217–1224 (2014)

27

Sherin, J. E., Shiromani, P. J., McCarley, R. W. & Saper, C. B. Activation of ventrolateral preoptic neurons during sleep. Science 271, 216–219 (1996)

28

Urbain, N. & Deschênes, M. Motor cortex gates vibrissal responses in a thalamocortical projection pathway. Neuron 56, 714–725 (2007)

29

Humphreys, B. D. et al. Fate tracing reveals the pericyte and not epithelial origin of myofibroblasts in kidney fibrosis. Am. J. Pathol. 176, 85–97 (2010)

30

Peron, S. P., Freeman, J., Iyer, V., Guo, C. & Svoboda, K. A cellular resolution map of barrel cortex activity during tactile behavior. Neuron 86, 783–799 (2015)

31

Rodríguez, C. I. et al. High-efficiency deleter mice show that FLPe is an alternative to Cre–loxP. Nat. Genet. 25, 139–140 (2000)

32

Thompson, C. L. et al. Molecular and anatomical signatures of sleep deprivation in the mouse brain. Front. Neurosci. 4, 165 (2010)

33

Lee, J. H. et al. Global and local fMRI signals driven by neurons defined optogenetically by type and wiring. Nature 465, 788–792 (2010)

34

Paxinos, G. F. K. The Mouse Brain in Sterotaxic Coordinates 4th edn (Academic, 2012)

35

Cox, C. D. et al. Discovery of the dual orexin receptor antagonist [(7R)-4-(5-chloro-1,3-benzoxazol-2-yl)-7-methyl-1,4-diazepan-1-yl][5-methyl-2-(2H-1,2,3-triazol-2-yl)phenyl]methanone (MK-4305) for the treatment of insomnia. J. Med. Chem. 53, 5320–5332 (2010)

36

Wickersham, I. R. & Sullivan, H. A. Rabies viral vectors for monosynaptic tracing and targeted transgene expression in neurons. Cold Spring Harb. Protoc. 2015, 375–385 (2015)

37

Wickersham, I. R., Sullivan, H. A. & Seung, H. S. Production of glycoprotein-deleted rabies viruses for monosynaptic tracing and high-level gene expression in neurons. Nat. Protocols 5, 595–606 (2010)

38

Kohara, K. et al. Cell type-specific genetic and optogenetic tools reveal hippocampal CA2 circuits. Nat. Neurosci. 17, 269–279 (2014)

39

Miyamichi, K. et al. Cortical representations of olfactory input by trans-synaptic tracing. Nature 472, 191–196 (2011)

40

Subach, F. V., Piatkevich, K. D. & Verkhusha, V. V. Directed molecular evolution to design advanced red fluorescent proteins. Nat. Methods 8, 1019–1026 (2011)

41

Kim, J., Matney, C. J., Blankenship, A., Hestrin, S. & Brown, S. P. Layer 6 corticothalamic neurons activate a cortical output layer, layer 5a. J. Neurosci. 34, 9656–9664 (2014)

42

Blackshaw, S. et al. Genomic analysis of mouse retinal development. PLoS Biol. 2, E247 (2004)
Acknowledgements
We thank L. de Lecea and A. Gittis for providing mice; M. Pletnikov for help with behavioural analysis; and M. Wu, V. Mongrain, R. Kuruvila, D. Lee, J. Bedont and W. Yap for comments on the manuscript. This work was supported by a Johns Hopkins Discovery Fund award to S.B. and S.H. S.P.B. is supported by a Klingenstein-Simons Foundation Fellowship in the Neurosciences.
Ethics declarations
Competing interests
The authors declare no competing financial interests.
Additional information
Publisher's note: Springer Nature remains neutral with regard to jurisdictional claims in published maps and institutional affiliations.
Extended data figures and tables
Supplementary information
About this article
Cite this article
Liu, K., Kim, J., Kim, D. et al. Lhx6-positive GABA-releasing neurons of the zona incerta promote sleep. Nature 548, 582–587 (2017). https://doi.org/10.1038/nature23663
Received:

Accepted:

Published:

Issue Date:
Comments
By submitting a comment you agree to abide by our Terms and Community Guidelines. If you find something abusive or that does not comply with our terms or guidelines please flag it as inappropriate.