Abstract
The lifestyle of intracellular pathogens, such as malaria parasites, is intimately connected to that of their host, primarily for nutrient supply. Nutrients act not only as primary sources of energy but also as regulators of gene expression, metabolism and growth, through various signalling networks that enable cells to sense and adapt to varying environmental conditions1,2. Canonical nutrient-sensing pathways are presumed to be absent from the causative agent of malaria, Plasmodium3,4,5, thus raising the question of whether these parasites can sense and cope with fluctuations in host nutrient levels. Here we show that Plasmodium blood-stage parasites actively respond to host dietary calorie alterations through rearrangement of their transcriptome accompanied by substantial adjustment of their multiplication rate. A kinome analysis combined with chemical and genetic approaches identified KIN as a critical regulator that mediates sensing of nutrients and controls a transcriptional response to the host nutritional status. KIN shares homology with SNF1/AMPKα, and yeast complementation studies suggest that it is part of a functionally conserved cellular energy-sensing pathway. Overall, these findings reveal a key parasite nutrient-sensing mechanism that is critical for modulating parasite replication and virulence.
This is a preview of subscription content
Access options
Subscribe to Nature+
Get immediate online access to the entire Nature family of 50+ journals
Subscribe to Journal
Get full journal access for 1 year
$199.00
only $3.90 per issue
All prices are NET prices.
VAT will be added later in the checkout.
Tax calculation will be finalised during checkout.
Buy article
Get time limited or full article access on ReadCube.
$32.00
All prices are NET prices.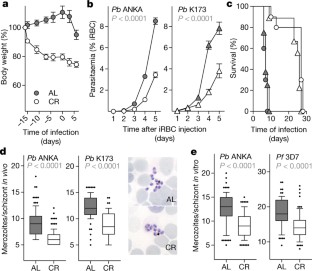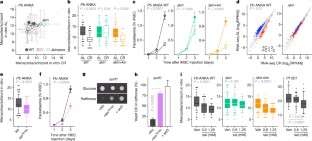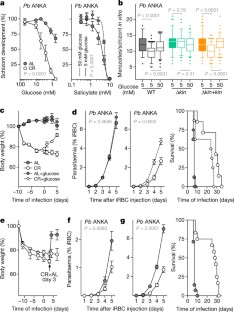 Accession codes
Primary accessions
Gene Expression Omnibus
References
Efeyan, A., Comb, W. C. & Sabatini, D. M. Nutrient-sensing mechanisms and pathways. Nature 517, 302–310 (2015)

Conrad, M. et al. Nutrient sensing and signaling in the yeast Saccharomyces cerevisiae. FEMS Microbiol. Rev. 38, 254–299 (2014)

Babbitt, S. E. et al. Plasmodium falciparum responds to amino acid starvation by entering into a hibernatory state. Proc. Natl Acad. Sci. USA 109, E3278–E3287 (2012)

Miranda-Saavedra, D., Gabaldón, T., Barton, G. J., Langsley, G. & Doerig, C. The kinomes of apicomplexan parasites. Microbes Infect. 14, 796–810 (2012)

Serfontein, J., Nisbet, R. E., Howe, C. J. & de Vries, P. J. Evolution of the TSC1/TSC2-TOR signaling pathway. Sci. Signal. 3, ra49 (2010)

Collino, S. et al. Transcriptomics and metabonomics identify essential metabolic signatures in calorie restriction (CR) regulation across multiple mouse strains. Metabolites 3, 881–911 (2013)

Fontana, L., Meyer, T. E., Klein, S. & Holloszy, J. O. Long-term calorie restriction is highly effective in reducing the risk for atherosclerosis in humans. Proc. Natl Acad. Sci. USA 101, 6659–6663 (2004)

Fontana, L., Partridge, L. & Longo, V. D. Extending healthy life span—from yeast to humans. Science 328, 321–326 (2010)

Meidenbauer, J. J., Ta, N. & Seyfried, T. N. Influence of a ketogenic diet, fish-oil, and calorie restriction on plasma metabolites and lipids in C57BL/6J mice. Nutr. Metab. (Lond.) 11, 23 (2014)

Hunt, N. H., Manduci, N. & Thumwood, C. M. Amelioration of murine cerebral malaria by dietary restriction. Parasitology 107, 471–476 (1993)

Mejia, P. et al. Dietary restriction protects against experimental cerebral malaria via leptin modulation and T-cell mTORC1 suppression. Nat. Commun. 6, 6050 (2015)

Pasini, E. M. et al. Proteomic and genetic analyses demonstrate that Plasmodium berghei blood stages export a large and diverse repertoire of proteins. Mol. Cell. Proteomics 12, 426–448 (2013)

Gasch, A. P. in Yeast Stress Responses (eds Hohmann, S. & Mager, W. H. ) Ch. 2, (Springer, 2003)

Tewari, R. et al. The systematic functional analysis of Plasmodium protein kinases identifies essential regulators of mosquito transmission. Cell Host Microbe 8, 377–387 (2010)

Dorin-Semblat, D., Sicard, A., Doerig, C., Ranford-Cartwright, L. & Doerig, C. Disruption of the PfPK7 gene impairs schizogony and sporogony in the human malaria parasite Plasmodium falciparum. Eukaryot. Cell 7, 279–285 (2008)

Mony, B. M. et al. Genome-wide dissection of the quorum sensing signalling pathway in Trypanosoma brucei. Nature 505, 681–685 (2014)

Bracchi, V., Langsley, G., Thélu, J., Eling, W. & Ambroise-Thomas, P. PfKIN, an SNF1 type protein kinase of Plasmodium falciparum predominantly expressed in gametocytes. Mol. Biochem. Parasitol. 76, 299–303 (1996)

Hardie, D. G., Ross, F. A. & Hawley, S. A. AMP-activated protein kinase: a target for drugs both ancient and modern. Chem. Biol. 19, 1222–1236 (2012)

Crozet, P. et al. Mechanisms of regulation of SNF1/AMPK/SnRK1 protein kinases. Front. Plant Sci. 5, 190 (2014)

Boehme, U. et al. Complete avian malaria parasite genomes reveal host-specific parasite evolution in birds and mammals. Preprint at bioRxivhttp://dx.doi.org/10.1101/086504 (2016)

Stein, S. C., Woods, A., Jones, N. A., Davison, M. D. & Carling, D. The regulation of AMP-activated protein kinase by phosphorylation. Biochem. J. 345, 437–443 (2000)

Hawley, S. A. et al. The ancient drug salicylate directly activates AMP-activated protein kinase. Science 336, 918–922 (2012)

Calabrese, M. F. et al. Structural basis for AMPK activation: natural and synthetic ligands regulate kinase activity from opposite poles by different molecular mechanisms. Structure 22, 1161–1172 (2014)

Xiao, B. et al. Structural basis of AMPK regulation by small molecule activators. Nat. Commun. 4, 3017 (2013)

Pankevich, D. E., Teegarden, S. L., Hedin, A. D., Jensen, C. L. & Bale, T. L. Caloric restriction experience reprograms stress and orexigenic pathways and promotes binge eating. J. Neurosci. 30, 16399–16407 (2010)

Murray, M. J., Murray, N. J., Murray, A. B. & Murray, M. B. Refeeding-malaria and hyperferraemia. Lancet 1, 653–654 (1975)

NCD Risk Factor Collaboration (NCD-RisC). Trends in adult body-mass index in 200 countries from 1975 to 2014: a pooled analysis of 1,698 population-based measurement studies with 19·2 million participants. Lancet 387, 1377–1396 (2016)

Bousema, T., Okell, L., Felger, I. & Drakeley, C. Asymptomatic malaria infections: detectability, transmissibility and public health relevance. Nat. Rev. Microbiol. 12, 833–840 (2014)

Janse, C. J., Ramesar, J. & Waters, A. P. High-efficiency transfection and drug selection of genetically transformed blood stages of the rodent malaria parasite Plasmodium berghei. Nat. Protocols 1, 346–356 (2006)

Franke-Fayard, B. et al. Murine malaria parasite sequestration: CD36 is the major receptor, but cerebral pathology is unlinked to sequestration. Proc. Natl Acad. Sci. USA 102, 11468–11473 (2005)

Liu, Y., Xu, X. & Carlson, M. Interaction of SNF1 protein kinase with its activating kinase Sak1. Eukaryot. Cell 10, 313–319 (2011)

Gietz, R. D. & Schiestl, R. H. Quick and easy yeast transformation using the LiAc/SS carrier DNA/PEG method. Nat. Protocols 2, 35–37 (2007)

Lemieux, J. E. et al. Statistical estimation of cell-cycle progression and lineage commitment in Plasmodium falciparum reveals a homogeneous pattern of transcription in ex vivo culture. Proc. Natl Acad. Sci. USA 106, 7559–7564 (2009)

Kafsack, B. F., Painter, H. J. & Llinás, M. New Agilent platform DNA microarrays for transcriptome analysis of Plasmodium falciparum and Plasmodium berghei for the malaria research community. Malar. J. 11, 187 (2012)

Kim, D. et al. TopHat2: accurate alignment of transcriptomes in the presence of insertions, deletions and gene fusions. Genome Biol. 14, R36 (2013)

Robinson, M. D., McCarthy, D. J. & Smyth, G. K. edgeR: a Bioconductor package for differential expression analysis of digital gene expression data. Bioinformatics 26, 139–140 (2010)

Ritchie, M. E. et al. limma powers differential expression analyses for RNA-sequencing and microarray studies. Nucleic Acids Res. 43, e47 (2015)

McCarthy, D. J., Chen, Y. & Smyth, G. K. Differential expression analysis of multifactor RNA-seq experiments with respect to biological variation. Nucleic Acids Res. 40, 4288–4297 (2012)
Acknowledgements
We thank A. Pena and A. Pamplona for help with animal experiments; S. Marques for help in transfections; A. Parreira for the mosquito preparation; M. Rebelo for help with flow cytometry analysis; A. Waters, T. Hanscheid and F. Enguita for helpful discussions; R. Wall and D. Brady for technical assistance with Δkin clones; and Jacobus Pharmaceuticals for the WR99210 compound. The work was supported by European Research Council (311502) and Fundação para a Ciência e Tecnologia (FCT) grants (EXCL/IMI-MIC/0056/2012) and (PTDC/SAU-MET/118199/2010) to M.M.M. and L.M.S., respectively. L.M.S., A.R.Go. and M.M.M. were supported by the European Commission (FP7/2007-2013; EVIMALAR 242095). L.M.S. was supported by EMBO LTF (ALTF 960-2009). K.S. was sponsored by FCT fellowship (SFRH/BPD/111788/2015). I.M.V. received EMBO (LTF 712-2012) and NIH NRSA (5F32AI104252-03) fellowships. Work at the Sanger Institute was funded by Wellcome Trust (098051) and Medical Research Council (MRC, G0501670). Work at the Instituto Gulbenkian de Ciência was funded through FCT grants (SFRH-BPD79255-2011 and UID/Multi/04551/2013). R.T. was supported by MRC grant (G0900109, MR/K011782/1). M.L. was funded through the Burroughs Wellcome Fund and the NIH Director's New Innovators award (1DP2OD001315-01).
Ethics declarations
Competing interests
The authors declare no competing financial interests.
Additional information
Reviewer Information Nature thanks Z. Bozdech, D. Gilson, L. Miller and the other anonymous reviewer(s) for their contribution to the peer review of this work.
Publisher's note: Springer Nature remains neutral with regard to jurisdictional claims in published maps and institutional affiliations.
Extended data figures and tables
Supplementary information
This file contains the uncropped source data for Figure 2g, Extended Data Figure 4c, and Extended Data Figures 5d and g and Supplementary Table 1. (PDF 1067 kb)
About this article
Cite this article
Mancio-Silva, L., Slavic, K., Grilo Ruivo, M. et al. Nutrient sensing modulates malaria parasite virulence. Nature 547, 213–216 (2017). https://doi.org/10.1038/nature23009
Received:

Accepted:

Published:

Issue Date:

DOI: https://doi.org/10.1038/nature23009
Comments
By submitting a comment you agree to abide by our Terms and Community Guidelines. If you find something abusive or that does not comply with our terms or guidelines please flag it as inappropriate.