Abstract
Brown adipose tissue is a thermogenic organ that dissipates chemical energy as heat to protect animals against hypothermia and to counteract metabolic disease1. However, the transcriptional mechanisms that determine the thermogenic capacity of brown adipose tissue before environmental cold are unknown. Here we show that histone deacetylase 3 (HDAC3) is required to activate brown adipose tissue enhancers to ensure thermogenic aptitude. Mice with brown adipose tissue-specific genetic ablation of HDAC3 become severely hypothermic and succumb to acute cold exposure. Uncoupling protein 1 (UCP1) is nearly absent in brown adipose tissue lacking HDAC3, and there is also marked downregulation of mitochondrial oxidative phosphorylation genes resulting in diminished mitochondrial respiration. Remarkably, although HDAC3 acts canonically as a transcriptional corepressor2, it functions as a coactivator of oestrogen-related receptor α (ERRα) in brown adipose tissue. HDAC3 coactivation of ERRα is mediated by deacetylation of PGC-1α and is required for the transcription of Ucp1, Ppargc1a (encoding PGC-1α), and oxidative phosphorylation genes. Importantly, HDAC3 promotes the basal transcription of these genes independently of adrenergic stimulation. Thus, HDAC3 uniquely primes Ucp1 and the thermogenic transcriptional program to maintain a critical capacity for thermogenesis in brown adipose tissue that can be rapidly engaged upon exposure to dangerously cold temperature.
Relevant articles
Open Access articles citing this article.
Tomoya Sakamoto

,

Kirill Batmanov

…

Daniel P. Kelly

Nature Communications Open Access 13 April 2022

David H. H. Molstad

,

Elizabeth Zars

…

Elizabeth W. Bradley

Scientific Reports Open Access 11 December 2020

Sneha Damal Villivalam

,

Dongjoo You

…

Sona Kang

Nature Communications Open Access 27 August 2020
Access options
Subscribe to Nature+
Get immediate online access to the entire Nature family of 50+ journals
Subscribe to Journal
Get full journal access for 1 year
$199.00
only $3.90 per issue
All prices are NET prices.
VAT will be added later in the checkout.
Tax calculation will be finalised during checkout.
Buy article
Get time limited or full article access on ReadCube.
$32.00
All prices are NET prices.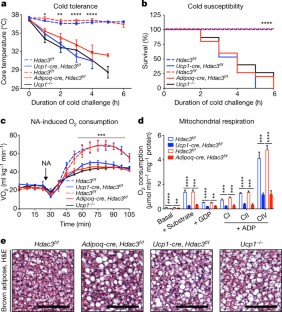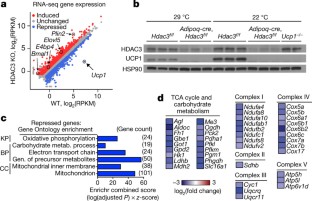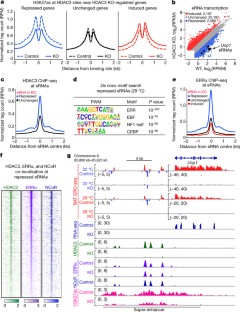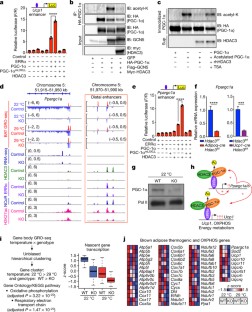 Accession codes
Primary accessions
Gene Expression Omnibus
References
Cannon, B. & Nedergaard, J. Brown adipose tissue: function and physiological significance. Physiol. Rev. 84, 277–359 (2004)

Guenther, M. G., Barak, O. & Lazar, M. A. The SMRT and N-CoR corepressors are activating cofactors for histone deacetylase 3. Mol. Cell. Biol. 21, 6091–6101 (2001)

Chouchani, E. T. et al. Mitochondrial ROS regulate thermogenic energy expenditure and sulfenylation of UCP1. Nature 532, 112–116 (2016)

Enerbäck, S. et al. Mice lacking mitochondrial uncoupling protein are cold-sensitive but not obese. Nature 387, 90–94 (1997)

Ukropec, J., Anunciado, R. P., Ravussin, Y., Hulver, M. W. & Kozak, L. P. UCP1-independent thermogenesis in white adipose tissue of cold-acclimated Ucp1−/− mice. J. Biol. Chem. 281, 31894–31908 (2006)

Bal, N. C. et al. Sarcolipin is a newly identified regulator of muscle-based thermogenesis in mammals. Nat. Med. 18, 1575–1579 (2012)

Kazak, L. et al. A creatine-driven substrate cycle enhances energy expenditure and thermogenesis in beige fat. Cell 163, 643–655 (2015)

Long, J. Z. et al. The secreted enzyme PM20D1 regulates lipidated amino acid uncouplers of mitochondria. Cell 166, 424–435 (2016)

Harms, M. & Seale, P. Brown and beige fat: development, function and therapeutic potential. Nat. Med. 19, 1252–1263 (2013)

Loft, A., Forss, I. & Mandrup, S. Genome-wide insights into the development and function of thermogenic adipocytes. Trends Endocrinol. Metab. 28, 104–120 (2017)

Chen L.-f., Fischle, W., Verdin, E. & Greene, W. C. Duration of nuclear NF-kappaB action regulated by reversible acetylation. Science 293, 1653–1657 (2001)

Bhaskara, S. et al. Deletion of histone deacetylase 3 reveals critical roles in S phase progression and DNA damage control. Mol. Cell 30, 61–72 (2008)

Sun, Z. et al. Hepatic Hdac3 promotes gluconeogenesis by repressing lipid synthesis and sequestration. Nat. Med. 18, 934–942 (2012)

Mullican, S. E. et al. Histone deacetylase 3 is an epigenomic brake in macrophage alternative activation. Genes Dev. 25, 2480–2488 (2011)

Hoeksema, M. A. et al. Targeting macrophage histone deacetylase 3 stabilizes atherosclerotic lesions. EMBO Mol. Med. 6, 1124–1132 (2014)

Razidlo, D. F. et al. Histone deacetylase 3 depletion in osteo/chondroprogenitor cells decreases bone density and increases marrow fat. PLoS ONE 5, e11492 (2010)

Alenghat, T. et al. Histone deacetylase 3 coordinates commensal-bacteria-dependent intestinal homeostasis. Nature 504, 153–157 (2013)

Montgomery, R. L. et al. Maintenance of cardiac energy metabolism by histone deacetylase 3 in mice. J. Clin. Invest. 118, 3588–3597 (2008)

Sun, Z. et al. Diet-induced lethality due to deletion of the Hdac3 gene in heart and skeletal muscle. J. Biol. Chem. 286, 33301–33309 (2011)

Rada-Iglesias, A. et al. A unique chromatin signature uncovers early developmental enhancers in humans. Nature 470, 279–283 (2011)

Core, L. J., Waterfall, J. J. & Lis, J. T. Nascent RNA sequencing reveals widespread pausing and divergent initiation at human promoters. Science 322, 1845–1848 (2008)

Fang, B. et al. Circadian enhancers coordinate multiple phases of rhythmic gene transcription in vivo. Cell 159, 1140–1152 (2014)

Wang, D. et al. Reprogramming transcription by distinct classes of enhancers functionally defined by eRNA. Nature 474, 390–394 (2011)

Gerhart-Hines, Z. et al. The nuclear receptor Rev-erbα controls circadian thermogenic plasticity. Nature 503, 410–413 (2013)

Giguère, V. Transcriptional control of energy homeostasis by the estrogen-related receptors. Endocr. Rev. 29, 677–696 (2008)

Soccio, R. E. et al. Genetic variation determines PPARγ function and anti-diabetic drug response in vivo. Cell 162, 33–44 (2015)

Rajakumari, S. et al. EBF2 determines and maintains brown adipocyte identity. Cell Metab. 17, 562–574 (2013)

Dixen, K. et al. ERRγ enhances UCP1 expression and fatty acid oxidation in brown adipocytes. Obesity (Silver Spring) 21, 516–524 (2013)

Rodgers, J. T., Lerin, C., Gerhart-Hines, Z. & Puigserver, P. Metabolic adaptations through the PGC-1α and SIRT1 pathways. FEBS Lett. 582, 46–53 (2008)

Uldry, M. et al. Complementary action of the PGC-1 coactivators in mitochondrial biogenesis and brown fat differentiation. Cell Metab. 3, 333–341 (2006)

Mullican, S. E. et al. A novel adipose-specific gene deletion model demonstrates potential pitfalls of existing methods. Mol. Endocrinol. 27, 127–134 (2013)

Luo, J. et al. Reduced fat mass in mice lacking orphan nuclear receptor estrogen-related receptor α. Mol. Cell. Biol. 23, 7947–7956 (2003)

Cannon, B. & Nedergaard, J. Nonshivering thermogenesis and its adequate measurement in metabolic studies. J. Exp. Biol. 214, 242–253 (2011)

Pecinová, A., Drahota, Z., Nůsková, H., Pecina, P. & Houštěk, J. Evaluation of basic mitochondrial functions using rat tissue homogenates. Mitochondrion 11, 722–728 (2011)

Picard, M. et al. Mitochondrial structure and function are disrupted by standard isolation methods. PLoS ONE 6, e18317 (2011)

Houste˘k, J., Cannon, B. & Lindberg, O. Gylcerol-3-phosphate shuttle and its function in intermediary metabolism of hamster brown-adipose tissue. Eur. J. Biochem. 54, 11–18 (1975)

Wang, H. et al. Resveratrol rescues kidney mitochondrial function following hemorrhagic shock. Shock 44, 173–180 (2015)

Porter, C. et al. Human and mouse brown adipose tissue mitochondria have comparable UCP1 function. Cell Metab. 24, 246–255 (2016)

Feng, D. et al. A circadian rhythm orchestrated by histone deacetylase 3 controls hepatic lipid metabolism. Science 331, 1315–1319 (2011)

Harms, M. J. et al. Prdm16 is required for the maintenance of brown adipocyte identity and function in adult mice. Cell Metab. 19, 593–604 (2014)

Kim, D. et al. TopHat2: accurate alignment of transcriptomes in the presence of insertions, deletions and gene fusions. Genome Biol. 14, R36 (2013)

Liao, Y., Smyth, G. K. & Shi, W. featureCounts: an efficient general purpose program for assigning sequence reads to genomic features. Bioinformatics 30, 923–930 (2014)

Robinson, M. D., McCarthy, D. J. & Smyth, G. K. edgeR: a Bioconductor package for differential expression analysis of digital gene expression data. Bioinformatics 26, 139–140 (2010)

Chen, E. Y. et al. Enrichr: interactive and collaborative HTML5 gene list enrichment analysis tool. BMC Bioinformatics 14, 128 (2013)

Kuleshov, M. V. et al. Enrichr: a comprehensive gene set enrichment analysis web server 2016 update. Nucleic Acids Res. 44 (W1), W90–W97 (2016)

Eyre, T. A. et al. The HUGO Gene Nomenclature Database, 2006 updates. Nucleic Acids Res. 34, D319–D321 (2006)

Kent, W. J., Zweig, A. S., Barber, G., Hinrichs, A. S. & Karolchik, D. BigWig and BigBed: enabling browsing of large distributed datasets. Bioinformatics 26, 2204–2207 (2010)

Quinlan, A. R. & Hall, I. M. BEDTools: a flexible suite of utilities for comparing genomic features. Bioinformatics 26, 841–842 (2010)

Sequence Read Archive Submissions Staff. Using the SRA Toolkit to convert .sra files into other formats. SRA Knowledge Base https://www.ncbi.nlm.nih.gov/books/NBK158900/ (2011)

Thorvaldsdóttir, H., Robinson, J. T. & Mesirov, J. P. Integrative Genomics Viewer (IGV): high-performance genomics data visualization and exploration. Brief. Bioinform. 14, 178–192 (2013)

Robinson, J. T. et al. Integrative genomics viewer. Nat. Biotechnol. 29, 24–26 (2011)

Langmead, B., Trapnell, C., Pop, M. & Salzberg, S. L. Ultrafast and memory-efficient alignment of short DNA sequences to the human genome. Genome Biol. 10, R25 (2009)

Heinz, S. et al. Simple combinations of lineage-determining transcription factors prime cis-regulatory elements required for macrophage and B cell identities. Mol. Cell 38, 576–589 (2010)

ENCODE Project Consortium. An integrated encyclopedia of DNA elements in the human genome. Nature 489, 57–74 (2012)

Harms, M. J. et al. PRDM16 binds MED1 and controls chromatin architecture to determine a brown fat transcriptional program. Genes Dev. 29, 298–307 (2015)

Martin, M. Cutadapt removes adapter sequences from high-throughput sequencing reads. EMBnet.journal 17, 10 (2011)

Ritchie, M. E. et al. limma powers differential expression analyses for RNA-sequencing and microarray studies. Nucleic Acids Res. 43, e47 (2015)

Robinson, M. D. & Smyth, G. K. Small-sample estimation of negative binomial dispersion, with applications to SAGE data. Biostatistics 9, 321–332 (2008)

Step, S. E. et al. Anti-diabetic rosiglitazone remodels the adipocyte transcriptome by redistributing transcription to PPARγ-driven enhancers. Genes Dev. 28, 1018–1028 (2014)
Acknowledgements
We thank the Next-Generation Sequencing Core and the Mouse Phenotyping, Physiology and Metabolism Core of the Penn Diabetes Research Center (National Institutes of Health (NIH) P30 DK19525). This work was supported by NIH R01 DK45586 (M.A.L.), NIH F30 DK104513 (M.J.E.), NIH R01 DK106027 (K.-J.W.), and the JPB Foundation.
Ethics declarations
Competing interests
The authors declare no competing financial interests.
Additional information
Reviewer Information Nature thanks A. Vidal-Puig and the other anonymous reviewer(s) for their contribution to the peer review of this work.
Publisher's note: Springer Nature remains neutral with regard to jurisdictional claims in published maps and institutional affiliations.
Extended data figures and tables
Supplementary information
This file contains a PDF of figures and extended data figures for immunoblots and uncropped gels. (PDF 3147 kb)
This file contains a PDF of a table of primers that were used for real-time qPCR, ChIP-qPCR, and PCR cloning. (PDF 79 kb)
About this article
Cite this article
Emmett, M., Lim, HW., Jager, J. et al. Histone deacetylase 3 prepares brown adipose tissue for acute thermogenic challenge. Nature 546, 544–548 (2017). https://doi.org/10.1038/nature22819
Received:

Accepted:

Published:

Issue Date:

DOI: https://doi.org/10.1038/nature22819
Comments
By submitting a comment you agree to abide by our Terms and Community Guidelines. If you find something abusive or that does not comply with our terms or guidelines please flag it as inappropriate.