Abstract
Conventional two-dimensional differentiation from pluripotency fails to recapitulate cell interactions occurring during organogenesis. Three-dimensional organoids generate complex organ-like tissues1; however, it is unclear how heterotypic interactions affect lineage identity. Here we use single-cell RNA sequencing2,3 to reconstruct hepatocyte-like lineage progression from pluripotency in two-dimensional culture. We then derive three-dimensional liver bud organoids4 by reconstituting hepatic, stromal, and endothelial interactions, and deconstruct heterogeneity during liver bud development. We find that liver bud hepatoblasts diverge from the two-dimensional lineage, and express epithelial migration signatures characteristic of organ budding. We benchmark three-dimensional liver buds against fetal and adult human liver single-cell RNA sequencing data, and find a striking correspondence between the three-dimensional liver bud and fetal liver cells. We use a receptor–ligand pairing analysis and a high-throughput inhibitor assay to interrogate signalling in liver buds, and show that vascular endothelial growth factor (VEGF) crosstalk potentiates endothelial network formation and hepatoblast differentiation. Our molecular dissection reveals interlineage communication regulating organoid development, and illuminates previously inaccessible aspects of human liver development.
Relevant articles
Open Access articles citing this article.
Neal I. Callaghan

,

Lauren J. Durland

…

Locke Davenport Huyer

npj Regenerative Medicine Open Access 03 September 2022

Jing Qi

,

Qiongyu Sheng

…

Shuilin Jin

Cell & Bioscience Open Access 02 September 2022

Ryota Yasui

,

Atsuka Matsui

…

Hideki Taniguchi

Stem Cell Reviews and Reports Open Access 03 June 2022
Access options
Subscribe to Nature+
Get immediate online access to the entire Nature family of 50+ journals
Subscribe to Journal
Get full journal access for 1 year
$199.00
only $3.90 per issue
All prices are NET prices.
VAT will be added later in the checkout.
Tax calculation will be finalised during checkout.
Buy article
Get time limited or full article access on ReadCube.
$32.00
All prices are NET prices.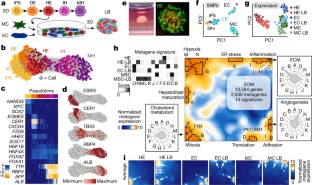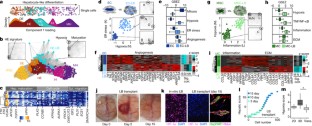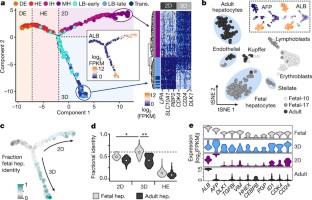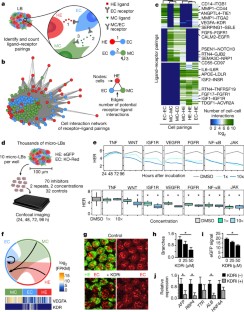 References
Lancaster, M. A. & Knoblich, J. A. Organogenesis in a dish: modeling development and disease using organoid technologies. Science 345, 1247125 (2014)

Treutlein, B. et al. Reconstructing lineage hierarchies of the distal lung epithelium using single-cell RNA-seq. Nature 509, 371–375 (2014)

Camp, J. G. et al. Human cerebral organoids recapitulate gene expression programs of fetal neocortex development. Proc. Natl Acad. Sci. USA 112, 15672–15677 (2015)

Takebe, T. et al. Vascularized and complex organ buds from diverse tissues via mesenchymal cell-driven condensation. Cell Stem Cell 16, 556–565 (2015)

Takebe, T. et al. Vascularized and functional human liver from an iPSC-derived organ bud transplant. Nature 499, 481–484 (2013)

Rankin, S. A., Kormish, J., Kofron, M., Jegga, A. & Zorn, A. M. A gene regulatory network controlling hhex transcription in the anterior endoderm of the organizer. Dev. Biol. 351, 297–310 (2011)

Teo, A. K. et al. Pluripotency factors regulate definitive endoderm specification through eomesodermin. Genes Dev. 25, 238–250 (2011)

Si-Tayeb, K. et al. Highly efficient generation of human hepatocyte-like cells from induced pluripotent stem cells. Hepatology 51, 297–305 (2010)

Zaret, K. S. Regulatory phases of early liver development: paradigms of organogenesis. Nat. Rev. Genet. 3, 499–512 (2002)

Sosa-Pineda, B., Wigle, J. T. & Oliver, G. Hepatocyte migration during liver development requires Prox1. Nat. Genet. 25, 254–255 (2000)

Margagliotti, S. et al. The Onecut transcription factors HNF-6/OC-1 and OC-2 regulate early liver expansion by controlling hepatoblast migration. Dev. Biol. 311, 579–589 (2007)

Ding, B. S. et al. Inductive angiocrine signals from sinusoidal endothelium are required for liver regeneration. Nature 468, 310–315 (2010)

Hu, J. et al. Endothelial cell-derived angiopoietin-2 controls liver regeneration as a spatiotemporal rheostat. Science 343, 416–419 (2014)

Zorn, A. M. in StemBook (2008)

Beg, A. A., Sha, W. C., Bronson, R. T., Ghosh, S. & Baltimore, D. Embryonic lethality and liver degeneration in mice lacking the RelA component of NF-κB. Nature 376, 167–170 (1995)

Kamiya, A. & Gonzalez, F. J. TNF-α regulates mouse fetal hepatic maturation induced by oncostatin M and extracellular matrices. Hepatology 40, 527–536 (2004)

Carmeliet, P. & Jain, R. K. Molecular mechanisms and clinical applications of angiogenesis. Nature 473, 298–307 (2011)

D'Amico, G. et al. Tie1 deletion inhibits tumor growth and improves angiopoietin antagonist therapy. J. Clin. Invest. 124, 824–834 (2014)

Vollmar, B. & Menger, M. D. The hepatic microcirculation: mechanistic contributions and therapeutic targets in liver injury and repair. Physiol. Rev. 89, 1269–1339 (2009)

Dunwoodie, S. L. The role of hypoxia in development of the mammalian embryo. Dev. Cell 17, 755–773 (2009)

Matsumoto, K., Yoshitomi, H., Rossant, J. & Zaret, K. S. Liver organogenesis promoted by endothelial cells prior to vascular function. Science 294, 559–563 (2001)

Takayama, N. et al. Transient activation of c-MYC expression is critical for efficient platelet generation from human induced pluripotent stem cells. J. Exp. Med. 207, 2817–2830 (2010)

Loh, K. M. et al. Efficient endoderm induction from human pluripotent stem cells by logically directing signals controlling lineage bifurcations. Cell Stem Cell 14, 237–252 (2014)

Kajiwara, M. et al. Donor-dependent variations in hepatic differentiation from human-induced pluripotent stem cells. Proc. Natl Acad. Sci. USA 109, 12538–12543 (2012)

Takebe, T. et al. Generation of a vascularized and functional human liver from an iPSC-derived organ bud transplant. Nat. Protocols 9, 396–409 (2014)

Kegel, V. et al. Protocol for isolation of primary human hepatocytes and corresponding major populations of non-parenchymal liver cells. J. Vis. Exp. 109, e53069 (2016)

Lancaster, M. A. & Knoblich, J. A. Generation of cerebral organoids from human pluripotent stem cells. Nat. Protocols 9, 2329–2340 (2014)

Renaud, G., Kircher, M., Stenzel, U. & Kelso, J. freeIbis: an efficient basecaller with calibrated quality scores for Illumina sequencers. Bioinformatics 29, 1208–1209 (2013)

Renaud, G., Stenzel, U., Maricic, T., Wiebe, V. & Kelso, J. deML: robust demultiplexing of Illumina sequences using a likelihood-based approach. Bioinformatics 31, 770–772 (2015)

Langmead, B. & Salzberg, S. L. Fast gapped-read alignment with Bowtie 2. Nat. Methods 9, 357–359 (2012)

Trapnell, C., Pachter, L. & Salzberg, S. L. TopHat: discovering splice junctions with RNA-Seq. Bioinformatics 25, 1105–1111 (2009)

Trapnell, C. et al. Transcript assembly and quantification by RNA-Seq reveals unannotated transcripts and isoform switching during cell differentiation. Nat. Biotechnol. 28, 511–515 (2010)

Macosko, E. Z. et al. Highly parallel genome-wide expression profiling of individual cells using nanoliter droplets. Cell 161, 1202–1214 (2015)

Trapnell, C. et al. The dynamics and regulators of cell fate decisions are revealed by pseudotemporal ordering of single cells. Nat. Biotechnol. 32, 381–386 (2014)

Huang, W ., Sherman, B. T. & Lempicki, R. A. Systematic and integrative analysis of large gene lists using DAVID bioinformatics resources. Nat. Protocols 4, 44–57 (2008)

Zhang, H. M. et al. AnimalTFDB: a comprehensive animal transcription factor database. Nucleic Acids Res. 40, D144–D149 (2012)

Kim, D. H. et al. Single-cell transcriptome analysis reveals dynamic changes in lncRNA expression during reprogramming. Cell Stem Cell 16, 88–101 (2015)

Wirth, H., Löffler, M., von Bergen, M. & Binder, H. Expression cartography of human tissues using self organizing maps. BMC Bioinformatics 12, 306 (2011)

Wirth, H., von Bergen, M. & Binder, H. Mining SOM expression portraits: feature selection and integrating concepts of molecular function. BioData Min. 5, 18 (2012)

Ashburner, M. et al.; The Gene Ontology Consortium. Gene Ontology: tool for the unification of biology. Nat. Genet. 25, 25–29 (2000)

Liberzon, A. et al. The Molecular Signatures Database (MSigDB) hallmark gene set collection. Cell Syst. 1, 417–425 (2015)

Törönen, P., Ojala, P. J., Marttinen, P. & Holm, L. Robust extraction of functional signals from gene set analysis using a generalized threshold free scoring function. BMC Bioinformatics 10, 307 (2009)

Strimmer, K. fdrtool: a versatile R package for estimating local and tail area-based false discovery rates. Bioinformatics 24, 1461–1462 (2008)

Subramanian, A. et al. Gene set enrichment analysis: a knowledge-based approach for interpreting genome-wide expression profiles. Proc. Natl Acad. Sci. USA 102, 15545–15550 (2005)

Ramilowski, J. A. et al. A draft network of ligand-receptor-mediated multicellular signalling in human. Nat. Commun. 6, 7866 (2015)

Rodríguez-Seguel, E. et al. Mutually exclusive signaling signatures define the hepatic and pancreatic progenitor cell lineage divergence. Genes Dev. 27, 1932–1946 (2013)

Scialdone, A. et al. Computational assignment of cell-cycle stage from single-cell transcriptome data. Methods 85, 54–61 (2015)
Acknowledgements
We thank S. Pääbo, K. Köhler, A. Weigert, B. Höber, A. Weihmann, B. Vernot, K. Pfüfer, G. Renaud, M. Dannemann, J. Kelso of Max Planck Institute for Evolutionary Anthropology, M. Zerial of the Max Planck Institute of Molecular Cell Biology and Genetics, and T. Tamura, S. Tsuzuki, and C. Kaneko of Yokohama for their help with this project. This work was supported by the Max Planck Society (B.T.), PRESTO Japan Science and Technology Agency (T.T.), grants-in-aid 15H04922 and 15KK0314 from the Ministry of Education Culture and Sports of Japan (K.S.), and the AMED Research Center Network for Realization of Regenerative Medicine (H.T.). T.T. is a New York Stem Cell Foundation – Robertson Investigator.
Ethics declarations
Competing interests
T.T. and H.T. have served on a scientific advisory board for Healios Inc., and granted a licence to Healios through Yokohama City University over inventions related to this manuscript.
Additional information
Reviewer Information Nature thanks S. Linnarsson and the other anonymous reviewer(s) for their contribution to the peer review of this work.
Publisher's note: Springer Nature remains neutral with regard to jurisdictional claims in published maps and institutional affiliations.
Extended data figures and tables
Supplementary information
About this article
Cite this article
Camp, J., Sekine, K., Gerber, T. et al. Multilineage communication regulates human liver bud development from pluripotency. Nature 546, 533–538 (2017). https://doi.org/10.1038/nature22796
Received:

Accepted:

Published:

Issue Date:

DOI: https://doi.org/10.1038/nature22796
Comments
By submitting a comment you agree to abide by our Terms and Community Guidelines. If you find something abusive or that does not comply with our terms or guidelines please flag it as inappropriate.