Abstract
Nutrient signalling integrates and coordinates gene expression, metabolism and growth. However, its primary molecular mechanisms remain incompletely understood in plants and animals. Here we report unique Ca2+ signalling triggered by nitrate with live imaging of an ultrasensitive biosensor in Arabidopsis leaves and roots. A nitrate-sensitized and targeted functional genomic screen identifies subgroup III Ca2+-sensor protein kinases (CPKs) as master regulators that orchestrate primary nitrate responses. A chemical switch with the engineered mutant CPK10(M141G) circumvents embryo lethality and enables conditional analyses of cpk10 cpk30 cpk32 triple mutants to define comprehensive nitrate-associated regulatory and developmental programs. Nitrate-coupled CPK signalling phosphorylates conserved NIN-LIKE PROTEIN (NLP) transcription factors to specify the reprogramming of gene sets for downstream transcription factors, transporters, nitrogen assimilation, carbon/nitrogen metabolism, redox, signalling, hormones and proliferation. Conditional cpk10 cpk30 cpk32 and nlp7 mutants similarly impair nitrate-stimulated system-wide shoot growth and root establishment. The nutrient-coupled Ca2+ signalling network integrates transcriptome and cellular metabolism with shoot–root coordination and developmental plasticity in shaping organ biomass and architecture.
Relevant articles
Open Access articles citing this article.
Qifei Gao

,

Chao Wang

…

Sheng Luan

Cell Research Open Access 02 January 2023

Ayalew Ligaba-Osena

,

Mohammad Salehin

…

Wanli Guo

Scientific Reports Open Access 15 November 2022

Jie Wu

,

Ying Song

…

Cheng-Bin Xiang

BMC Plant Biology Open Access 25 July 2022
Access options
Access Nature and 54 other Nature Portfolio journals
Get Nature+, our best-value online-access subscription
$29.99 / 30 days
cancel any time
Subscribe to this journal
Receive 51 print issues and online access
$199.00 per year
only $3.90 per issue
Rent or buy this article
Get just this article for as long as you need it
$39.95
Prices may be subject to local taxes which are calculated during checkout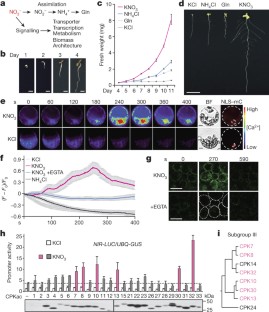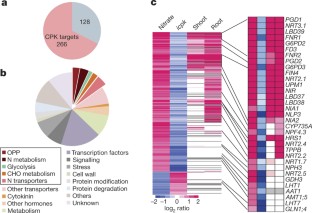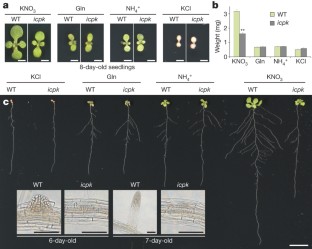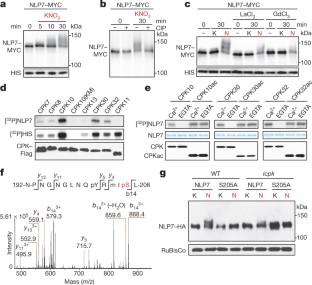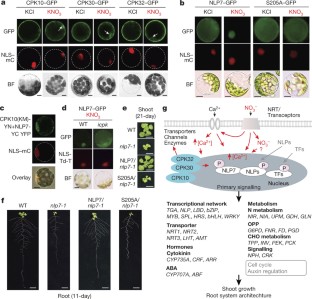 Accession codes
Primary accessions
Gene Expression Omnibus
References
Nunes-Nesi, A., Fernie, A. R. & Stitt, M. Metabolic and signaling aspects underpinning the regulation of plant carbon nitrogen interactions. Mol. Plant 3, 973–996 (2010)

Kiba, T. & Krapp, A. Plant nitrogen acquisition under low availability: regulation of uptake and root architecture. Plant Cell Physiol. 57, 707–714 (2016)

Konishi, M. & Yanagisawa, S. Emergence of a new step towards understanding the molecular mechanisms underlying nitrate-regulated gene expression. J. Exp. Bot. 65, 5589–5600 (2014)

Wang, R., Okamoto, M., Xing, X. & Crawford, N. M. Microarray analysis of the nitrate response in Arabidopsis roots and shoots reveals over 1,000 rapidly responding genes and new linkages to glucose, trehalose-6-phosphate, iron, and sulfate metabolism. Plant Physiol. 132, 556–567 (2003)

Scheible, W. R. et al. Genome-wide reprogramming of primary and secondary metabolism, protein synthesis, cellular growth processes, and the regulatory infrastructure of Arabidopsis in response to nitrogen. Plant Physiol. 136, 2483–2499 (2004)

Bouguyon, E. et al. Multiple mechanisms of nitrate sensing by Arabidopsis nitrate transceptor NRT1.1. Nature Plants 1, 15015 (2015)

Wang, R., Xing, X., Wang, Y., Tran, A. & Crawford, N. M. A genetic screen for nitrate regulatory mutants captures the nitrate transporter gene NRT1.1. Plant Physiol. 151, 472–478 (2009)

Wang, R. et al. Genomic analysis of the nitrate response using a nitrate reductase-null mutant of Arabidopsis. Plant Physiol. 136, 2512–2522 (2004)

Castaings, L. et al. The nodule inception-like protein 7 modulates nitrate sensing and metabolism in Arabidopsis. Plant J. 57, 426–435 (2009)

Krouk, G., Mirowski, P., LeCun, Y., Shasha, D. E. & Coruzzi, G. M. Predictive network modeling of the high-resolution dynamic plant transcriptome in response to nitrate. Genome Biol. 11, R123 (2010)

Liu, K. H., McCormack, M. & Sheen, J. Targeted parallel sequencing of large genetically-defined genomic regions for identifying mutations in Arabidopsis. Plant Methods 8, 12 (2012)

Konishi, M. & Yanagisawa, S. Arabidopsis NIN-like transcription factors have a central role in nitrate signalling. Nat. Commun. 4, 1617 (2013)

Marchive, C. et al. Nuclear retention of the transcription factor NLP7 orchestrates the early response to nitrate in plants. Nat. Commun. 4, 1713 (2013)

Guan, P. et al. Nitrate foraging by Arabidopsis roots is mediated by the transcription factor TCP20 through the systemic signaling pathway. Proc. Natl Acad. Sci. USA 111, 15267–15272 (2014)

Alvarez, J. M. et al. Systems approach identifies TGA1 and TGA4 transcription factors as important regulatory components of the nitrate response of Arabidopsis thaliana roots. Plant J. 80, 1–13 (2014)

Obertello, M., Shrivastava, S., Katari, M. S. & Coruzzi, G. M. Cross-species network analysis uncovers conserved nitrogen-regulated network modules in rice. Plant Physiol. 168, 1830–1843 (2015)

Hu, H. C., Wang, Y. Y. & Tsay, Y. F. AtCIPK8, a CBL-interacting protein kinase, regulates the low-affinity phase of the primary nitrate response. Plant J. 57, 264–278 (2009)

Ho, C. H., Lin, S. H., Hu, H. C. & Tsay, Y. F. CHL1 functions as a nitrate sensor in plants. Cell 138, 1184–1194 (2009)

Léran, S. et al. Nitrate sensing and uptake in Arabidopsis are enhanced by ABI2, a phosphatase inactivated by the stress hormone abscisic acid. Sci. Signal. 8, ra43 (2015)

Medici, A. et al. AtNIGT1/HRS1 integrates nitrate and phosphate signals at the Arabidopsis root tip. Nat. Commun. 6, 6274 (2015)

Vidal, E. A., Álvarez, J. M., Moyano, T. C. & Gutiérrez, R. A. Transcriptional networks in the nitrate response of Arabidopsis thaliana. Curr. Opin. Plant Biol. 27, 125–132 (2015)

Knight, H., Trewavas, A. J. & Knight, M. R. Cold calcium signaling in Arabidopsis involves two cellular pools and a change in calcium signature after acclimation. Plant Cell 8, 489–503 (1996)

Boudsocq, M. et al. Differential innate immune signalling via Ca2+ sensor protein kinases. Nature 464, 418–422 (2010)

Boudsocq, M. & Sheen, J. CDPKs in immune and stress signaling. Trends Plant Sci. 18, 30–40 (2013)

Reddy, A. S., Ali, G. S., Celesnik, H. & Day, I. S. Coping with stresses: roles of calcium- and calcium/calmodulin-regulated gene expression. Plant Cell 23, 2010–2032 (2011)

Simeunovic, A., Mair, A., Wurzinger, B. & Teige, M. Know where your clients are: subcellular localization and targets of calcium-dependent protein kinases. J. Exp. Bot. 67, 3855–3872 (2016)

Ebert, D. H. & Greenberg, M. E. Activity-dependent neuronal signalling and autism spectrum disorder. Nature 493, 327–337 (2013)

Sakakibara, H., Kobayashi, K., Deji, A. & Sugiyama, T. Partial characterization of the signaling pathway for the nitrate-dependent expression of genes for nitrogen-assimilatory enzymes using detached maize leaves. Plant Cell Physiol. 38, 837–843 (1997)

Riveras, E. et al. The calcium ion is a second messenger in the nitrate signaling pathway of Arabidopsis. Plant Physiol. 169, 1397–1404 (2015)

Forde, B. G. Glutamate signalling in roots. J. Exp. Bot. 65, 779–787 (2014)

Giehl, R. F., Gruber, B. D. & von Wirén, N. It's time to make changes: modulation of root system architecture by nutrient signals. J. Exp. Bot. 65, 769–778 (2014)

Xiong, Y. et al. Glucose-TOR signalling reprograms the transcriptome and activates meristems. Nature 496, 181–186 (2013)

Chen, T. W. et al. Ultrasensitive fluorescent proteins for imaging neuronal activity. Nature 499, 295–300 (2013)

Yuan, F. et al. OSCA1 mediates osmotic-stress-evoked Ca2+ increases vital for osmosensing in Arabidopsis. Nature 514, 367–371 (2014)

Charpentier, M. et al. Nuclear-localized cyclic nucleotide-gated channels mediate symbiotic calcium oscillations. Science 352, 1102–1105 (2016)

Brandt, B. et al. Calcium specificity signaling mechanisms in abscisic acid signal transduction in Arabidopsis guard cells. eLife 4, e03599 (2015)

Gan, Y., Bernreiter, A., Filleur, S., Abram, B. & Forde, B. G. Overexpressing the ANR1 MADS-box gene in transgenic plants provides new insights into its role in the nitrate regulation of root development. Plant Cell Physiol. 53, 1003–1016 (2012)

Liu, Y. et al. Structural basis for selective inhibition of Src family kinases by PP1. Chem. Biol. 6, 671–678 (1999)

Zhang, C. et al. Structure-guided inhibitor design expands the scope of analog-sensitive kinase technology. ACS Chem. Biol. 8, 1931–1938 (2013)

Kiba, T., Takei, K., Kojima, M. & Sakakibara, H. Side-chain modification of cytokinins controls shoot growth in Arabidopsis. Dev. Cell 27, 452–461 (2013)

Malamy, J. E. & Benfey, P. N. Organization and cell differentiation in lateral roots of Arabidopsis thaliana. Development 124, 33–44 (1997)

Sheen, J. Master regulators in plant glucose signaling networks. J. Plant Biol. 57, 67–79 (2014)

Efeyan, A., Comb, W. C. & Sabatini, D. M. Nutrient-sensing mechanisms and pathways. Nature 517, 302–310 (2015)

Rebsamen, M. et al. SLC38A9 is a component of the lysosomal amino acid sensing machinery that controls mTORC1. Nature 519, 477–481 (2015)

Yoo, S. D., Cho, Y. H. & Sheen, J. Arabidopsis mesophyll protoplasts: a versatile cell system for transient gene expression analysis. Nat. Protocols 2, 1565–1572 (2007)

Xiang, C., Han, P., Lutziger, I., Wang, K. & Oliver, D. J. A mini binary vector series for plant transformation. Plant Mol. Biol. 40, 711–717 (1999)

Clough, S. J. & Bent, A. F. Floral dip: a simplified method for Agrobacterium-mediated transformation of Arabidopsis thaliana. Plant J. 16, 735–743 (1998)

Guo, J. et al. Involvement of Arabidopsis RACK1 in protein translation and its regulation by abscisic acid. Plant Physiol. 155, 370–383 (2011)

Kato, Y., Konishi, M., Shigyo, M., Yoneyama, T. & Yanagisawa, S. Characterization of plant eukaryotic translation initiation factor 6 (eIF6) genes: The essential role in embryogenesis and their differential expression in Arabidopsis and rice. Biochem. Biophys. Res. Commun. 397, 673–678 (2010)

Alonso, J. M. et al. Genome-wide insertional mutagenesis of Arabidopsis thaliana. Science 301, 653–657 (2003)

Kim, D. et al. TopHat2: accurate alignment of transcriptomes in the presence of insertions, deletions and gene fusions. Genome Biol. 14, R36 (2013)

Anders, S., Pyl, P. T. & Huber, W. HTSeq—a Python framework to work with high-throughput sequencing data. Bioinformatics 31, 166–169 (2015)

Love, M. I., Huber, W. & Anders, S. Moderated estimation of fold change and dispersion for RNA-seq data with DESeq2. Genome Biol. 15, 550 (2014)

Van Verk, M. C., Hickman, R., Pieterse, C. M. & Van Wees, S. C. RNA-Seq: revelation of the messengers. Trends Plant Sci. 18, 175–179 (2013)

de Hoon, M. J., Imoto, S., Nolan, J. & Miyano, S. Open source clustering software. Bioinformatics 20, 1453–1454 (2004)

Saldanha, A. J. Java Treeview–extensible visualization of microarray data. Bioinformatics 20, 3246–3248 (2004)

Axelos, M., Curic, C., Mazzolini, L., Bardet, C. & Lescure, N. A protocol for transient gene expression in Arabidopsis thaliana protoplasts isolated from cell suspension cultures. Plant Physiol. Biochem. 30, 123–128 (1992)

Aki, T., Shigyo, M., Nakano, R., Yoneyama, T. & Yanagisawa, S. Nano scale proteomics revealed the presence of regulatory proteins including three FT-Like proteins in phloem and xylem saps from rice. Plant Cell Physiol. 49, 767–790 (2008)

Aki, T. & Yanagisawa, S. Application of rice nuclear proteome analysis to the identification of evolutionarily conserved and glucose-responsive nuclear proteins. J. Proteome Res. 8, 3912–3924 (2009)

Baena-González, E., Rolland, F., Thevelein, J. M. & Sheen, J. A central integrator of transcription networks in plant stress and energy signalling. Nature 448, 938–942 (2007)

Cheng, S. H., Willmann, M. R., Chen, H. C. & Sheen, J. Calcium signaling through protein kinases. The Arabidopsis calcium-dependent protein kinase gene family. Plant Physiol. 129, 469–485 (2002)

Curran, A. et al. Calcium-dependent protein kinases from Arabidopsis show substrate specificity differences in an analysis of 103 substrates. Front. Plant Sci. 2, 36 (2011)

Song, C. et al. Systematic analysis of protein phosphorylation networks from phosphoproteomic data. Mol. Cell. Proteomics 11, 1070–1083 (2012)

Yaffe, M. B. et al. A motif-based profile scanning approach for genome-wide prediction of signaling pathways. Nat. Biotechnol. 19, 348–353 (2001)

Soyano, T., Shimoda, Y. & Hayashi, M. NODULE INCEPTION antagonistically regulates gene expression with nitrate in Lotus japonicus. Plant Cell Physiol. 56, 368–376 (2015)

Suzuki, W., Konishi, M. & Yanagisawa, S. The evolutionary events necessary for the emergence of symbiotic nitrogen fixation in legumes may involve a loss of nitrate responsiveness of the NIN transcription factor. Plant Signal. Behav. 8, e25975 (2013)

O'Malley, R. C. et al. Cistrome and epicistrome features shape the regulatory DNA landscape. Cell 165, 1280–1292 (2016)
Acknowledgements
We thank T. Asai for the pNLP7-NLP7-GFP and pNLP7-NLP7(S205A)-GFP constructs, X. Y. Liu and R. Q. Ye for the pUBQ10-NLS-TdTomato construct, X. C. Zhang and M. R. Knight for the aequorin transgenic line, J. Bush for management of the plant facilities, Q. Hall for advice on embryo analysis, ABRC, NASC and the Salk Institute for T-DNA insertion lines, K. Holton and H. Lee for advice on statistics analyses, and L. Shi, J. Bush and A. Diener for comments. K.S. thanks F. Rutaganira for help with characterization of 3MBiP. The Research is supported by the NIH, NSF and WJC Special Project (PJ009106) RDA-Korea to J.S., and by CREST-JPMJCR15O5, JST and JSPS-KAKENHI grants 25252014/26221103 to S.Y. and 15H05616 to M.K., and the NSFC grant 31670246 to K.L.
Ethics declarations
Competing interests
The authors declare no competing financial interests.
Additional information
Reviewer Information Nature thanks H. Sakakibara and the other anonymous reviewer(s) for their contribution to the peer review of this work.
Publisher's note: Springer Nature remains neutral with regard to jurisdictional claims in published maps and institutional affiliations.
Extended data figures and tables
Supplementary information
About this article
Cite this article
Liu, Kh., Niu, Y., Konishi, M. et al. Discovery of nitrate–CPK–NLP signalling in central nutrient–growth networks. Nature 545, 311–316 (2017). https://doi.org/10.1038/nature22077
Received:

Accepted:

Published:

Issue Date:

DOI: https://doi.org/10.1038/nature22077
Comments
By submitting a comment you agree to abide by our Terms and Community Guidelines. If you find something abusive or that does not comply with our terms or guidelines please flag it as inappropriate.