Abstract
Exceptionally preserved fossils provide crucial insights into extinct body plans and organismal evolution1. Molluscs, one of the most disparate animal phyla, radiated rapidly during the early Cambrian period (approximately 535–520 million years ago (Ma))2. The problematic fossil taxa Halkieria3 and Orthrozanclus4 (grouped in Sachitida) have been assigned variously to stem-group annelids, brachiopods4,5, stem-group molluscs4 or stem-group aculiferans (Polyplacophora and Aplacophora)6, but their affinities have remained controversial owing to a lack of preserved diagnostic characters. Here we describe a new early sachitid, Calvapilosa kroegeri gen. et sp. nov. from the Fezouata biota of Morocco7,8 (Early Ordovician epoch, around 478 Ma). The new taxon is characterized by the presence of a single large anterior shell plate and polystichous radula bearing a median tooth and several lateral and uncinal teeth in more than 125 rows. Its flattened body is covered by hollow spinose sclerites, and a smooth, ventral girdle flanks an extensive mantle cavity. Phylogenetic analyses resolve C. kroegeri as a stem-group aculiferan together with other single-plated forms such as Maikhanella (Siphogonuchites) and Orthrozanclus; Halkieria is recovered closer to the aculiferan crown. These genera document the stepwise evolution of the aculiferan body plan from forms with a single, almost conchiferan-like shell through two-plated taxa such as Halkieria, to the eight-plated crown-group aculiferans. C. kroegeri therefore provides key evidence concerning the long debate about the crown molluscan affinities of sachitids. This new discovery strongly suggests that the possession of only a single calcareous shell plate and the presence of unmineralised sclerites are plesiomorphic (an ancestral trait) for the molluscan crown.
Relevant articles
Open Access articles citing this article.
Farid Saleh

,

Romain Vaucher

…

Bertrand Lefebvre

Scientific Reports Open Access 13 December 2022

Biology & Philosophy Open Access 11 September 2022

Biology & Philosophy Open Access 10 September 2022
Access options
Access Nature and 54 other Nature Portfolio journals
Get Nature+, our best-value online-access subscription
$29.99 per month
cancel any time
Subscribe to this journal
Receive 51 print issues and online access
$199.00 per year
only $3.90 per issue
Rent or buy this article
Get just this article for as long as you need it
$39.95
Prices may be subject to local taxes which are calculated during checkout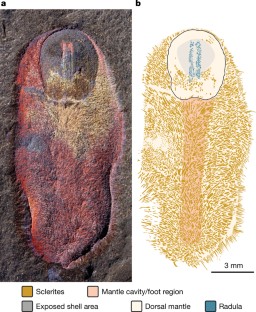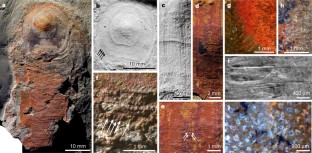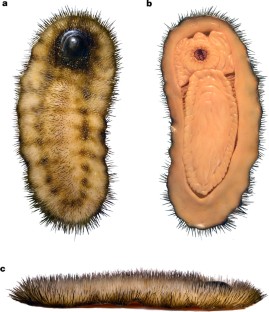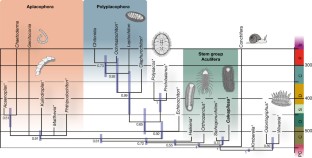 References
Briggs, D. E. G. Extraordinary fossils. Am. Sci . 79, 130–141 (1991)

Vinther, J. The origins of molluscs. Palaeontology 58, 19–34 (2015)

Conway Morris, S. & Peel, J. S. Articulated halkieriids from the Lower Cambrian of north Greenland. Nature 345, 802–805 (1990)

Morris, S. C. & Caron, J.-B. Halwaxiids and the early evolution of the lophotrochozoans. Science 315, 1255–1258 (2007)

Conway Morris, S. & Peel, J. S. Articulated halkieriids from the Lower Cambrian of north Greenland and their role in early protostome evolution. Phil. Trans. R. Soc. Lond. B 347, 305–358 (1995)

Vinther, J. The canal system in sclerites of Lower Cambrian Sinosachites (Halkieriidae: Sachitida): significance for the molluscan affinities of the sachitids. Palaeontology 52, 689–712 (2009)

Van Roy, P. et al. Ordovician faunas of Burgess Shale type. Nature 465, 215–218 (2010)

Van Roy, P., Briggs, D. E. G. & Gaines, R. R. The Fezouata fossils of Morocco; an extraordinary record of marine life in the Early Ordovician. J. Geol. Soc. Lond. 172, 541–549 (2015)

Schwabe, E. Illustrated summary of chiton terminology. Spixiana 33, 171–194 (2010)

Williams, A. & Holmer, L. E. Shell structure and inferred growth, functions and affinities of the sclerites of the problematic Micrina. Palaeontology 45, 845–873 (2002)

Scheltema, A. H. & Ivanov, D. L. An aplacophoran postlarva with iterated dorsal groups of spicules and skeletal similarities to Paleozoic fossils. Invertebr. Biol . 121, 1–10 (2002)

Sigwart, J. D. & Sutton, M. D. Deep molluscan phylogeny: synthesis of palaeontological and neontological data. Proc. R. Soc.B 274, 2413–2419 (2007)

Bengtson, S. The cap-shaped Cambrian fossil Maikhanella and the relationship between coeloscleritophorans and molluscs. Lethaia 25, 401–420 (1992)

Ronquist, F. et al. A total-evidence approach to dating with fossils, applied to the early radiation of the hymenoptera. Syst. Biol . 61, 973–999 (2012)

Vinther, J., Sperling, E. A., Briggs, D. E. G. & Peterson, K. J. A molecular palaeobiological hypothesis for the origin of aplacophoran molluscs and their derivation from chiton-like ancestors. Proc. R. Soc. B 279, 1259–1268 (2012)

Sutton, M. D., Briggs, D. E. G., Siveter, D. J. & Siveter, D. J. An exceptionally preserved vermiform mollusc from the Silurian of England. Nature 410, 461–463 (2001)

Sutton, M. D., Briggs, D. E. G., Siveter, D. J., Siveter, D. J. & Sigwart, J. D. A Silurian armoured aplacophoran and implications for molluscan phylogeny. Nature 490, 94–97 (2012)

Nielsen, C., Haszprunar, G., Ruthensteiner, B. & Wanninger, A. Early development of the aplacophoran mollusc Chaetoderma. Acta Zool . 88, 231–247 (2007)

Eernisse, D. J. & Reynolds, P. D. in Microscopic Anatomy of the Invertebrates Vol. 5 (eds Harrison, F. W. & Kohn, A. J. ) 55–110 (Wiley-Liss, 1994)

Scheltema, A. H. Aplacophora as progenetic aculiferans and the coelomate origin of mollusks as the sister taxon of Sipuncula. Biol. Bull . 184, 57–78 (1993)

Vendrasco, M. J., Wood, T. E. & Runnegar, B. N. Articulated Palaeozoic fossil with 17 plates greatly expands disparity of early chitons. Nature 429, 288–291 (2004)

Vinther, J. et al. The origin of multiplacophorans—convergent evolution in aculiferan molluscs. Palaeontology 55, 1007–1019 (2012)

Salvini-Plawen, L. & Steiner, G. in Origin and Evolutionary Radiation of the Mollusca (ed. Taylor, J. D. ) 29–51 (Oxford Univ. Press, 1996)

Wingstrand, K. G. On the anatomy and relationships of recent Monoplacophora. Galathea Reports 16, 7–94 (1985)

Smith, S. A. et al. Resolving the evolutionary relationships of molluscs with phylogenomic tools. Nature 480, 364–367 (2011)

Kröger, B. & Mutvei, H. Nautiloids with multiple paired muscle scars from Lower–Middle Ordovician of Baltoscandinavia. Palaeontology 48, 781–791 (2005)

Vendrasco, M. J. & Runnegar, B. Late Cambrian and Early Ordovician stem group chitons (Mollusca: Polyplacophora) from Utah and Missouri. J. Paleontol . 78, 675–689 (2004)

Smith, M. R. Mouthparts of the Burgess Shale fossils Odontogriphus and Wiwaxia: implications for the ancestral molluscan radula. Proc. R. Soc. B 279, 4287–4295 (2012)

Scheltema, A. H. The radula of the chaetodermatidae (Mollusca, Aplacophora). Z. Morph. Tiere 72, 361–370 (1972)

Schiemann, S. M. et al. Clustered brachiopod Hox genes are not expressed collinearly and are associated with lophotrochozoan novelties. Preprint at http://dx.doi.org/10.1101/058669 (2016)

Goloboff, P. A., Farris, J. S. & Nixon, K. C. TNT, a free program for phylogenetic analysis. Cladistics 24, 774–786 (2008)

Ronquist, F. et al. MrBayes 3.2: efficient Bayesian phylogenetic inference and model choice across a large model space. Syst. Biol . 61, 539–542 (2012)

O'Reilly, J. E. & Donoghue, P. C. Tips and nodes are complementary not competing approaches to the calibration of molecular clocks. Biol. Lett . 12, 20150975 (2016)

Boag, T. H., Darroch, S. A. & Laflamme, M. Ediacaran distributions in space and time: testing assemblage concepts of earliest macroscopic body fossils. Paleobiology 42, 574–594 (2016)

Waggoner, B. The ediacaran biotas in space and time. Integr. Comp. Biol . 43, 104–113 (2003)

Keane, T. M., Creevey, C. J., Pentony, M. M., Naughton, T. J. & Mclnerney, J. O. Assessment of methods for amino acid matrix selection and their use on empirical data shows that ad hoc assumptions for choice of matrix are not justified. BMC Evol. Biol . 6, 29 (2006)

Benton, M. J. et al. Constraints on the timescale of animal evolutionary history. Palaeontol. Electronica 18, 1–106 (2015)
Acknowledgements
M., B. and L. 'Ou Said' Ben Moula collected the specimens and provided support in the field. B. Kröger 'discovered' the holotype in 2014 among freshly collected and, at the time uninventoried, material at the YPM. L. Ben Moula and B. Tahiri provided practical assistance. S. Butts and J. Utrup curated specimens and facilitated access to the collections at the YPM. C. Graham provided support and access to digital imaging facilities at the Yale Digital Collections Center (YDC2). The drawings of C. kroegeri were made by Z. Dutta and the physical reconstruction was done by E. Horn (http://www.10tons.dk/). The research was supported by National Science Foundation Grant EAR-1053247 and by the Division of Invertebrate Paleontology, YPM.
Ethics declarations
Competing interests
The authors declare no competing financial interests.
Additional information
Reviewer Information Nature thanks S. Bengtson and the other anonymous reviewer(s) for their contribution to the peer review of this work.
Extended data figures and tables
Supplementary information
This file contains a Supplementary Discussion giving the historical context for the interpretations of the Cambrian fossils in the 'Sachtida' (i.e. Halkieria and similar taxa) and Wiwaxia (Section 1), Supplementary Methods giving details of the phylogenetic analyses and character codings (Section 2) and additional references. (PDF 729 kb)
This file contains the morphology character matrix. (TXT 19 kb)
This file contains the morphology and molecular matrix. (TXT 135 kb)
About this article
Cite this article
Vinther, J., Parry, L., Briggs, D. et al. Ancestral morphology of crown-group molluscs revealed by a new Ordovician stem aculiferan. Nature 542, 471–474 (2017). https://doi.org/10.1038/nature21055
Received:

Accepted:

Published:

Issue Date:

DOI: https://doi.org/10.1038/nature21055
Comments
By submitting a comment you agree to abide by our Terms and Community Guidelines. If you find something abusive or that does not comply with our terms or guidelines please flag it as inappropriate.