Abstract
Despite the global prevalence of gastric disease, there are few adequate models in which to study the fundus epithelium of the human stomach. We differentiated human pluripotent stem cells (hPSCs) into gastric organoids containing fundic epithelium by first identifying and then recapitulating key events in embryonic fundus development. We found that disruption of Wnt/β-catenin signalling in mouse embryos led to conversion of fundic to antral epithelium, and that β-catenin activation in hPSC-derived foregut progenitors promoted the development of human fundic-type gastric organoids (hFGOs). We then used hFGOs to identify temporally distinct roles for multiple signalling pathways in epithelial morphogenesis and differentiation of fundic cell types, including chief cells and functional parietal cells. hFGOs are a powerful model for studying the development of the human fundus and the molecular bases of human gastric physiology and pathophysiology, and also represent a new platform for drug discovery.
Relevant articles
Open Access articles citing this article.
Kristin Fritsche

,

Francesco Boccellato

…

Hilmar Berger

Clinical Epigenetics Open Access 30 December 2022

Qinying Wang

,

Fanying Guo

…

Yanlei Ma

Signal Transduction and Targeted Therapy Open Access 27 September 2022

Xiao-Yan Tang

,

Shanshan Wu

…

Yan Liu

Signal Transduction and Targeted Therapy Open Access 24 May 2022
Access options
Subscribe to Nature+
Get immediate online access to Nature and 55 other Nature journal
Subscribe to Journal
Get full journal access for 1 year
$199.00
only $3.90 per issue
All prices are NET prices.
VAT will be added later in the checkout.
Tax calculation will be finalised during checkout.
Buy article
Get time limited or full article access on ReadCube.
$32.00
All prices are NET prices.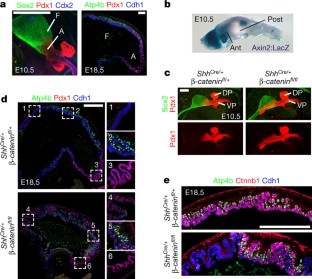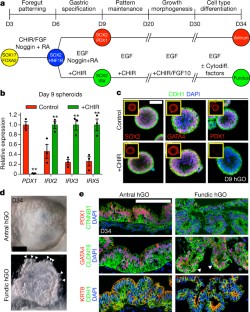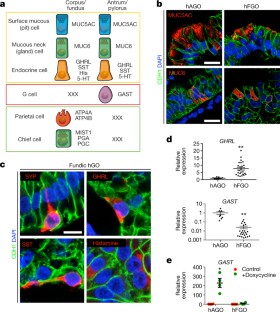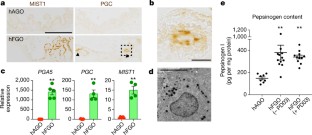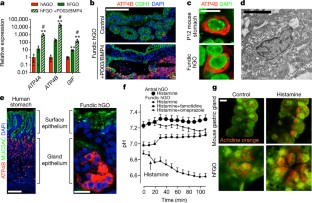 References
Lancaster, M. A. & Knoblich, J. A. Organogenesis in a dish: modeling development and disease using organoid technologies. Science 345, 1247125 (2014)

Huch, M. & Koo, B.-K. Modeling mouse and human development using organoid cultures. Development 142, 3113–3125 (2015)

Zhu, Z. & Huangfu, D. Human pluripotent stem cells: an emerging model in developmental biology. Development 140, 705–717 (2013)

Kim, T.-H. & Shivdasani, R. A. Stomach development, stem cells and disease. Development 143, 554–565 (2016)

Mills, J. C. & Shivdasani, R. A. Gastric epithelial stem cells. Gastroenterology 140, 412–424 (2011)

Hoffmann, W. Current status on stem cells and cancers of the gastric epithelium. Intl J. Mol. Sci. 16, 19153–19169 (2015)

McCracken, K. W. et al. Modelling human development and disease in pluripotent stem-cell-derived gastric organoids. Nature 516, 400–404 (2014)

Noguchi, T. K. et al. Generation of stomach tissue from mouse embryonic stem cells. Nat. Cell Biol. 17, 984–993 (2015)

Peek, R. M. Helicobacter pylori infection and disease: from humans to animal models. Dis. Model. Mech. 1, 50–55 (2008)

Zorn, A. M. & Wells, J. M. Vertebrate endoderm development and organ formation. Annu. Rev. Cell Dev. Biol. 25, 221–251 (2009)

Kraus, M. R.-C. & Grapin-Botton, A. Patterning and shaping the endoderm in vivo and in culture. Curr. Opin. Genet. Dev. 22, 347–353 (2012)

Sherwood, R. I., Chen, T.-Y. A. & Melton, D. A. Transcriptional dynamics of endodermal organ formation. Dev. Dyn. 238, 29–42 (2009)

Roth, R. B. et al. Gene expression analyses reveal molecular relationships among 20 regions of the human CNS. Neurogenetics 7, 67–80 (2006)

Kim, B.-M., Buchner, G., Miletich, I., Sharpe, P. T. & Shivdasani, R. A. The stomach mesenchymal transcription factor Barx1 specifies gastric epithelial identity through inhibition of transient Wnt signaling. Dev. Cell 8, 611–622 (2005)

Kim, B.-M., Woo, J., Kanellopoulou, C. & Shivdasani, R. A. Regulation of mouse stomach development and Barx1 expression by specific microRNAs. Development 138, 1081–1086 (2011)

Rodriguez, P. et al. BMP signaling in the development of the mouse esophagus and forestomach. Development 137, 4171–4176 (2010)

Lameris, A. L. et al. Expression profiling of claudins in the human gastrointestinal tract in health and during inflammatory bowel disease. Scand. J. Gastroenterol. 48, 58–69 (2013)

Keeley, T. M. & Samuelson, L. C. Cytodifferentiation of the postnatal mouse stomach in normal and Huntingtin-interacting protein 1-related-deficient mice. Am. J. Physiol. Gastrointest. Liver Physiol. 299, G1241–G1251 (2010)

Choi, E. et al. Cell lineage distribution atlas of the human stomach reveals heterogeneous gland populations in the gastric antrum. Gut 63, 1711–1720 (2014)

Stange, D. E. et al. Differentiated Troy+ chief cells act as reserve stem cells to generate all lineages of the stomach epithelium. Cell 155, 357–368 (2013)

Lennerz, J. K. M. et al. The transcription factor MIST1 is a novel human gastric chief cell marker whose expression is lost in metaplasia, dysplasia, and carcinoma. Am. J. Pathol. 177, 1514–1533 (2010)

Ramsey, V. G. et al. The maturation of mucus-secreting gastric epithelial progenitors into digestive-enzyme secreting zymogenic cells requires Mist1. Development 134, 211–222 (2007)

Lambrecht, N. W. G., Yakubov, I., Scott, D. & Sachs, G. Identification of the K efflux channel coupled to the gastric H-K-ATPase during acid secretion. Physiol. Genomics 21, 81–91 (2005)

Schumacher, M. A. et al. The use of murine-derived fundic organoids in studies of gastric physiology. J. Physiol. (Lond.) 593, 1809–1827 (2015)

Barker, N. et al. Lgr5(+ve) stem cells drive self-renewal in the stomach and build long-lived gastric units in vitro. Cell Stem Cell 6, 25–36 (2010)

Bartfeld, S. et al. In vitro expansion of human gastric epithelial stem cells and their responses to bacterial infection. Gastroenterology 148, 126–136 (2015)

Nielsen, C., Murtaugh, L. C., Chyung, J. C., Lassar, A. & Roberts, D. J. Gizzard formation and the role of Bapx1. Dev. Biol. 231, 164–174 (2001)

Goldenring, J. R. et al. Overexpression of transforming growth factor-alpha alters differentiation of gastric cell lineages. Dig. Dis. Sci. 41, 773–784 (1996)

Speer, A. L. et al. Fibroblast growth factor 10-fibroblast growth factor receptor 2b mediated signaling is not required for adult glandular stomach homeostasis. PLoS One 7, e49127 (2012)

Goldenring, J. R. & Nomura, S. Differentiation of the gastric mucosa III. Animal models of oxyntic atrophy and metaplasia. Am. J. Physiol. Gastrointest. Liver Physiol. 291, G999–G1004 (2006)

Huh, W. J., Coffey, R. J. & Washington, M. K. Ménétrier's disease: its mimickers and pathogenesis. J. Pathol. Transl. Med. 50, 10–16 (2016)

Park, Y. H. & Kim, N. Review of atrophic gastritis and intestinal metaplasia as a premalignant lesion of gastric cancer. J. Cancer Prev. 20, 25–40 (2015)

Weis, V. G. & Goldenring, J. R. Current understanding of SPEM and its standing in the preneoplastic process. Gastric Cancer 12, 189–197 (2009)

Nomura, S. et al. Evidence for repatterning of the gastric fundic epithelium associated with Ménétrier's disease and TGFα overexpression. Gastroenterology 128, 1292–1305 (2005)

Choi, E., Hendley, A. M., Bailey, J. M., Leach, S. D. & Goldenring, J. R. Expression of activated ras in gastric chief cells of mice leads to the full spectrum of metaplastic lineage transitions. Gastroenterology 150, 918–930 (2015)

McCracken, K. W., Howell, J. C., Wells, J. M. & Spence, J. R. Generating human intestinal tissue from pluripotent stem cells in vitro. Nat. Protocols 6, 1920–1928 (2011)

Ahnfelt-Rønne, J. et al. An improved method for three-dimensional reconstruction of protein expression patterns in intact mouse and chicken embryos and organs. J. Histochem. Cytochem. 55, 925–930 (2007)
Acknowledgements
We thank J. Whitsett and D. Sinner for Axin2-LacZ animals, and Y. Zavros, A. Zorn and members of the Wells and Zorn laboratories for reagents and feedback. This work was supported by National Institutes of Health grants R01DK092456, U19 AI116491, U18EB021780 (J.M.W.), R01DK102551 (M.H.M.), and NIGMS Medical Scientist Training Program T32 GM063483. We acknowledge core support from the Cincinnati Digestive Disease Center Award (P30 DK0789392), CCHMC Confocal Imaging Core, CCHMC Pluripotent Stem Cell Facility, and CCHMC Pathology Core.
Ethics declarations
Competing interests
The authors declare no competing financial interests.
Additional information
Reviewer Information
Nature thanks J. Mills, B.-K. Koo and the other anonymous reviewer(s) for their contribution to the peer review of this work.
Extended data figures and tables
Supplementary information
About this article
Cite this article
McCracken, K., Aihara, E., Martin, B. et al. Wnt/β-catenin promotes gastric fundus specification in mice and humans. Nature 541, 182–187 (2017). https://doi.org/10.1038/nature21021
Received:

Accepted:

Published:

Issue Date:

DOI: https://doi.org/10.1038/nature21021
Comments
By submitting a comment you agree to abide by our Terms and Community Guidelines. If you find something abusive or that does not comply with our terms or guidelines please flag it as inappropriate.