Abstract
Intermediary metabolism generates substrates for chromatin modification, enabling the potential coupling of metabolic and epigenetic states. Here we identify a network linking metabolic and epigenetic alterations that is central to oncogenic transformation downstream of the liver kinase B1 (LKB1, also known as STK11) tumour suppressor, an integrator of nutrient availability, metabolism and growth. By developing genetically engineered mouse models and primary pancreatic epithelial cells, and employing transcriptional, proteomics, and metabolic analyses, we find that oncogenic cooperation between LKB1 loss and KRAS activation is fuelled by pronounced mTOR-dependent induction of the serine–glycine–one-carbon pathway coupled to S-adenosylmethionine generation. At the same time, DNA methyltransferases are upregulated, leading to elevation in DNA methylation with particular enrichment at retrotransposon elements associated with their transcriptional silencing. Correspondingly, LKB1 deficiency sensitizes cells and tumours to inhibition of serine biosynthesis and DNA methylation. Thus, we define a hypermetabolic state that incites changes in the epigenetic landscape to support tumorigenic growth of LKB1-mutant cells, while resulting in potential therapeutic vulnerabilities.
Relevant articles
Open Access articles citing this article.
Mengke Chen

,

Yi Fang

…

Xiaoxing Li

Journal of Translational Medicine Open Access 23 April 2023

Rexiati Ruze

,

Jianlu Song

…

Yupei Zhao

Signal Transduction and Targeted Therapy Open Access 24 March 2023

Elien Heylen

,

Paulien Verstraete

…

Kim R. Kampen

British Journal of Cancer Open Access 17 March 2023
Access options
Subscribe to this journal
Receive 51 print issues and online access
$199.00 per year
only $3.90 per issue
Rent or buy this article
Get just this article for as long as you need it
$39.95
Prices may be subject to local taxes which are calculated during checkout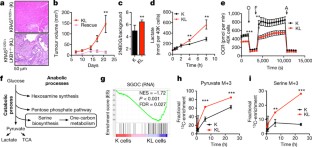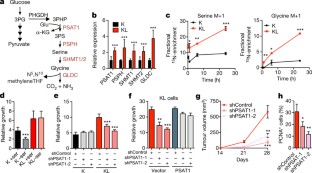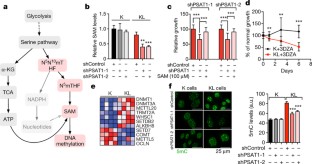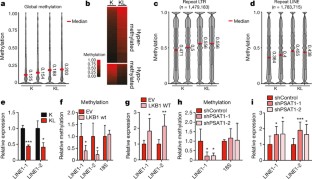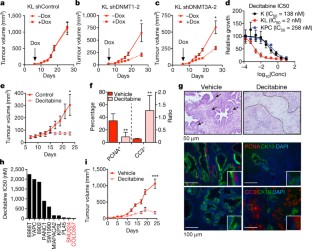 References
Gut, P. & Verdin, E. The nexus of chromatin regulation and intermediary metabolism. Nature 502, 489–498 (2013)

Etchegaray, J.-P. & Mostoslavsky, R. Interplay between metabolism and epigenetics: a nuclear adaptation to environmental changes. Mol. Cell 62, 695–711 (2016)

Carey, B. W., Finley, L. W. S., Cross, J. R., Allis, C. D. & Thompson, C. B. Intracellular α-ketoglutarate maintains the pluripotency of embryonic stem cells. Nature 518, 413–416 (2015)

Shyh-Chang, N. et al. Influence of threonine metabolism on S-adenosylmethionine and histone methylation. Science 339, 222–226 (2013)

Losman, J.-A. & Kaelin, W. G. Jr. What a difference a hydroxyl makes: mutant IDH, (R)-2-hydroxyglutarate, and cancer. Genes Dev . 27, 836–852 (2013)

Waddell, N. et al. Whole genomes redefine the mutational landscape of pancreatic cancer. Nature 518, 495–501 (2015)

Witkiewicz, A. K. et al. Whole-exome sequencing of pancreatic cancer defines genetic diversity and therapeutic targets. Nat. Commun. 6, 6744 (2015)

Su, G. H. et al. Germline and somatic mutations of the STK11/LKB1 Peutz-Jeghers gene in pancreatic and biliary cancers. Am. J. Pathol. 154, 1835–1840 (1999)

Giardiello, F. M. et al. Very high risk of cancer in familial Peutz-Jeghers syndrome. Gastroenterology 119, 1447–1453 (2000)

Korsse, S. E. et al. Pancreatic cancer risk in Peutz-Jeghers syndrome patients: a large cohort study and implications for surveillance. J. Med. Genet . 50, 59–64 (2013)

Ji, H. et al. LKB1 modulates lung cancer differentiation and metastasis. Nature 448, 807–810 (2007)

Chen, Z. et al. A murine lung cancer co-clinical trial identifies genetic modifiers of therapeutic response. Nature 483, 613–617 (2012)

Wingo, S. N. et al. Somatic LKB1 mutations promote cervical cancer progression. PLoS One 4, e5137 (2009)

Liu, W. et al. LKB1/STK11 inactivation leads to expansion of a prometastatic tumor subpopulation in melanoma. Cancer Cell 21, 751–764 (2012)

Shackelford, D. B. & Shaw, R. J. The LKB1-AMPK pathway: metabolism and growth control in tumour suppression. Nat. Rev. Cancer 9, 563–575 (2009)

Cancer Genome Atlas Research Network. Comprehensive molecular profiling of lung adenocarcinoma. Nature 511, 543–550 (2014)

Ting, L., Rad, R., Gygi, S. P. & Haas, W. MS3 eliminates ratio distortion in isobaric multiplexed quantitative proteomics. Nat. Methods 8, 937–940 (2011)

Mehrmohamadi, M., Liu, X., Shestov, A. A. & Locasale, J. W. Characterization of the usage of the serine metabolic network in human cancer. Cell Reports 9, 1507–1519 (2014)

Bardeesy, N. et al. Both p16(Ink4a) and the p19(Arf)-p53 pathway constrain progression of pancreatic adenocarcinoma in the mouse. Proc. Natl Acad. Sci. USA 103, 5947–5952 (2006)

Locasale, J. W. Serine, glycine and one-carbon units: cancer metabolism in full circle. Nat. Rev. Cancer 13, 572–583 (2013)

Mentch, S. J. et al. Histone methylation dynamics and gene regulation occur through the sensing of one-carbon metabolism. Cell Metab . 22, 861–873 (2015).

Maddocks, O. D. K., Labuschagne, C. F., Adams, P. D. & Vousden, K. H. Serine metabolism supports the methionine cycle and DNA/RNA methylation through de novo ATP synthesis in cancer cells. Mol. Cell 61, 210–221 (2016)

Possemato, R. et al. Functional genomics reveal that the serine synthesis pathway is essential in breast cancer. Nature 476, 346–350 (2011)

Schübeler, D. Function and information content of DNA methylation. Nature 517, 321–326 (2015)

Elbarbary, R. A., Lucas, B. A. & Maquat, L. E. Retrotransposons as regulators of gene expression. Science http://dx.doi.org/10.1126/science.aac7247 (2016)

Kulis, M., Queirós, A. C., Beekman, R. & Martín-Subero, J. I. Intragenic DNA methylation in transcriptional regulation, normal differentiation and cancer. Biochim. Biophys. Acta 1829, 1161–1174 (2013)

Son, J. et al. Glutamine supports pancreatic cancer growth through a KRAS-regulated metabolic pathway. Nature 496, 101–105 (2013)

Lee, J. V. et al. Akt-dependent metabolic reprogramming regulates tumor cell histone acetylation. Cell Metab . 20, 306–319 (2014)

Shim, E.-H. et al. L-2-Hydroxyglutarate: an epigenetic modifier and putative oncometabolite in renal cancer. Cancer Discov . 4, 1290–1298 (2014)

Intlekofer, A. M. et al. Hypoxia induces production of L-2-hydroxyglutarate. Cell Metab . 22, 304–311 (2015)

Roulois, D. et al. DNA-demethylating agents target colorectal cancer cells by inducing viral mimicry by endogenous transcripts. Cell 162, 961–973 (2015)

Chiappinelli, K. B. et al. Inhibiting DNA methylation causes an interferon response in cancer via dsRNA including endogenous retroviruses. Cell 162, 974–986 (2015)

Treppendahl, M. B., Kristensen, L. S. & Grønbæk, K. Predicting response to epigenetic therapy. J. Clin. Invest. 124, 47–55 (2014)

Locasale, J. W. et al. Phosphoglycerate dehydrogenase diverts glycolytic flux and contributes to oncogenesis. Nat. Genet . 43, 869–874 (2011)

DeNicola, G. M. et al. NRF2 regulates serine biosynthesis in non-small cell lung cancer. Nat. Genet . 47, 1475–1481 (2015)

Sun, L. et al. cMyc-mediated activation of serine biosynthesis pathway is critical for cancer progression under nutrient deprivation conditions. Cell Res . 25, 429–444 (2015)

Ye, J. et al. Serine catabolism regulates mitochondrial redox control during hypoxia. Cancer Discov . 4, 1406–1417 (2014)

Zhang, W. C. et al. Glycine decarboxylase activity drives non-small cell lung cancer tumor-initiating cells and tumorigenesis. Cell 148, 259–272 (2012)

Ben-Sahra, I., Howell, J. J., Asara, J. M. & Manning, B. D. Stimulation of de novo pyrimidine synthesis by growth signaling through mTOR and S6K1. Science 339, 1323–1328 (2013)
Acknowledgements
We thank A. Kimmelman, K. Patra, L. J. Etchegaray, and R. Mostoslavsky for comments on the manuscript, and P. Foltopoulou, B. Martinez and Bardeesy laboratory members for advice. N.B. holds the Gallagher Endowed Chair in Gastrointestinal Cancer Research and received support from the Granara-Skerry Trust, the Linda J. Verville Foundation and the Begg Family, and grants from the NIH (P01 CA117969-07, R01 CA133557-05). F.K. is supported by a Hirshberg Foundation Career Development Award. F.K. and N.B. were supported by NIH grant P50CA1270003 and are members of the Andrew Warshaw Institute.
Ethics declarations
Competing interests
The authors declare no competing financial interests.
Additional information
Reviewer Information
Nature thanks M. Rehli and the other anonymous reviewer(s) for their contribution to the peer review of this work.
Extended data figures and tables
Supplementary information
About this article
Cite this article
Kottakis, F., Nicolay, B., Roumane, A. et al. LKB1 loss links serine metabolism to DNA methylation and tumorigenesis. Nature 539, 390–395 (2016). https://doi.org/10.1038/nature20132
Received:

Accepted:

Published:

Issue Date:

DOI: https://doi.org/10.1038/nature20132
Comments
By submitting a comment you agree to abide by our Terms and Community Guidelines. If you find something abusive or that does not comply with our terms or guidelines please flag it as inappropriate.