Abstract
Mammalian genomes undergo epigenetic modifications, including cytosine methylation by DNA methyltransferases (DNMTs). Oxidation of 5-methylcytosine by the Ten-eleven translocation (TET) family of dioxygenases can lead to demethylation1,2,3. Although cytosine methylation has key roles in several processes such as genomic imprinting and X-chromosome inactivation, the functional significance of cytosine methylation and demethylation in mouse embryogenesis remains to be fully determined4,5,6,7,8,9. Here we show that inactivation of all three Tet genes in mice leads to gastrulation phenotypes, including primitive streak patterning defects in association with impaired maturation of axial mesoderm and failed specification of paraxial mesoderm, mimicking phenotypes in embryos with gain-of-function Nodal signalling10. Introduction of a single mutant allele of Nodal in the Tet mutant background partially restored patterning, suggesting that hyperactive Nodal signalling contributes to the gastrulation failure of Tet mutants. Increased Nodal signalling is probably due to diminished expression of the Lefty1 and Lefty2 genes, which encode inhibitors of Nodal signalling. Moreover, reduction in Lefty gene expression is linked to elevated DNA methylation, as both Lefty–Nodal signalling and normal morphogenesis are largely restored in Tet-deficient embryos when the Dnmt3a and Dnmt3b genes are disrupted. Additionally, a point mutation in Tet that specifically abolishes the dioxygenase activity causes similar morphological and molecular abnormalities as the null mutation. Taken together, our results show that TET-mediated oxidation of 5-methylcytosine modulates Lefty–Nodal signalling by promoting demethylation in opposition to methylation by DNMT3A and DNMT3B. These findings reveal a fundamental epigenetic mechanism featuring dynamic DNA methylation and demethylation crucial to regulation of key signalling pathways in early body plan formation.
Access options
Subscribe to Journal
Get full journal access for 1 year
$199.00
only $3.83 per issue
All prices are NET prices.
VAT will be added later in the checkout.
Rent or Buy article
Get time limited or full article access on ReadCube.
from$8.99
All prices are NET prices.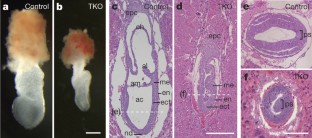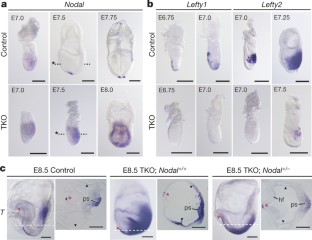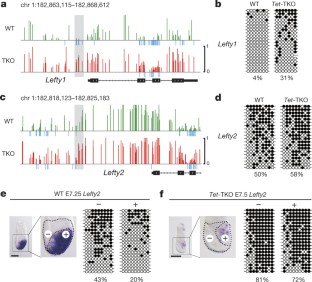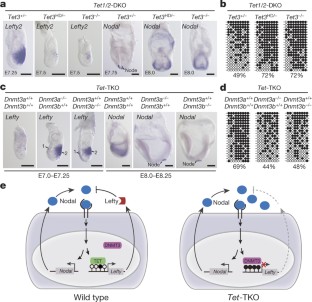 References
1

Hackett, J. A. & Surani, M. A. DNA methylation dynamics during the mammalian life cycle. Phil. Trans. R. Soc. Lond. B 368, 20110328 (2013)

2

Pastor, W. A., Aravind, L. & Rao, A. TETonic shift: biological roles of TET proteins in DNA demethylation and transcription. Nat. Rev. Mol. Cell Biol . 14, 341–356 (2013)

3

Seisenberger, S. et al. Reprogramming DNA methylation in the mammalian life cycle: building and breaking epigenetic barriers. Phil. Trans. R. Soc. Lond. B 368, 20110330 (2013)

4

Jaenisch, R. & Bird, A. Epigenetic regulation of gene expression: how the genome integrates intrinsic and environmental signals. Nat. Genet . 33 (Suppl), 245–254 (2003)

5

Li, E. & Zhang, Y. DNA methylation in mammals. Cold Spring Harb. Perspect. Biol. 6, a019133 (2014)

6

Goll, M. G. & Bestor, T. H. Eukaryotic cytosine methyltransferases. Annu. Rev. Biochem. 74, 481–514 (2005)

7

Bestor, T. H., Edwards, J. R. & Boulard, M. Notes on the role of dynamic DNA methylation in mammalian development. Proc. Natl Acad. Sci. USA 112, 6796–6799 (2015)

8

Schübeler, D. Function and information content of DNA methylation. Nature 517, 321–326 (2015)

9

Smith, Z. D. & Meissner, A. DNA methylation: roles in mammalian development. Nat. Rev. Genet . 14, 204–220 (2013)

10

Meno, C. et al. Mouse Lefty2 and zebrafish antivin are feedback inhibitors of nodal signaling during vertebrate gastrulation. Mol. Cell 4, 287–298 (1999)

11

Tam, P. P., Loebel, D. A. & Tanaka, S. S. Building the mouse gastrula: signals, asymmetry and lineages. Curr. Opin. Genet. Dev. 16, 419–425 (2006)

12

Takaoka, K. & Hamada, H. Cell fate decisions and axis determination in the early mouse embryo. Development 139, 3–14 (2012)

13

Arnold, S. J. & Robertson, E. J. Making a commitment: cell lineage allocation and axis patterning in the early mouse embryo. Nat. Rev. Mol. Cell Biol . 10, 91–103 (2009)

14

Rivera-Pérez, J. A. & Hadjantonakis, A. K. The Dynamics of Morphogenesis in the Early Mouse Embryo. Cold Spring Harb. Perspect. Biol . 7, a015867 (2014)

15

Parfitt, D. E. & Shen, M. M. From blastocyst to gastrula: gene regulatory networks of embryonic stem cells and early mouse embryogenesis. Phil. Trans. R. Soc. Lond. B 369, 20130542 (2014)

16

Tahiliani, M. et al. Conversion of 5-methylcytosine to 5-hydroxymethylcytosine in mammalian DNA by MLL partner TET1. Science 324, 930–935 (2009)

17

Ito, S. et al. Tet proteins can convert 5-methylcytosine to 5-formylcytosine and 5-carboxylcytosine. Science 333, 1300–1303 (2011)

18

He, Y. F. et al. Tet-mediated formation of 5-carboxylcytosine and its excision by TDG in mammalian DNA. Science 333, 1303–1307 (2011)

19

Dawlaty, M. M. et al. Loss of Tet enzymes compromises proper differentiation of embryonic stem cells. Dev. Cell 29, 102–111 (2014)

20

Hu, X. et al. Tet and TDG mediate DNA demethylation essential for mesenchymal-to-epithelial transition in somatic cell reprogramming. Cell Stem Cell 14, 512–522 (2014)

21

Zhou, X., Sasaki, H., Lowe, L., Hogan, B. L. & Kuehn, M. R. Nodal is a novel TGF-beta-like gene expressed in the mouse node during gastrulation. Nature 361, 543–547 (1993)

22

Meno, C. et al. lefty-1 is required for left-right determination as a regulator of lefty-2 and nodal. Cell 94, 287–297 (1998)

23

Saijoh, Y. et al. Distinct transcriptional regulatory mechanisms underlie left–right asymmetric expression of lefty-1 and lefty-2. Genes Dev . 13, 259–269 (1999)

24

Wu, H. et al. Dual functions of Tet1 in transcriptional regulation in mouse embryonic stem cells. Nature 473, 389–393 (2011)

25

Chen, Q., Chen, Y., Bian, C., Fujiki, R. & Yu, X. TET2 promotes histone O-GlcNAcylation during gene transcription. Nature 493, 561–564 (2013)

26

Okano, M., Bell, D. W., Haber, D. A. & Li, E. DNA methyltransferases Dnmt3a and Dnmt3b are essential for de novo methylation and mammalian development. Cell 99, 247–257 (1999)

27

Auclair, G., Guibert, S., Bender, A. & Weber, M. Ontogeny of CpG island methylation and specificity of DNMT3 methyltransferases during embryonic development in the mouse. Genome Biol . 15, 545 (2014)

28

Gu, T. P. et al. The role of Tet3 DNA dioxygenase in epigenetic reprogramming by oocytes. Nature 477, 606–610 (2011)

29

Dawlaty, M. M. et al. Combined deficiency of Tet1 and Tet2 causes epigenetic abnormalities but is compatible with postnatal development. Dev. Cell 24, 310–323 (2013)

30

Li, C. et al. Overlapping requirements for Tet2 and Tet3 in normal development and hematopoietic stem cell emergence. Cell Reports 12, 1133–1143 (2015)

31

Zhang, R.-R. et al. Tet1 regulates adult hippocampal neurogenesis and cognition. Cell Stem Cell 13, 237–245 (2013)

32

Sadate-Ngatchou, P. I., Payne, C. J., Dearth, A. T. & Braun, R. E. Cre recombinase activity specific to postnatal, premeiotic male germ cells in transgenic mice. Genesis 46, 738–742 (2008)

33

de Vries, W. N. et al. Expression of Cre recombinase in mouse oocytes: a means to study maternal effect genes. Genesis 26, 110–112 (2000)

34

Yin, R. et al. Ascorbic acid enhances Tet-mediated 5-methylcytosine oxidation and promotes DNA demethylation in mammals. J. Am. Chem. Soc. 135, 10396–10403 (2013)

35

Li, J. Y. et al. Synergistic function of DNA methyltransferases Dnmt3a and Dnmt3b in the methylation of Oct4 and Nanog. Mol. Cell. Biol. 27, 8748–8759 (2007)

36

Wang, H. et al. One-step generation of mice carrying mutations in multiple genes by CRISPR/Cas-mediated genome engineering. Cell 153, 910–918 (2013)

37

Yang, H. et al. One-step generation of mice carrying reporter and conditional alleles by CRISPR/Cas-mediated genome engineering. Cell 154, 1370–1379 (2013)

38

Yang, H., Wang, H. & Jaenisch, R. Generating genetically modified mice using CRISPR/Cas-mediated genome engineering. Nat. Protocols 9, 1956–1968 (2014)

39

Rohde, C., Zhang, Y., Reinhardt, R. & Jeltsch, A. BISMA—fast and accurate bisulfite sequencing data analysis of individual clones from unique and repetitive sequences. BMC Bioinformatics 11, 230 (2010)

40

Tang, F. et al. RNA-Seq analysis to capture the transcriptome landscape of a single cell. Nat. Protocols 5, 516–535 (2010)

41

Tang, F. et al. mRNA-Seq whole-transcriptome analysis of a single cell. Nat. Methods 6, 377–382 (2009)

42

Trapnell, C., Pachter, L. & Salzberg, S. L. TopHat: discovering splice junctions with RNA-Seq. Bioinformatics 25, 1105–1111 (2009)

43

Trapnell, C. et al. Transcript assembly and quantification by RNA-seq reveals unannotated transcripts and isoform switching during cell differentiation. Nat. Biotechnol . 28, 511–515 (2010)

44

Love, M. I., Huber, W. & Anders, S. Moderated estimation of fold change and dispersion for RNA-seq data with DESeq2. Genome Biol . 15, 550 (2014)

45

Miura, F., Enomoto, Y., Dairiki, R. & Ito, T. Amplification-free whole-genome bisulfite sequencing by post-bisulfite adaptor tagging. Nucleic Acids Res . 40, e136 (2012)

46

Smallwood, S. A. et al. Single-cell genome-wide bisulfite sequencing for assessing epigenetic heterogeneity. Nat. Methods 11, 817–820 (2014)

47

Guo, F. et al. The transcriptome and DNA methylome landscapes of human primordial germ cells. Cell 161, 1437–1452 (2015)

48

Krueger, F. & Andrews, S. R. Bismark: a flexible aligner and methylation caller for Bisulfite-Seq applications. Bioinformatics 27, 1571–1572 (2011)

49

Li, H. et al. The Sequence Alignment/Map format and SAMtools. Bioinformatics 25, 2078–2079 (2009)

50

Song, Q. et al. A reference methylome database and analysis pipeline to facilitate integrative and comparative epigenomics. PLoS One 8, e81148 (2013)

51

Shen, Y. et al. A map of the cis-regulatory sequences in the mouse genome. Nature 488, 116–120 (2012)
Acknowledgements
We thank A. Lashua, B. Zhou, Z. Yang and S. Li for providing probes; D. Chen for Stra8-Cre mouse; H. Wang and W. Lai for quantitative mass spectrometry analysis; D. Pei and B. Wang for karyotype analysis; Z. Xu, G. Xu and Q. Li for support with animal care and experiments; N. Zhong, J. Gao, C. Wang, Q. Xu and Q. Yang for technical assistance. We also thank C. Walsh and G. Pfeifer for critical reading of the manuscript; C. Hui, Y. Mishina, T. Chen and N. Jing for discussions. This work was supported by the National Science Foundation of China (31230039 and 31521061 to G.X., and 31429003 to S.X.), the Ministry of Sciences and Technology of China (2012CB966903 and 2014CB965200) and the 'Key New Drug Creation and Manufacturing Program' of China (2014ZX09507002-005) to G.X..
Ethics declarations
Competing interests
The authors declare no competing financial interests.
Additional information
Reviewer Information Nature thanks A.-K. Hadjantonakis, S. Kriaucionis and the other anonymous reviewer(s) for their contribution to the peer review of this work.
Extended data figures and tables
Supplementary information
About this article
Cite this article
Dai, HQ., Wang, BA., Yang, L. et al. TET-mediated DNA demethylation controls gastrulation by regulating Lefty–Nodal signalling. Nature 538, 528–532 (2016). https://doi.org/10.1038/nature20095
Received:

Accepted:

Published:

Issue Date:
Comments
By submitting a comment you agree to abide by our Terms and Community Guidelines. If you find something abusive or that does not comply with our terms or guidelines please flag it as inappropriate.