Abstract
The teeth of gnathostomes (jawed vertebrates) show rigidly patterned, unidirectional replacement that may or may not be associated with a shedding mechanism. These mechanisms, which are critical for the maintenance of the dentition, are incongruently distributed among extant gnathostomes. Although a permanent tooth-generating dental lamina is present in all chondrichthyans, many tetrapods and some teleosts, it is absent in the non-teleost actinopterygians. Tooth-shedding by basal hard tissue resorption occurs in most osteichthyans (including tetrapods) but not in chondrichthyans. Here we report a three-dimensional virtual dissection of the dentition of a 424-million-year-old stem osteichthyan, Andreolepis hedei, using propagation phase-contrast synchrotron microtomography, with a reconstruction of its growth history. Andreolepis, close to the common ancestor of all extant osteichthyans, shed its teeth by basal resorption but probably lacked a permanent dental lamina. This is the earliest documented instance of resorptive tooth shedding and may represent the primitive osteichthyan mode of tooth replacement.
Relevant articles
Open Access articles citing this article.
Tyler A. Square

,

Shivani Sundaram

…

Craig T. Miller

EvoDevo Open Access 25 March 2021
Access options
Subscribe to Journal
Get full journal access for 1 year
$199.00
only $3.90 per issue
All prices are NET prices.
VAT will be added later in the checkout.
Tax calculation will be finalised during checkout.
Buy article
Get time limited or full article access on ReadCube.
$32.00
All prices are NET prices.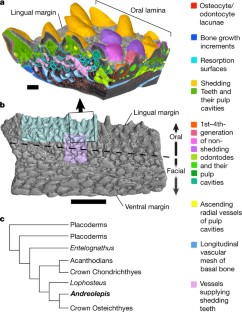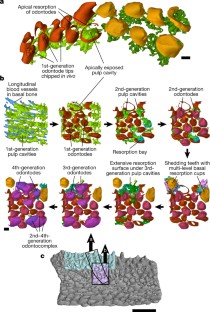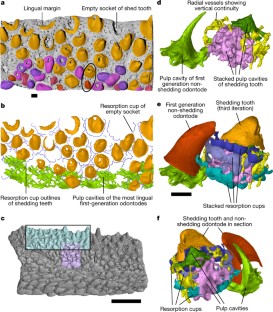 References
Qu, Q., Haitina, T., Zhu, M. & Ahlberg, P. E. New genomic and fossil data illuminate the origin of enamel. Nature 526, 108–111 (2015)

Fraser, G. J., Cerny, R., Soukup, V., Bronner-Fraser, M. & Streelman, J. T. The odontode explosion: the origin of tooth-like structures in vertebrates. BioEssays 32, 808–817 (2010)

Debiais-Thibaud, M. et al. The homology of odontodes in gnathostomes: insights from Dlx gene expression in the dogfish, Scyliorhinus canicula. BMC Evol. Biol. 11, 307 (2011)

Fraser, G. J., Graham, A. & Smith, M. M. Developmental and evolutionary origins of the vertebrate dentition: molecular controls for spatio-temporal organisation of tooth sites in osteichthyans. J. Exp. Zool. B. Mol. Dev. Evol. 306, 183–203 (2006)

Smith, M. M., Fraser, G. J. & Mitsiadis, T. A. Dental lamina as source of odontogenic stem cells: evolutionary origins and developmental control of tooth generation in gnathostomes. J. Exp. Zool. B. Mol. Dev. Evol. 312, 260–280 (2009)

Smith, M. M. & Johanson, Z. in Great Transformations in Vertebrate Evolution (eds Dial, K. P. et al.) 9–29. (Univ. Chicago Press, 2015)

Grady, J. E. Tooth development in Latimeria chalumnae (Smith). J. Morphol. 132, 377–387 (1970)

Huysseune, A. Formation of a successional dental lamina in the zebrafish (Danio rerio): support for a local control of replacement tooth initiation. Int. J. Dev. Biol. 50, 637–643 (2006)

Huysseune, A. & Witten, P. E. An evolutionary view on tooth development and replacement in wild Atlantic salmon (Salmo salar L.). Evol. Dev. 10, 6–14 (2008)

Vandenplas, S., DeClercq, A. & Huysseune, A. Tooth replacement without a dental lamina: The search for epithelial stem cells in Polypterus senegalus. J. Exp. Zool. B. Mol. Dev. Evol. 322, 281–293 (2014)

Smith, M. M. et al. Making teeth to order: conserved genes reveal an ancient molecular pattern in paddlefish (Actinopterygii). Proc. Biol. Sci. 282, 20142700 (2015)

Witten, P. E. & Huysseune, A. A comparative view on mechanisms and functions of skeletal remodelling in teleost fish, with special emphasis on osteoclasts and their function. Biol. Rev. Camb. Philos. Soc. 84, 315–346 (2009)

Reif, W.-E. in Evolutionary Biology (eds Hecht, M. K. et al.) 287–368 (Plenum Press, 1982)

Smith, M. M. & Coates, M. I. in Major Events in Early Vertebrate Evolution: Palaeontology, Phylogeny, Genetics and Development (ed. Ahlberg, P. E. ) 223–240 (Taylor & Francis, 2001)

Gross, W. Fragliche Actinopterygier-Schuppen aus dem Silur Gotlands. Lethaia 1, 184–218 (1968)

Janvier, P. On the oldest known teleostome fish Andreolepis hedei Gross (Ludlow of Gotland), and the systematic position of the lophosteids. ENSV TA Toim. Geol. 27, 86–95 (1978)

Botella, H., Blom, H., Dorka, M., Ahlberg, P. E. & Janvier, P. Jaws and teeth of the earliest bony fishes. Nature 448, 583–586 (2007)

Chen, D., Janvier, P., Ahlberg, P. E. & Blom, H. Scale morphology and squamation of the Late Silurian osteichthyan Andreolepis from Gotland, Sweden. Hist. Biol. 24, 411–423 (2012)

Qu, Q., Sanchez, S., Blom, H., Tafforeau, P. & Ahlberg, P. E. Scales and tooth whorls of ancient fishes challenge distinction between external and oral 'teeth'. PLoS One 8, e71890 (2013)

Fredholm, D. Vertebrates in the Ludlovian Hemse Beds of Gotland, Sweden. Geol. Foren. Stockholm Forh. 110, 157–179 (1988)

Sire, J.-Y., Donoghue, P. C. J. & Vickaryous, M. K. Origin and evolution of the integumentary skeleton in non-tetrapod vertebrates. J. Anat. 214, 409–440 (2009)

Friedman, M. & Brazeau, M. D. A reappraisal of the origin and basal radiation of the Osteichthyes. J. Vertebr. Paleontol. 30, 36–56 (2010)

Cunningham, J. A., Rücklin, M., Blom, H., Botella, H. & Donoghue, P. C. J. Testing models of dental development in the earliest bony vertebrates, Andreolepis and Lophosteus. Biol. Lett. 8, 833–837 (2012)

Wistuba, J., Bolte, M. & Clemen, G. The odontoclasts of Ambystoma mexicanum. Ann. Anat. 182, 415–422 (2000)

Zhu, M., Wang, W. & Yu, X. in Morphology, Phylogeny and Paleobiogeography of Fossil Fishes (eds Elliott, D. K. et al.) 199–214 (Verlag Dr. Friedrich Pfeil, 2010)

Brazeau, M. D. The braincase and jaws of a Devonian 'acanthodian' and modern gnathostome origins. Nature 457, 305–308 (2009)

Zhu, M. et al. A Silurian placoderm with osteichthyan-like marginal jaw bones. Nature 502, 188–193 (2013)

Dupret, V., Sanchez, S., Goujet, D., Tafforeau, P. & Ahlberg, P. E. A primitive placoderm sheds light on the origin of the jawed vertebrate face. Nature 507, 500–503 (2014)

Giles, S., Friedman, M. & Brazeau, M. D. Osteichthyan-like cranial conditions in an Early Devonian stem gnathostome. Nature 520, 82–85 (2015)

Brazeau, M. D. & de Winter, V. The hyoid arch and braincase anatomy of Acanthodes support chondrichthyan affinity of 'acanthodians'. Proc. R. Soc.B 282, 20152210 (2015)

Smith, M. M. & Krupina, N. I. Conserved developmental processes constrain evolution of lungfish dentitions. J. Anat. 199, 161–168 (2001)

Rücklin, M. et al. Development of teeth and jaws in the earliest jawed vertebrates. Nature 491, 748–751 (2012)

Young, G. C., Lelièvre, H. & Goujet, D. Primitive jaw structure in an articulated brachythoracid arthrodire (placoderm fish; Early Devonian) from Southeastern Australia. J. Vertebr. Paleontol. 21, 670–678 (2001)

Ørvig, T. Acanthodian dentition and its bearing on the relationships of the group. Palaeontogr. Abt. A 143, 119–150 (1973)

Gross, W. Über das Gebiss der Acanthodier und Placodermen. Zool. J. Linn. Soc. London 47, 121–130 (1967)

Blais, S. A., MacKenzie, L. A. & Wilson, M. V. H. Tooth-like scales in Early Devonian eugnathostomes and the 'outside-in' hypothesis for the origins of teeth in vertebrates. J. Vertebr. Paleontol. 31, 1189–1199 (2011)

Williams, M. Tooth retention in cladodont sharks: with a comparison between primitive grasping and swallowing, and modern cutting and gouging feeding mechanisms. J. Vertebr. Paleontol. 21, 214–226 (2001)

Miles, R. Articulated acanthodian fishes from the Old Red Sandstone of England, with a review of the structure and evolution of the acanthodian shoulder-girdle. Bull. Br. Mus. Nat. Hist. (Geol.) 24, 111–213 (1973)

Brazeau, M. D. A revision of the anatomy of the Early Devonian jawed vertebrate Ptomacanthus anglicus Miles. Palaeontology 55, 355–367 (2012)

Hanke, G. F. & Wilson, M. V. H. Anatomy of the Early Devonian acanthodian Brochoadmones milesi based on nearly complete body fossils, with comments on the evolution and development of paired fins. J. Vertebr. Paleontol. 26, 526–537 (2006)

Rücklin, M., Giles, S., Janvier, P. & Donoghue, P. C. Teeth before jaws? Comparative analysis of the structure and development of the external and internal scales in the extinct jawless vertebrate Loganellia scotica. Evol. Dev. 13, 523–532 (2011)

Jarvik, E. Middle and Upper Devonian Porolepiformes from East Greenland with special reference to Glyptolepis groenlandica n. sp. Meddr. Grønland 187, 1–295 (1972)

Andrews, S. M., Long, J., Ahlberg, P., Barwick, R. & Campbell, K. The structure of the sarcopterygian Onychodus jandemarrai n. sp. from Gogo, Western Australia: with a functional interpretation of the skeleton. Trans. R. Soc. Edinb. Earth Sci. 96, 197–307 (2005)

Smith, M. M. & Johanson, Z. in From Clone to Bone: The Synergy of Morphological and Molecular Tools in Paleobiology (eds Asher, R. J. & Müller, J. ) 166–206 (Cambridge Univ. Press, 2012)

Ahlberg, P. E. & Clack, J. A. Lower jaws, lower tetrapods - a review based on the Devonian genus Acanthostega. Trans. R. Soc. Edinb. Earth Sci. 89, 11–46 (1998)

Gardiner, B. G. The relationships of the palaeoniscid fishes, a review based on new specimens of Mimia and Moythomasia from the Upper Devonian of Western Australia. Bull. Br. Mus. Nat. Hist. 37, 173–428 (1984)

Labiche, J.-C. et al. Invited article: the fast readout low noise camera as a versatile x-ray detector for time resolved dispersive extended x-ray absorption fine structure and diffraction studies of dynamic problems in materials science, chemistry, and catalysis. Rev. Sci. Instrum. 78, 091301–091311 (2007)

Lak, M. et al. Phase contrast X-ray synchrotron imaging: opening access to fossil inclusions in opaque amber. Microsc. Microanal. 14, 251–259 (2008)

Sanchez, S., Ahlberg, P. E., Trinajstic, K. M., Mirone, A. & Tafforeau, P. Three-dimensional synchrotron virtual paleohistology: a new insight into the world of fossil bone microstructures. Microsc. Microanal. 18, 1095–1105 (2012)

Paganin, D., Mayo, S. C., Gureyev, T. E., Miller, P. R. & Wilkins, S. W. Simultaneous phase and amplitude extraction from a single defocused image of a homogeneous object. J. Microsc. 206, 33–40 (2002)
Acknowledgements
We thank P. Janvier for originally bringing LOG87-301DF to our attention and Lund University for the loan of the specimen. Scanning was performed at the ESRF as part of proposal ES 151 and with in-house beamtime provided to S.S. during her time as a postdoctoral fellow at ESRF. D.C., P.E.A. and S.S. thank ERC (Advanced Investigator Grant 233111) for support. D.C. and P.E.A. also thank the Knut and Alice Wallenberg Foundation (Wallenberg Scholarship awarded to P.E.A.).
Additional information
The synchrotron data will be made available through the European Synchrotron Radiation Facility (ESRF) palaeontology database (http://paleo.esrf.eu), catalogued by taxon name and publication reference.
Reviewer Information Nature thanks M. Coates, M. M. Smith and the other anonymous reviewer(s) for their contribution to the peer review of this work.
Extended data figures and tables
Supplementary information
This video, which was reconstructed using an edge-detection algorithm and hence displays a rather flat grey tone with sharply delineated dark features such as odontode outlines and dentine tubules, shows non-shedding teeth overgrown by later generations of odontodes. The beginning of the shedding tooth field is on the far right, where well-developed resorption surfaces can be seen. The direction of the scroll-through is longitudinal to the jaw and the individual images are transverse sections. (MOV 29132 kb)
This video, which was reconstructed using a Paganin algorithm11,40 and displays more subtle gradations of grey values, shows the shedding dentition. The lingual edge of the bone is on the right. Note the very strongly developed, multiple resorption surfaces. Early in the video (9-19 seconds), a first generation odontode can be seen on the left, rising through overgrowth of later bone and odontodes. The direction of the scroll-through is longitudinal to the jaw and the individual images are transverse sections. (MOV 25885 kb)
About this article
Cite this article
Chen, D., Blom, H., Sanchez, S. et al. The stem osteichthyan Andreolepis and the origin of tooth replacement. Nature 539, 237–241 (2016). https://doi.org/10.1038/nature19812
Received:

Accepted:

Published:

Issue Date:

DOI: https://doi.org/10.1038/nature19812
Comments
By submitting a comment you agree to abide by our Terms and Community Guidelines. If you find something abusive or that does not comply with our terms or guidelines please flag it as inappropriate.