Abstract
Transient, multi-protein complexes are important facilitators of cellular functions. This includes the chaperome, an abundant protein family comprising chaperones, co-chaperones, adaptors, and folding enzymes—dynamic complexes of which regulate cellular homeostasis together with the protein degradation machinery1,2,3,4,5,6. Numerous studies have addressed the role of chaperome members in isolation, yet little is known about their relationships regarding how they interact and function together in malignancy7,8,9,10,11,12,13,14,15,16,17. As function is probably highly dependent on endogenous conditions found in native tumours, chaperomes have resisted investigation, mainly due to the limitations of methods needed to disrupt or engineer the cellular environment to facilitate analysis. Such limitations have led to a bottleneck in our understanding of chaperome-related disease biology and in the development of chaperome-targeted cancer treatment. Here we examined the chaperome complexes in a large set of tumour specimens. The methods used maintained the endogenous native state of tumours and we exploited this to investigate the molecular characteristics and composition of the chaperome in cancer, the molecular factors that drive chaperome networks to crosstalk in tumours, the distinguishing factors of the chaperome in tumours sensitive to pharmacologic inhibition, and the characteristics of tumours that may benefit from chaperome therapy. We find that under conditions of stress, such as malignant transformation fuelled by MYC, the chaperome becomes biochemically 'rewired' to form a network of stable, survival-facilitating, high-molecular-weight complexes. The chaperones heat shock protein 90 (HSP90) and heat shock cognate protein 70 (HSC70) are nucleating sites for these physically and functionally integrated complexes. The results indicate that these tightly integrated chaperome units, here termed the epichaperome, can function as a network to enhance cellular survival, irrespective of tissue of origin or genetic background. The epichaperome, present in over half of all cancers tested, has implications for diagnostics and also provides potential vulnerability as a target for drug intervention.
Access options
Subscribe to Journal
Get full journal access for 1 year
$199.00
only $3.83 per issue
All prices are NET prices.
VAT will be added later in the checkout.
Rent or Buy article
Get time limited or full article access on ReadCube.
from$8.99
All prices are NET prices.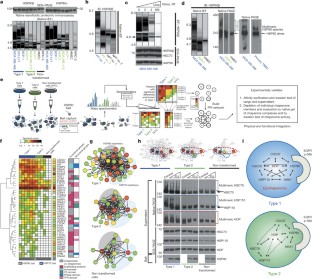 Accession codes
Data deposits
Primary data, such as raw mass spectrometry files, Mascot generic format files and proteomics data files created by Scaffold have been deposited in the MassIVE database (https://massive.ucsd.edu/ProteoSAFe/static/massive.jsp); MassIVE accession ID: MSV000079877.
References
1

Brehme, M. et al. A chaperome subnetwork safeguards proteostasis in aging and neurodegenerative disease. Cell Reports 9, 1135–1150 (2014)

2

Finka, A. & Goloubinoff, P. Proteomic data from human cell cultures refine mechanisms of chaperone-mediated protein homeostasis. Cell Stress Chaperones 18, 591–605 (2013)

3

Taipale, M. et al. A quantitative chaperone interaction network reveals the architecture of cellular protein homeostasis pathways. Cell 158, 434–448 (2014)

4

Echtenkamp, F. J. & Freeman, B. C. Expanding the cellular molecular chaperone network through the ubiquitous cochaperones. Biochim. Biophys. Acta 1823, 668–673 (2012)

5

Echeverría, P. C., Bernthaler, A., Dupuis, P., Mayer, B. & Picard, D. An interaction network predicted from public data as a discovery tool: application to the Hsp90 molecular chaperone machine. PLoS One 6, e26044 (2011)

6

Balchin, D., Hayer-Hartl, M. & Hartl, F. U. In vivo aspects of protein folding and quality control. Science 353, aac4354 (2016)

7

Moulick, K. et al. Affinity-based proteomics reveal cancer-specific networks coordinated by Hsp90. Nature Chem. Biol. 7, 818–826 (2011)

8

Woodford, M. R. et al. Impact of posttranslational modifications on the anticancer activity of Hsp90 inhibitors. Adv. Cancer Res. 129, 31–50 (2016)

9

Kamal, A. et al. A high-affinity conformation of Hsp90 confers tumour selectivity on Hsp90 inhibitors. Nature 425, 407–410 (2003)

10

Alarcon, S. V. et al. Tumor-intrinsic and tumor-extrinsic factors impacting Hsp90-targeted therapy. Curr. Mol. Med. 12, 1125–1141 (2012)

11

Mollapour, M. & Neckers, L. Post-translational modifications of Hsp90 and their contributions to chaperone regulation. Biochim. Biophys. Acta 1823, 648–655 (2012)

12

Assimon, V. A., Southworth, D. R. & Gestwicki, J. E. Specific binding of tetratricopeptide repeat proteins to heat shock protein 70 (Hsp70) and heat shock protein 90 (Hsp90) is regulated by affinity and phosphorylation. Biochemistry 54, 7120–7131 (2015)

13

Zuehlke, A. & Johnson, J. L. Hsp90 and co-chaperones twist the functions of diverse client proteins. Biopolymers 93, 211–217 (2010)

14

Shrestha, L. & Young, J. C. Function and chemotypes of human Hsp70 chaperones. Curr. Top. Med. Chem. 16, 2812–2828 (2016)

15

Smith, J. R. et al. Restricting direct interaction of CDC37 with HSP90 does not compromise chaperoning of client proteins. Oncogene 34, 15–26 (2015)

16

Radons, J. The human HSP70 family of chaperones: where do we stand? Cell Stress Chaperones 21, 379–404 (2016)

17

Patel, P. D. et al. Paralog-selective Hsp90 inhibitors define tumor-specific regulation of HER2. Nature Chem. Biol. 9, 677–684 (2013)

18

Nayar, U. et al. Targeting the Hsp90-associated viral oncoproteome in gammaherpesvirus-associated malignancies. Blood 122, 2837–2847 (2013)

19

Shrestha, L., Patel, H. J. & Chiosis, G. Chemical tools to investigate mechanisms associated with HSP90 and HSP70 in disease. Cell Chemical Biology 23, 158–172 (2016)

20

Taldone, T., Ochiana, S. O., Patel, P. D. & Chiosis, G. Selective targeting of the stress chaperome as a therapeutic strategy. Trends Pharmacol. Sci. 35, 592–603 (2014)

21

Taldone, T. et al. Design, synthesis, and evaluation of small molecule Hsp90 probes. Bioorg. Med. Chem. 19, 2603–2614 (2011)

22

Rodina, A. et al. Affinity purification probes of potential use to investigate the endogenous Hsp70 interactome in cancer. ACS Chem. Biol. 9, 1698–1705 (2014)

23

Taldone, T. et al. Synthesis of purine-scaffold fluorescent probes for heat shock protein 90 with use in flow cytometry and fluorescence microscopy. Bioorg. Med. Chem. Lett. 21, 5347–5352 (2011)

24

Chiosis, G. et al. Uses of labeled hsp90 inhibitors. US patent 20140242602 A1 (2014)

25

Taldone, T. et al. Radiosynthesis of the iodine-124 labeled Hsp90 inhibitor PU-H71. J. Labelled Comp. Radiopharm. 59, 129–132 (2016)

26

Rodina, A. et al. Identification of an allosteric pocket on human Hsp70 reveals a mode of inhibition of this therapeutically important protein. Chem. Biol. 20, 1469–1480 (2013)

27

Taldone, T. et al. Heat shock protein 70 inhibitors. 2. 2,5′-thiodipyrimidines, 5-(phenylthio)pyrimidines, 2-(pyridin-3-ylthio)pyrimidines, and 3-(phenylthio)pyridines as reversible binders to an allosteric site on heat shock protein 70. J. Med. Chem. 57, 1208–1224 (2014)

28

Kang, Y. et al. Heat shock protein 70 inhibitors. 1. 2,5′-thiodipyrimidine and 5-(phenylthio)pyrimidine acrylamides as irreversible binders to an allosteric site on heat shock protein 70. J. Med. Chem. 57, 1188–1207 (2014)

29

Miyajima, N. et al. The HSP90 inhibitor ganetespib synergizes with the MET kinase inhibitor crizotinib in both crizotinib-sensitive and -resistant MET-driven tumor models. Cancer Res . 73, 7022–7033 (2013)

30

Whitesell, L., Mimnaugh, E. G., De Costa, B., Myers, C. E. & Neckers, L. M. Inhibition of heat shock protein HSP90-pp60v-src heteroprotein complex formation by benzoquinone ansamycins: essential role for stress proteins in oncogenic transformation. Proc. Natl Acad. Sci. USA 91, 8324–8328 (1994)

31

Corben, A. D. et al. Ex vivo treatment response of primary tumors and/or associated metastases for preclinical and clinical development of therapeutics. J. Vis. Exp. 92, e52157 (2014)

32

Hassane, D. C. et al. Chemical genomic screening reveals synergism between parthenolide and inhibitors of the PI-3 kinase and mTOR pathways. Blood 116, 5983–5990 (2010)

33

Miller, J. D. et al. Human iPSC-based modeling of late-onset disease via progerin-induced aging. Cell Stem Cell 13, 691–705 (2013)

34

Moulick, K. et al. Synthesis of a red-shifted fluorescence polarization probe for Hsp90. Bioorg. Med. Chem. Lett. 16, 4515–4518 (2006)

35

Fan, A. C. et al. Nanofluidic proteomic assay for serial analysis of oncoprotein activation in clinical specimens. Nat. Med. 15, 566–571 (2009)

36

Lin, C. H., Jackson, A. L., Guo, J., Linsley, P. S. & Eisenman, R. N. Myc-regulated microRNAs attenuate embryonic stem cell differentiation. EMBO J . 28, 3157–3170 (2009)

37

Rodina, A. et al. Selective compounds define Hsp90 as a major inhibitor of apoptosis in small-cell lung cancer. Nat. Chem. Biol. 3, 498–507 (2007)

38

Zong, H. et al. A hyperactive signalosome in acute myeloid leukemia drives addiction to a tumor-specific Hsp90 species. Cell Reports 13, 2159–2173 (2015)

39

Caldas-Lopes, E. et al. Hsp90 inhibitor PU-H71, a multimodal inhibitor of malignancy, induces complete responses in triple-negative breast cancer models. Proc. Natl Acad. Sci. USA 106, 8368–8373 (2009)

40

Taldone, T., Zatorska, D., Kang, Y. & Chiosis, G. A facile and efficient synthesis of d6-labeled PU-H71, a purine-scaffold Hsp90 inhibitor. J. Labelled Comp. Radiopharm. 53, 47–49 (2010)

41

Kessner, D., Chambers, M., Burke, R., Agus, D. & Mallick, P. ProteoWizard: open source software for rapid proteomics tools development. Bioinformatics 24, 2534–2536 (2008)

42

Skarra, D. V. et al. Label-free quantitative proteomics and SAINT analysis enable interactome mapping for the human Ser/Thr protein phosphatase 5. Proteomics 11, 1508–1516 (2011)

43

R: A Language and Environment for Statistical Computing (R Foundation for Statistical Computing, Vienna, Austria, 2013)

44

Gentleman, R. C. et al. Bioconductor: open software development for computational biology and bioinformatics. Genome Biol . 5, R80 (2004)

45

Ritchie, M. E. et al. limma powers differential expression analyses for RNA-sequencing and microarray studies. Nucleic Acids Res . 43, e47 (2015)

46

Sarkar, D. Lattice: Multivariate Data Visualization with R. (Springer, 2008)

47

Scales, M., Jäger, R., Migliorini, G., Houlston, R. S. & Henrion, M. Y. visPIG—a web tool for producing multi-region, multi-track, multi-scale plots of genetic data. PLoS One 9, e107497 (2014)

48

Szklarczyk, D. et al. The STRING database in 2011: functional interaction networks of proteins, globally integrated and scored. Nucleic Acids Res . 39, D561–D568 (2011)

49

Shannon, P. et al. Cytoscape: a software environment for integrated models of biomolecular interaction networks. Genome Res . 13, 2498–2504 (2003)

50

Licata, L. et al. MINT, the molecular interaction database: 2012 update. Nucleic Acids Res . 40, D857–D861 (2012)

51

Brown, K. R. & Jurisica, I. Unequal evolutionary conservation of human protein interactions in interologous networks. Genome Biol . 8, R95 (2007)

52

UniProt Consortium. UniProt: a hub for protein information. Nucleic Acids Res. 43, D204–D212 (2015)

53

Brown, K. R. & Jurisica, I. Online predicted human interaction database. Bioinformatics 21, 2076–2082 (2005)

54

Chandriani, S. et al. A core MYC gene expression signature is prominent in basal-like breast cancer but only partially overlaps the core serum response. PLoS One 4, e6693 (2009)
Acknowledgements
We thank D. Gewirth, A. Younes, J. Young and E. Devaney for reading the manuscript. This work was supported by the NIH (R01 CA172546, R01 CA155226, P01 CA186866, P30 CA08748, P50 CA86438, DP2 OD007399), the Jane H. Gordon Breast Cancer Research Fund, the Breast Cancer Research Fund, Susan G. Komen for the Cure, W. H. Goodwin, A. Goodwin and the Commonwealth Foundation for Cancer Research, and the Experimental Therapeutics Center of MSKCC, the Hirshberg Foundation for Pancreatic Cancer, the Irma T. Hirschl Foundation and the Rubenstein Center for Pancreatic Research. A.R. was supported by the National Center for Advancing Translational Sciences of the NIH under award number UL1TR000457.
Ethics declarations
Competing interests
Memorial Sloan Kettering Cancer Centre holds the intellectual rights to PU-H71, YK-derivatives and uses of labelled HSP90 inhibitors. Samus Therapeutics, of which G.C. has partial ownership, has licensed PU-H71 and PU-PET.
Additional information
Reviewer Information Nature thanks J. W. Kelly and the other anonymous reviewer(s) for their contribution to the peer review of this work.
Extended data figures and tables
Supplementary information
This file contains a Supplementary Discussion, Supplementary References, Supplementary Figure 1, gel source data. (PDF 10891 kb)
Sheet A contains a table corresponding to Figure 1f, it contains core chaperome networks in type 1, type 2 and nontransformed cells. Sheet B contains a table corresponding to Extended Data Figure 5a, showing comprehensive chaperome networks in type 1, type 2 and non-transformed cells. Sheet C contains a table corresponding to Extended Data Figure 5b and Extended Data Figure 8b, it shows the HSP90 interactome isolated by the HSP90 bait in type 1, type 2 and non-transformed cells. Sheet D contains a table corresponding to Extended Data Figure 8a, showing upstream transcriptional regulators that explain the protein signature of type1 tumours. Sheet E contains metastasis-related proteins characteristic of type 1 tumours. Sheets F-Q contain peptide matches and scoring information that demonstrate the proteomics data processing. (XLSX 17764 kb)
About this article
Cite this article
Rodina, A., Wang, T., Yan, P. et al. The epichaperome is an integrated chaperome network that facilitates tumour survival. Nature 538, 397–401 (2016). https://doi.org/10.1038/nature19807
Received:

Accepted:

Published:

Issue Date:
Comments
By submitting a comment you agree to abide by our Terms and Community Guidelines. If you find something abusive or that does not comply with our terms or guidelines please flag it as inappropriate.