Abstract
Holographic techniques are fundamental to applications such as volumetric displays1, high-density data storage and optical tweezers that require spatial control of intricate optical2 or acoustic fields3,4 within a three-dimensional volume. The basis of holography is spatial storage of the phase and/or amplitude profile of the desired wavefront5,6 in a manner that allows that wavefront to be reconstructed by interference when the hologram is illuminated with a suitable coherent source. Modern computer-generated holography7 skips the process of recording a hologram from a physical scene, and instead calculates the required phase profile before rendering it for reconstruction. In ultrasound applications, the phase profile is typically generated by discrete and independently driven ultrasound sources3,4,8,9,10,11,12; however, these can only be used in small numbers, which limits the complexity or degrees of freedom that can be attained in the wavefront. Here we introduce monolithic acoustic holograms, which can reconstruct diffraction-limited acoustic pressure fields and thus arbitrary ultrasound beams. We use rapid fabrication to craft the holograms and achieve reconstruction degrees of freedom two orders of magnitude higher than commercial phased array sources. The technique is inexpensive, appropriate for both transmission and reflection elements, and scales well to higher information content, larger aperture size and higher power. The complex three-dimensional pressure and phase distributions produced by these acoustic holograms allow us to demonstrate new approaches to controlled ultrasonic manipulation of solids in water, and of liquids and solids in air. We expect that acoustic holograms will enable new capabilities in beam-steering and the contactless transfer of power, improve medical imaging, and drive new applications of ultrasound.
This is a preview of subscription content
Access options
Subscribe to Journal
Get full journal access for 1 year
$199.00
only $3.90 per issue
All prices are NET prices.
VAT will be added later in the checkout.
Tax calculation will be finalised during checkout.
Buy article
Get time limited or full article access on ReadCube.
$32.00
All prices are NET prices.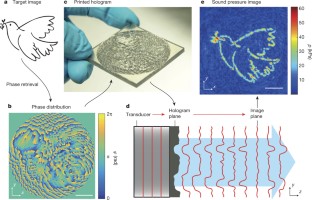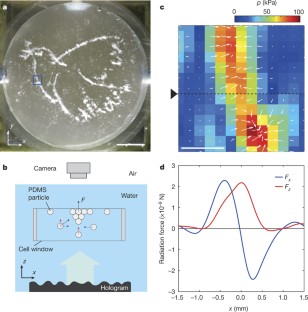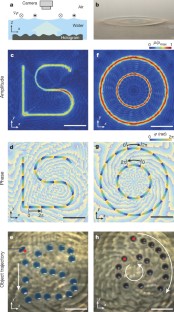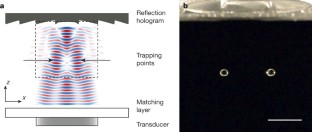 References
Tay, S. et al. An updatable holographic three-dimensional display. Nature 451, 694–698 (2008)

Grier, D. G. A revolution in optical manipulation. Nature 424, 810–816 (2003)

Marzo, A. et al. Holographic acoustic elements for manipulation of levitated objects. Nat. Commun. 6, 8661 (2015)

Hertzberg, Y. & Navon, G. Bypassing absorbing objects in focused ultrasound using computer generated holographic technique. Med. Phys. 38, 6407–6415 (2011)

Gabor, D. A new microscopic principle. Nature 161, 777–778 (1948)

Leith, E. N. & Upatnieks, J. Reconstructed wavefronts and communication theory. J. Opt. Soc. Am. 52, 1123–1130 (1962)

Dallas, W. J. in Digital Holography and Three-Dimensional Display Ch. 1 (ed. Poon, T.) 1–49 (Springer, 2006)

Szabo, T. L. Diagnostic Ultrasound Imaging: Inside Out 2nd edn (Academic, 2014)

Drinkwater, B. W. & Wilcox, P. D. Ultrasonic arrays for non-destructive evaluation: a review. NDT Int. 39, 525–541 (2006)

Demore, C. E. et al. Mechanical evidence of the orbital angular momentum to energy ratio of vortex beams. Phys. Rev. Lett. 108, 194301 (2012)

Baresch, D., Thomas, J. L. & Marchiano, R. Observation of a single-beam gradient force acoustical trap for elastic particles: acoustical tweezers. Phys. Rev. Lett. 116, 024301 (2016)

Anhäuser, A., Wunenburger, R. & Brasselet, E. Acoustic rotational manipulation using orbital angular momentum transfer. Phys. Rev. Lett. 109, 034301 (2012)

Goodman, J. W. Introduction to Fourier Optics 3rd edn (Roberts & Co., 2005)

Xu, L., Peng, X., Guo, Z., Miao, J. & Asundi, A. Imaging analysis of digital holography. Opt. Express 13, 2444–2452 (2005)

Lesem, L. B., Hirsch, P. M. & Jordan, J. A. The kinoform: a new wavefront reconstruction device. IBM J. Res. Dev. 13, 150–155 (1969)

Mellin, S. & Nordin, G. Limits of scalar diffraction theory and an iterative angular spectrum algorithm for finite aperture diffractive optical element design. Opt. Express 8, 705–722 (2001)

Haist, T., Schonleber, M. & Tiziani, H. J. Computer-generated holograms from 3D-objects written on twisted-nematic liquid crystal displays. Opt. Commun. 140, 299–308 (1997)

Caleap, M. & Drinkwater, B. W. Acoustically trapped colloidal crystals that are reconfigurable in real time. Proc. Natl Acad. Sci. USA 111, 6226–6230 (2014)

Courtney, C. R. P. et al. Manipulation of particles in two dimensions using phase controllable ultrasonic standing waves. Proc. R. Soc. A http://dx.doi.org/10.1098/rspa.2011.0269 (2011)

Foresti, D., Nabavi, M., Klingauf, M., Ferrari, A. & Poulikakos, D. Acoustophoretic contactless transport and handling of matter in air. Proc. Natl Acad. Sci. USA 110, 12549–12554 (2013)

Oberti, S., Neild, A. & Dual, J. Manipulation of micrometer sized particles within a micromachined fluidic device to form 2D patterns using ultrasound. J. Acoust. Soc. Am. 121, 778–785 (2007)

Lee, J. et al. Single beam acoustic trapping. Appl. Phys. Lett. 95, 073701 (2009)

Courtney, C. R. P. et al. Independent trapping and manipulation of microparticles using dexterous acoustic tweezers. Appl. Phys. Lett. 104, 154103 (2014)

Johnson, L. M. et al. Elastomeric microparticles for acoustic mediated bioseparations. J. Nanobiotechnol. 11, 22 (2013)

Sapozhnikov, O. A. & Bailey, M. R. Radiation force of an arbitrary acoustic beam on an elastic sphere in a fluid. J. Acoust. Soc. Am. 133, 661–676 (2013)

Roichman, Y., Sun, B., Roichman, Y., Amato-Grill, J. & Grier, D. G. Optical forces arising from phase gradients. Phys. Rev. Lett. 100, 013602 (2008)

Chen, X. & Apfel, R. E. Radiation force on a spherical object in an axisymmetric wave field and its application to the calibration of high-frequency transducers. J. Acoust. Soc. Am. 99, 713–724 (1996)

Xie, W. J. & Wei, B. Parametric study of single-axis acoustic levitation. Appl. Phys. Lett. 79, 881–883 (2001)

Tumbleston, J. R. et al. Continuous liquid interface production of 3D objects. Science 347, 1349–1352 (2015)

Studart, A. R. Additive manufacturing of biologically-inspired materials. Chem. Soc. Rev. 45, 359–376 (2016)

Liu, D. L. & Waag, R. C. Propagation and backpropagation for ultrasonic wavefront design. IEEE Trans. Ultrason. Ferroelectr. Freq. Control 44, 1–13 (1997)

Matsushima, K. & Shimobaba, T. Band-limited angular spectrum method for numerical simulation of free-space propagation in far and near fields. Opt. Express 17, 19662–19673 (2009)

Sinha, M. & Buckley, D. J. in Physical Properties of Polymers Handbook Ch. 60 (ed. Mark, J. E. ) 1021–1031 (Springer, 2007)
Acknowledgements
We thank P. Weber and M. Fratz for suggestions. This work was in part supported by the Max Planck Society and by the European Research Council (ERC grant agreement 278213).
Ethics declarations
Competing interests
The authors filed two patent applications related to the use of acoustic holograms.
Extended data figures and tables
Supplementary information
About this article
Cite this article
Melde, K., Mark, A., Qiu, T. et al. Holograms for acoustics. Nature 537, 518–522 (2016). https://doi.org/10.1038/nature19755
Received:

Accepted:

Published:

Issue Date:

DOI: https://doi.org/10.1038/nature19755
Comments
By submitting a comment you agree to abide by our Terms and Community Guidelines. If you find something abusive or that does not comply with our terms or guidelines please flag it as inappropriate.