Abstract
Approximately one-third of all mammalian genes are essential for life. Phenotypes resulting from knockouts of these genes in mice have provided tremendous insight into gene function and congenital disorders. As part of the International Mouse Phenotyping Consortium effort to generate and phenotypically characterize 5,000 knockout mouse lines, here we identify 410 lethal genes during the production of the first 1,751 unique gene knockouts. Using a standardized phenotyping platform that incorporates high-resolution 3D imaging, we identify phenotypes at multiple time points for previously uncharacterized genes and additional phenotypes for genes with previously reported mutant phenotypes. Unexpectedly, our analysis reveals that incomplete penetrance and variable expressivity are common even on a defined genetic background. In addition, we show that human disease genes are enriched for essential genes, thus providing a dataset that facilitates the prioritization and validation of mutations identified in clinical sequencing efforts.
Relevant articles
Open Access articles citing this article.
Hamed Haselimashhadi

,

Kolawole Babalola

…

Violeta Muñoz-Fuentes

Mammalian Genome Open Access 08 May 2023

Marije J. Steensma

,

Y. L. Lee

…

C. M. Rochus

BMC Genomics Open Access 18 April 2023

Ryuhei Minei

,

Hitomi Aoki

…

Takahiro Kunisada

Scientific Reports Open Access 13 March 2023
Access options
Subscribe to this journal
Receive 51 print issues and online access
$199.00 per year
only $3.90 per issue
Rent or buy this article
Get just this article for as long as you need it
$39.95
Prices may be subject to local taxes which are calculated during checkout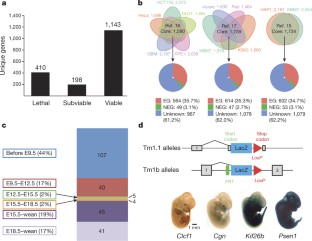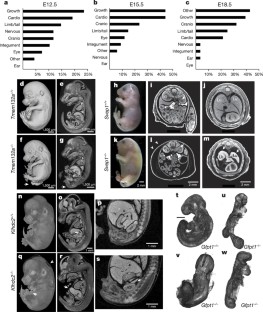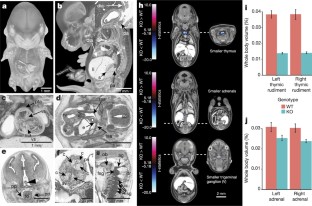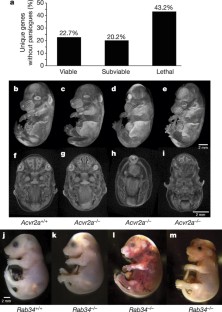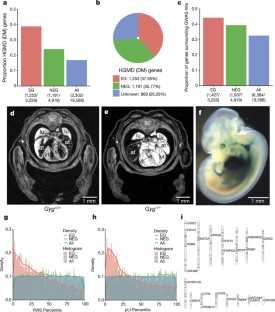 References
Cox, B. J. et al. Phenotypic annotation of the mouse X chromosome. Genome Res . 20, 1154–1164 (2010)

Justice, M. J. Capitalizing on large-scale mouse mutagenesis screens. Nat. Rev. Genet. 1, 109–115 (2000)

Kasarskis, A., Manova, K. & Anderson, K. V. A phenotype-based screen for embryonic lethal mutations in the mouse. Proc. Natl Acad. Sci. USA 95, 7485–7490 (1998)

Kile, B. T. & Hilton, D. J. The art and design of genetic screens: mouse. Nat. Rev. Genet. 6, 557–567 (2005)

Perrin, S. Preclinical research: Make mouse studies work. Nature 507, 423–425 (2014)

Prinz, F., Schlange, T. & Asadullah, K. Believe it or not: how much can we rely on published data on potential drug targets? Nat. Rev. Drug Discov. 10, 712 (2011)

Ayadi, A. et al. Mouse large-scale phenotyping initiatives: overview of the European mouse disease clinic (EUMODIC) and of the Wellcome Trust Sanger Institute mouse genetics project. Mamm. Genome 23, 600–610 (2012)

Bradley, A. et al. The mammalian gene function resource: the international knockout mouse consortium. Mamm. Genome 23, 580–586 (2012)

Hrabeˇ de Angelis, M. et al. Analysis of mammalian gene function through broad-based phenotypic screens across a consortium of mouse clinics. Nat. Genet. 47, 969–978 (2015)

Skarnes, W. C. et al. A conditional knockout resource for the genome-wide study of mouse gene function. Nature 474, 337–342 (2011)

Valenzuela, D. M. et al. High-throughput engineering of the mouse genome coupled with high-resolution expression analysis. Nat. Biotechnol. 21, 652–659 (2003)

White, J. K. et al. Genome-wide generation and systematic phenotyping of knockout mice reveals new roles for many genes. Cell 154, 452–464 (2013)

Adams, D. et al. Bloomsbury report on mouse embryo phenotyping: recommendations from the IMPC workshop on embryonic lethal screening. Dis. Model. Mech . 6, 571–579 (2013)

Ashburner, M. et al.; The Gene Ontology Consortium. Gene ontology: tool for the unification of biology. Nat. Genet. 25, 25–29 (2000)

Blomen, V. A. et al. Gene essentiality and synthetic lethality in haploid human cells. Science 350, 1092–1096 (2015)

Hart, T. et al. High-resolution CRISPR screens reveal fitness genes and genotype-specific cancer liabilities. Cell 163, 1515–1526 (2015)

Wang, T. et al. Identification and characterization of essential genes in the human genome. Science 350, 1096–1101 (2015)

Sharpe, J. et al. Optical projection tomography as a tool for 3D microscopy and gene expression studies. Science 296, 541–545 (2002)

Wong, M. D., Dorr, A. E., Walls, J. R., Lerch, J. P. & Henkelman, R. M. A novel 3D mouse embryo atlas based on micro-CT. Development 139, 3248–3256 (2012)

Wong, M. D., Maezawa, Y., Lerch, J. P. & Henkelman, R. M. Automated pipeline for anatomical phenotyping of mouse embryos using micro-CT. Development 141, 2533–2541 (2014)

Wong, M. D. et al. 4D atlas of the mouse embryo for precise morphological staging. Development 142, 3583–3591 (2015)

Weninger, W. J. et al. Phenotyping structural abnormalities in mouse embryos using high-resolution episcopic microscopy. Dis. Model. Mech . 7, 1143–1152 (2014)

Liu, B. et al. Cbx4 regulates the proliferation of thymic epithelial cells and thymus function. Development 140, 780–788 (2013)

Horvitz, H. R. & Sulston, J. E. Isolation and genetic characterization of cell-lineage mutants of the nematode Caenorhabditis elegans. Genetics 96, 435–454 (1980)

Burga, A., Casanueva, M. O. & Lehner, B. Predicting mutation outcome from early stochastic variation in genetic interaction partners. Nature 480, 250–253 (2011)

Raj, A., Rifkin, S. A., Andersen, E. & van Oudenaarden, A. Variability in gene expression underlies incomplete penetrance. Nature 463, 913–918 (2010)

Matzuk, M. M., Kumar, T. R. & Bradley, A. Different phenotypes for mice deficient in either activins or activin receptor type II. Nature 374, 356–360 (1995)

Song, J. et al. The type II activin receptors are essential for egg cylinder growth, gastrulation, and rostral head development in mice. Dev. Biol. 213, 157–169 (1999)

Georgi, B., Voight, B. F. & Buc´an, M. From mouse to human: evolutionary genomics analysis of human orthologs of essential genes. PLoS Genet . 9, e1003484 (2013)

Dickerson, J. E., Zhu, A., Robertson, D. L. & Hentges, K. E. Defining the role of essential genes in human disease. PLoS One 6, e27368 (2011)

Stenson, P. D. et al. Human Gene Mutation Database (HGMD): 2003 update. Hum. Mutat. 21, 577–581 (2003)

Stenson, P. D. et al. The human gene mutation database: building a comprehensive mutation repository for clinical and molecular genetics, diagnostic testing and personalized genomic medicine. Hum. Genet. 133, 1–9 (2014)

Welter, D. et al. The NHGRI GWAS catalog, a curated resource of SNP-trait associations. Nucleic Acids Res . 42, D1001–D1006 (2014)

Schinzel, A. & Giedion, A. A syndrome of severe midface retraction, multiple skull anomalies, clubfeet, and cardiac and renal malformations in sibs. Am. J. Med. Genet. 1, 361–375 (1978)

Piazza, R. et al. Recurrent SETBP1 mutations in atypical chronic myeloid leukemia. Nat. Genet. 45, 18–24 (2013)

Moslemi, A. R. et al. Glycogenin-1 deficiency and inactivated priming of glycogen synthesis. N. Engl. J. Med. 362, 1203–1210 (2010)

Malfatti, E. et al. A new muscle glycogen storage disease associated with glycogenin-1 deficiency. Ann. Neurol. 76, 891–898 (2014)

Ballif, B. C. et al. Discovery of a previously unrecognized microdeletion syndrome of 16p11.2-p12.2. Nat. Genet. 39, 1071–1073 (2007)

Lek, M. et al. Analysis of protein-coding genetic variation in 60,706 humans. Nature 536, 285–291 (2016)

Petrovski, S., Wang, Q., Heinzen, E. L., Allen, A. S. & Goldstein, D. B. Genic intolerance to functional variation and the interpretation of personal genomes. PLoS Genet . 9, e1003709 (2013)

Sulem, P. et al. Identification of a large set of rare complete human knockouts. Nat. Genet. 47, 448–452 (2015)

MacArthur, D. G. et al. A systematic survey of loss-of-function variants in human protein-coding genes. Science 335, 823–828 (2012)

Alkuraya, F. S. Human knockout research: new horizons and opportunities. Trends Genet . 31, 108–115 (2015)

Narasimhan, V. M. et al. Health and population effects of rare gene knockouts in adult humans with related parents. Science 352, 474–477 (2016)

Yang, H. et al. One-step generation of mice carrying reporter and conditional alleles by CRISPR/Cas-mediated genome engineering. Cell 154, 1370–1379 (2013)

Edwards, A. M. et al. Too many roads not taken. Nature 470, 163–165 (2011)

Wong, M. D., Dazai, J., Walls, J. R., Gale, N. W. & Henkelman, R. M. Design and implementation of a custom built optical projection tomography system. PLoS One 8, e73491 (2013)

Wong, M. D., Spring, S. & Henkelman, R. M. Structural stabilization of tissue for embryo phenotyping using micro-CT with iodine staining. PLoS One 8, e84321 (2013)

Feldkamp, L. & Davis, L. Practical cone-beam tomography. J. Opt. Soc. Am. A 33, 3640–3646 (1984)

Nieman, B. J., Flenniken, A. M., Adamson, S. L., Henkelman, R. M. & Sled, J. G. Anatomical phenotyping in the brain and skull of a mutant mouse by magnetic resonance imaging and computed tomography. Physiol. Genomics 24, 154–162 (2006)

Nieman, B. J. et al. Mouse behavioral mutants have neuroimaging abnormalities. Hum. Brain Mapp. 28, 567–575 (2007)

Collins, D. L., Neelin, P., Peters, T. M. & Evans, A. C. Automatic 3D intersubject registration of MR volumetric data in standardized Talairach space. J. Comput. Assist. Tomogr. 18, 192–205 (1994)

Avants, B. B. et al. A reproducible evaluation of ANTs similarity metric performance in brain image registration. Neuroimage 54, 2033–2044 (2011)

Lau, J. C. et al. Longitudinal neuroanatomical changes determined by deformation-based morphometry in a mouse model of Alzheimer's disease. Neuroimage 42, 19–27 (2008)

Genovese, C. R., Lazar, N. A. & Nichols, T. Thresholding of statistical maps in functional neuroimaging using the false discovery rate. Neuroimage 15, 870–878 (2002)

Eppig, J. T., Blake, J. A., Bult, C. J., Kadin, J. A. & Richardson, J. E. The Mouse Genome Database (MGD): facilitating mouse as a model for human biology and disease. Nucleic Acids Res . 43, D726–D736 (2015)

Smith, C. L. & Eppig, J. T. Expanding the mammalian phenotype ontology to support automated exchange of high throughput mouse phenotyping data generated by large-scale mouse knockout screens. J. Biomed. Semantics 6, 11 (2015)

Cunningham, F. et al. Ensembl 2015. Nucleic Acids Res . 43, D662–D669 (2015)

Hamosh, A., Scott, A. F., Amberger, J. S., Bocchini, C. A. & McKusick, V. A. Online Mendelian Inheritance in Man (OMIM), a knowledgebase of human genes and genetic disorders. Nucleic Acids Res . 33, D514–D517 (2005)
Acknowledgements
The authors thank all IMPC members and partners for their contribution to the consortium effort, including this study, and acknowledge the contributions of J. Rossant, S. L. Adamson, and T. Bubela. This work was supported by NIH grants U42 OD011185 (S.A.M.), U54 HG006332 (R.E.B., K.S.), U54 HG006348-S1 and OD011174 (A.L.B.), HG006364-03S1 and U42 OD011175 (K.C.K.L.), U54 HG006370 (P.F., A.-M.M., H.E.P., S.D.M.B.) and additional support provided by the The Wellcome Trust, Medical Research Council Strategic Award (L.T., S.W., S.D.M.B.), Government of Canada through Genome Canada and Ontario Genomics (OGI-051)(C.M., S.D.M.B.), Wellcome Trust Strategic Award "Deciphering the Mechanisms of Developmental Disorders (DMDD)" (WT100160) (D.A., T.M.), National Centre for Scientific Research (CNRS), the French National Institute of Health and Medical Research (INSERM), the University of Strasbourg (UDS), the "Centre Européen de Recherche en Biologie et en Médecine", the "Agence Nationale de la Recherche" under the frame programme "Investissements d'Avenir" labelled ANR-10-IDEX-0002-02, ANR-10-INBS- 07 PHENOMIN to (Y.H.), The German Federal Ministry of Education and Research by Infrafrontier grant 01KX1012 (S.M., V.G.D., H.F., M.H.d.A.)
Additional information
All data are freely available from the IMPC database hosted at EMBL-EBI via a web portal (mousephenotype.org), ftp (ftp://ftp.ebi.ac.uk/pub/databases/impc) and automatic programmatic interfaces. An archived version of the database will be maintained after cessation of funding (exp. 2021) for an additional 5 years. Allele and phenotype summaries are additionally archived with Mouse Genome Informatics at the Jackson Laboratory via direct data submissions (J:136110, J:148605, J:157064, J:157065, J:188991, J:211773).
Reviewer Information Nature thanks N. Copeland, L. Niswander and the other anonymous reviewer(s) for their contribution to the peer review of this work.
Extended data figures and tables
Supplementary information
About this article
Cite this article
Dickinson, M., Flenniken, A., Ji, X. et al. High-throughput discovery of novel developmental phenotypes. Nature 537, 508–514 (2016). https://doi.org/10.1038/nature19356
Received:

Accepted:

Published:

Issue Date:

DOI: https://doi.org/10.1038/nature19356
Comments
By submitting a comment you agree to abide by our Terms and Community Guidelines. If you find something abusive or that does not comply with our terms or guidelines please flag it as inappropriate.