Abstract
During pre-implantation development, the mammalian embryo self-organizes into the blastocyst, which consists of an epithelial layer encapsulating the inner-cell mass (ICM) giving rise to all embryonic tissues1. In mice, oriented cell division, apicobasal polarity and actomyosin contractility are thought to contribute to the formation of the ICM2,3,4,5. However, how these processes work together remains unclear. Here we show that asymmetric segregation of the apical domain generates blastomeres with different contractilities, which triggers their sorting into inner and outer positions. Three-dimensional physical modelling of embryo morphogenesis reveals that cells internalize only when differences in surface contractility exceed a predictable threshold. We validate this prediction using biophysical measurements, and successfully redirect cell sorting within the developing blastocyst using maternal myosin (Myh9)-knockout chimaeric embryos. Finally, we find that loss of contractility causes blastomeres to show ICM-like markers, regardless of their position. In particular, contractility controls Yap subcellular localization6, raising the possibility that mechanosensing occurs during blastocyst lineage specification. We conclude that contractility couples the positioning and fate specification of blastomeres. We propose that this ensures the robust self-organization of blastomeres into the blastocyst, which confers remarkable regulative capacities to mammalian embryos.
Your institute does not have access to this article
Relevant articles
Open Access articles citing this article.
Daisuke Mashiko

,

Zenki Ikeda

…

Kazuo Yamagata

Scientific Reports Open Access 07 June 2022

Martin Gauster

,

Gerit Moser

…

Berthold Huppertz

Cellular and Molecular Life Sciences Open Access 05 June 2022

Haoqing Wang

,

Fang Zhou

…

Lining Arnold Ju

European Biophysics Journal Open Access 16 February 2022
Access options
Subscribe to Journal
Get full journal access for 1 year
$199.00
only $3.90 per issue
All prices are NET prices.
VAT will be added later in the checkout.
Tax calculation will be finalised during checkout.
Buy article
Get time limited or full article access on ReadCube.
$32.00
All prices are NET prices.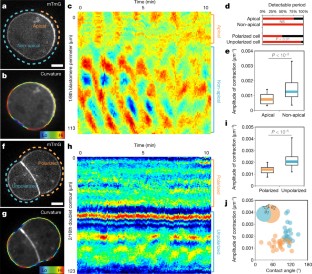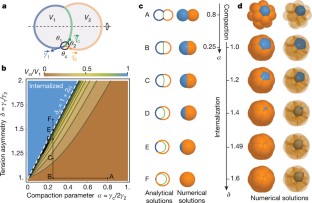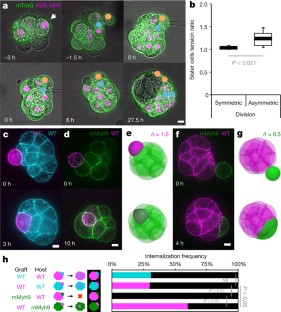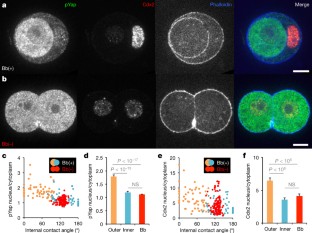 References
Wennekamp, S., Mesecke, S., Nédélec, F. & Hiiragi, T. A self-organization framework for symmetry breaking in the mammalian embryo. Nature Rev. Mol. Cell Biol. 14, 452–459 (2013)

Anani, S., Bhat, S., Honma-Yamanaka, N., Krawchuk, D. & Yamanaka, Y. Initiation of Hippo signaling is linked to polarity rather than to cell position in the pre-implantation mouse embryo. Development 141, 2813–2824 (2014)

Samarage, C. R. et al. Cortical tension allocates the first inner cells of the mammalian embryo. Dev. Cell 34, 435–447 (2015)

Hirate, Y. et al. Polarity-dependent distribution of angiomotin localizes Hippo signaling in preimplantation embryos. Curr. Biol. 23, 1181–1194 (2013)

Dard, N., Louvet-Vallée, S. & Maro, B. Orientation of mitotic spindles during the 8- to 16-cell stage transition in mouse embryos. PLoS ONE 4, e8171 (2009)

Dupont, S. et al. Role of YAP/TAZ in mechanotransduction. Nature 474, 179–183 (2011)

Johnson, M. H. From mouse egg to mouse embryo: polarities, axes, and tissues. Annu. Rev. Cell Dev. Biol. 25, 483–512 (2009)

Watanabe, T., Biggins, J. S., Tannan, N. B. & Srinivas, S. Limited predictive value of blastomere angle of division in trophectoderm and inner cell mass specification. Development 141, 2279–2288 (2014)

Johnson, M. H. & Ziomek, C. A. The foundation of two distinct cell lineages within the mouse morula. Cell 24, 71–80 (1981)

Matsumoto, M. et al. PKCλ in liver mediates insulin-induced SREBP-1c expression and determines both hepatic lipid content and overall insulin sensitivity. J. Clin. Invest. 112, 935–944 (2003)

Hirate, Y. et al. Par-aPKC-dependent and -independent mechanisms cooperatively control cell polarity, Hippo signaling, and cell positioning in 16-cell stage mouse embryos. Dev. Growth Differ. 57, 544–556 (2015)

Maître, J.-L., Niwayama, R., Turlier, H., Nédélec, F. & Hiiragi, T. Pulsatile cell-autonomous contractility drives compaction in the mouse embryo. Nature Cell Biol. 17, 849–855 (2015)

Lehtonen, E. Changes in cell dimensions and intercellular contacts during cleavage-stage cell cycles in mouse embryonic cells. J. Embryol. Exp. Morphol. 58, 231–249 (1980)

Heisenberg, C.-P. & Bellaïche, Y. Forces in tissue morphogenesis and patterning. Cell 153, 948–962 (2013)

Overholtzer, M. et al. A nonapoptotic cell death process, entosis, that occurs by cell-in-cell invasion. Cell 131, 966–979 (2007)

Dietrich, J.-E. & Hiiragi, T. Stochastic patterning in the mouse pre-implantation embryo. Development 134, 4219–4231 (2007)

Johnson, M. H. & Ziomek, C. A. Cell interactions influence the fate of mouse blastomeres undergoing the transition from the 16- to the 32-cell stage. Dev. Biol. 95, 211–218 (1983)

Graner, F. & Glazier, J. A. Simulation of biological cell sorting using a two-dimensional extended Potts model. Phys. Rev. Lett. 69, 2013–2016 (1992)

Brodland, G. W. The Differential Interfacial Tension Hypothesis (DITH): a comprehensive theory for the self-rearrangement of embryonic cells and tissues. J. Biomech. Eng. 124, 188–197 (2002)

Guzowski, J., Korczyk, P. M., Jakiela, S. & Garstecki, P. The structure and stability of multiple micro-droplets. Soft Matter 8, 7269–7278 (2012)

Da, F., Batty, C. & Grinspun, E. Multimaterial mesh-based surface tracking. ACM Trans. Graph. 33, 112 (2014)

Krieg, M. et al. Tensile forces govern germ-layer organization in zebrafish. Nature Cell Biol. 10, 429–436 (2008)

Maître, J.-L. et al. Adhesion functions in cell sorting by mechanically coupling the cortices of adhering cells. Science 338, 253–256 (2012)

Jacobelli, J. et al. Confinement-optimized three-dimensional T cell amoeboid motility is modulated via myosin IIA-regulated adhesions. Nature Immunol. 11, 953–961 (2010)

Wang, A. et al. Nonmuscle myosin II isoform and domain specificity during early mouse development. Proc. Natl Acad. Sci. USA 107, 14645–14650 (2010)

Aragona, M. et al. A mechanical checkpoint controls multicellular growth through YAP/TAZ regulation by actin-processing factors. Cell 154, 1047–1059 (2013)

Benham-Pyle, B. W., Pruitt, B. L. & Nelson, W. J. Mechanical strain induces E-cadherin-dependent Yap1 and β-catenin activation to drive cell cycle entry. Science 348, 1024–1027 (2015)

Shin, J.-W. et al. Contractile forces sustain and polarize hematopoiesis from stem and progenitor cells. Cell Stem Cell 14, 81–93 (2014)

Riedl, J. et al. Lifeact mice for studying F-actin dynamics. Nature Methods 7, 168–169 (2010)

Muzumdar, M. D., Tasic, B., Miyamichi, K., Li, L. & Luo, L. A global double-fluorescent Cre reporter mouse. Genesis 45, 593–605 (2007)

Balbach, S. T. et al. Nuclear reprogramming: kinetics of cell cycle and metabolic progression as determinants of success. PLoS ONE 7, e35322 (2012)

de Vries, W. N. et al. Expression of Cre recombinase in mouse oocytes: a means to study maternal effect genes. Genesis 26, 110–112 (2000)

Ma, X. et al. Conditional ablation of nonmuscle myosin II-B delineates heart defects in adult mice. Circ. Res. 105, 1102–1109 (2009)
Acknowledgements
We are grateful to the Hiiragi laboratory members and the European Molecular Biology Laboratory (EMBL) animal facility for their support. We thank F. Da and C. Batty for discussions on the simulations. We thank Y. Bellaïche for comments on an earlier version of the manuscript. Marie Curie individual fellowships under FP7 and H2020 programs support J.-L.M., H.T. and R.N. under Research Executive Agency grant agreements 329044, 656306 and 326701, respectively. H.T. acknowledges support from the Bettencourt-Schueller and Joachim Herz foundations. The Hiiragi laboratory is supported by EMBL, the European Research Council and VolkswagenStifftung.
Ethics declarations
Competing interests
The authors declare no competing financial interests.
Additional information
Reviewer Information Nature thanks D. Discher, P.-F. Lenne, B. Plusa and the other anonymous reviewer(s) for their contribution to the peer review of this work.
Extended data figures and tables
Supplementary information
About this article
Cite this article
Maître, JL., Turlier, H., Illukkumbura, R. et al. Asymmetric division of contractile domains couples cell positioning and fate specification. Nature 536, 344–348 (2016). https://doi.org/10.1038/nature18958
Received:

Accepted:

Published:

Issue Date:

DOI: https://doi.org/10.1038/nature18958
Comments
By submitting a comment you agree to abide by our Terms and Community Guidelines. If you find something abusive or that does not comply with our terms or guidelines please flag it as inappropriate.