Abstract
CD8+ T cells have a central role in antitumour immunity, but their activity is suppressed in the tumour microenvironment1,2,3,4. Reactivating the cytotoxicity of CD8+ T cells is of great clinical interest in cancer immunotherapy. Here we report a new mechanism by which the antitumour response of mouse CD8+ T cells can be potentiated by modulating cholesterol metabolism. Inhibiting cholesterol esterification in T cells by genetic ablation or pharmacological inhibition of ACAT1, a key cholesterol esterification enzyme5, led to potentiated effector function and enhanced proliferation of CD8+ but not CD4+ T cells. This is due to the increase in the plasma membrane cholesterol level of CD8+ T cells, which causes enhanced T-cell receptor clustering and signalling as well as more efficient formation of the immunological synapse. ACAT1-deficient CD8+ T cells were better than wild-type CD8+ T cells at controlling melanoma growth and metastasis in mice. We used the ACAT inhibitor avasimibe, which was previously tested in clinical trials for treating atherosclerosis and showed a good human safety profile6,7, to treat melanoma in mice and observed a good antitumour effect. A combined therapy of avasimibe plus an anti-PD-1 antibody showed better efficacy than monotherapies in controlling tumour progression. ACAT1, an established target for atherosclerosis, is therefore also a potential target for cancer immunotherapy.
This is a preview of subscription content
Access options
Subscribe to Journal
Get full journal access for 1 year
$199.00
only $3.90 per issue
All prices are NET prices.
VAT will be added later in the checkout.
Tax calculation will be finalised during checkout.
Buy article
Get time limited or full article access on ReadCube.
$32.00
All prices are NET prices.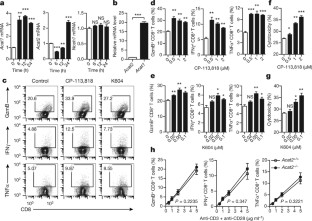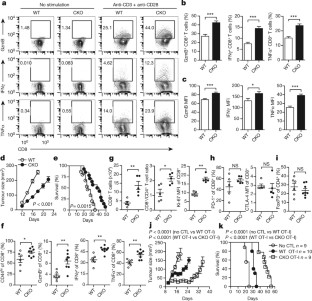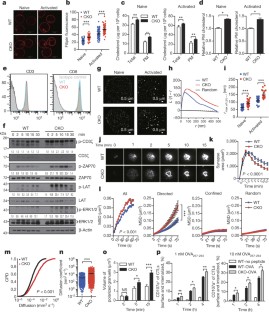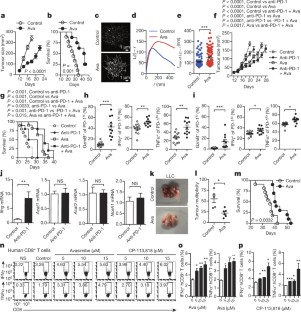 References
Fridman, W. H., Pages, F., Sautes-Fridman, C. & Galon, J. The immune contexture in human tumours: impact on clinical outcome. Nature Rev. Cancer 12, 298–306 (2012)

Tumeh, P. C. et al. PD-1 blockade induces responses by inhibiting adaptive immune resistance. Nature 515, 568–571 (2014)

Mellman, I., Coukos, G. & Dranoff, G. Cancer immunotherapy comes of age. Nature 480, 480–489 (2011)

Joyce, J. A. & Fearon, D. T. T cell exclusion, immune privilege, and the tumor microenvironment. Science 348, 74–80 (2015)

Chang, T. Y., Chang, C. C., Ohgami, N. & Yamauchi, Y. Cholesterol sensing, trafficking, and esterification. Annu. Rev. Cell Dev. Biol. 22, 129–157 (2006)

Chang, T. Y., Li, B. L., Chang, C. C. & Urano, Y. Acyl-coenzyme A:cholesterol acyltransferases. Am. J. Physiol. Endocrinol. Metab. 297, E1–E9 (2009)

Pal, P., Gandhi, H., Giridhar, R. & Yadav, M. R. ACAT inhibitors: the search for novel cholesterol lowering agents. Mini Rev. Med. Chem. 13, 1195–1219 (2013)

Yao, S., Zhu, Y. & Chen, L. Advances in targeting cell surface signalling molecules for immune modulation. Nature Rev. Drug Discov. 12, 130–146 (2013)

Sharma, P. & Allison, J. P. The future of immune checkpoint therapy. Science 348, 56–61 (2015)

Xu, C. et al. Regulation of T cell receptor activation by dynamic membrane binding of the CD3ε cytoplasmic tyrosine-based motif. Cell 135, 702–713 (2008)

Shi, X. et al. Ca2+ regulates T-cell receptor activation by modulating the charge property of lipids. Nature 493, 111–115 (2013)

Gagnon, E., Schubert, D. A., Gordo, S., Chu, H. H. & Wucherpfennig, K. W. Local changes in lipid environment of TCR microclusters regulate membrane binding by the CD3ε cytoplasmic domain. J. Exp. Med. 209, 2423–2439 (2012)

Molnár, E. et al. Cholesterol and sphingomyelin drive ligand-independent T-cell antigen receptor nanoclustering. J. Biol. Chem. 287, 42664–42674 (2012)

Schamel, W. W. et al. Coexistence of multivalent and monovalent TCRs explains high sensitivity and wide range of response. J. Exp. Med. 202, 493–503 (2005)

Zech, T. et al. Accumulation of raft lipids in T-cell plasma membrane domains engaged in TCR signalling. EMBO J. 28, 466–476 (2009)

Kidani, Y. et al. Sterol regulatory element-binding proteins are essential for the metabolic programming of effector T cells and adaptive immunity. Nature Immunol. 14, 489–499 (2013)

Leon, C., Hill, J. S. & Wasan, K. M. Potential role of acyl-coenzyme A:cholesterol transferase (ACAT) inhibitors as hypolipidemic and antiatherosclerosis drugs. Pharm. Res. 22, 1578–1588 (2005)

Chang, C. C. et al. Immunological quantitation and localization of ACAT-1 and ACAT-2 in human liver and small intestine. J. Biol. Chem. 275, 28083–28092 (2000)

Ikenoya, M. et al. A selective ACAT-1 inhibitor, K-604, suppresses fatty streak lesions in fat-fed hamsters without affecting plasma cholesterol levels. Atherosclerosis 191, 290–297 (2007)

Tobert, J. A. Lovastatin and beyond: the history of the HMG-CoA reductase inhibitors. Nature Rev. Drug Discov. 2, 517–526 (2003)

Cenedella, R. J. Cholesterol synthesis inhibitor U18666A and the role of sterol metabolism and trafficking in numerous pathophysiological processes. Lipids 44, 477–487 (2009)

MacIver, N. J., Michalek, R. D. & Rathmell, J. C. Metabolic regulation of T lymphocytes. Annu. Rev. Immunol. 31, 259–283 (2013)

Santori, F. R. et al. Rare, structurally homologous self-peptides promote thymocyte positive selection. Immunity 17, 131–142 (2002)

Lillemeier, B. F. et al. TCR and Lat are expressed on separate protein islands on T cell membranes and concatenate during activation. Nature Immunol. 11, 90–96 (2010)

Beal, A. M. et al. Kinetics of early T cell receptor signaling regulate the pathway of lytic granule delivery to the secretory domain. Immunity 31, 632–642 (2009)

Huttunen, H. J. & Kovacs, D. M. ACAT as a drug target for Alzheimer's disease. Neurodegener. Dis. 5, 212–214 (2008)

Page, D. B., Postow, M. A., Callahan, M. K., Allison, J. P. & Wolchok, J. D. Immune modulation in cancer with antibodies. Annu. Rev. Med. 65, 185–202 (2014)

Pardoll, D. M. The blockade of immune checkpoints in cancer immunotherapy. Nature Rev. Cancer 12, 252–264 (2012)

Rosenberg, S. A. & Restifo, N. P. Adoptive cell transfer as personalized immunotherapy for human cancer. Science 348, 62–68 (2015)

Schumacher, T. N. & Schreiber, R. D. Neoantigens in cancer immunotherapy. Science 348, 69–74 (2015)

Cao, Y. et al. LKB1 regulates TCR-mediated PLCγ1 activation and thymocyte positive selection. EMBO J. 30, 2083–2093 (2011)

Guo, Z. Y., Lin, S., Heinen, J. A., Chang, C. C. & Chang, T. Y. The active site His-460 of human acyl-coenzyme A:cholesterol acyltransferase 1 resides in a hitherto undisclosed transmembrane domain. J. Biol. Chem. 280, 37814–37826 (2005)

Das, A., Goldstein, J. L., Anderson, D. D., Brown, M. S. & Radhakrishnan, A. Use of mutant 125I-perfringolysin O to probe transport and organization of cholesterol in membranes of animal cells. Proc. Natl Acad. Sci. USA 110, 10580–10585 (2013)

Rossy, J., Owen, D. M., Williamson, D. J., Yang, Z. & Gaus, K. Conformational states of the kinase Lck regulate clustering in early T cell signaling. Nature Immunol. 14, 82–89 (2013)

Brian, A. A. & McConnell, H. M. Allogeneic stimulation of cytotoxic T cells by supported planar membranes. Proc. Natl Acad. Sci. USA 81, 6159–6163 (1984)

Grakoui, A. et al. The immunological synapse: a molecular machine controlling T cell activation. Science 285, 221–227 (1999)

Liu, W., Won Sohn, H., Tolar, P., Meckel, T. & Pierce, S. K. Antigen-induced oligomerization of the B cell receptor is an early target of FcγRIIB inhibition. J. Immunol. 184, 1977–1989 (2010)

Jenkins, M. R., Tsun, A., Stinchcombe, J. C. & Griffiths, G. M. The strength of T cell receptor signal controls the polarization of cytotoxic machinery to the immunological synapse. Immunity 31, 621–631 (2009)
Acknowledgements
We thank Q. Leng for providing L. monocytogenes, F.-J. Nan for providing K604, and Y. Jiang for some preliminary experiments. We thank H. Gu and D. Li for careful reading of the manuscript. Imaging work was performed at the National Center for Protein Science Shanghai. Chenqi Xu is funded by MOST (2011CB910901 and 2012CB910804), NSFC grants (31370860, 31425009 and 31530022), and CAS grants (Strategic Priority Research Program XDB08020100; KSCX2-EW-J-11). B.L. is funded by MOST (2011CB910901) and NSFC grant 31271377. W.Y. is funded by NSFC grant (31400745) and China Postdoctoral Science Foundation (2014M561533 and 2014T70440). T.-Y.C. and C.C.Y.C. are funded by NIH grant HL 60306.
Ethics declarations
Competing interests
The authors declare no competing financial interests.
Extended data figures and tables
Supplementary information
This file contains the gel source data for Figure 3f and Extended Data Figures 2a, b 7h, 9k. (PDF 748 kb)
A CD8+ T cell from spleen of Acat1CKO or littermate WT mouse, labeled with Alexa568 α-mTCRβ Fab, was imaged at the interface with planar lipid bilayer containing α-mCD3ε by total internal reflection fluorescence microscopy. The acquisition rate of the image is 0.33 frame per second (fps), and the playback rate is 30 fps. (MOV 5651 kb)
About this article
Cite this article
Yang, W., Bai, Y., Xiong, Y. et al. Potentiating the antitumour response of CD8+ T cells by modulating cholesterol metabolism. Nature 531, 651–655 (2016). https://doi.org/10.1038/nature17412
Received:

Accepted:

Published:

Issue Date:

DOI: https://doi.org/10.1038/nature17412
Comments
By submitting a comment you agree to abide by our Terms and Community Guidelines. If you find something abusive or that does not comply with our terms or guidelines please flag it as inappropriate.