Abstract
Colonic epithelial cells are covered by thick inner and outer mucus layers1,2. The inner mucus layer is free of commensal microbiota, which contributes to the maintenance of gut homeostasis3,4,5,6. In the small intestine, molecules critical for prevention of bacterial invasion into epithelia such as Paneth-cell-derived anti-microbial peptides and regenerating islet-derived 3 (RegIII) family proteins have been identified7,8,9,10,11. Although there are mucus layers providing physical barriers against the large number of microbiota present in the large intestine, the mechanisms that separate bacteria and colonic epithelia are not fully elucidated. Here we show that Ly6/PLAUR domain containing 8 (Lypd8) protein prevents flagellated microbiota invading the colonic epithelia in mice. Lypd8, selectively expressed in epithelial cells at the uppermost layer of the large intestinal gland, was secreted into the lumen and bound flagellated bacteria including Proteus mirabilis. In the absence of Lypd8, bacteria were present in the inner mucus layer and many flagellated bacteria invaded epithelia. Lypd8−/− mice were highly sensitive to intestinal inflammation induced by dextran sulfate sodium (DSS). Antibiotic elimination of Gram-negative flagellated bacteria restored the bacterial-free state of the inner mucus layer and ameliorated DSS-induced intestinal inflammation in Lypd8−/− mice. Lypd8 bound to flagella and suppressed motility of flagellated bacteria. Thus, Lypd8 mediates segregation of intestinal bacteria and epithelial cells in the colon to preserve intestinal homeostasis.
Your institute does not have access to this article
Relevant articles
Open Access articles citing this article.
Aditi Jangid

,

Shinji Fukuda

…

Tulika Prakash

Scientific Reports Open Access 25 June 2022

Diego Angosto-Bazarra

,

Cristina Molina-López

&

Pablo Pelegrín

Communications Biology Open Access 01 June 2022

Daisuke Chinda

,

Toshihiko Takada

…

Shinsaku Fukuda

Scientific Reports Open Access 04 March 2022
Access options
Subscribe to Journal
Get full journal access for 1 year
$199.00
only $3.90 per issue
All prices are NET prices.
VAT will be added later in the checkout.
Tax calculation will be finalised during checkout.
Buy article
Get time limited or full article access on ReadCube.
$32.00
All prices are NET prices.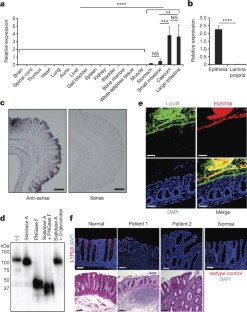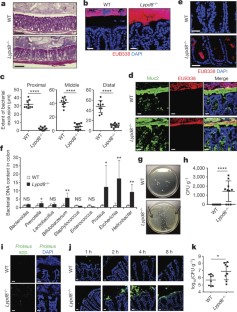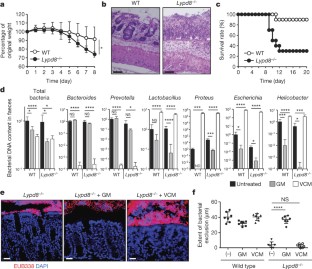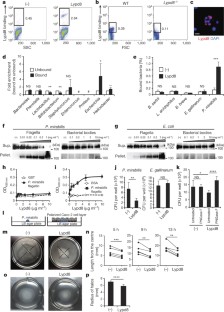 References
McGuckin, M. A., Linden, S. K., Sutton, P. & Florin, T. H. Mucin dynamics and enteric pathogens. Nature Rev. Microbiol. 9, 265–278 (2011)

Johansson, M. E. et al. Composition and functional role of the mucus layers in the intestine. Cell. Mol. Life Sci. 68, 3635–3641 (2011)

Johansson, M. E. et al. The inner of the two Muc2 mucin-dependent mucus layers in colon is devoid of bacteria. Proc. Natl Acad. Sci. USA 105, 15064–15069 (2008)

Johansson, M. E., Larsson, J. M. & Hansson, G. C. The two mucus layers of colon are organized by the MUC2 mucin, whereas the outer layer is a legislator of host-microbial interactions. Proc. Natl Acad. Sci. USA 108 (Suppl 1), 4659–4665 (2011)

Maynard, C. L., Elson, C. O., Hatton, R. D. & Weaver, C. T. Reciprocal interactions of the intestinal microbiota and immune system. Nature 489, 231–241 (2012)

Peterson, L. W. & Artis, D. Intestinal epithelial cells: regulators of barrier function and immune homeostasis. Nature Rev. Immunol. 14, 141–153 (2014)

Ayabe, T. et al. Secretion of microbicidal alpha-defensins by intestinal Paneth cells in response to bacteria. Nature Immunol. 1, 113–118 (2000)

Cash, H. L., Whitham, C. V., Behrendt, C. L. & Hooper, L. V. Symbiotic bacteria direct expression of an intestinal bactericidal lectin. Science 313, 1126–1130 (2006)

Vaishnava, S., Behrendt, C. L., Ismail, A. S., Eckmann, L. & Hooper, L. V. Paneth cells directly sense gut commensals and maintain homeostasis at the intestinal host-microbial interface. Proc. Natl Acad. Sci. USA 105, 20858–20863 (2008)

Vaishnava, S. et al. The antibacterial lectin RegIIIγ promotes the spatial segregation of microbiota and host in the intestine. Science 334, 255–258 (2011)

Mukherjee, S. et al. Antibacterial membrane attack by a pore-forming intestinal C-type lectin. Nature 505, 103–107 (2014)

Zhang, Y. et al. Identification and characterization of human LYPD6, a new member of the Ly-6 superfamily. Mol. Biol. Rep. 37, 2055–2062 (2010)

Kong, H. K. & Park, J. H. Characterization and function of human Ly-6/uPAR molecules. BMB Rep. 45, 595–603 (2012)

Garrett, W. S. et al. Enterobacteriaceae act in concert with the gut microbiota to induce spontaneous and maternally transmitted colitis. Cell Host Microbe 8, 292–300 (2010)

Mukhopadhya, I., Hansen, R., El-Omar, E. M. & Hold, G. L. IBD-what role do Proteobacteria play? Nature Rev. Gastroenterol. Hepatol. 9, 219–230 (2012)

Hansen, R., Thomson, J. M., Fox, J. G., El-Omar, E. M. & Hold, G. L. Could Helicobacter organisms cause inflammatory bowel disease? FEMS Immunol. Med. Microbiol. 61, 1–14 (2011)

Carvalho, F. A. et al. Transient inability to manage proteobacteria promotes chronic gut inflammation in TLR5-deficient mice. Cell Host Microbe 12, 139–152 (2012)

Cullender, T. C. et al. Innate and adaptive immunity interact to quench microbiome flagellar motility in the gut. Cell Host Microbe 14, 571–581 (2013)

Adachi, O. et al. Targeted disruption of the MyD88 gene results in loss of IL-1- and IL-18-mediated function. Immunity 9, 143–150 (1998)

Yamamoto, M. et al. ASC is essential for LPS-induced activation of procaspase-1 independently of TLR-associated signal adaptor molecules. Genes Cells 9, 1055–1067 (2004)

Takeda, K. et al. Enhanced Th1 activity and development of chronic enterocolitis in mice devoid of Stat3 in macrophages and neutrophils. Immunity 10, 39–49 (1999)
Acknowledgements
We thank Y. Fujioka, T. Kondo and Y. Magota for technical assistance, T. Oida for generation of mAb, Y. Matsunaga and J. Takagi for the binding assay, S. Pareek for critical reading of the manuscript, and C. Hidaka for secretarial assistance. This work was supported by grants from the Ministry of Education, Culture, Sports, Science and Technology, the Japan Agency for Medical Research and Development.
Ethics declarations
Competing interests
The authors declare no competing financial interests.
Extended data figures and tables
Supplementary information
This file contains the raw data for Figures 1d and 4f and Extended Data Figures 1d, 3b, 4g, 8c. (PDF 720 kb)
About this article
Cite this article
Okumura, R., Kurakawa, T., Nakano, T. et al. Lypd8 promotes the segregation of flagellated microbiota and colonic epithelia. Nature 532, 117–121 (2016). https://doi.org/10.1038/nature17406
Received:

Accepted:

Published:

Issue Date:

DOI: https://doi.org/10.1038/nature17406
Comments
By submitting a comment you agree to abide by our Terms and Community Guidelines. If you find something abusive or that does not comply with our terms or guidelines please flag it as inappropriate.