Abstract
Inhibitory neurons regulate the adaptation of neural circuits to sensory experience1, but the molecular mechanisms by which experience controls the connectivity between different types of inhibitory neuron2,3 to regulate cortical plasticity are largely unknown. Here we show that exposure of dark-housed mice to light induces a gene program in cortical vasoactive intestinal peptide (VIP)-expressing neurons that is markedly distinct from that induced in excitatory neurons and other subtypes of inhibitory neuron. We identify Igf1 as one of several activity-regulated genes that are specific to VIP neurons, and demonstrate that IGF1 functions cell-autonomously in VIP neurons to increase inhibitory synaptic input onto these neurons. Our findings further suggest that in cortical VIP neurons, experience-dependent gene transcription regulates visual acuity by activating the expression of IGF1, thus promoting the inhibition of disinhibitory neurons3,4,5 and affecting inhibition onto cortical pyramidal neurons.
Relevant articles
Open Access articles citing this article.
Baptiste N. Jaeger

,

Sara B. Linker

…

Fred H. Gage

Nature Communications Open Access 06 August 2018

Hyun-Woo Jeong

,

Benjamín Hernández-Rodríguez

…

Ralf H. Adams

Nature Communications Open Access 28 September 2017
Access options
Subscribe to Journal
Get full journal access for 1 year
$199.00
only $3.90 per issue
All prices are NET prices.
VAT will be added later in the checkout.
Tax calculation will be finalised during checkout.
Buy article
Get time limited or full article access on ReadCube.
$32.00
All prices are NET prices.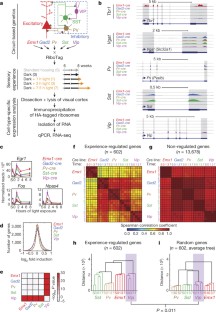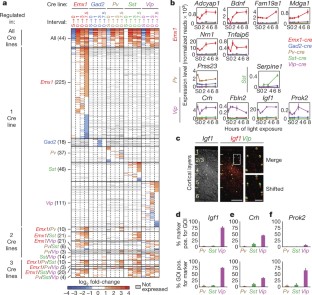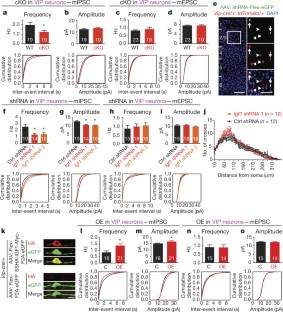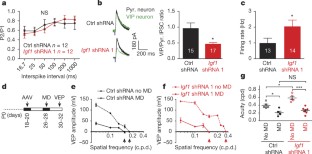 References
Hensch, T. K. Critical period plasticity in local cortical circuits. Nature Rev. Neurosci. 6, 877–888 (2005)

Rudy, B., Fishell, G., Lee, S. & Hjerling-Leffler, J. Three groups of interneurons account for nearly 100% of neocortical GABAergic neurons. Dev. Neurobiol. 71, 45–61 (2011)

Pfeffer, C. K., Xue, M., He, M., Huang, Z. J. & Scanziani, M. Inhibition of inhibition in visual cortex: the logic of connections between molecularly distinct interneurons. Nature Neurosci. 16, 1068–1076 (2013)

Lee, S., Kruglikov, I., Huang, Z. J., Fishell, G. & Rudy, B. A disinhibitory circuit mediates motor integration in the somatosensory cortex. Nature Neurosci. 16, 1662–1670 (2013)

Pi, H.-J. et al. Cortical interneurons that specialize in disinhibitory control. Nature 503, 521–524 (2013)

Spiegel, I. et al. Npas4 regulates excitatory-inhibitory balance within neural circuits through cell-type-specific gene programs. Cell 157, 1216–1229 (2014)

Majdan, M. & Shatz, C. J. Effects of visual experience on activity-dependent gene regulation in cortex. Nature Neurosci. 9, 650–659 (2006)

Sanz, E. et al. Cell-type-specific isolation of ribosome-associated mRNA from complex tissues. Proc. Natl Acad. Sci. USA 106, 13939–13944 (2009)

Kubota, Y. et al. Selective coexpression of multiple chemical markers defines discrete populations of neocortical GABAergic neurons. Cereb. Cortex 21, 1803–1817 (2011)

Bondy, C. A. Transient IGF-I gene expression during the maturation of functionally related central projection neurons. J. Neurosci. 11, 3442–3455 (1991)

Liu, J. P., Baker, J., Perkins, A. S., Robertson, E. J. & Efstratiadis, A. Mice carrying null mutations of the genes encoding insulin-like growth factor I (Igf-1) and type 1 IGF receptor (Igf1r). Cell 75, 59–72 (1993)

Cheng, C. M. et al. Insulin-like growth factor 1 is essential for normal dendritic growth. J. Neurosci. Res. 73, 1–9 (2003)

Cao, P., Maximov, A. & Südhof, T. C. Activity-dependent IGF-1 exocytosis is controlled by the Ca2+-sensor synaptotagmin-10. Cell 145, 300–311 (2011)

Nishijima, T. et al. Neuronal activity drives localized blood-brain-barrier transport of serum insulin-like growth factor-I into the CNS. Neuron 67, 834–846 (2010)

Liu, J. L. et al. Insulin-like growth factor-I affects perinatal lethality and postnatal development in a gene dosage-dependent manner: manipulation using the Cre/loxP system in transgenic mice. Mol. Endocrinol. 12, 1452–1462 (1998)

Hede, M. S. et al. E-peptides control bioavailability of IGF-1. PLoS ONE 7, e51152 (2012)

Lin, J. Y., Knutsen, P. M., Muller, A., Kleinfeld, D. & Tsien, R. Y. ReaChR: a red-shifted variant of channelrhodopsin enables deep transcranial optogenetic excitation. Nature Neurosci. 16, 1499–1508 (2013)

Fagiolini, M. & Hensch, T. K. Inhibitory threshold for critical-period activation in primary visual cortex. Nature 404, 183–186 (2000)

Davis, M. F. et al. Inhibitory neuron transplantation into adult visual cortex creates a new critical period that rescues impaired vision. Neuron 86, 1055–1066 (2015)

Fu, Y., Kaneko, M., Tang, Y., Alvarez-Buylla, A. & Stryker, M. P. A cortical disinhibitory circuit for enhancing adult plasticity. eLife 4, e05558 (2015)

Hong, E. J., McCord, A. E. & Greenberg, M. E. A biological function for the neuronal activity-dependent component of Bdnf transcription in the development of cortical inhibition. Neuron 60, 610–624 (2008)

Bloodgood, B. L., Sharma, N., Browne, H. A., Trepman, A. Z. & Greenberg, M. E. The activity-dependent transcription factor NPAS4 regulates domain-specific inhibition. Nature 503, 121–125 (2013)

Turrigiano, G. Too many cooks? Intrinsic and synaptic homeostatic mechanisms in cortical circuit refinement. Annu. Rev. Neurosci. 34, 89–103 (2011)

Livak, K. J. & Schmittgen, T. D. Analysis of relative gene expression data using real-time quantitative PCR and the 2−ΔΔCT method. Methods 25, 402–408 (2001)

Trapnell, C. et al. Differential gene and transcript expression analysis of RNA-seq experiments with TopHat and Cufflinks. Nature Protocols 7, 562–578 (2012)

Rubinson, D. A. et al. A lentivirus-based system to functionally silence genes in primary mammalian cells, stem cells and transgenic mice by RNA interference. Nature Genet. 33, 401–406 (2003)

Schopman, N. C. T., Liu, Y. P., Konstantinova, P., ter Brake, O. & Berkhout, B. Optimization of shRNA inhibitors by variation of the terminal loop sequence. Antiviral Res. 86, 204–211 (2010)

Spiegel, I. et al. A central role for Necl4 (SynCAM4) in Schwann cell-axon interaction and myelination. Nature Neurosci. 10, 861–869 (2007)

Schaeren-Wiemers, N. & Gerfin-Moser, A. A single protocol to detect transcripts of various types and expression levels in neural tissue and cultured cells: in situ hybridization using digoxigenin-labelled cRNA probes. Histochemistry 100, 431–440 (1993)

Tiscornia, G., Singer, O. & Verma, I. M. Production and purification of lentiviral vectors. Nature Protocols 1, 241–245 (2006)

Gordon, J. A. & Stryker, M. P. Experience-dependent plasticity of binocular responses in the primary visual cortex of the mouse. J. Neurosci. 16, 3274–3286 (1996)

Durand, S. et al. NMDA receptor regulation prevents regression of visual cortical function in the absence of Mecp2. Neuron 76, 1078–1090 (2012)

Madisen, L. et al. A robust and high-throughput Cre reporting and characterization system for the whole mouse brain. Nature Neurosci. 13, 133–140 (2010)

Gorski, J. A. et al. Cortical excitatory neurons and glia, but not GABAergic neurons, are produced in the Emx1-expressing lineage. J. Neurosci. 22, 6309–6314 (2002)

Hippenmeyer, S. et al. A developmental switch in the response of DRG neurons to ETS transcription factor signaling. PLoS Biol. 3, e159 (2005)

Taniguchi, H. et al. A resource of Cre driver lines for genetic targeting of GABAergic neurons in cerebral cortex. Neuron 71, 995–1013 (2011)
Acknowledgements
We thank C. Chen for help with electrophysiology experiments, E. Griffith and T. Cherry for critical reading of the manuscript, P. Zhang for managing the mouse colony and the HMS Biopolymers Facility Next-Gen Sequencing Core for their expertise in constructing Seq libraries and sequencing of the library samples. The ReachR-tdTomato construct was a gift from J. Lin, and we thank M. Li for production of the ReachR-virus. H.A. is a New York Stem Cell Robertson Investigator. This work was funded by fellowships by the Human Frontiers Science Program and the Swiss National Science Foundation (I.S.) and the National Institute of Health grants R01 NS028829 and P01 NS047572 (M.E.G.).
Ethics declarations
Competing interests
The authors declare no competing financial interests.
Extended data figures and tables
Supplementary information
About this article
Cite this article
Mardinly, A., Spiegel, I., Patrizi, A. et al. Sensory experience regulates cortical inhibition by inducing IGF1 in VIP neurons. Nature 531, 371–375 (2016). https://doi.org/10.1038/nature17187
Received:

Accepted:

Published:

Issue Date:

DOI: https://doi.org/10.1038/nature17187
Comments
By submitting a comment you agree to abide by our Terms and Community Guidelines. If you find something abusive or that does not comply with our terms or guidelines please flag it as inappropriate.