Abstract
Microquasars1,2,3,4 are stellar-mass black holes accreting matter from a companion star5 and ejecting plasma jets at almost the speed of light. They are analogues of quasars that contain supermassive black holes of 106 to 1010 solar masses. Accretion in microquasars varies on much shorter timescales than in quasars and occasionally produces exceptionally bright X-ray flares6. How the flares are produced is unclear, as is the mechanism for launching the relativistic jets and their composition. An emission line near 511 kiloelectronvolts has long been sought in the emission spectrum of microquasars as evidence for the expected electron–positron plasma. Transient high-energy spectral features have been reported in two objects7,8, but their positron interpretation9 remains contentious. Here we report observations of γ-ray emission from the microquasar V404 Cygni during a recent period of strong flaring activity10. The emission spectrum around 511 kiloelectronvolts shows clear signatures of variable positron annihilation, which implies a high rate of positron production. This supports the earlier conjecture that microquasars may be the main sources of the electron–positron plasma responsible for the bright diffuse emission of annihilation γ-rays in the bulge region of our Galaxy11. Additionally, microquasars could be the origin of the observed megaelectronvolt continuum excess in the inner Galaxy.
Relevant articles
Open Access articles citing this article.
F. Frontera

,

E. Virgilli

…

M. Della Valle

Experimental Astronomy Open Access 22 June 2021
Access options
Subscribe to Journal
Get full journal access for 1 year
$199.00
only $3.90 per issue
All prices are NET prices.
VAT will be added later in the checkout.
Tax calculation will be finalised during checkout.
Buy article
Get time limited or full article access on ReadCube.
$32.00
All prices are NET prices.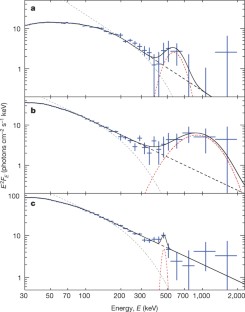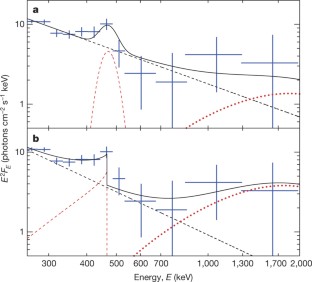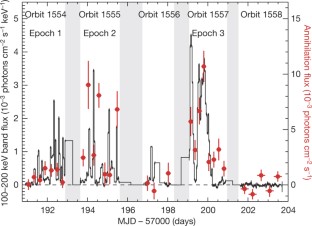 References
Mirabel, I. F., Rodriguez, L. F., Cordier, B., Paul, J. & Lebrun, F. A double-sided radio jet from the compact Galactic Centre annihilator 1E1740.7–2942. Nature 358, 215–217 (1992)

Mirabel, I. F. & Rodriguez, L. F. Sources of relativistic jets in the Galaxy. Annu. Rev. Astron. Astrophys. 37, 409–443 (1999)

Fender, R. P., Belloni, T. M. & Gallo, E. Towards a unified model for black hole X-ray binary jets. Mon. Not. R. Astron. Soc. 355, 1105–1118 (2004)

Mirabel, I. F. & Rodriguez, L. F. A superluminal source in the Galaxy. Nature 371, 46–48 (1994)

Remillard, R. A. & McClintock, J. E. X-ray properties of black-hole binaries. Annu. Rev. Astron. Astrophys. 44, 49–92 (2006)

Greiner, J., Morgan, E. H. & Remillard, R. A. Rossi X-Ray Timing Explorer observations of GRS 1915+105. Astrophys. J. 473, L107–L110 (1996)

Bouchet, L. et al. Sigma discovery of variable e+-e− annihilation radiation from the near Galactic center variable compact source 1E 1740.7−2942. Astrophys. J. 383, L45–L48 (1991)

Goldwurm, A. et al. Sigma/GRANAT soft gamma-ray observations of the X-ray nova in Musca — discovery of positron annihilation emission line. Astrophys. J. 389, L79–L82 (1992)

Sunyaev, R. et al. X-ray nova in Musca (GRS 1124–68): hard X-ray source with narrow annihilation line. Astrophys. J. 389, L75–L78 (1992)

Kuulkers, E. et al. Renewed activity of V404 Cyg (GS 2023+338). Astron. Telegr . 7647 (2015)

Prantzos, N. et al. The 511 keV emission from positron annihilation in the Galaxy. Rev. Mod. Phys. 83, 1001–1056 (2011)

Winkler, C. et al. The INTEGRAL mission. Astron. Astrophys. 411, L1–L6 (2003)

Rodriguez, J. et al. Correlated optical, X-ray, and γ-ray flaring activity seen with INTEGRAL during the 2015 outburst of V404 Cygni. Astron. Astrophys. 581, L9–L13 (2015)

Khargharia, J., Froning, C. S. & Robinson, E. L. Near-infrared spectroscopy of low-mass X-ray binaries: accretion disk contamination and compact object mass determination in V404 Cyg and Cen X-4. Astrophys. J. 716, 1105–1117 (2010)

Miller-Jones, J. C. A. et al. The first accurate parallax distance to a black hole. Astrophys. J. 706, L230–L234 (2009)

Casares, J., Charles, P. A. & Naylor, T. A 6.5-day periodicity in the recurrent nova V404 Cygni implying the presence of a black hole. Nature 355, 614–617 (1992)

Done, C., Gierlinski, M. & Kubota, A. Modelling the behaviour of accretion flows in X-ray binaries. Astron. Astrophys. Rev. 15, 1–66 (2007)

Maciolek-Niedzwiecki, A., Zdziarski, A. A. & Coppi, P. S. Electron/positron pair production and annihilation spectral features from compact sources. Mon. Not. R. Astron. Soc. 276, 273–282 (1995)

Svensson, R. Non-thermal pair production in compact X-ray sources — first-order Compton cascades in soft radiation fields. Mon. Not. R. Astron. Soc. 227, 403–451 (1987)

Beloborodov, A. M. Electron-positron outflows from gamma-ray emitting accretion discs. Mon. Not. R. Astron. Soc. 305, 181–189 (1999)

Fabian, A. C. et al. Properties of AGN coronae in the NuSTAR era. Mon. Not. R. Astron. Soc. 451, 4375–4383 (2015)

Beloborodov, A. M. Plasma ejection from magnetic flares and the X-ray spectrum of Cygnus X-1. Astrophys. J. 510, L123–L126 (1999)

Crannell, C. J., Joyce, G., Ramaty, R. & Werntz, C. Formation of the 0.511 MeV line in solar flares. Astrophys. J. 210, 582–592 (1976)

King, A. L., Miller, J. M., Raymond, J., Reynolds, M. T. & Morningstar, W. High-resolution Chandra HETG spectroscopy of V404 Cygni in outburst. Astrophys. J. 813, L37 (2015)

Natalucci, L. et al. High energy specral evolution of V404 Cygni during the 2015 June outburst as observed by INTEGRAL. Astrophys. J. 813, L21 (2015)

Gallo, E., Fender, R. P. & Pooley, G. G. A universal radio-X-ray correlation in low/hard state black hole binaries. Mon. Not. R. Astron. Soc. 344, 60–72 (2003)

Sadowski, A., Ziółkowski, J., Belczyski, K. & Bulik, T. Calculations of the Galactic population of black hole X-ray binaries. AIP Conf. Proc. 1010, 404–406 (2008)

Grenier, I. A., Black, J. H. & Strong, A. W. The nine lives of cosmic rays in galaxies. Annu. Rev. Astron. Astrophys. 53, 199–246 (2015)

Strong, A. W. et al. Gamma-ray continuum emission from the inner Galactic region as observed with INTEGRAL/SPI. Astron. Astrophys. 444, 495–503 (2005)

Vedrenne, G. et al. SPI: the spectrometer aboard INTEGRAL. Astron. Astrophys. 411, L63–L70 (2003)

Roques, J.-P. et al. SPI/INTEGRAL in-flight performance. Astron. Astrophys. 411, L91–L100 (2003)

Weidenspointner, G. et al. First identification and modelling of SPI background lines. Astron. Astrophys. 411, L113–L116 (2003)

Bouchet, L. et al. INTEGRAL SPI all-sky view in soft gamma rays: a study of point-source and Galactic diffuse emission. Astrophys. J. 679, 1315–1326 (2008)

Malzac, J. On the nature of X-ray corona of black hole binaries. Int. J. Mod. Phys. Conf. Ser . 08, 73–83 (2012)

Svensson, R., Larrson, S. & Poutanen, J. A simple formula for the thermal pair annihilation line emissivity. Astron. Astrophys. 120c (Suppl.), 587–590 (1996)

Roques, J.-P. et al. First INTEGRAL observations of V404 Cygni during the 2015 outburst: spectral behavior in the 20–650 keV energy range. Astrophys. J. 813, L22 (2015)

Ore, A. & Powell, J. L. Three-photon annihilation of an electron-positron pair. Phys. Rev. 75, 1696–1699 (1949)

Sharma, S. C. & McNutt, J. D. Positron annihilation in gaseous nitrogen. Phys. Rev. A 18, 1426–1434 (1978)
Acknowledgements
The INTEGRAL/SPI project has been completed under the responsibility and leadership of CNES; we are grateful to ASI, CEA, CNES, DLR, ESA, INTA, NASA and OSTC for support of this ESA space science mission. R.D. and J.G. are also supported by the Munich excellence cluster 'Origin and evolution of the Universe'. M.G.H.K. is supported by the Deutsche Forschungsgemeinschaft, project number PR 569/10-1, as part of DFG Priority Program 1573. J.R. acknowledges funding support from the French Research National Agency, CHAOS project ANR-12-BS05-0009, and from the UnivEarthS Labex program of Sorbonne Paris Cité.
Ethics declarations
Competing interests
The authors declare no competing financial interests.
Extended data figures and tables
Each curve shows intensity per unit energy and is labelled with θ (= kT/mec2), the dimensionless temperature. The model is used to quantify the width of the observed annihilation line (see Methods section 'Spectral fitting'). The grey shaded area is the integrated flux over all energies for this thermal plasma annihilation model (TPA).
About this article
Cite this article
Siegert, T., Diehl, R., Greiner, J. et al. Positron annihilation signatures associated with the outburst of the microquasar V404 Cygni. Nature 531, 341–343 (2016). https://doi.org/10.1038/nature16978
Received:

Accepted:

Published:

Issue Date:

DOI: https://doi.org/10.1038/nature16978
Comments
By submitting a comment you agree to abide by our Terms and Community Guidelines. If you find something abusive or that does not comply with our terms or guidelines please flag it as inappropriate.