Abstract
Studies of individual living cells have revealed that many transcription factors activate in dynamic, and often stochastic, pulses within the same cell. However, it has remained unclear whether cells might exploit the dynamic interaction of these pulses to control gene expression. Here, using quantitative single-cell time-lapse imaging of Saccharomyces cerevisiae, we show that the pulsatile transcription factors Msn2 and Mig1 combinatorially regulate their target genes through modulation of their relative pulse timing. The activator Msn2 and repressor Mig1 showed pulsed activation in either a temporally overlapping or non-overlapping manner during their transient response to different inputs, with only the non-overlapping dynamics efficiently activating target gene expression. Similarly, under constant environmental conditions, where Msn2 and Mig1 exhibit sporadic pulsing, glucose concentration modulated the temporal overlap between pulses of the two factors. Together, these results reveal a time-based mode of combinatorial gene regulation. Regulation through relative signal timing is common in engineering and neurobiology, and these results suggest that it could also function broadly within the signalling and regulatory systems of the cell.
Relevant articles
Open Access articles citing this article.
Yan Wu

,

Jiaqi Wu

…

Yihan Lin

Nature Communications Open Access 25 May 2021

Gregor W. Schmidt

,

Niek Welkenhuysen

…

Stefan Hohmann

Molecular Genetics and Genomics Open Access 19 September 2020

C. Caranica

,

A. Al-Omari

…

J. Arnold

Scientific Reports Open Access 16 September 2020
Access options
Subscribe to this journal
Receive 51 print issues and online access
$199.00 per year
only $3.90 per issue
Rent or buy this article
Get just this article for as long as you need it
$39.95
Prices may be subject to local taxes which are calculated during checkout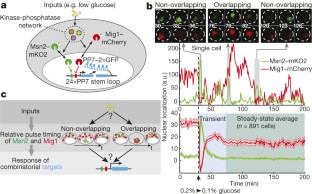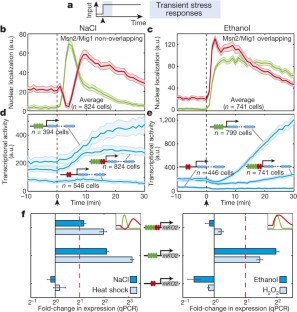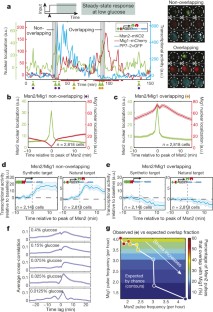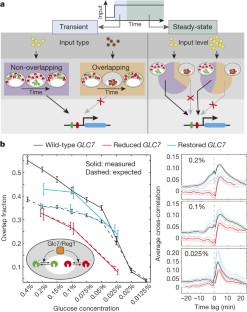 References
Alon, U. An Introduction to Systems Biology: Design Principles of Biological Circuits. (Taylor & Francis, 2006)

Gertz, J., Siggia, E. D. & Cohen, B. A. Analysis of combinatorial cis-regulation in synthetic and genomic promoters. Nature 457, 215–218 (2009)

Yosef, N. & Regev, A. Impulse control: temporal dynamics in gene transcription. Cell 144, 886–896 (2011)

Purvis, J. E. & Lahav, G. Encoding and decoding cellular information through signaling dynamics. Cell 152, 945–956 (2013)

Levine, J. H., Lin, Y. & Elowitz, M. B. Functional roles of pulsing in genetic circuits. Science 342, 1193–1200 (2013)

Lahav, G. et al. Dynamics of the p53-Mdm2 feedback loop in individual cells. Nature Genet. 36, 147–150 (2004)

Nelson, D. E. et al. Oscillations in NF-κB signaling control the dynamics of gene expression. Science 306, 704–708 (2004)

Cai, L., Dalal, C. K. & Elowitz, M. B. Frequency-modulated nuclear localization bursts coordinate gene regulation. Nature 455, 485–490 (2008)

Locke, J. C., Young, J. W., Fontes, M., Hernández Jiménez, M. J. & Elowitz, M. B. Stochastic pulse regulation in bacterial stress response. Science 334, 366–369 (2011)

Hao, N. & O'Shea, E. K. Signal-dependent dynamics of transcription factor translocation controls gene expression. Nature Struct. Mol. Biol. 19, 31–39 (2012)

Cohen-Saidon, C., Cohen, A. A., Sigal, A., Liron, Y. & Alon, U. Dynamics and variability of ERK2 response to EGF in individual living cells. Mol. Cell 36, 885–893 (2009)

Young, J. W., Locke, J. C. & Elowitz, M. B. Rate of environmental change determines stress response specificity. Proc. Natl Acad. Sci. USA 110, 4140–4145 (2013)

Levine, J. H., Fontes, M. E., Dworkin, J. & Elowitz, M. B. Pulsed feedback defers cellular differentiation. PLoS Biol. 10, e1001252 (2012)

Garmendia-Torres, C., Goldbeter, A. & Jacquet, M. Nucleocytoplasmic oscillations of the yeast transcription factor Msn2: evidence for periodic PKA activation. Curr. Biol. 17, 1044–1049 (2007)

Hao, N., Budnik, B. A., Gunawardena, J. & O'Shea, E. K. Tunable signal processing through modular control of transcription factor translocation. Science 339, 460–464 (2013)

Hansen, A. S. & O'Shea, E. K. Promoter decoding of transcription factor dynamics involves a trade-off between noise and control of gene expression. Mol. Syst. Biol. 9, 704 (2013)

Petrenko, N., Chereji, R. V., McClean, M. N., Morozov, A. V. & Broach, J. R. Noise and interlocking signaling pathways promote distinct transcription factor dynamics in response to different stresses. Mol. Biol. Cell 24, 2045–2057 (2013)

Kholodenko, B. N., Hancock, J. F. & Kolch, W. Signalling ballet in space and time. Nature Rev. Mol. Cell Biol. 11, 414–426 (2010)

Tay, S. et al. Single-cell NF-κB dynamics reveal digital activation and analogue information processing. Nature 466, 267–271 (2010)

Batchelor, E., Loewer, A., Mock, C. & Lahav, G. Stimulus-dependent dynamics of p53 in single cells. Mol. Syst. Biol. 7, 488 (2011)

Albeck, J. G., Mills, G. B. & Brugge, J. S. Frequency-modulated pulses of ERK activity transmit quantitative proliferation signals. Mol. Cell 49, 249–261 (2013)

Yissachar, N. et al. Dynamic response diversity of NFAT isoforms in individual living cells. Mol. Cell 49, 322–330 (2013)

Kageyama, R., Ohtsuka, T., Shimojo, H. & Imayoshi, I. Dynamic Notch signaling in neural progenitor cells and a revised view of lateral inhibition. Nature Neurosci. 11, 1247–1251 (2008)

Martínez-Pastor, M. T. et al. The Saccharomyces cerevisiae zinc finger proteins Msn2p and Msn4p are required for transcriptional induction through the stress response element (STRE). EMBO J. 15, 2227–2235 (1996)

Schmitt, A. P. & McEntee, K. Msn2p, a zinc finger DNA-binding protein, is the transcriptional activator of the multistress response in Saccharomyces cerevisiae . Proc. Natl Acad. Sci. USA 93, 5777–5782 (1996)

Boy-Marcotte, E., Perrot, M., Bussereau, F., Boucherie, H. & Jacquet, M. Msn2p and Msn4p control a large number of genes induced at the diauxic transition which are repressed by cyclic AMP in Saccharomyces cerevisiae . J. Bacteriol. 180, 1044–1052 (1998)

Estruch, F. Stress-controlled transcription factors, stress-induced genes and stress tolerance in budding yeast. FEMS Microbiol. Rev. 24, 469–486 (2000)

Gasch, A. P. et al. Genomic expression programs in the response of yeast cells to environmental changes. Mol. Biol. Cell 11, 4241–4257 (2000)

Hasan, R. et al. The control of the yeast H2O2 response by the Msn2/4 transcription factors. Mol. Microbiol. 45, 233–241 (2002)

Morano, K. A., Grant, C. M. & Moye-Rowley, W. S. The response to heat shock and oxidative stress in Saccharomyces cerevisiae . Genetics 190, 1157–1195 (2012)

Nehlin, J. O., Carlberg, M. & Ronne, H. Control of yeast GAL genes by MIG1 repressor: a transcriptional cascade in the glucose response. EMBO J. 10, 3373–3377 (1991)

Lutfiyya, L. L. & Johnston, M. Two zinc-finger-containing repressors are responsible for glucose repression of SUC2 expression. Mol. Cell. Biol. 16, 4790–4797 (1996)

Carlson, M. Glucose repression in yeast. Curr. Opin. Microbiol. 2, 202–207 (1999)

Teixeira, M. C. et al. The YEASTRACT database: an upgraded information system for the analysis of gene and genomic transcription regulation in Saccharomyces cerevisiae . Nucleic Acids Res. 42, D161–D166 (2014)

Görner, W. et al. Nuclear localization of the C2H2 zinc finger protein Msn2p is regulated by stress and protein kinase A activity. Genes Dev. 12, 586–597 (1998)

De Vit, M. J., Waddle, J. A. & Johnston, M. Regulated nuclear translocation of the Mig1 glucose repressor. Mol. Biol. Cell 8, 1603–1618 (1997)

Treitel, M. A., Kuchin, S. & Carlson, M. Snf1 protein kinase regulates phosphorylation of the Mig1 repressor in Saccharomyces cerevisiae . Mol. Cell. Biol. 18, 6273–6280 (1998)

Dalal, C. K., Cai, L., Lin, Y., Rahbar, K. & Elowitz, M. B. Pulsatile dynamics in the yeast proteome. Curr. Biol. 24, 2189–2194 (2014)

Shaner, N. C., Steinbach, P. A. & Tsien, R. Y. A guide to choosing fluorescent proteins. Nature Methods 2, 905–909 (2005)

Larson, D. R., Zenklusen, D., Wu, B., Chao, J. A. & Singer, R. H. Real-time observation of transcription initiation and elongation on an endogenous yeast gene. Science 332, 475–478 (2011)

Unnikrishnan, I., Miller, S., Meinke, M. & LaPorte, D. C. Multiple positive and negative elements involved in the regulation of expression of GSY1 in Saccharomyces cerevisiae . J. Biol. Chem. 278, 26450–26457 (2003)

Meister, M., Pine, J. & Baylor, D. A. Multi-neuronal signals from the retina: acquisition and analysis. J. Neurosci. Methods 51, 95–106 (1994)

De Wever, V., Reiter, W., Ballarini, A., Ammerer, G. & Brocard, C. A dual role for PP1 in shaping the Msn2-dependent transcriptional response to glucose starvation. EMBO J. 24, 4115–4123 (2005)

Ptashne, M. A Genetic Switch: Phage Lambda Revisited (Cold Spring Harbor Laboratory Press, 2004)

Bi, G. Q. & Poo, M. M. Synaptic modifications in cultured hippocampal neurons: dependence on spike timing, synaptic strength, and postsynaptic cell type. J. Neurosci. 18, 10464–10472 (1998)

Anderson, J. B., Aulin, T. & Sundberg, C.-E. Digital Phase Modulation (Springer, 1986)

Gietz, R. D. & Schiestl, R. H. High-efficiency yeast transformation using the LiAc/SS carrier DNA/PEG method. Nature Protocols 2, 31–34 (2007)

Sheff, M. A. & Thorn, K. S. Optimized cassettes for fluorescent protein tagging in Saccharomyces cerevisiae . Yeast 21, 661–670 (2004)

Goldstein, A. L. & McCusker, J. H. Three new dominant drug resistance cassettes for gene disruption in Saccharomyces cerevisiae . Yeast 15, 1541–1553 (1999)

Lutfiyya, L. L. et al. Characterization of three related glucose repressors and genes they regulate in Saccharomyces cerevisiae . Genetics 150, 1377–1391 (1998)

Edelstein, A., Amodaj, N., Hoover, K., Vale, R. & Stuurman, N. Computer control of microscopes using µManager. Curr. Protoc. Mol. Biol. Unit 14.20 (2010)

Jaqaman, K. et al. Robust single-particle tracking in live-cell time-lapse sequences. Nature Methods 5, 695–702 (2008)

Teste, M. A., Duquenne, M., François, J. M. & Parrou, J. L. Validation of reference genes for quantitative expression analysis by real-time RT-PCR in Saccharomyces cerevisiae . BMC Mol. Biol. 10, 99 (2009)

Ye, J. et al. Primer-BLAST: a tool to design target-specific primers for polymerase chain reaction. BMC Bioinformatics 13, 134 (2012)

Goecks, J., Nekrutenko, A. & Taylor, J. The Galaxy Team. Galaxy: a comprehensive approach for supporting accessible, reproducible, and transparent computational research in the life sciences. Genome Biol. 11, R86 (2010)

Trapnell, C. et al. Differential gene and transcript expression analysis of RNA-seq experiments with TopHat and Cufflinks. Nature Protocols 7, 562–578 (2012)

Love, M. I., Huber, W. & Anders, S. Moderated estimation of fold change and dispersion for RNA-seq data with DESeq2. Genome Biol. 15, 550 (2014)

Efron, B. The Jackknife, the Bootstrap, and Other Resampling Plans (Society for Industrial and Applied Mathematics, 1982)
Acknowledgements
We thank U. Alon, R. Corral, R. Deshaies, A. Eldar, J. Garcia-Ojalvo, R. Kishony, A. Moses, G. Seelig, P. Swain, and members of the Elowitz laboratory for comments and feedback on the manuscript. We also thank the core sequencing facility at Caltech for help on RNA-Seq. This work was supported by the NIH (R01 GM079771B, R01 GM086793A), the NSF (Award no. 1547056), DARPA (HR0011-05-1-0057), and by the Gordon and Betty Moore Foundation through Grant GBMF2809 to the Caltech Programmable Molecular Technology Initiative. L.C. acknowledges the Ellison foundation for support.
Ethics declarations
Competing interests
The authors declare no competing financial interests.
Extended data figures and tables
Supplementary information
About this article
Cite this article
Lin, Y., Sohn, C., Dalal, C. et al. Combinatorial gene regulation by modulation of relative pulse timing. Nature 527, 54–58 (2015). https://doi.org/10.1038/nature15710
Received:

Accepted:

Published:

Issue Date:

DOI: https://doi.org/10.1038/nature15710
Comments
By submitting a comment you agree to abide by our Terms and Community Guidelines. If you find something abusive or that does not comply with our terms or guidelines please flag it as inappropriate.