Abstract
A superconductor is a material that can conduct electricity without resistance below a superconducting transition temperature, Tc. The highest Tc that has been achieved to date is in the copper oxide system1: 133 kelvin at ambient pressure2 and 164 kelvin at high pressures3. As the nature of superconductivity in these materials is still not fully understood (they are not conventional superconductors), the prospects for achieving still higher transition temperatures by this route are not clear. In contrast, the Bardeen–Cooper–Schrieffer theory of conventional superconductivity gives a guide for achieving high Tc with no theoretical upper bound—all that is needed is a favourable combination of high-frequency phonons, strong electron–phonon coupling, and a high density of states4. These conditions can in principle be fulfilled for metallic hydrogen and covalent compounds dominated by hydrogen5,6, as hydrogen atoms provide the necessary high-frequency phonon modes as well as the strong electron–phonon coupling. Numerous calculations support this idea and have predicted transition temperatures in the range 50–235 kelvin for many hydrides7, but only a moderate Tc of 17 kelvin has been observed experimentally8. Here we investigate sulfur hydride9, where a Tc of 80 kelvin has been predicted10. We find that this system transforms to a metal at a pressure of approximately 90 gigapascals. On cooling, we see signatures of superconductivity: a sharp drop of the resistivity to zero and a decrease of the transition temperature with magnetic field, with magnetic susceptibility measurements confirming a Tc of 203 kelvin. Moreover, a pronounced isotope shift of Tc in sulfur deuteride is suggestive of an electron–phonon mechanism of superconductivity that is consistent with the Bardeen–Cooper–Schrieffer scenario. We argue that the phase responsible for high-Tc superconductivity in this system is likely to be H3S, formed from H2S by decomposition under pressure. These findings raise hope for the prospects for achieving room-temperature superconductivity in other hydrogen-based materials.
Relevant articles
Open Access articles citing this article.
Roman Lucrezi

,

Eva Kogler

…

Christoph Heil

Communications Physics Open Access 16 October 2023

Erik Piatti

,

Giacomo Prando

…

Renato S. Gonnelli

Communications Physics Open Access 05 August 2023

Matjaž Gomilšek

,

Francis L. Pratt

…

Tom Lancaster

Communications Physics Open Access 16 June 2023
Access options
Subscribe to this journal
Receive 51 print issues and online access
$199.00 per year
only $3.90 per issue
Rent or buy this article
Prices vary by article type
from$1.95
to$39.95
Prices may be subject to local taxes which are calculated during checkout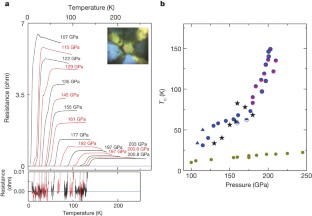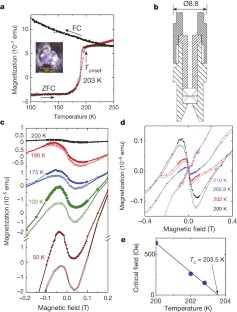 References
Bednorz, J. G. & Mueller, K. A. Possible high TC superconductivity in the Ba-La-Cu-O system. Z. Phys. B 64, 189–193 (1986)

Schilling, A., Cantoni, M. & Guo, J. D. &. Ott, H. R. Superconductivity above 130 K in the Hg-Ba-Ca-Cu-O system. Nature 363, 56–58 (1993)

Gao, L. et al. Superconductivity up to 164 K in HgBa2Ca m −lCu m O2m+2+δ (m = l, 2, and 3) under quasihydrostatic pressures. Phys. Rev. B 50, 4260–4263 (1994)

Ginzburg, V. L. Once again about high-temperature superconductivity. Contemp. Phys. 33, 15–23 (1992)

Ashcroft, N. W. Metallic hydrogen: A high-temperature superconductor? Phys. Rev. Lett. 21, 1748–1750 (1968)

Ashcroft, N. W. Hydrogen dominant metallic alloys: high temperature superconductors? Phys. Rev. Lett. 92, 187002 (2004)

Wang, Y. & Ma, Y. Perspective: Crystal structure prediction at high pressures. J. Chem. Phys. 140, 040901 (2014)

Eremets, M. I., Trojan, I. A., Medvedev, S. A., Tse, J. S. & Yao, Y. Superconductivity in hydrogen dominant materials: silane. Science 319, 1506–1509 (2008)

Drozdov, A. P., Eremets, M. I. & Troyan, I. A. Conventional superconductivity at 190 K at high pressures. Preprint at http://arXiv.org/abs/1412.0460 (2014)

Li, Y., Hao, J., Li, Y. & Ma, Y. The metallization and superconductivity of dense hydrogen sulfide. J. Chem. Phys. 140, 174712 (2014)

Nagamatsu, J., Nakagawa, N., Muranaka, T., Zenitani, Y. & Akimitsu, J. Superconductivity at 39 K in magnesium diboride. Nature 410, 63–64 (2001)

McMahon, J. M., Morales, M. A., Pierleoni, C. & Ceperley, D. M. The properties of hydrogen and helium under extreme conditions. Rev. Mod. Phys. 84, 1607–1653 (2012)

Eremets, M. I. & Troyan, I. A. Conductive dense hydrogen. Nature Mater. 10, 927–931 (2011)

Fujihisa, H. et al. Molecular dissociation and two low-temperature high-pressure phases of H2S. Phys. Rev. B 69, 214102 (2004)

Sakashita, M. et al. Pressure-induced molecular dissociation and metallization in hydrogen-bonded H2S solid. Phys. Rev. Lett. 79, 1082–1085 (1997)

Kometani, S., Eremets, M., Shimizu, K., Kobayashi, M. & Amaya, K. Observation of pressure-induced superconductivity of sulfur. J. Phys. Soc. Jpn. 66, 2564–2565 (1997)

Shimizu, H. et al. Pressure-temperature phase diagram of solid hydrogen sulfide determined by Raman spectroscopy. Phys. Rev. B 51, 9391–9394 (1995)

Shimizu, H., Murashima, H. & Sasaki, S. High-pressure Raman study of solid deuterium sulfide up to 17 GPa. J. Chem. Phys. 97, 7137–7139 (1992)

Matula, R. A. Electrical resistivity of copper, gold, palladium, and silver. J. Phys. Chem. Ref. 8, 1147–1298 (1979)

Duan, D. et al. Pressure-induced metallization of dense (H2S)2H2 with high-T c superconductivity. Sci. Rep. 4, 6968 (2014)

Strobel, T. A., Ganesh, P., Somayazulu, M., Kent, P. R. C. & Hemley, R. J. Novel cooperative interactions and structural ordering in H2S–H2 . Phys. Rev. Lett. 107, 255503 (2011)

Duan, D. et al. Pressure-induced decomposition of solid hydrogen sulfide. Phys. Rev. B 91, 180502(R) (2015)

Bernstein, N., Hellberg, C. S., Johannes, M. D., Mazin, I. I. & Mehl, M. J. What superconducts in sulfur hydrides under pressure, and why. Phys. Rev. B 91, 060511(R) (2015)

Errea, I. et al. Hydrogen sulfide at high pressure: a strongly-anharmonic phonon-mediated superconductor. Phys. Rev. Lett. 114, 157004 (2015)

Flores-Livas, J. A., Sanna, A. & Gross, E. K. U. High temperature superconductivity in sulfur and selenium hydrides at high pressure. Preprint at http://arXiv.org/abs/1501.06336v1 (2015)

Papaconstantopoulos, D. A., Klein, B. M., Mehl, M. J. & Pickett, W. E. Cubic H3S around 200 GPa: an atomic hydrogen superconductor stabilized by sulfur. Phys. Rev. B. 91, 184511 (2015)

Akashi, R., Kawamura, M., Tsuneyuki, S., Nomura, Y. & Arita, R. Fully non-empirical study on superconductivity in compressed sulfur hydrides. Preprint at http://arXiv.org/abs/1502.00936v1 (2015)

Cohen, M. L. in BCS: 50 years (eds Cooper, L. N. & Feldman, D. ) 375–389 (World Scientific, 2011)

An, J. M. & Pickett, W. E. Superconductivity of MgB2: covalent bonds driven metallic. Phys. Rev. Lett. 86, 4366–4369 (2001)

Gregoryanz, E. et al. Superconductivity in the chalcogens up to multimegabar pressures. Phys. Rev. B 65, 064504 (2002)

Senoussi, S., Sastry, P., Yakhmi, J. V. & Campbell, I. Magnetic hysteresis of superconducting GdBa2Cu3O7 down to 1.8 K. J. Phys. 49, 2163–2164 (1988)

Eremets, M. I. Megabar high-pressure cells for Raman measurements. J. Raman Spectrosc. 34, 515–518 (2003)

Landau, L. D. & Lifshitz, E. M. Electrodynamics of Continuous Media Vol. 8, 1st edn, 173 (Pergamon, 1960)
Acknowledgements
Support provided by the European Research Council under the 2010 Advanced Grant 267777 is acknowledged. We appreciate help provided in MPI Chemie by U. Pöschl. We thank P. Alireza and G. Lonzarich for help with samples of CuTi; J. Kamarad, S. Toser and C. Q. Jin for sharing their experience on SQUID measurements; K. Shimizu and his group for cooperation; P. Chu and his group for many discussions and collaboration, and L. Pietronero, M. Calandra and T. Timusk for discussions. V.K. and S.I.S. acknowledge the DFG (Priority Program No. 1458) for support. M.I.E. thanks H. Musshof and R. Wittkowski for precision machining of the DACs.
Ethics declarations
Competing interests
The authors declare no competing financial interests.
Extended data figures and tables
About this article
Cite this article
Drozdov, A., Eremets, M., Troyan, I. et al. Conventional superconductivity at 203 kelvin at high pressures in the sulfur hydride system. Nature 525, 73–76 (2015). https://doi.org/10.1038/nature14964
Received:

Accepted:

Published:

Issue Date:

DOI: https://doi.org/10.1038/nature14964
Comments
By submitting a comment you agree to abide by our Terms and Community Guidelines. If you find something abusive or that does not comply with our terms or guidelines please flag it as inappropriate.