Abstract
The whole frame of interconnections in complex networks hinges on a specific set of structural nodes, much smaller than the total size, which, if activated, would cause the spread of information to the whole network1, or, if immunized, would prevent the diffusion of a large scale epidemic2,3. Localizing this optimal, that is, minimal, set of structural nodes, called influencers, is one of the most important problems in network science4,5. Despite the vast use of heuristic strategies to identify influential spreaders6,7,8,9,10,11,12,13,14, the problem remains unsolved. Here we map the problem onto optimal percolation in random networks to identify the minimal set of influencers, which arises by minimizing the energy of a many-body system, where the form of the interactions is fixed by the non-backtracking matrix15 of the network. Big data analyses reveal that the set of optimal influencers is much smaller than the one predicted by previous heuristic centralities. Remarkably, a large number of previously neglected weakly connected nodes emerges among the optimal influencers. These are topologically tagged as low-degree nodes surrounded by hierarchical coronas of hubs, and are uncovered only through the optimal collective interplay of all the influencers in the network. The present theoretical framework may hold a larger degree of universality, being applicable to other hard optimization problems exhibiting a continuous transition from a known phase16.
Relevant articles
Open Access articles citing this article.
Bowen Shi

,

Ke Xu

&

Jichang Zhao

Journal of Big Data Open Access 17 May 2023

James Flamino

,

Alessandro Galeazzi

…

Boleslaw K. Szymanski

Nature Human Behaviour Open Access 13 March 2023

Ying Wang

,

Yunan Zheng

&

Yiguang Liu

Scientific Reports Open Access 31 December 2022
Access options
Subscribe to this journal
Receive 51 print issues and online access
$199.00 per year
only $3.90 per issue
Rent or buy this article
Get just this article for as long as you need it
$39.95
Prices may be subject to local taxes which are calculated during checkout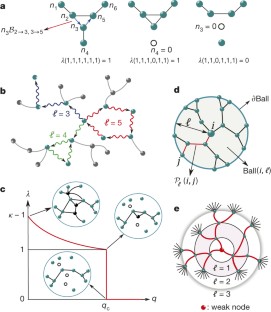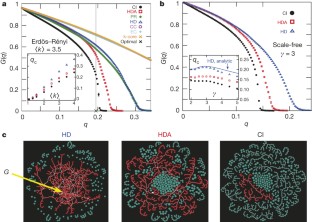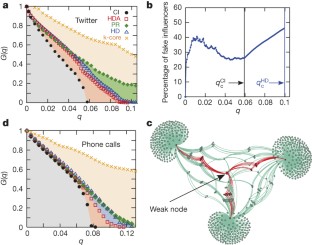 References
Domingos, P. & Richardson, M. Mining knowledge-sharing sites for viral marketing. In Proc. 8th ACM SIGKDD Int. Conf. on Knowledge Discovery and Data Mining, 61–70 (ACM, 2002); http://dx.doi.org/10.1145/775047.775057

Pastor-Satorras, R. & Vespignani, A. Epidemic spreading in scale-free networks. Phys. Rev. Lett. 86, 3200–3203 (2001)

Newman, M. E. J. Spread of epidemic disease on networks. Phys. Rev. E 66, 016128 (2002)

Kempe, D., Kleinberg, J. & Tardos, E. Maximizing the spread of influence through a social network. In Proc. 9th ACM SIGKDD Int. Conf. on Knowledge Discovery and Data Mining, 137–143 (ACM, 2003); http://dx.doi.org/10.1145/956750.956769

Newman, M. E. J. Networks: An Introduction (Oxford Univ. Press, 2010)

Freeman, L. C. Centrality in social networks: conceptual clarification. Soc. Networks 1, 215–239 (1978)

Brin, S. & Page, L. The anatomy of a large-scale hypertextual web search engine. Comput. Networks ISDN Systems 30, 107–117 (1998)

Kleinberg, J. Authoritative sources in a hyperlinked environment. In Proc. 9th ACM-SIAM Symp. on Discrete Algorithms (1998); J. Assoc. Comput. Machinery 46, 604–632 (1999)

Albert, R., Jeong, H. & Barabási, A.-L. Error and attack tolerance of complex networks. Nature 406, 378–382 (2000)

Cohen, R., Erez, K., ben-Avraham, D. & Havlin, S. Breakdown of the Internet under intentional attack. Phys. Rev. Lett. 86, 3682–3685 (2001)

Chen, Y., Paul, G., Havlin, S., Liljeros, F. & Stanley, H. E. Finding a better immunization strategy. Phys. Rev. Lett. 101, 058701 (2008)

Kitsak, M. et al. Identification of influential spreaders in complex networks. Nature Phys. 6, 888–893 (2010)

Altarelli, F., Braunstein, A., Dall'Asta, L. & Zecchina, R. Optimizing spread dynamics on graphs by message passing. J. Stat. Mech. P09011 (2013)

Altarelli, F., Braunstein, A., Dall'Asta, L., Wakeling, J. R. & Zecchina, R. Containing epidemic outbreaks by message-passing techniques. Phys. Rev. X 4, 021024 (2014)

Hashimoto, K. Zeta functions of finite graphs and representations of p-adic groups. Adv. Stud. Pure Math. 15, 211–280 (1989)

Coja-Oghlan, A., Mossel, E. & Vilenchik, D. A spectral approach to analyzing belief propagation for 3-coloring. Combin. Probab. Comput. 18, 881–912 (2009)

Granovetter, M. Threshold models of collective behavior. Am. J. Sociol. 83, 1420–1443 (1978)

Watts, D. J. A simple model of global cascades on random networks. Proc. Natl Acad. Sci. USA 99, 5766–5771 (2002)

Pei, S., Muchnik, L., Andrade, J. S., Jr, Zheng, Z. & Makse, H. A. Searching for superspreaders of information in real-world social media. Sci. Rep. 4, 5547 (2014)

Pei, S. & Makse, H. A. Spreading dynamics in complex networks. J. Stat. Mech. P12002 (2013)

Bollobás, B. & Riordan, O. Percolation (Cambridge Univ. Press, 2006)

Bianconi, G. & Dorogovtsev, S. N. Multiple percolation transitions in a configuration model of network of networks. Phys. Rev. E 89, 062814 (2014)

Karrer, B., Newman, M. E. J. & Zdeborová, L. Percolation on sparse networks. Phys. Rev. Lett. 113, 208702 (2014)

Angel, O., Friedman, J. & Hoory, S. The non-backtracking spectrum of the universal cover of a graph. Trans. Am. Math. Soc. 367, 4287–4318 (2015)

Krzakala, F. et al. Spectral redemption in clustering sparse networks. Proc. Natl Acad. Sci. USA 110, 20935–20940 (2013)

Newman, M. E. J. Spectral methods for community detection and graph partitioning. Phys. Rev. E 88, 042822 (2013)

Radicchi, F. Predicting percolation thresholds in networks. Phys. Rev. E 91, 010801(R) (2015)

Mézard, M. & Parisi, G. The cavity method at zero temperature. J. Stat. Phys. 111, 1–34 (2003)

Boettcher, S. & Percus, A. G. Optimization with extremal dynamics. Phys. Rev. Lett. 86, 5211–5214 (2001)

Granovetter, M. The strength of weak ties. Am. J. Sociol. 78, 1360–1380 (1973)
Acknowledgements
This work was funded by NIH-NIGMS 1R21GM107641 and NSF-PoLS PHY-1305476. Additional support was provided by Army Research Laboratory Cooperative Agreement Number W911NF-09-2-0053 (the ARL Network Science CTA). We thank L. Bo, S. Havlin and R. Mari for discussions and Grandata for providing the data on mobile phone calls.
Ethics declarations
Competing interests
The authors declare no competing financial interests.
Extended data figures and tables
Supplementary information
This file contains Supplementary Text and Data and Supplementary References. (PDF 1656 kb)
About this article
Cite this article
Morone, F., Makse, H. Influence maximization in complex networks through optimal percolation. Nature 524, 65–68 (2015). https://doi.org/10.1038/nature14604
Received:

Accepted:

Published:

Issue Date:

DOI: https://doi.org/10.1038/nature14604
Comments
By submitting a comment you agree to abide by our Terms and Community Guidelines. If you find something abusive or that does not comply with our terms or guidelines please flag it as inappropriate.