Abstract
Abnormal accumulation of triglycerides in the liver, caused in part by increased de novo lipogenesis, results in non-alcoholic fatty liver disease and insulin resistance1,2. Sterol regulatory element-binding protein 1 (SREBP1), an important transcriptional regulator of lipogenesis, is synthesized as an inactive precursor that binds to the endoplasmic reticulum (ER). In response to insulin signalling, SREBP1 is transported from the ER to the Golgi in a COPII-dependent manner, processed by proteases in the Golgi, and then shuttled to the nucleus to induce lipogenic gene expression3,4,5; however, the mechanisms underlying enhanced SREBP1 activity in insulin-resistant obesity and diabetes remain unclear. Here we show in mice that CREB regulated transcription coactivator 2 (CRTC2)6 functions as a mediator of mTOR7 signalling to modulate COPII-dependent SREBP1 processing. CRTC2 competes with Sec23A, a subunit of the COPII complex8, to interact with Sec31A, another COPII subunit, thus disrupting SREBP1 transport. During feeding, mTOR phosphorylates CRTC2 and attenuates its inhibitory effect on COPII-dependent SREBP1 maturation. As hepatic overexpression of an mTOR-defective CRTC2 mutant in obese mice improved the lipogenic program and insulin sensitivity, these results demonstrate how the transcriptional coactivator CRTC2 regulates mTOR-mediated lipid homeostasis in the fed state and in obesity.
Relevant articles
Open Access articles citing this article.
Hailin Tu

,

Weihang Xiong

…

Xin Lin

Nature Communications Open Access 03 November 2022

Wen Wei

,

Qiaoli Chen

…

Shuai Chen

Nature Communications Open Access 08 July 2022

Yuchen Xie

,

Songyi Ning

&

Jianpeng Hu

Journal of Cancer Research and Clinical Oncology Open Access 28 May 2022
Access options
Subscribe to Journal
Get full journal access for 1 year
$199.00
only $3.90 per issue
All prices are NET prices.
VAT will be added later in the checkout.
Tax calculation will be finalised during checkout.
Buy article
Get time limited or full article access on ReadCube.
$32.00
All prices are NET prices.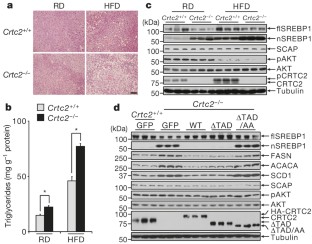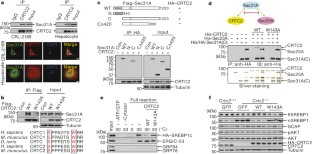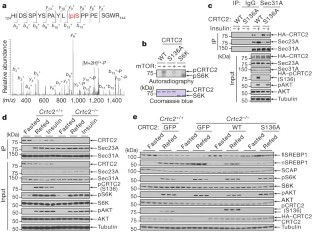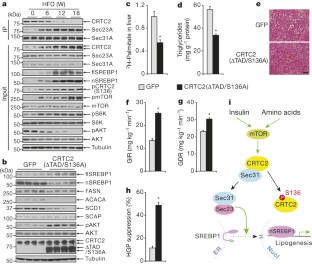 References
Samuel, V. T. & Shulman, G. I. Mechanisms for insulin resistance: common threads and missing links. Cell 148, 852–871 (2012)

Perry, R. J., Samuel, V. T., Petersen, K. F. & Shulman, G. I. The role of hepatic lipids in hepatic insulin resistance and type 2 diabetes. Nature 510, 84–91 (2014)

Yellaturu, C. R. et al. Insulin enhances post-translational processing of nascent SREBP-1c by promoting its phosphorylation and association with COPII vesicles. J. Biol. Chem. 284, 7518–7532 (2009)

Goldstein, J. L., DeBose-Boyd, R. A. & Brown, M. S. Protein sensors for membrane sterols. Cell 124, 35–46 (2006)

Horton, J. D., Goldstein, J. L. & Brown, M. S. SREBPs: activators of the complete program of cholesterol and fatty acid synthesis in the liver. J. Clin. Invest. 109, 1125–1131 (2002)

Altarejos, J. Y. & Montminy, M. CREB and the CRTC co-activators: sensors for hormonal and metabolic signals. Nature Rev. Mol. Cell Biol. 12, 141–151 (2011)

Lamming, D. W. & Sabatini, D. M. A Central role for mTOR in lipid homeostasis. Cell Metab. 18, 465–469 (2013)

Zanetti, G., Pahuja, K. B., Studer, S., Shim, S. & Schekman, R. COPII and the regulation of protein sorting in mammals. Nature Cell Biol. 14, 20–28 (2012)

Brown, M. S. & Goldstein, J. L. Selective versus total insulin resistance: a pathogenic paradox. Cell Metab. 7, 95–96 (2008)

Lin, H. V. & Accili, D. Hormonal regulation of hepatic glucose production in health and disease. Cell Metab. 14, 9–19 (2011)

Strable, M. S. & Ntambi, J. M. Genetic control of de novo lipogenesis: role in diet-induced obesity. Crit. Rev. Biochem. Mol. Biol. 45, 199–214 (2010)

Wang, Y. et al. Targeted disruption of the CREB coactivator Crtc2 increases insulin sensitivity. Proc. Natl Acad. Sci. USA 107, 3087–3092 (2010)

Song, Y. et al. CRTC3 links catecholamine signalling to energy balance. Nature 468, 933–939 (2010)

Altarejos, J. Y. et al. The Creb1 coactivator Crtc1 is required for energy balance and fertility. Nature Med. 14, 1112–1117 (2008)

Wang, Y. et al. Inositol-1,4,5-trisphosphate receptor regulates hepatic gluconeogenesis in fasting and diabetes. Nature 485, 128–132 (2012)

Wang, Y., Vera, L., Fischer, W. H. & Montminy, M. The CREB coactivator CRTC2 links hepatic ER stress and fasting gluconeogenesis. Nature 460, 534–537 (2009)

Bi, X., Mancias, J. D. & Goldberg, J. Insights into COPII coat nucleation from the structure of Sec23˙Sar1 complexed with the active fragment of Sec31. Dev. Cell 13, 635–645 (2007)

Peterson, T. R. et al. mTOR complex 1 regulates lipin 1 localization to control the SREBP pathway. Cell 146, 408–420 (2011)

Li, S., Brown, M. S. & Goldstein, J. L. Bifurcation of insulin signaling pathway in rat liver: mTORC1 required for stimulation of lipogenesis, but not inhibition of gluconeogenesis. Proc. Natl Acad. Sci. USA 107, 3441–3446 (2010)

Porstmann, T. et al. SREBP activity is regulated by mTORC1 and contributes to Akt-dependent cell growth. Cell Metab. 8, 224–236 (2008)

Yecies, J. L. et al. Akt stimulates hepatic SREBP1c and lipogenesis through parallel mTORC1-dependent and independent pathways. Cell Metab. 14, 21–32 (2011)

Hsu, P. P. et al. The mTOR-regulated phosphoproteome reveals a mechanism of mTORC1-mediated inhibition of growth factor signaling. Science 332, 1317–1322 (2011)

Khamzina, L., Veilleux, A., Bergeron, S. & Marette, A. Increased activation of the mammalian target of rapamycin pathway in liver and skeletal muscle of obese rats: possible involvement in obesity-linked insulin resistance. Endocrinology 146, 1473–1481 (2005)

Um, S. H. et al. Absence of S6K1 protects against age- and diet-induced obesity while enhancing insulin sensitivity. Nature 431, 200–205 (2004)

Shimomura, I. et al. Decreased IRS-2 and increased SREBP-1c lead to mixed insulin resistance and sensitivity in livers of lipodystrophic and ob/ob mice. Mol. Cell 6, 77–86 (2000)

Zhao, X. et al. Regulation of lipogenesis by cyclin-dependent kinase 8-mediated control of SREBP-1. J. Clin. Invest. 122, 2417–2427 (2012)

Li, P. et al. Adipocyte NCoR knockout decreases PPARγ phosphorylation and enhances PPAR activity and insulin sensitivity. Cell 147, 815–826 (2011)

Nohturfft, A., Yabe, D., Goldstein, J. L., Brown, M. S. & Espenshade, P. J. Regulated step in cholesterol feedback localized to budding of SCAP from ER membranes. Cell 102, 315–323 (2000)

Schindler, A. J. & Schekman, R. In vitro reconstitution of ER-stress induced ATF6 transport in COPII vesicles. Proc. Natl Acad. Sci. USA 106, 17775–17780 (2009)
Acknowledgements
We thank M. Montminy, W. E. Balch, L. Yu, S. Fu, P. Li, J. Wu and D. Li for discussion, and X. Liu and P. Li for technical help with lipogenesis analyses and clamp studies, respectively. This work was supported by grants from 1000 Talents Program for Young Scholars and the National Science Foundation of China (31322027, 31321003 and 31471127) to Y.W.
Ethics declarations
Competing interests
The authors declare no competing financial interests.
Extended data figures and tables
About this article
Cite this article
Han, J., Li, E., Chen, L. et al. The CREB coactivator CRTC2 controls hepatic lipid metabolism by regulating SREBP1. Nature 524, 243–246 (2015). https://doi.org/10.1038/nature14557
Received:

Accepted:

Published:

Issue Date:

DOI: https://doi.org/10.1038/nature14557
Comments
By submitting a comment you agree to abide by our Terms and Community Guidelines. If you find something abusive or that does not comply with our terms or guidelines please flag it as inappropriate.