Abstract
The clinical course of autoimmune and infectious disease varies greatly, even between individuals with the same condition. An understanding of the molecular basis for this heterogeneity could lead to significant improvements in both monitoring and treatment. During chronic infection the process of T-cell exhaustion inhibits the immune response, facilitating viral persistence1. Here we show that a transcriptional signature reflecting CD8 T-cell exhaustion is associated with poor clearance of chronic viral infection, but conversely predicts better prognosis in multiple autoimmune diseases. The development of CD8 T-cell exhaustion during chronic infection is driven both by persistence of antigen and by a lack of accessory 'help' signals. In autoimmunity, we find that where evidence of CD4 T-cell co-stimulation is pronounced, that of CD8 T-cell exhaustion is reduced. We can reproduce the exhaustion signature by modifying the balance of persistent stimulation of T-cell antigen receptors and specific CD2-induced co-stimulation provided to human CD8 T cells in vitro, suggesting that each process plays a role in dictating outcome in autoimmune disease. The 'non-exhausted' T-cell state driven by CD2-induced co-stimulation is reduced by signals through the exhaustion-associated inhibitory receptor PD-1, suggesting that induction of exhaustion may be a therapeutic strategy in autoimmune and inflammatory disease. Using expression of optimal surrogate markers of co-stimulation/exhaustion signatures in independent data sets, we confirm an association with good clinical outcome or response to therapy in infection (hepatitis C virus) and vaccination (yellow fever, malaria, influenza), but poor outcome in autoimmune and inflammatory disease (type 1 diabetes, anti-neutrophil cytoplasmic antibody-associated vasculitis, systemic lupus erythematosus, idiopathic pulmonary fibrosis and dengue haemorrhagic fever). Thus, T-cell exhaustion plays a central role in determining outcome in autoimmune disease and targeted manipulation of this process could lead to new therapeutic opportunities.
Relevant articles
Open Access articles citing this article.
Michimasa Fujiogi

,

Yoshihiko Raita

…

Kohei Hasegawa

Nature Communications Open Access 30 August 2022

Taku Kouro

,

Hidetomo Himuro

&

Tetsuro Sasada

Journal of Translational Medicine Open Access 23 May 2022

Shaopeng Sun

,

Jiajia Chen

…

Bin Lv

Scientific Reports Open Access 19 May 2022
Access options
Subscribe to Journal
Get full journal access for 1 year
$199.00
only $3.90 per issue
All prices are NET prices.
VAT will be added later in the checkout.
Tax calculation will be finalised during checkout.
Buy article
Get time limited or full article access on ReadCube.
$32.00
All prices are NET prices.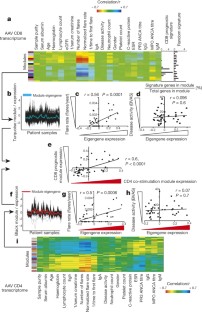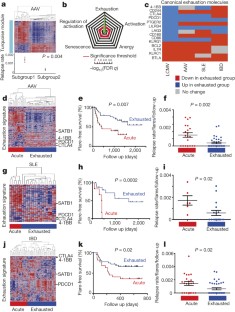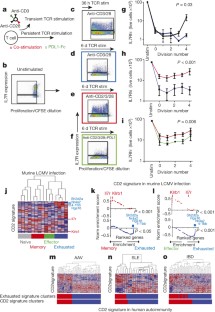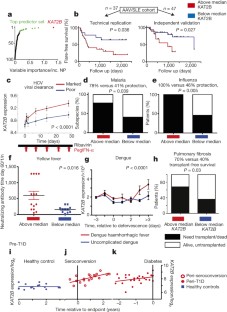 References
Wherry, E. J. T cell exhaustion. Nature Immunol. 12, 492–499 (2011)

McKinney, E. F. et al. A CD8+ T cell transcription signature predicts prognosis in autoimmune disease. Nature Med. 16, 586–591 (2010)

Lee, J. C. et al. Gene expression profiling of CD8+ T cells predicts prognosis in patients with Crohn disease and ulcerative colitis. J. Clin. Invest. 121, 4170–4179 (2011)

Baechler, E. C. et al. Interferon-inducible gene expression signature in peripheral blood cells of patients with severe lupus. Proc. Natl Acad. Sci. USA 100, 2610–2615 (2003)

West, E. E. et al. Tight regulation of memory CD8+ T cells limits their effectiveness during sustained high viral load. Immunity 35, 285–298 (2011)

Aubert, R. D. et al. Antigen-specific CD4 T-cell help rescues exhausted CD8 T cells during chronic viral infection. Proc. Natl Acad. Sci. USA 108, 21182–21187 (2011)

Urbani, S. et al. Outcome of acute hepatitis C is related to virus-specific CD4 function and maturation of antiviral memory CD8 responses. Hepatology. 44, 126–139 (2006)

Wherry, E. J. et al. Molecular signature of CD8+ T cell exhaustion during chronic viral infection. Immunity 27, 670–684 (2007)

Rangachari, M. et al. Bat3 promotes T cell responses and autoimmunity by repressing Tim-3-mediated cell death and exhaustion. Nature Med. 18, 1394–1400 (2012)

Francisco, L. M., Sage, P. T. & Sharpe, A. H. The PD-1 pathway in tolerance and autoimmunity. Immunol. Rev. 236, 219–242 (2010)

Subramanian, A. et al. Gene set enrichment analysis: a knowledge-based approach for interpreting genome-wide expression profiles. Proc. Natl Acad. Sci. USA 102, 15545–15550 (2005)

Blackburn, S. D. et al. Coregulation of CD8+ T cell exhaustion by multiple inhibitory receptors during chronic viral infection. Nature Immunol. 10, 29–37 (2009)

Sevilla, N. et al. Immunosuppression and resultant viral persistence by specific viral targeting of dendritic cells. J. Exp. Med. 192, 1249–1260 (2000)

Virgin, H. W., Wherry, E. J. & Ahmed, R. Redefining chronic viral infection. Cell 138, 30–50 (2009)

Gubin, M. M. et al. Checkpoint blockade cancer immunotherapy targets tumour-specific mutant antigens. Nature 515, 577–581 (2014)

Baitsch, L. et al. Exhaustion of tumor-specific CD8+ T cells in metastases from melanoma patients. J. Clin. Invest. 121, 2350–2360 (2011)

Lang, K. S. et al. Inverse correlation between IL-7 receptor expression and CD8 T cell exhaustion during persistent antigen stimulation. Eur. J. Immunol. 35, 738–745 (2005)

Mueller, S. N. & Ahmed, R. High antigen levels are the cause of T cell exhaustion during chronic viral infection. Proc. Natl Acad. Sci. USA 106, 8623–8628 (2009)

Barber, D. L. et al. Restoring function in exhausted CD8 T cells during chronic viral infection. Nature 439, 682–687 (2006)

Lyons, P. A. et al. Microarray analysis of human leucocyte subsets: the advantages of positive selection and rapid purification. BMC Genom. 8, 64 (2007)

Taylor, M. W. et al. Changes in gene expression during pegylated interferon and ribavirin therapy of chronic hepatitis C virus distinguish responders from nonresponders to antiviral therapy. J. Virol. 81, 3391–3401 (2007)

Lauer, G. M. et al. Full-breadth analysis of CD8+ T-cell responses in acute hepatitis C virus infection and early therapy. J. Virol. 79, 12979–12988 (2005)

Vahey, M. T. et al. Expression of genes associated with immunoproteasome processing of major histocompatibility complex peptides is indicative of protection with adjuvanted RTS,S malaria vaccine. J. Infect. Dis. 201, 580–589 (2010)

Nakaya, H. I. et al. Systems biology of vaccination for seasonal influenza in humans. Nature Immunol. 12, 786–795 (2010)

Querec, T. D. et al. Systems biology approach predicts immunogenicity of the yellow fever vaccine in humans. Nature Immunol. 10, 116–125 (2009)

Hoang, L. T. et al. The early whole-blood transcriptional signature of dengue virus and features associated with progression to dengue shock syndrome in Vietnamese children and young adults. J. Virol. 84, 12982–12994 (2010)

Shum, A. K. et al. BPIFB1 is a lung-specific autoantigen associated with interstitial lung disease. Sci. Translat. Med. 5, 206ra139 (2013)

Herazo-Maya, J. D. et al. Peripheral blood mononuclear cell gene expression profiles predict poor outcome in idiopathic pulmonary fibrosis. Sci. Translat. Med. 5, 205ra136 (2013)

Kodama, K. et al. Tissue- and age-specific changes in gene expression during disease induction and progression in NOD mice. Clin. Immunol. 129, 195–201 (2008)

Elo, L. L. et al. Early suppression of immune response pathways characterizes children with prediabetes in genome-wide gene expression profiling. J. Autoimmun. 35, 70–76 (2010)

Stone, J. H. et al. A disease-specific activity index for Wegener's granulomatosis: modification of the Birmingham Vasculitis Activity Score. International Network for the Study of the Systemic Vasculitides (INSSYS). Arthritis Rheum. 44, 912–920 (2001)

Tan, E. M. et al. The 1982 revised criteria for the classification of systemic lupus erythematosus. Arthritis Rheum. 25, 1271–1277 (1982)

Isenberg, D. A. et al. BILAG 2004. Development and initial validation of an updated version of the British Isles Lupus Assessment Group's disease activity index for patients with systemic lupus erythematosus. Rheumatology 44, 902–906 (2005)

Silverberg, M. S. et al. Toward an integrated clinical, molecular and serological classification of inflammatory bowel disease: report of a Working Party of the 2005 Montreal World Congress of Gastroenterology. Can. J. Gastroenterol. 19, 5A–36A (2005)

Harvey, R. F. & Bradshaw, M. J. Measuring Crohn's disease activity. Lancet i, 1134–1135 (1980)

Walmsley, R. S., Ayres, R. C., Pounder, R. E. & Allan, R. N. A simple clinical colitis activity index. Gut 43, 29–32 (1998)

Whitney, A. R. et al. Individuality and variation in gene expression patterns in human blood. Proc. Natl Acad. Sci. USA 100, 1896–1901 (2003)

Le Brigand, K. et al. An open-access long oligonucleotide microarray resource for analysis of the human and mouse transcriptomes. Nucleic Acids Res. 34, e87 (2006)

Smyth, G. K. Linear models and empirical bayes methods for assessing differential expression in microarray experiments. Stat. Appl. Genet. Mol. Biol. 3, 3 (2004)

Gentleman, R. C. et al. Bioconductor: open software development for computational biology and bioinformatics. Genome Biol. 5, R80 (2004)

Huber, W., von Heydebreck, A., Sultmann, H., Poustka, A. & Vingron, M. Variance stabilization applied to microarray data calibration and to the quantification of differential expression. Bioinformatics 18 (Suppl. 1). S96–S104 (2002)

Kauffmann, A., Gentleman, R. & Huber, W. arrayQualityMetrics–a bioconductor package for quality assessment of microarray data. Bioinformatics 25, 415–416 (2009)

Johnson, W. E., Li, C. & Rabinovic, A. Adjusting batch effects in microarray expression data using empirical Bayes methods. Biostatistics 8, 118–127 (2007)

Eisen, M. B., Spellman, P. T., Brown, P. O. & Botstein, D. Cluster analysis and display of genome-wide expression patterns. Proc. Natl Acad. Sci. USA 95, 14863–14868 (1998)

Renshaw, B. R. et al. Humoral immune responses in CD40 ligand-deficient mice. J. Exp. Med. 180, 1889–1900 (1994)

Langfelder, P. & Horvath, S. WGCNA: an R package for weighted correlation network analysis. BMC Bioinformat. 9, 559 (2008)

Barabasi, A. L. & Albert, R. Emergence of scaling in random networks. Science 286, 509–512 (1999)

Langfelder, P. & Horvath, S. Eigengene networks for studying the relationships between co-expression modules. BMC Syst. Biol. 1, 54 (2007)

van der Laan, M. J. & Pollard, K. S. A new algorithm for hybrid hierarchical clustering with visualization and the bootstrap. J. Stat. Plann. Inf. 117, 275–303 (2002)

Ingenuity Pathway Analysis (Ingenuity Systems, 2003)

Breiman, L. Random forests. Machine Learn. J. 45, 5–32 (2001)

Gentleman, R. et al. Bioinformatics and Computational Biology Solutions Using R and Bioconductor (Springer, 2005)

Cramp, M. E. et al. Hepatitis C virus-specific T-cell reactivity during interferon and ribavirin treatment in chronic hepatitis C. Gastroenterology 118, 346–355 (2000)

Bienkowska, J. R. et al. Convergent random forest predictor: methodology for predicting drug response from genome-scale data applied to anti-TNF response. Genomics 94, 423–432 (2009)

Toonen, E. J. et al. Validation study of existing gene expression signatures for anti-TNF treatment in patients with rheumatoid arthritis. PLoS ONE 7, e33199 (2012)
Acknowledgements
This work was supported by The National Institute of Health Research (NIHR), Cambridge Biomedical Research Centre and funded by the Wellcome Trust (project 094227/Z/10/Z and program grants 083650/Z/07/Z), a Lister Prize Fellowship (K.G.C.S) and the Lupus Research Institute (Distinguished Innovator Award, K.G.C.S). E.F.M. is a Wellcome–Beit Research Fellow supported by the Wellcome Trust and Beit Foundation (104064/Z/14/Z). The Cambridge Institute for Medical Research is in receipt of a Wellcome Trust Strategic Award (079895). We thank A. Kaser and J. Todd for reviewing the manuscript, staff of the NIHR Cambridge Biomedical Research Centre Cell Phenotyping hub and the patients who provided samples.
Ethics declarations
Competing interests
The authors declare no competing financial interests.
Extended data figures and tables
Supplementary information
About this article
Cite this article
McKinney, E., Lee, J., Jayne, D. et al. T-cell exhaustion, co-stimulation and clinical outcome in autoimmunity and infection. Nature 523, 612–616 (2015). https://doi.org/10.1038/nature14468
Received:

Accepted:

Published:

Issue Date:

DOI: https://doi.org/10.1038/nature14468
Comments
By submitting a comment you agree to abide by our Terms and Community Guidelines. If you find something abusive or that does not comply with our terms or guidelines please flag it as inappropriate.