Abstract
Coherent manipulation of quantum systems with light is expected to be a cornerstone of future information and communication technology, including quantum computation and cryptography1. The transfer of an optical phase onto a quantum wavefunction is a defining aspect of coherent interactions and forms the basis of quantum state preparation, synchronization and metrology. Light-phase-modulated electron states near atoms and molecules are essential for the techniques of attosecond science, including the generation of extreme-ultraviolet pulses and orbital tomography2,3. In contrast, the quantum-coherent phase-modulation of energetic free-electron beams has not been demonstrated, although it promises direct access to ultrafast imaging and spectroscopy with tailored electron pulses on the attosecond scale. Here we demonstrate the coherent quantum state manipulation of free-electron populations in an electron microscope beam. We employ the interaction of ultrashort electron pulses with optical near-fields4,5,6,7,8,9 to induce Rabi oscillations in the populations of electron momentum states, observed as a function of the optical driving field. Excellent agreement with the scaling of an equal-Rabi multilevel quantum ladder is obtained10, representing the observation of a light-driven 'quantum walk'5 coherently reshaping electron density in momentum space11. We note that, after the interaction, the optically generated superposition of momentum states evolves into a train of attosecond electron pulses. Our results reveal the potential of quantum control for the precision structuring of electron densities, with possible applications ranging from ultrafast electron spectroscopy and microscopy to accelerator science and free-electron lasers.
Relevant articles
Open Access articles citing this article.
Rudolf Haindl

,

Kerim Köster

…

Claus Ropers

Applied Physics B Open Access 15 February 2023

Shengzhe Pan

,

Chenxi Hu

…

Feng He

Light: Science & Applications Open Access 02 February 2023

Saikat Nandi

,

Edvin Olofsson

…

Jan Marcus Dahlström

Nature Open Access 17 August 2022
Access options
Subscribe to this journal
Receive 51 print issues and online access
$199.00 per year
only $3.90 per issue
Rent or buy this article
Get just this article for as long as you need it
$39.95
Prices may be subject to local taxes which are calculated during checkout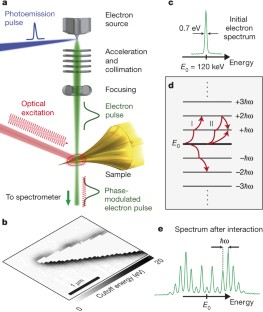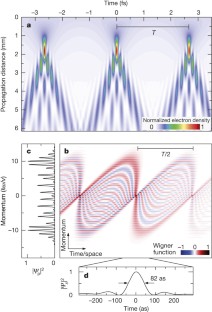 References
Bouwmeester, D., Ekert, A. & Zeilinger, A. The Physics of Quantum Information (Springer, 2000)

Krausz, F. & Ivanov, M. Attosecond physics. Rev. Mod. Phys. 81, 163–234 (2009)

Itatani, J. et al. Tomographic imaging of molecular orbitals. Nature 432, 867–871 (2004)

Barwick, B., Flannigan, D. J. & Zewail, A. H. Photon-induced near-field electron microscopy. Nature 462, 902–906 (2009)

García de Abajo, F. J., Asenjo-Garcia, A. & Kociak, M. Multiphoton absorption and emission by interaction of swift electrons with evanescent light fields. Nano Lett. 10, 1859–1863 (2010)

Park, S. T., Lin, M. & Zewail, A. H. Photon-induced near-field electron microscopy (PINEM): theoretical and experimental. New J. Phys. 12, 123028 (2010)

Kirchner, F. O., Gliserin, A., Krausz, F. & Baum, P. Laser streaking of free electrons at 25 keV. Nature Photon. 8, 52–57 (2013)

Peralta, E. A. et al. Demonstration of electron acceleration in a laser-driven dielectric microstructure. Nature 503, 91–94 (2013)

Breuer, J. & Hommelhoff, P. Laser-based acceleration of nonrelativistic electrons at a dielectric structure. Phys. Rev. Lett. 111, 134803 (2013)

Shore, B. W. & Eberly, J. H. Analytic approximations in multi-level excitation theory. Opt. Commun. 24, 83–88 (1978)

Bouwmeester, D., Marzoli, I., Karman, G., Schleich, W. & Woerdman, J. Optical Galton board. Phys. Rev. A 61, 013410 (1999)

García de Abajo, F. J. Optical excitations in electron microscopy. Rev. Mod. Phys. 82, 209–275 (2010)

Hemsing, E., Stupakov, G., Xiang, D. & Zholents, A. Beam by design: laser manipulation of electrons in modern accelerators. Rev. Mod. Phys. 86, 897–941 (2014)

Krüger, M., Schenk, M. & Hommelhoff, P. Attosecond control of electrons emitted from a nanoscale metal tip. Nature 475, 78–81 (2011)

Herink, G., Solli, D. R., Gulde, M. & Ropers, C. Field-driven photoemission from nanostructures quenches the quiver motion. Nature 483, 190–193 (2012)

Wimmer, L. et al. Terahertz control of nanotip photoemission. Nature Phys. 10, 432–436 (2014)

Schiffrin, A. et al. Optical-field-induced current in dielectrics. Nature 493, 70–74 (2012)

Piglosiewicz, B. et al. Carrier-envelope phase effects on the strong-field photoemission of electrons from metallic nanostructures. Nature Photon. 8, 37–42 (2013)

Stockman, M. I., Kling, M. F., Kleineberg, U. & Krausz, F. Attosecond nanoplasmonic-field microscope. Nature Photon. 1, 539–544 (2007)

Kapitza, P. L. & Dirac, P. M. The reflection of electrons from standing light waves. Math. Proc. Camb. Phil. Soc. 29, 297–300 (1933)

Freimund, D. L., Aflatooni, K. & Batelaan, H. Observation of the Kapitza-Dirac effect. Nature 413, 142–143 (2001)

Smith, S. & Purcell, E. Visible light from localized surface charges moving across a grating. Phys. Rev. 92, 1069 (1953)

Mizuno, K., Pae, J., Nozokido, T. & Furuya, K. Experimental evidence of the inverse Smith-Purcell effect. Nature 328, 45–47 (1987)

Flannigan, D. J., Barwick, B. & Zewail, A. H. Biological imaging with 4D ultrafast electron microscopy. Proc. Natl Acad. Sci. USA 107, 9933–9937 (2010)

Yurtsever, A., van der Veen, R. M. & Zewail, A. H. Subparticle ultrafast spectrum imaging in 4D electron microscopy. Science 335, 59–64 (2012)

Ropers, C., Solli, D. R., Schulz, C. P., Lienau, C. & Elsaesser, T. Localized multiphoton emission of femtosecond electron pulses from metal nanotips. Phys. Rev. Lett. 98, 043907 (2007)

Hommelhoff, P., Kealhofer, C. & Kasevich, M. A. Ultrafast electron pulses from a tungsten tip triggered by low-power femtosecond laser pulses. Phys. Rev. Lett. 97, 247402 (2006)

Gulde, M. et al. Ultrafast low-energy electron diffraction in transmission resolves polymer/graphene superstructure dynamics. Science 345, 200–204 (2014)

Moharam, M. G. & Young, L. Criterion for Bragg and Raman-Nath diffraction regimes. Appl. Opt. 17, 1757–1759 (1978)

Baum, P. & Zewail, A. H. Attosecond electron pulses for 4D diffraction and microscopy. Proc. Natl Acad. Sci. USA 104, 18409–18414 (2007)

Case, W. B., Tomandl, M., Deachapunya, S. & Arndt, M. Realization of optical carpets in the Talbot and Talbot-Lau configurations. Opt. Express 17, 20966–20974 (2009)

Harris, S. E. & Sokolov, A. V. Subfemtosecond pulse generation by molecular modulation. Phys. Rev. Lett. 81, 2894–2897 (1998)

Mandel, L. & Wolf, E. Optical Coherence and Quantum Optics (Cambridge Univ. Press, 1995)

Park, S. T., Kwon, O.-H. & Zewail, A. H. Chirped imaging pulses in four-dimensional electron microscopy: femtosecond pulsed hole burning. New J. Phys. 14, 053046 (2012)

Plemmons, D., Park, S. T., Zewail, A. H. & Flannigan, D. J. Characterization of fast photoelectron packets in weak and strong laser fields in ultrafast electron microscopy. Ultramicroscopy 146, 97–102 (2014)

Egerton, R. F. Electron energy-loss spectroscopy in the TEM. Rep. Prog. Phys. 72, 016502 (2009)

Schmidt, S. et al. Adiabatic nanofocusing on ultrasmooth single-crystalline gold tapers creates a 10-nm-sized light source with few-cycle time resolution. ACS Nano 6, 6040–6048 (2012)

Ibe, J. et al. On the electrochemical etching of tips for scanning tunneling microscopy. J. Vac. Sci. Technol. A 8, 3570–3575 (1990)

Asenjo-Garcia, A. & García de Abajo, F. J. Plasmon electron energy-gain spectroscopy. New J. Phys. 15, 103021 (2013)

Park, S. T. & Zewail, A. H. Relativistic effects in photon-induced near field electron microscopy. J. Phys. Chem. A 116, 11128–11133 (2012)

Schäfer, J., Lee, S.-C. & Kienle, A. Calculation of the near fields for the scattering of electromagnetic waves by multiple infinite cylinders at perpendicular incidence. J. Quant. Spectrosc. Radiat. Transf. 113, 2113–2123 (2012)

Piazza, L. et al. Simultaneous observation of the quantization and the interference pattern of a plasmonic near-field. Nature Comm. 6, 6407 (2015)
Acknowledgements
We thank M. Sivis and B. Schröder for help with sample preparation. We also thank our colleagues within the Göttingen UTEM initiative (C. Jooß, M. Münzenberg, K. Samwer, M. Seibt, C.A. Volkert). This work was supported by the Deutsche Forschungsgemeinschaft (DFG-SFB 1073/project A05), the VolkswagenStiftung, and the Lower Saxony Ministry of Science and Culture. We thank JEOL Ltd and JEOL Germany for their continuing support during the development of the Göttingen Ultrafast Transmission Electron Microscope.
Ethics declarations
Competing interests
The authors declare no competing financial interests.
Extended data figures and tables
About this article
Cite this article
Feist, A., Echternkamp, K., Schauss, J. et al. Quantum coherent optical phase modulation in an ultrafast transmission electron microscope. Nature 521, 200–203 (2015). https://doi.org/10.1038/nature14463
Received:

Accepted:

Published:

Issue Date:

DOI: https://doi.org/10.1038/nature14463
Comments
By submitting a comment you agree to abide by our Terms and Community Guidelines. If you find something abusive or that does not comply with our terms or guidelines please flag it as inappropriate.