Abstract
Deregulated expression of the MYC transcription factor occurs in most human cancers and correlates with high proliferation, reprogrammed cellular metabolism and poor prognosis1. Overexpressed MYC binds to virtually all active promoters within a cell, although with different binding affinities2,3,4, and modulates the expression of distinct subsets of genes1,2,4,5. However, the critical effectors of MYC in tumorigenesis remain largely unknown. Here we show that during lymphomagenesis in Eµ-myc transgenic mice, MYC directly upregulates the transcription of the core small nuclear ribonucleoprotein particle assembly genes, including Prmt5, an arginine methyltransferase that methylates Sm proteins6,7. This coordinated regulatory effect is critical for the core biogenesis of small nuclear ribonucleoprotein particles, effective pre-messenger-RNA splicing, cell survival and proliferation. Our results demonstrate that MYC maintains the splicing fidelity of exons with a weak 5′ donor site. Additionally, we identify pre-messenger-RNAs that are particularly sensitive to the perturbation of the MYC–PRMT5 axis, resulting in either intron retention (for example, Dvl1) or exon skipping (for example, Atr, Ep400). Using antisense oligonucleotides, we demonstrate the contribution of these splicing defects to the anti-proliferative/apoptotic phenotype observed in PRMT5-depleted Eµ-myc B cells. We conclude that, in addition to its well-documented oncogenic functions in transcription2,3,4,5 and translation8, MYC also safeguards proper pre-messenger-RNA splicing as an essential step in lymphomagenesis.
Access options
Subscribe to this journal
Receive 51 print issues and online access
$199.00 per year
only $3.90 per issue
Rent or buy this article
Prices vary by article type
from$1.95
to$39.95
Prices may be subject to local taxes which are calculated during checkout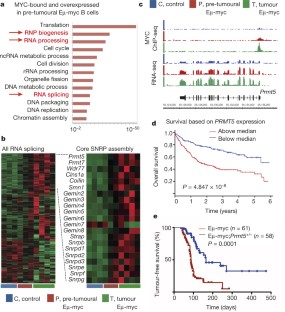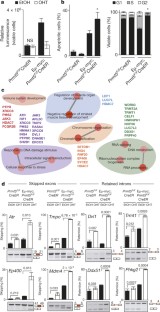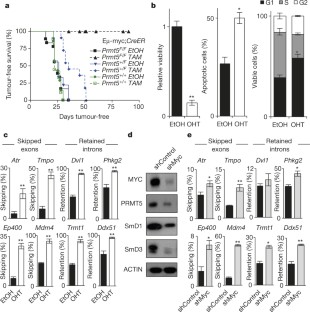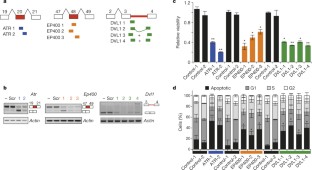 Similar content being viewed by others
References
Dang, C. & McMahon, S. B. Emerging concepts in the analysis of transcriptional targets of the MYC oncoprotein: are the targets targetable? Genes Cancer 1, 560–567 (2010)

Guccione, E. et al. Myc-binding-site recognition in the human genome is determined by chromatin context. Nature Cell Biol. 8, 764–770 (2006)

Lin, C. Y. et al. Transcriptional amplification in tumor cells with elevated c-Myc. Cell 151, 56–67 (2012)

Sabo, A. et al. Selective transcriptional regulation by Myc in cellular growth control and lymphomagenesis. Nature 511, 488–492 (2014)

Walz, S. et al. Activation and repression by oncogenic MYC shape tumour-specific gene expression profiles. Nature 511, 483–487 (2014)

Meister, G. et al. Methylation of Sm proteins by a complex containing PRMT5 and the putative U snRNP assembly factor pICln. Curr. Biol. 11, 1990–1994 (2001)

Bezzi, M. et al. Regulation of constitutive and alternative splicing by PRMT5 reveals a role for Mdm4 pre-mRNA in sensing defects in the spliceosomal machinery. Genes Dev. 27, 1903–1916 (2013)

Barna, M. et al. Suppression of Myc oncogenic activity by ribosomal protein haploinsufficiency. Nature 456, 971–975 (2008)

Papaemmanuil, E. et al. Somatic SF3B1 mutation in myelodysplasia with ring sideroblasts. N. Engl. J. Med. 365, 1384–1395 (2011)

Yoshida, K. et al. Frequent pathway mutations of splicing machinery in myelodysplasia. Nature 478, 64–69 (2011)

Damm, F. et al. Mutations affecting mRNA splicing define distinct clinical phenotypes and correlate with patient outcome in myelodysplastic syndromes. Blood 119, 3211–3218 (2012)

Bonnal, S., Vigevani, L. & Valcarcel, J. The spliceosome as a target of novel antitumour drugs. Nature Rev. Drug Discov. 11, 847–859 (2012)

Friesen, W. J. et al. The methylosome, a 20S complex containing JBP1 and pICln, produces dimethylarginine-modified Sm proteins. Mol. Cell. Biol. 21, 8289–8300 (2001)

Hubert, C. G. et al. Genome-wide RNAi screens in human brain tumor isolates reveal a novel viability requirement for PHF5A. Genes Dev. 27, 1032–1045 (2013)

Tee, W. W. et al. Prmt5 is essential for early mouse development and acts in the cytoplasm to maintain ES cell pluripotency. Genes Dev. 24, 2772–2777 (2010)

Harris, A. W. et al. The E mu-myc transgenic mouse. A model for high-incidence spontaneous lymphoma and leukemia of early B cells. J. Exp. Med. 167, 353–371 (1988)

Hemann, M. T. et al. Evasion of the p53 tumour surveillance network by tumour-derived MYC mutants. Nature 436, 807–811 (2005)

Murga, M. et al. Exploiting oncogene-induced replicative stress for the selective killing of Myc-driven tumors. Nature Struct. Mol. Biol. 18, 1331–1335 (2011)

Frank, S. R. et al. MYC recruits the TIP60 histone acetyltransferase complex to chromatin. EMBO Rep. 4, 575–580 (2003)

Fujii, T., Ueda, T., Nagata, S. & Fukunaga, R. Essential role of p400/mDomino chromatin-remodeling ATPase in bone marrow hematopoiesis and cell-cycle progression. J. Biol. Chem. 285, 30214–30223 (2010)

Ge, X. & Wang, X. Role of Wnt canonical pathway in hematological malignancies. J. Hematol. Oncol. 3, 33 (2010)

Pramono, Z. A., Yee, W. C., Lai, P. S. & Wee, K. B. Antisense oligonucleotides and uses thereof. WO Patent WO/2011/078,797.

David, C. J., Chen, M., Assanah, M., Canoll, P. & Manley, J. L. HnRNP proteins controlled by c-Myc deregulate pyruvate kinase mRNA splicing in cancer. Nature 463, 364–368 (2010)

Anczukow, O. et al. The splicing factor SRSF1 regulates apoptosis and proliferation to promote mammary epithelial cell transformation. Nature Struct. Mol. Biol. 19, 220–228 (2012)

Das, S., Anczukow, O., Akerman, M. & Krainer, A. R. Oncogenic splicing factor SRSF1 is a critical transcriptional target of MYC. Cell Rep. 1, 110–117 (2012)

Hameyer, D. et al. Toxicity of ligand-dependent Cre recombinases and generation of a conditional Cre deleter mouse allowing mosaic recombination in peripheral tissues. Physiol. Genom. 31, 32–41 (2007)

Eischen, C. M., Weber, J. D., Roussel, M. F., Sherr, C. J. & Cleveland, J. L. Disruption of the ARF-Mdm2-p53 tumor suppressor pathway in Myc-induced lymphomagenesis. Genes Dev. 13, 2658–2669 (1999)

Schmitt, C. A. & Lowe, S. W. Bcl-2 mediates chemoresistance in matched pairs of primary E(mu)-myc lymphomas in vivo. Blood Cells Mol. Dis. 27, 206–216 (2001)

Huang D. W, Sherman, B. T. & Lempicki, R. A. Systematic and integrative analysis of large gene lists using DAVID bioinformatics resources. Nature Protocols 4, 44–57 (2009)

Schmidt-Supprian, M. & Rajewsky, K. Vagaries of conditional gene targeting. Nature Immunol. 8, 665–668 (2007)

Schmitt, C. A. & Lowe, S. W. Bcl-2 mediates chemoresistance in matched pairs of primary E(mu)-myc lymphomas in vivo. Blood Cells Mol. Dis. 27, 206–216 (2001)

Wee, K. B. et al. Dynamics of co-transcriptional pre-mRNA folding influences the induction of dystrophin exon skipping by antisense oligonucleotides. PloS One 3, e1844 (2008)

Pramono, Z. A. et al. A prospective study in the rational design of efficient antisense oligonucleotides for exon skipping in the DMD gene. Hum. Gene Ther. 23, 781–790 (2012)

Pao, P. W., Wee, K. B., Yee, W. C. & Dwipramono, Z. A. Dual masking of specific negative splicing regulatory elements resulted in maximal exon 7 inclusion of SMN2 gene. Mol. Ther. 22, 854–861 (2014)
Acknowledgements
We thank S. Campaner, M. Pelizzola, D. Messerschmidt and P. R. Kaldis for sharing protocols and for discussions; F. B. M. Ibrahim and V. S. Y. Tay for help with histopathology work; BRC Shared Facilities for technical support; D. Bararia for help in the fluorescence-activated cell sorting analysis. We are grateful to X. Ruan, W. Soon and the GIS Genome Sequencing Team for help with the Solexa high-throughput sequencing, and to the entire E.G. laboratory for discussion. This work was supported by an AGA-SINGA (SINgapore Graduate Award) fellowship to M.B. and by IMCB, A-STAR. E.G. acknowledges support from JCO-ASTAR grants 1134c001 and 11/03/FG/07/04. B.A. acknowledges support from the European Research Council, the Italian health ministry and the Italian Association for Cancer Research (AIRC).
Ethics declarations
Competing interests
The authors declare no competing financial interests.
Additional information
RNA-seq and microarray datasets generated in this study have been deposited in Gene Expression Omnibus database in the Superseries GSE61638.
Extended data figures and tables
Supplementary information
This file contains a Supplementary Discussion and additional references. (PDF 236 kb)
This file contains Supplementary Tables 1-6. (XLSX 1250 kb)
About this article
Cite this article
Koh, C., Bezzi, M., Low, D. et al. MYC regulates the core pre-mRNA splicing machinery as an essential step in lymphomagenesis. Nature 523, 96–100 (2015). https://doi.org/10.1038/nature14351
Received:

Accepted:

Published:

Issue Date:

DOI: https://doi.org/10.1038/nature14351
Comments
By submitting a comment you agree to abide by our Terms and Community Guidelines. If you find something abusive or that does not comply with our terms or guidelines please flag it as inappropriate.