Abstract
Plate tectonics successfully describes the surface of Earth as a mosaic of moving lithospheric plates. But it is not clear what happens at the base of the plates, the lithosphere–asthenosphere boundary (LAB). The LAB has been well imaged with converted teleseismic waves1,2, whose 10–40-kilometre wavelength controls the structural resolution. Here we use explosion-generated seismic waves (of about 0.5-kilometre wavelength) to form a high-resolution image for the base of an oceanic plate that is subducting beneath North Island, New Zealand. Our 80-kilometre-wide image is based on P-wave reflections and shows an approximately 15° dipping, abrupt, seismic wave-speed transition (less than 1 kilometre thick) at a depth of about 100 kilometres. The boundary is parallel to the top of the plate and seismic attributes indicate a P-wave speed decrease of at least 8 ± 3 per cent across it. A parallel reflection event approximately 10 kilometres deeper shows that the decrease in P-wave speed is confined to a channel at the base of the plate, which we interpret as a sheared zone of ponded partial melts or volatiles. This is independent, high-resolution evidence for a low-viscosity channel at the LAB that decouples plates from mantle flow beneath, and allows plate tectonics to work.
This is a preview of subscription content
Access options
Subscribe to Journal
Get full journal access for 1 year
$199.00
only $3.90 per issue
All prices are NET prices.
VAT will be added later in the checkout.
Tax calculation will be finalised during checkout.
Buy article
Get time limited or full article access on ReadCube.
$32.00
All prices are NET prices.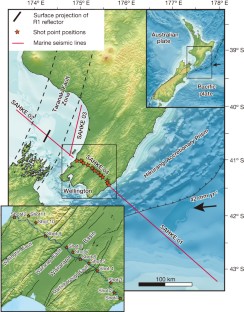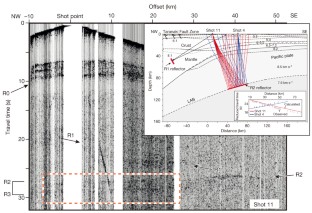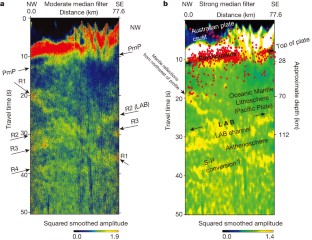 References
Rychert, C. A., Rondenay, S. & Fischer, K. M. P-to-S and S-to-P imaging of a sharp lithosphere-asthenosphere boundary beneath eastern North America. J. Geophys. Res. 112, B08314 (2007)

Kawakatsu, H. et al. Seismic evidence for sharp lithosphere-asthenosphere boundaries of oceanic plates. Science 324, 499–502 (2009)

Parsons, B. & McKenzie, D. Mantle convection and the thermal structure of plates. J. Geophys. Res. 83, 4485–4496 (1978)

Watts, A. B. Isostasy and Flexure of the Lithosphere (Cambridge Univ. Press, 2001)

Fischer, K. M., Ford, H. A., Abt, D. L. & Rychert, C. A. The lithosphere-asthenosphere boundary. Annu. Rev. Earth Planet. Sci. 38, 551–575 (2010)

Naif, S., Key, K., Constable, S. & Evans, R. L. Melt-rich channel observed at the lithosphere–asthenosphere boundary. Nature 495, 356–359 (2013)

Olugboji, T. M., Karato, S. & Park, J. Structures of the oceanic lithosphere-asthenosphere boundary: mineral-physics modeling and seismological signatures. Geochem. Geophys. Geosyst. 14, 880–901 (2013)

Jarchow, C. M., Goodwin, E. B. & Catchings, R. D. Are large explosive sources applicable to resource exploration? Leading Edge (Tulsa Okla.) 9, 12–17 (1990)

Steer, D. N., Knapp, J. H. & Brown, L. D. Super deep reflection profiling: exploring the continental mantle lid. Tectonophysics 286, 111–121 (1998)

Henrys, S. A. et al. SAHKE geophysical transect reveals crustal and subduction zone structure at the southern Hikurangi margin, New Zealand. Geochem. Geophys. Geosyst. 14, 2063–2083 (2013)

Lamb, S. H. Cenozoic tectonic evolution of the New Zealand plate-boundary zone: a paleomagnetic perspective. Tectonophysics 509, 135–164 (2011)

Reyners, M., Eberhart-Phillips, D., Stuart, G. & Nishimura, Y. Imaging subduction from the trench to 300 km depth beneath the central North Island, New Zealand, with Vp and Vp/Vs. Geophys. J. Int. 165, 565–583 (2006)

Eberhart-Phillips, D., Reyners, M., Chadwick, M. & Chiu, J.-M. Crustal heterogeneity and subduction processes: 3-D Vp, Vp/Vs and Q in the southern North Island, New Zealand. Geophys. J. Int. 162, 270–288 (2005)

Warner, M. Free water and seismic reflectivity in the lower continental crust. J. Geophys. Eng. 1, 88–101 (2004)

Bostock, M. G. Seismic waves converted from velocity gradient anomalies in the Earth's upper mantle. Geophys. J. Int. 138, 747–756 (1999)

Zhou, H. Practical Seismic Data Analysis (Cambridge Univ. Press, 2014)

Sheriff, R. E. & Geldart, L. P. Exploration Seismology 2nd edn (Cambridge Univ. Press, 1995)

Warner, M. & McGeary, S. E. Seismic reflection coefficients from mantle fault zones. Geophys. J. Int. 89, 223–230 (1987)

Hacker, B. R., Abers, G. A. & Peacock, S. M. Subduction factory 1. Theoretical mineralogy, densities, seismic wave speeds, and H2O contents. J. Geophys. Res. 108 (B1). 2029 (2003)

Yamamoto, J., Korenaga, J., Hirano, N. & Kagi, H. Melt-rich lithosphere-asthenosphere boundary inferred from petit-spot volcanoes. Geology 42, 967–970 (2014)

Sakamaki, T. et al. Ponded melt at the boundary between the lithosphere and asthenosphere. Nature Geosci. 6, 1041–1044 (2013)

Hirth, G. & Kohlstedt, D. L. Water in the oceanic upper mantle: implications for rheology, melt extraction and the evolution of the lithosphere. Earth Planet. Sci. Lett. 144, 93–108 (1996)

Hammond, W. C. & Humphreys, E. D. Upper mantle seismic wave velocity: effects of realistic partial melt geometries. J. Geophys. Res. 105, 10975–10986 (2000)

Gripp, A. E. & Gordon, R. G. Young tracks of hotspots and current plate velocities. Geophys. J. Int. 150, 321–361 (2002)

Hall, C. E. & Parmentier, E. M. Spontaneous melt localization in a deforming solid with viscosity variations due to water weakening. Geophys. Res. Lett. 27, 9–12 (2000)

Lie, J., Pederson, T. & Husebye, E. S. Observations of seismic reflectors in the lower lithosphere beneath the Skagerrak. Nature 346, 165–168 (1990)

Richardson, R. M. Ridge forces, absolute plate motions, and the intraplate stress field. J. Geophys. Res. 97, 11739–11748 (1992)

Savage, M., Park, J. & Todd, H. Velocity and anisotropy structure of the Hikurangi subduction margin, New Zealand, from receiver functions. Geophys. J. Int. 168, 1034–1050 (2007)

Duncan, G. & Beresford, G. Median filter behaviour with seismic data. Geophys. Prospect. 43, 329–345 (1995)

Taylor, J. R. An Introduction to Error Analysis 2nd edn (University Science Books, 1997)

Menke, W., Levin, V. & Sethi, R. Seismic attenuation in the crust at the mid-Atlantic plate boundary in south-west Iceland. Geophys. J. Int. 122, 175–182 (1995)

Badley, M. E. Practical Seismic Interpretation (International Human Resources Development Corporation, 1985)

Williams, C. A. et al. Revised interface geometry for the Hikurangi Subduction Zone, New Zealand. Seismol. Res. Lett. 84, 1066–1073 (2013)

Seward, A. et al. Seismic Array HiKurangi Experiment II (SAHKE II) (Onshore Active Source Acquisition Report no. 2011/50, GNS Science, Lower Hutt, 2011)

Larsen, S. & Schultz, A. ELAS3D:2D/3D Elastic Finite-difference Wave Propagation Code (Lawrence Livermore National Laboratory Technical Report UCRL-MA-121792, 1995)
Acknowledgements
The SAHKE project was supported by public research funding from the Government of New Zealand, the Japanese Science and Technology Agency, and the National Science Foundation (NSF OCE-1061557). Explosives and technical support was provided by Orica New Zealand Ltd. Individual land owners, Greater Wellington Regional Council, Transpower, and forestry companies allowed us onto their land. The IRIS/Passcal instrument pool provided the land instruments and technical support. We thank colleagues E. Smith and W. Stratford for comments on initial versions of this paper.
Ethics declarations
Competing interests
The authors declare no competing financial interests.
Extended data figures and tables
About this article
Cite this article
Stern, T., Henrys, S., Okaya, D. et al. A seismic reflection image for the base of a tectonic plate. Nature 518, 85–88 (2015). https://doi.org/10.1038/nature14146
Received:

Accepted:

Published:

Issue Date:

DOI: https://doi.org/10.1038/nature14146
Comments
By submitting a comment you agree to abide by our Terms and Community Guidelines. If you find something abusive or that does not comply with our terms or guidelines please flag it as inappropriate.