Abstract
Low-molecular-mass thiols in organisms are well known for their redox-relevant role in protection against various endogenous and exogenous stresses1,2,3. In eukaryotes and Gram-negative bacteria, the primary thiol is glutathione (GSH), a cysteinyl-containing tripeptide. In contrast, mycothiol (MSH), a cysteinyl pseudo-disaccharide, is dominant in Gram-positive actinobacteria, including antibiotic-producing actinomycetes and pathogenic mycobacteria. MSH is equivalent to GSH, either as a cofactor or as a substrate, in numerous biochemical processes4, most of which have not been characterized, largely due to the dearth of information concerning MSH-dependent proteins. Actinomycetes are able to produce another thiol, ergothioneine (EGT), a histidine betaine derivative that is widely assimilated by plants and animals for variable physiological activities5. The involvement of EGT in enzymatic reactions, however, lacks any precedent. Here we report that the unprecedented coupling of two bacterial thiols, MSH and EGT, has a constructive role in the biosynthesis of lincomycin A, a sulfur-containing lincosamide (C8 sugar) antibiotic that has been widely used for half a century to treat Gram-positive bacterial infections6,7,8,9. EGT acts as a carrier to template the molecular assembly, and MSH is the sulfur donor for lincomycin maturation after thiol exchange. These thiols function through two unusual S-glycosylations that program lincosamide transfer, activation and modification, providing the first paradigm for EGT-associated biochemical processes and for the poorly understood MSH-dependent biotransformations, a newly described model that is potentially common in the incorporation of sulfur, an element essential for life and ubiquitous in living systems.
Access options
Subscribe to Journal
Get full journal access for 1 year
$199.00
only $3.90 per issue
All prices are NET prices.
VAT will be added later in the checkout.
Rent or Buy article
Get time limited or full article access on ReadCube.
from$8.99
All prices are NET prices.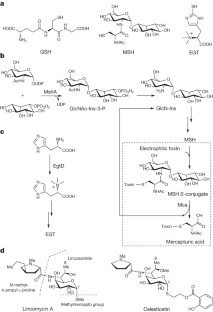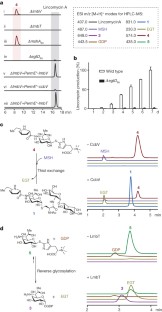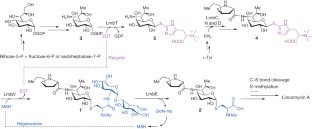 References
1

Fahey, R. C. Glutathione analogs in prokaryotes. Biochim. Biophys. Acta 1830, 3182–3198 (2013)

2

Deponte, M. Glutathione catalysis and the reaction mechanisms of glutathione-dependent enzymes. Biochim. Biophys. Acta 1830, 3217–3266 (2013)

3

Newton, G. L. et al. Bacillithiol is an antioxidant thiol produced in Bacilli. Nature Chem. Biol. 5, 625–627 (2009)

4

Rawat, M. & Av-Gay, Y. Mycothiol-dependent proteins in actinomycetes. FEMS Microbiol. Rev. 31, 278–292 (2007)

5

Cheah, I. K. & Halliwell, B. Ergothioneine; antioxidant potential, physiological function and role in disease. Biochim. Biophys. Acta 1822, 784–793 (2012)

6

Mason, D. J., Dietz, A. & DeBoer, C. Lincomycin, a new antibiotic. I. Discovery and biological properties. Antimicrob. Agents Chemother. 554–559 (1962)

7

Herr, R. R. & Bergy, M. E. Lincomycin, a new antibiotic. II. Isolation and characterization. Antimicrob. Agents Chemother. 560–554 (1962)

8

Lewis, C., Clapp, H. W. & Grady, J. E. In vitro and in vivo evaluation of lincomycin, a new antibiotic. Antimicrob. Agents Chemother. 570–582 (1963)

9

Mason, D. J. & Lewis, C. Biological activity of the lincomycin related antibiotics. Antimicrob. Agents Chemother. 7–12 (1964)

10

Newton, G. L., Buchmeier, N. & Fahey, R. C. Biosynthesis and functions of mycothiol, the unique protective thiol of Actinobacteria. Microbiol. Mol. Biol. Rev. 72, 471–494 (2008)

11

Jothivasan, V. K. & Hamilton, C. J. Mycothiol: synthesis, biosynthesis and biological functions of the major low molecular weight thiol in actinomycetes. Nature Prod. Rep. 25, 1091–1117 (2008)

12

Fan, F., Vetting, M. W., Frantom, P. A. & Blanchard, J. S. Structures and mechanisms of the mycothiol biosynthetic enzymes. Curr. Opin. Chem. Biol. 13, 451–459 (2009)

13

Reusser, F. Effect of lincomycin and clindamycin on peptide chain initiation. Antimicrob. Agents Chemother. 7, 32–37 (1975)

14

Wilson, D. N. Ribosome-targeting antibiotics and mechanisms of bacterial resistance. Nature Rev. Microbiol. 12, 35–48 (2014)

15

Peschke, U., Schmidt, H., Zhang, H.-Z. & Piepersberg, W. Molecular characterization of the lincomycin-production gene cluster of Streptomyces lincolnensis 78–11. Mol. Microbiol. 16, 1137–1156 (1995)

16

Koběrská, M. et al. Sequence analysis and heterologous expression of the lincomycin biosynthetic cluster of the type strain Streptomyces lincolnensis ATCC 25466. Folia Microbiol. 53, 395–401 (2008)

17

Scharf, D. H. et al. Epidithiol formation by an unprecedented twin carbon-sulfur lyase in the gliotoxin. Angew. Chem. Int. Ed. 124, 10211–10215 (2012)

18

Cooper, A. J. L. et al. Cysteine S-conjugate β-lyases: important roles in the metabolism of naturally occurring sulfur and selenium-containing compounds, exnobiotics, and anticancer agents. Amino Acids 41, 7–27 (2011)

19

Brahme, N. M. et al. Biosynthesis of the lincomycins. 2. Studies using stable isotopes on the biosynthesis of methylthiolincosaminide moiety of lincomycin A. J. Am. Chem. Soc. 106, 7878–7883 (1984)

20

Sasaki, E., Lin, C.-I., Lin, K.-Y. & Liu, H.-w. Construction of the octose 8-phosphate intermediate in lincomycin A biosynthesis: characterization of the reactions catalyzed by LmbR and LmbN. J. Am. Chem. Soc. 134, 17432–17435 (2012)

21

Lin, C.-I., Sasaki, E., Zhong, A. & Liu, H.-w. In vitro characterization of LmbK and LmbO: identification of GDP-D-erythro-α-D-gluco-octose as a key intermediate in lincomycin A biosynthesis. J. Am. Chem. Soc. 136, 906–909 (2014)

22

Newton, G. I., Leung, S. S., Wakabayashi, J. I., Rawat, M. & Fahey, R. C. The DinB superfamily includes novel mycothiol, bacillithiol, and glutathione S-transferases. Biochemistry 50, 10751–10760 (2011)

23

Feng, J. et al. The gene ncgl2918 encodes a novel maleylpyruvate isomerase that needs mycothiol as cofactor and links mycothiol biosynthesis and gentisate assimilation in Corynebacterium glutamicum. J. Biol. Chem. 281, 10778–10785 (2006)

24

Wang, R. et al. Crystal structures and site-directed mutagenesis of a mycothiol-dependent enzyme reveal a novel folding and molecular basis for mycothiol-mediated maleylpyruvate isomerization. J. Biol. Chem. 282, 16288–16294 (2007)

25

Seebeck, F. P. In vitro reconstitution of mycobacterial ergothioneine biosynthesis. J. Am. Chem. Soc. 132, 6632–6633 (2010)

26

Čermák, L. et al. Hybridization analysis and mapping of the celesticetin gene cluster revealed genes shared with lincomycin biosynthesis. Folia Microbiol. 52, 457–462 (2007)

27

Zhang, C. et al. Exploiting the reversibility of natural product glycosyltransferase- catalyzed reactions. Science 313, 1291–1294 (2006)

28

Kadlčík, S. et al. Adaptation of an l-proline adenylation domain to use 4-propyl-l-proline in the evolution of lincosamide biosynthesis. PLoS ONE 8, e84902 (2013)

29

Gantt, R. W., Peltier-Pain, P. & Thorson, J. S. Enzymatic methods for glyco (diversification/randomization) of drugs and small molecules. Natural Prod. Rep. 28, 1811–1853 (2011)

30

Sasaki, E. et al. Co-opting sulphur-carrier proteins from primary metabolic pathways for 2-thiosugar biosynthesis. Nature 510, 427–431 (2014)

31

Kieser, T. et al. Practical Streptomyces Genetics (John Innes Foundation, 2000)

32

Green, M. R. & Sambrook, J. Molecular Cloning: A Laboratory Manual 4th edn (Cold Spring Harbor Laboratory Press, 2012)

33

Fahey, R. C. & Newton, G. L. Determination of low molecular weight thiols using monobromobimane fluorescent labeling and high-performance liquid chromatography. Methods Enzymol. 143, 85–96 (1987)

34

Zhang, C. et al. Exploiting the reversibility of natural product glycosyltransferase- catalyzed reactions. Science 313, 1291–1294 (2006)

35

Lee, S. & Rossaza, J. P. First total synthesis of mycothiol and mycothiol disulfide. Org. Lett. 6, 365–368 (2004)

36

Ajayi, K., Thakur, V. V., Lapo, R. C. & Knapp, S. Intramolecular α-glucosaminidation: synthesis of mycothiol. Org. Lett. 12, 2630–2633 (2010)
Acknowledgements
This work was supported in part by grants from NSFC (81302674, 31430005, 91213303, 21472231 and 91413101), STCSM (14JC1407700 and 13XD1404500) and MST (2012AA02A706) of China.
Ethics declarations
Competing interests
The authors declare no competing financial interests.
Extended data figures and tables
Supplementary information
About this article
Cite this article
Zhao, Q., Wang, M., Xu, D. et al. Metabolic coupling of two small-molecule thiols programs the biosynthesis of lincomycin A. Nature 518, 115–119 (2015). https://doi.org/10.1038/nature14137
Received:

Accepted:

Published:

Issue Date:
Comments
By submitting a comment you agree to abide by our Terms and Community Guidelines. If you find something abusive or that does not comply with our terms or guidelines please flag it as inappropriate.