Abstract
Proper positioning of organelles by cytoskeleton-based motor proteins underlies cellular events such as signalling, polarization and growth1,2,3,4,5,6,7,8. For many organelles, however, the precise connection between position and function has remained unclear, because strategies to control intracellular organelle positioning with spatiotemporal precision are lacking. Here we establish optical control of intracellular transport by using light-sensitive heterodimerization to recruit specific cytoskeletal motor proteins (kinesin, dynein or myosin) to selected cargoes. We demonstrate that the motility of peroxisomes, recycling endosomes and mitochondria can be locally and repeatedly induced or stopped, allowing rapid organelle repositioning. We applied this approach in primary rat hippocampal neurons to test how local positioning of recycling endosomes contributes to axon outgrowth and found that dynein-driven removal of endosomes from axonal growth cones reversibly suppressed axon growth, whereas kinesin-driven endosome enrichment enhanced growth. Our strategy for optogenetic control of organelle positioning will be widely applicable to explore site-specific organelle functions in different model systems.
Relevant articles
Open Access articles citing this article.
Xiaofeng Sun

,

Chengjian Zhou

…

Xi Chen

Nature Communications Open Access 24 March 2023

Ana Fernandez-Nicolas

,

Alicia Uchida

…

Mamiko Yajima

Nature Communications Open Access 20 April 2022

James O. Meyer

&

Annette C. Dolphin

Scientific Reports Open Access 13 May 2021
Access options
Subscribe to this journal
Receive 51 print issues and online access
$199.00 per year
only $3.90 per issue
Rent or buy this article
Prices vary by article type
from$1.95
to$39.95
Prices may be subject to local taxes which are calculated during checkout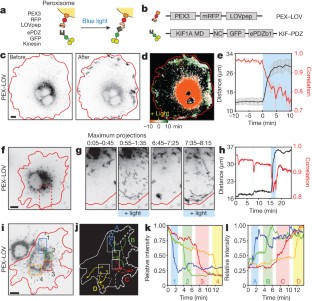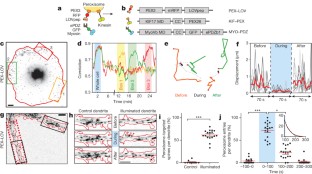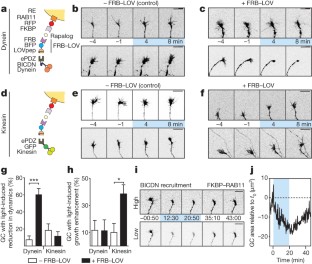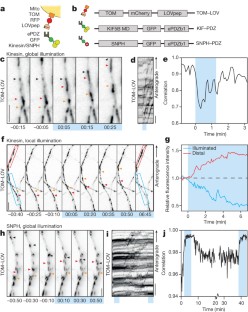 References
Vale, R. D. The molecular motor toolbox for intracellular transport. Cell 112, 467–480 (2003)

Sheng, Z. H. & Cai, Q. Mitochondrial transport in neurons: impact on synaptic homeostasis and neurodegeneration. Nature Rev. Neurosci. 13, 77–93 (2012)

Korolchuk, V. I. et al. Lysosomal positioning coordinates cellular nutrient responses. Nature Cell Biol. 13, 453–460 (2011)

Yadav, S. & Linstedt, A. D. Golgi positioning. Cold Spring Harb. Perspect. Biol. http://dx.doi.org/10.1101/cshperspect.a005322 (2011)

Sadowski, L., Pilecka, I. & Miaczynska, M. Signaling from endosomes: location makes a difference. Exp. Cell Res. 315, 1601–1609 (2009)

Ori-McKenney, K. M., Jan, L. Y. & Jan, Y. N. Golgi outposts shape dendrite morphology by functioning as sites of acentrosomal microtubule nucleation in neurons. Neuron 76, 921–930 (2012)

Spillane, M., Ketschek, A., Merianda, T. T., Twiss, J. L. & Gallo, G. Mitochondria coordinate sites of axon branching through localized intra-axonal protein synthesis. Cell Rep. 5, 1564–1575 (2013)

Courchet, J. et al. Terminal axon branching is regulated by the LKB1-NUAK1 kinase pathway via presynaptic mitochondrial capture. Cell 153, 1510–1525 (2013)

Golachowska, M. R., Hoekstra, D. & van IJzendoorn, S. C. Recycling endosomes in apical plasma membrane domain formation and epithelial cell polarity. Trends Cell Biol. 20, 618–626 (2010)

Higuchi, Y., Ashwin, P., Roger, Y. & Steinberg, G. Early endosome motility spatially organizes polysome distribution. J. Cell Biol. 204, 343–357 (2014)

Eva, R. et al. ARF6 directs axon transport and traffic of integrins and regulates axon growth in adult DRG neurons. J. Neurosci. 32, 10352–10364 (2012)

Eva, R. et al. Rab11 and its effector Rab coupling protein contribute to the trafficking of β1 integrins during axon growth in adult dorsal root ganglion neurons and PC12 cells. J. Neurosci. 30, 11654–11669 (2010)

Kennedy, M. J. et al. Rapid blue-light-mediated induction of protein interactions in living cells. Nature Methods 7, 973–975 (2010)

Strickland, D. et al. TULIPs: tunable, light-controlled interacting protein tags for cell biology. Nature Methods 9, 379–384 (2012)

Kapitein, L. C. et al. Probing intracellular motor protein activity using an inducible cargo trafficking assay. Biophys. J. 99, 2143–2152 (2010)

Kapitein, L. C. et al. Myosin-V opposes microtubule-based cargo transport and drives directional motility on cortical actin. Curr. Biol. 23, 828–834 (2013)

Correia, S. S. et al. Motor protein-dependent transport of AMPA receptors into spines during long-term potentiation. Nature Neurosci. 11, 457–466 (2008)

Wagner, W., Brenowitz, S. D. & Hammer, J. A., III Myosin-Va transports the endoplasmic reticulum into the dendritic spines of Purkinje neurons. Nature Cell Biol. 13, 40–48 (2011)

Wang, Z. et al. Myosin Vb mobilizes recycling endosomes and AMPA receptors for postsynaptic plasticity. Cell 135, 535–548 (2008)

Hammer, J. A., III & Wagner, W. Functions of class V myosins in neurons. J. Biol. Chem. 288, 28428–28434 (2013)

Bhuin, T. & Roy, J. K. Rab11 is required for embryonic nervous system development in Drosophila. Cell Tissue Res. 335, 349–356 (2009)

Encalada, S. E. & Goldstein, L. S. Biophysical challenges to axonal transport: motor-cargo deficiencies and neurodegeneration. Ann. Rev. Biophy. 43, 141–169 (2014)

Sheng, Z. H. Mitochondrial trafficking and anchoring in neurons: new insight and implications. J. Cell Biol. 204, 1087–1098 (2014)

Sun, T., Qiao, H., Pan, P. Y., Chen, Y. & Sheng, Z. H. Motile axonal mitochondria contribute to the variability of presynaptic strength. Cell Rep. 4, 413–419 (2013)

Chen, Y. & Sheng, Z. H. Kinesin-1-syntaphilin coupling mediates activity-dependent regulation of axonal mitochondrial transport. J. Cell Biol. 202, 351–364 (2013)

Kang, J. S. et al. Docking of axonal mitochondria by syntaphilin controls their mobility and affects short-term facilitation. Cell 132, 137–148 (2008)

Niopek, D. et al. Engineering light-inducible nuclear localization signals for precise spatiotemporal control of protein dynamics in living cells. Nat. Commun. 5, 4404 (2014)

Bradke, F., Fawcett, J. W. & Spira, M. E. Assembly of a new growth cone after axotomy: the precursor to axon regeneration. Nature Rev. Neurosci. 13, 183–193 (2012)

Shaner, N. C. et al. Improving the photostability of bright monomeric orange and red fluorescent proteins. Nature Methods 5, 545–551 (2008)

Miyamoto, T. et al. Rapid and orthogonal logic gating with a gibberellin-induced dimerization system. Nature Chem. Biol. 8, 465–470 (2012)

Hoogenraad, C. C. et al. Neuron specific Rab4 effector GRASP-1 coordinates membrane specialization and maturation of recycling endosomes. PLoS Biol. 8, e1000283 (2010)

Peden, A. A. et al. The RCP-Rab11 complex regulates endocytic protein sorting. Mol. Biol. Cell 15, 3530–3541 (2004)

Schlager, M. A. et al. Pericentrosomal targeting of Rab6 secretory vesicles by Bicaudal-D-related protein 1 (BICDR-1) regulates neuritogenesis. EMBO J. 29, 1637–1651 (2010)

Honnappa, S. et al. An EB1-binding motif acts as a microtubule tip localization signal. Cell 138, 366–376 (2009)

De Paola, V., Arber, S. & Caroni, P. AMPA receptors regulate dynamic equilibrium of presynaptic terminals in mature hippocampal networks. Nature Neurosci. 6, 491–500 (2003)

Kapitein, L. C., Yau, K. W. & Hoogenraad, C. C. Microtubule dynamics in dendritic spines. Methods Cell Biol. 97, 111–132 (2010)

Meijering, E., Dzyubachyk, O. & Smal, I. Methods for cell and particle tracking. Methods Enzymol. 504, 183–200 (2012)

Russ, J. C. The Image Processing Handbook 5th edn (CRC/Taylor and Francis, 2007)
Acknowledgements
We are grateful to C. Tucker, T. Inoue, Z.-H. Sheng, G. Banker, R. Prekeris, P. Schätzle and M. Esteves da Silva for sharing reagents and to C. Wierenga and A. Akhmanova for discussions. This research is supported by the Dutch Technology Foundation STW and the Foundation for Fundamental Research on Matter (FOM), which are part of the Netherlands Organisation for Scientific Research (NWO). Additional support came from NWO (NWO-ALW-VICI to C.C.H and NWO-ALW-VIDI to L.C.K.) and the European Research Council (ERC starting grant to L.C.K.).
Ethics declarations
Competing interests
The authors declare no competing financial interests.
Extended data figures and tables
Supplementary information
About this article
Cite this article
van Bergeijk, P., Adrian, M., Hoogenraad, C. et al. Optogenetic control of organelle transport and positioning. Nature 518, 111–114 (2015). https://doi.org/10.1038/nature14128
Received:

Accepted:

Published:

Issue Date:

DOI: https://doi.org/10.1038/nature14128
Comments
By submitting a comment you agree to abide by our Terms and Community Guidelines. If you find something abusive or that does not comply with our terms or guidelines please flag it as inappropriate.