Abstract
Functional regeneration after nervous system injury requires transected axons to reconnect with their original target tissue. Axonal fusion, a spontaneous regenerative mechanism identified in several species, provides an efficient means of achieving target reconnection as a regrowing axon is able to contact and fuse with its own separated axon fragment, thereby re-establishing the original axonal tract1,2,3,4,5,6,7. Here we report a molecular characterization of this process in Caenorhabditis elegans, revealing dynamic changes in the subcellular localization of the EFF-1 fusogen after axotomy, and establishing phosphatidylserine (PS) and the PS receptor (PSR-1) as critical components for axonal fusion. PSR-1 functions cell-autonomously in the regrowing neuron and, instead of acting in its canonical signalling pathway8, acts in a parallel phagocytic pathway that includes the transthyretin protein TTR-52, as well as CED-7, NRF-5 and CED-6 (refs 9, 10, 11, 12). We show that TTR-52 binds to PS exposed on the injured axon, and can restore fusion several hours after injury. We propose that PS functions as a 'save-me' signal for the distal fragment, allowing conserved apoptotic cell clearance molecules to function in re-establishing axonal integrity during regeneration of the nervous system.
Access options
Subscribe to Journal
Get full journal access for 1 year
$199.00
only $3.90 per issue
All prices are NET prices.
VAT will be added later in the checkout.
Rent or Buy article
Get time limited or full article access on ReadCube.
from$8.99
All prices are NET prices.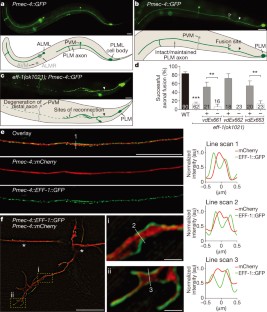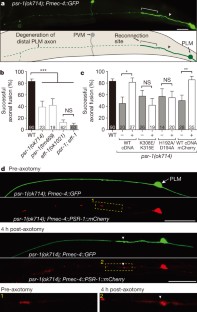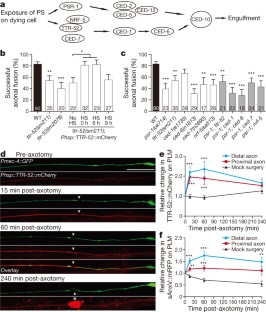 References
1

Bedi, S. S. & Glanzman, D. L. Axonal rejoining inhibits injury-induced long-term changes in Aplysia sensory neurons in vitro . J. Neurosci. 21, 9667–9677 (2001)

2

Birse, S. C. & Bittner, G. D. Regeneration of giant axons in earthworms. Brain Res. 113, 575–581 (1976)

3

Deriemer, S. A., Elliott, E. J., Macagno, E. R. & Muller, K. J. Morphological evidence that regenerating axons can fuse with severed axon segments. Brain Res. 272, 157–161 (1983)

4

Ghosh-Roy, A., Wu, Z., Goncharov, A., Jin, Y. & Chisholm, A. D. Calcium and cyclic AMP promote axonal regeneration in Caenorhabditis elegans and require DLK-1 kinase. J. Neurosci. 30, 3175–3183 (2010)

5

Hoy, R. R., Bittner, G. D. & Kennedy, D. Regeneration in crustacean motoneurons: evidence for axonal fusion. Science 156, 251–252 (1967)

6

Macagno, E. R., Muller, K. J. & DeRiemer, S. A. Regeneration of axons and synaptic connections by touch sensory neurons in the leech central nervous system. J. Neurosci. 5, 2510–2521 (1985)

7

Neumann, B., Nguyen, K. C., Hall, D. H., Ben-Yakar, A. & Hilliard, M. A. Axonal regeneration proceeds through specific axonal fusion in transected C. elegans neurons. Dev. Dyn. 240, 1365–1372 (2011)

8

Wang, X. et al. Cell corpse engulfment mediated by C. elegans phosphatidylserine receptor through CED-5 and CED-12. Science 302, 1563–1566 (2003)

9

Liu, Q. A. & Hengartner, M. O. Candidate adaptor protein CED-6 promotes the engulfment of apoptotic cells in C. elegans . Cell 93, 961–972 (1998)

10

Wang, X. et al. Caenorhabditis elegans transthyretin-like protein TTR-52 mediates recognition of apoptotic cells by the CED-1 phagocyte receptor. Nature Cell Biol. 12, 655–664 (2010)

11

Wu, Y. C. & Horvitz, H. R. The C. elegans cell corpse engulfment gene ced-7 encodes a protein similar to ABC transporters. Cell 93, 951–960 (1998)

12

Zhang, Y., Wang, H., Kage-Nakadai, E., Mitani, S. & Wang, X. C. elegans secreted lipid-binding protein NRF-5 mediates PS appearance on phagocytes for cell corpse engulfment. Curr. Biol. 22, 1276–1284 (2012)

13

Pérez-Vargas, J. et al. Structural basis of eukaryotic cell–cell fusion. Cell 157, 407–419 (2014)

14

Zeev-Ben-Mordehai, T., Vasishtan, D., Siebert, C. A. & Grunewald, K. The full-length cell–cell fusogen EFF-1 is monomeric and upright on the membrane. Nat. Commun. 5, 3912 (2014)

15

Mohler, W. A. et al. The type I membrane protein EFF-1 is essential for developmental cell fusion. Dev. Cell 2, 355–362 (2002)

16

Podbilewicz, B. Cell fusion. WormBook http://dx.doi.org/10.1895/wormbook.1.52.1 (2006)

17

Oren-Suissa, M., Hall, D. H., Treinin, M., Shemer, G. & Podbilewicz, B. The fusogen EFF-1 controls sculpting of mechanosensory dendrites. Science 328, 1285–1288 (2010)

18

Fadok, V. A. et al. Exposure of phosphatidylserine on the surface of apoptotic lymphocytes triggers specific recognition and removal by macrophages. J. Immunol. 148, 2207–2216 (1992)

19

Fadok, V. A. et al. A receptor for phosphatidylserine-specific clearance of apoptotic cells. Nature 405, 85–90 (2000)

20

Yang, H. et al. A lysine-rich motif in the phosphatidylserine receptor PSR-1 mediates recognition and removal of apoptotic cells. Nat. Commun. http://dx.doi.org/10.1038/ncomms6717 (in the press)

21

Chang, B., Chen, Y., Zhao, Y. & Bruick, R. K. JMJD6 is a histone arginine demethylase. Science 318, 444–447 (2007)

22

Hong, X. et al. Interaction of JMJD6 with single-stranded RNA. Proc. Natl Acad. Sci. USA 107, 14568–14572 (2010)

23

Webby, C. J. et al. Jmjd6 catalyses lysyl-hydroxylation of U2AF65, a protein associated with RNA splicing. Science 325, 90–93 (2009)

24

Gumienny, T. L. et al. CED-12/ELMO, a novel member of the CrkII/Dock180/Rac pathway, is required for phagocytosis and cell migration. Cell 107, 27–41 (2001)

25

Reddien, P. W. & Horvitz, H. R. CED-2/CrkII and CED-10/Rac control phagocytosis and cell migration in Caenorhabditis elegans . Nature Cell Biol. 2, 131–136 (2000)

26

Wu, Y. C. & Horvitz, H. R. C. elegans phagocytosis and cell-migration protein CED-5 is similar to human DOCK180. Nature 392, 501–504 (1998)

27

Zhou, Z., Hartwieg, E. & Horvitz, H. R. CED-1 is a transmembrane receptor that mediates cell corpse engulfment in C. elegans . Cell 104, 43–56 (2001)

28

Mapes, J. et al. CED-1, CED-7, and TTR-52 regulate surface phosphatidylserine expression on apoptotic and phagocytic cells. Curr. Biol. 22, 1267–1275 (2012)

29

Hammarlund, M., Jorgensen, E. M. & Bastiani, M. J. Axons break in animals lacking β-spectrin. J. Cell Biol. 176, 269–275 (2007)

30

Hammarlund, M., Nix, P., Hauth, L., Jorgensen, E. M. & Bastiani, M. Axon regeneration requires a conserved MAP kinase pathway. Science 323, 802–806 (2009)

31

Brenner, S. The genetics of Caenorhabditis elegans . Genetics 77, 71–94 (1974)

32

Zou, W. et al. Caenorhabditis elegans myotubularin MTM-1 negatively regulates the engulfment of apoptotic cells. PLoS Genet. 5, e1000679 (2009)

33

Procko, C., Lu, Y. & Shaham, S. Glia delimit shape changes of sensory neuron receptive endings in C. elegans . Development 138, 1371–1381 (2011)

34

Neumann, B. & Hilliard, M. A. Loss of MEC-17 leads to microtubule instability and axonal degeneration. Cell Rep. 6, 93–103 (2014)

35

Mitani, S., Du, H., Hall, D. H., Driscoll, M. & Chalfie, M. Combinatorial control of touch receptor neuron expression in Caenorhabditis elegans . Development 119, 773–783 (1993)
Acknowledgements
We thank L. Hammond and S. Roy for support with microscopy; R. Tweedale for comments on the manuscript; P. Bazzicalupo, D. Hall, K. Nguyen, and members of the Hilliard laboratory for discussions and comments; and E. Jorgensen, S. Shaham and X. Wang for sharing reagents. Some strains were provided by the CGC, which is funded by NIH Office of Research Infrastructure Programs (P40 OD010440), and the International C. elegans Gene Knockout Consortium. This work was supported by NHMRC Project Grants 631634 and 1068871, NIH R01 NS060129, and ARC Future Fellowship FT110100097 to M.A.H.; NIH grants GM059083, GM079097 and GM088241 to D.X.; HFSPO Fellowship LT000762/2012 to R.G.S.; Australian Postgraduate Award to S.C.; The University of Queensland Research Scholarship to C.L.; and ARC LIEF grant LE130100078 for microscopy.
Ethics declarations
Competing interests
The authors declare no competing financial interests.
Extended data figures and tables
Supplementary information
This file contains Supplementary Tables 1-2, a Supplementary Discussion and Supplementary References. (PDF 186 kb)
About this article
Cite this article
Neumann, B., Coakley, S., Giordano-Santini, R. et al. EFF-1-mediated regenerative axonal fusion requires components of the apoptotic pathway. Nature 517, 219–222 (2015). https://doi.org/10.1038/nature14102
Received:

Accepted:

Published:

Issue Date:
Comments
By submitting a comment you agree to abide by our Terms and Community Guidelines. If you find something abusive or that does not comply with our terms or guidelines please flag it as inappropriate.