Abstract
The manufacture of geometric engravings is generally interpreted as indicative of modern cognition and behaviour1. Key questions in the debate on the origin of such behaviour are whether this innovation is restricted to Homo sapiens, and whether it has a uniquely African origin1. Here we report on a fossil freshwater shell assemblage from the Hauptknochenschicht ('main bone layer') of Trinil (Java, Indonesia), the type locality of Homo erectus discovered by Eugène Dubois in 1891 (refs 2 and 3). In the Dubois collection (in the Naturalis museum, Leiden, The Netherlands) we found evidence for freshwater shellfish consumption by hominins, one unambiguous shell tool, and a shell with a geometric engraving. We dated sediment contained in the shells with 40Ar/39Ar and luminescence dating methods, obtaining a maximum age of 0.54 ± 0.10 million years and a minimum age of 0.43 ± 0.05 million years. This implies that the Trinil Hauptknochenschicht is younger than previously estimated. Together, our data indicate that the engraving was made by Homo erectus, and that it is considerably older than the oldest geometric engravings described so far4,5. Although it is at present not possible to assess the function or meaning of the engraved shell, this discovery suggests that engraving abstract patterns was in the realm of Asian Homo erectus cognition and neuromotor control.
Access options
Subscribe to Journal
Get full journal access for 1 year
$199.00
only $3.90 per issue
All prices are NET prices.
VAT will be added later in the checkout.
Rent or Buy article
Get time limited or full article access on ReadCube.
from$8.99
All prices are NET prices.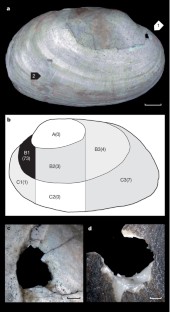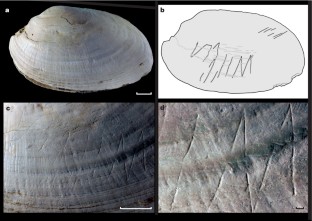 References
1

d'Errico, F. & Stringer, C. B. Evolution, revolution or saltation scenario for the emergence of modern cultures? Phil. Trans. R. Soc. B 366, 1060–1069 (2011)

2

Dubois, E. Pithecanthropus Erectus, Eine Menschenähnliche Übergangsform aus Java (Landesdruckerei, 1894)

3

Dubois, E. Das geologische Alter der Kendeng- oder Trinil-fauna. Tijdschr. Kon. Ned. Aardr. Gen. 25, 1235–1270 (1908)

4

Henshilwood, C. S., d'Errico, F. & Watts, I. Engraved ochres from the Middle Stone Age levels at Blombos Cave, South Africa. J. Hum. Evol. 57, 27–47 (2009)

5

d'Errico, F., García Moreno, R. & Rifkin, R. F. Technological, elemental and colorimetric analysis of an engraved ochre fragment from the Middle Stone Age levels of Klasies River Cave 1, South Africa. J. Archaeol. Sci. 39, 942–952 (2012)

6

Joordens, J. C. A., Wesselingh, F. P., de Vos, J., Vonhof, H. B. & Kroon, D. Relevance of aquatic environments for hominins: a case study from Trinil (Java, Indonesia). J. Hum. Evol. 57, 656–671 (2009)

7

Huffman, O. F. et al. Volcanic mountains, river valleys and sea coasts—the paleoenvironment of Homo erectus in eastern Java (Indonesia). Quat. Int. Spec. Issue XVIII INQUA Congr. (21st–27th July, 2011, Bern) (eds Schlüchter C. & Nietlispach, J. ) 279–280, 210 (2012)

8

Antczak, A. & Mackowiak de Antczak, M. M. in Caribbean Marine Biodiversity: The Known and Unknown (eds P. Miloslavich & E. Klein ) 213–245 (DEStech, 2005)

9

Choi, K. & Driwantoro, D. Shell tool use by early members of Homo erectus in Sangiran, central Java, Indonesia: cut mark evidence. J. Archaeol. Sci. 34, 48–58 (2007)

10

Dennell, R. The Palaeolithic Settlement of Asia (Cambridge Univ. Press, 2009)

11

Larick, R. et al. Early Pleistocene 40Ar/39Ar ages for Bapang Formation hominins, Central Jawa, Indonesia. Proc. Natl Acad. Sci. USA 98, 4866–4871 (2001)

12

Joordens, J. C. A. et al. Improved age control on early Homo fossils from the upper Burgi Member at Koobi Fora, Kenya. J. Hum. Evol. 65, 731–745 (2013)

13

Hyodo, M. et al. High-resolution record of the Matuyama–Brunhes transition constrains the age of Javanese Homo erectus in the Sangiran dome, Indonesia. Proc. Natl Acad. Sci. USA 108, 19563–19568 (2011)

14

Indriati, E. et al. The age of the 20 Meter Solo River Terrace, Java, Indonesia and the survival of Homo erectus in Asia. PLoS ONE 6, e21562 (2011)

15

Huffman, O. F. et al. Relocation of the 1936 Mojokerto skull discovery site near Perning, East Java. J. Hum. Evol. 50, 431–451 (2006)

16

Carlton, J. T. & Hodder, J. Maritime mammals: terrestrial mammals as consumers in marine intertidal communities. Mar. Ecol. Prog. Ser. 256, 271–286 (2003)

17

Gumert, M. D. & Malaivijitnond, S. Marine prey processed with stone tools by burmese long-tailed macaques (Macaca fascicularis aurea) in intertidal habitats. Am. J. Phys. Anthropol. 149, 447–457 (2012)

18

Stone, R. Java Man's first tools. Science 312, 361 (2006)

19

Douka, K. & Spinapolice, E. Neanderthal shell tool production: evidence from Middle Palaeolithic Italy and Greece. J. World Prehist. 25, 45–79 (2012)

20

Buylaert, J. P. et al. A robust feldspar luminescence dating method for Middle and Late Pleistocene sediments. Boreas 41, 435–451 (2012)

21

Alexanderson, H. & Murray, A. S. Luminescence signals from modern sediments in a glaciated bay, NW Svalbard. Quat. Geochronol. 10, 250–256 (2012)

22

Benthem Jutting, T. v. Non marine Mollusca from fossil horizons in Java with special reference to the Trinil fauna. Zoologische Mededelingen 20, 83–180 (1937)

23

Jongerius, A. & Heintzberger, G. The Preparation of Mammoth-sized Thin Sections (Netherlands Soil Survey Institute, 1963)

24

Benyarku, C. A. & Stoops, G. Guidelines for Preparation of Rock and Soil Thin Sections and Polished Sections Vol. 33 (Universitat de Lleida, 2005)

25

Stoops, G. Guidelines for Analysis and Description of Soil and Regolith Thin Sections (Soil Science Society of America, 2003)

26

Pascal, L. Catalogue des Mollusques Terrestres et des Eaux Douces du Département de la Haute-Loire et des Environs de Paris (Imprimerie Nationale, 1873)

27

Spoor, C. F., Zonneveld, F. W. & Macho, G. A. Linear measurements of cortical bone and dental enamel by computed tomography: applications and problems. Am. J. Phys. Anthropol. 91, 469–484 (1993)

28

Dutailly, B., Coqueugniot, H., Desbarats, P., Gueorguieva, S. & Synave, R. in IEEE International Conference on Image Processing (ICIP09) 2505–2508 (IEEE, 2009)

29

Claassen, C. Shells (Cambridge Univ. Press, 1998)

30

Nielsen, A. E. Trampling the archaeological record: an experimental study. Am. Antiq. 56, 483–503 (1991)

31

Bender Kotzian, C. & Simões, M. G. Taphonomy of recent freshwater molluscan death assemblages, Touro Passo Stream, Southern Brazil. Rev. Brasil. Paleontol. 9, 243–260 (2006)

32

d'Errico, F., Jardon-Giner, P. & Soler Major, B. in Traces et Fonction: Les Gestes Retrouvés Vol. 50 (eds Anderson, P. C., Beyries, S., Otte, M. & Plisson, H. ) 243–254 (Editions ERAUL, 1993)

33

Toth, N. & Woods, M. Molluscan shell knives and experimental cut-marks on bones. J. Field Archaeol. 16, 250–255 (1989)

34

Cristiani, E., Lemorini, C., Martini, F. & Sarti, L. in From Hooves to Horns, from Mollusc to Mammoth: Manufacture and Use of Bone Artefacts from Prehistoric Times to the Present. Proc. 4th Meet. ICAZ Worked Bone Research Group (Tallinn, 26–31 August 2003) Vol. 15 (eds Luik, H., Choyke, A. M., Batey, C. & Lougas, L. ) 319–324 (Muinasaja Teadus series, Tallinn Book Printers, 2005)

35

Tumung, L., Bazgir, B., Ahmadi, K. & Shadmehr, A. Understanding the use-wears on non-retouched shells Mytilus galloprovincialis and Ruditapes decussatus by performing wood working experiment: an experimental approach. IOP Conf. Ser. Materials Science and Engineering 37, 1–10 (2012)

36

Cuenca Solana, D., Clemente Conte, I. & Gutiérrez Zugasti, I. Utilización de instrumentos de concha durante el Mesolítico y Neolítico inicial en contextos litorales de la región cantábrica: programa experimental para el análisis de huellas de uso en materiales malacológicos. Trabajos Prehistoria 67, 211–225 (2010)

37

Bello, S. M. & Soligo, C. A new method for the quantitative analysis of cutmark micromorphology. J. Archaeol. Sci. 35, 1542–1552 (2008)

38

d'Errico, F. L'Art Gravé Azilien. De la Technique à la Signification (CNRS, 1995)

39

Fritz, C. La Gravure dans l'Art Mobilier Magdalénien, du Geste à la Représentation: Contribution de l'Analyse Microscopique Vol. 75 (Maison des Sciences de l'Homme, 1999)

40

Henshilwood, C. S. & d'Errico, F. in Homo Symbolicus: The Dawn of Language, Imagination and Spirituality (eds Henshilwood, C. S. & d'Errico, F. ) 75–96 (Benjamins, 2011)

41

Texier, P. J. et al. A Howiesons Poort tradition of engraving ostrich eggshell containers dated to 60,000 years ago at Diepkloof Rock Shelter, South Africa. Proc. Natl Acad. Sci. USA 107, 6180–6185 (2010)

42

Peng, F. et al. An engraved artifact from Shuidonggou, an early Late Paleolithic site in Northwest China. Chin. Sci. Bull. 57, 4594–4599 (2012)

43

Kuiper, K. F. et al. Synchronizing rock clocks of Earth history. Science 320, 500–504 (2008)

44

Steiger, R. H. & Jager, E. Subcommission on geochronology: convention on the use of decay constants in geo- and cosmochronology. Earth Planet. Sci. Lett. 36, 359–362 (1977)

45

Lee, J.-Y. et al. A redetermination of the isotopic abundances of atmospheric Ar. Geochim. Cosmochim. Acta 70, 4507–4512 (2006)

46

Koppers, A. A. P. ArArCalc—software for 40Ar/39Ar age calculations. Comput. Geosci. 28, 605–619 (2002)

47

Preusser, F. et al. Luminescence dating: basics, methods and applications. Quat. Sci. J. 57, 95–149 (2008)

48

Thomsen, K. J., Murray, A. S., Jain, M. & Bøtter-Jensen, L. Laboratory fading rates of various luminescence signals from feldspar-rich sediment extracts. Radiat. Meas. 43, 1474–1486 (2008)

49

Kars, R. H., Busschers, F. S. & Wallinga, J. Validating post IR-IRSL dating on K-feldspars through comparison with quartz OSL ages. Quat. Geochronol. 12, 74–86 (2012)

50

Wallinga, J., Bos, A. J. J., Dorenbos, P., Murray, A. S. & Schokker, J. A test case for anomalous fading correction in IRSL dating. Quat. Geochronol. 2, 216–221 (2007)

51

Duller, G. A. T. & Wintle, A. G. A review of the thermally transferred optically stimulated luminescence signal from quartz for dating sediments. Quat. Geochronol. 7, 6–20 (2012)

52

Jain, M. Extending the dose range: Probing deep traps in quartz with 3.06 eV photons. Radiat. Meas. 44, 445–452 (2009)

53

Ankjærgaard, C., Jain, M. & Wallinga, J. Towards dating Quaternary sediments using the quartz Violet Stimulated Luminescence (VSL) signal. Quat. Geochronol. 18, 99–109 (2013)

54

Guérin, G., Mercier, N. & Adamiec, G. Dose-rate conversion factors: update. Ancient TL 29, 5–8 (2011)

55

Mejdahl, V. Thermoluminescence dating: beta-dose attenuation in quartz grains. Archaeometry 21, 61–72 (1979)

56

Aitken, M. J. Thermoluminescence Dating (Academic Press, 1985)

57

Huntley, D. J. & Baril, M. R. The K content of the K-feldspars being measured in optical dating or in thermoluminescence dating. Ancient TL 15, 11–13 (1997)

58

Huntley, D. J. & Hancock, R. G. V. The Rb contents of the K-feldspar grains being measured in optical dating. Ancient TL 19, 43–46 (2001)

59

Prescott, J. R. & Hutton, J. T. Cosmic ray contributions to dose rates for luminescence and ESR dating: large depths and long-term time variations. Radiat. Meas. 23, 497–500 (1994)

60

Cunningham, A. C. et al. Extracting storm-surge data from coastal dunes for improved assessment of flood risk. Geology 39, 1063–1066 (2011)

61

Murray, A. S. & Wintle, A. G. The single aliquot regenerative dose protocol: potential for improvements in reliability. Radiat. Meas. 37, 377–381 (2003)

62

Murray, A. S., Buylaert, J. P., Henriksen, M., Svendsen, J. I. & Mangerud, J. A review of quartz optically stimulated luminescence characteristics and their relevance in single-aliquot regeneration dating protocols. Radiat. Meas. 43, 776–780 (2008)
Acknowledgements
We thank colleagues O. F. Huffman, P. Albers, R. Dennell, M. Martinón-Torres, G. Cadée, O. Dutour, K. M. Cohen, P. de Boer, A. van Gijn, C. Hofman, Y. Lammers-Keijsers, A. C. Sorensen, W. Renema, R. Moolenbeek, R. van Zelst, C. A. Johns, A. J. Versendaal, E. Voskuilen, T. G. van Meerten, R. van Elsas, H. Vonhof, S. Kars, W. Koot, P. Bouchet, V. Héros, J. W. Dogger, L. Dekkers, B. Dutailly, G. Devilder and J. Porck. J.C.A.J., W.R. and T.R. acknowledge financial support from the Netherlands Organization for Scientific Research NWO (Open Programme Grant to J.C.A.J., Spinoza Grant 28-548 to W.R. and Rubicon Grant 825.11.03 to T.R.). F.d'E. acknowledges financial support from the European Research Council (FP7/2007/2013, TRACSYMBOLS 249587), and C.A. acknowledges financial support from the STW Technology Foundation (STW.10502).
Ethics declarations
Competing interests
The authors declare no competing financial interests.
Extended data figures and tables
Related audio
Researcher Josephine Joordens on how her team analysed the 500,000 year old shell scratchings.
Supplementary information
About this article
Cite this article
Joordens, J., d'Errico, F., Wesselingh, F. et al. Homo erectus at Trinil on Java used shells for tool production and engraving. Nature 518, 228–231 (2015). https://doi.org/10.1038/nature13962
Received:

Accepted:

Published:

Issue Date:
Comments
By submitting a comment you agree to abide by our Terms and Community Guidelines. If you find something abusive or that does not comply with our terms or guidelines please flag it as inappropriate.